Dramatic photos of first responders circulated Saturday saving a family from a fire, but they weren't firefighters — it was police officers. Two Stony Point Police Department officers were recognized for helping save a family in Tomkins Cove, New York, who remained trapped after they barely escaped the burning inferno of a house.
Officer Daniels, a well-established law enforcement internet influencer, posted a set of pictures of John Ferrara and Vincent Agovino on Sunday showing the officers rescuing two of the three children present during a fire that destroyed a family's residence, garnering more than 3,000 comments and more than 2,000 shares. The SPPD had posted the photos Saturday with a caption commending their officers, their fellow firefighter departments, and the local EMS agency for their actions that day.
In total, three adults and three children were rescued by the officers' quick thinking. The officers were able to help them escape their location in close proximity to the house, as well as a natural gas line that was feeding the fire and a downed power line.
Saturday morning, Officers Ferrara and Agovino were preparing for their shift around 7:55 a.m. when a 911 call came across their radios reporting a house fire. They both sprang into action, and Agovino told Coffee or Die Magazine that as they were approaching the location of the fire, they could see the massive plume of smoke from miles away.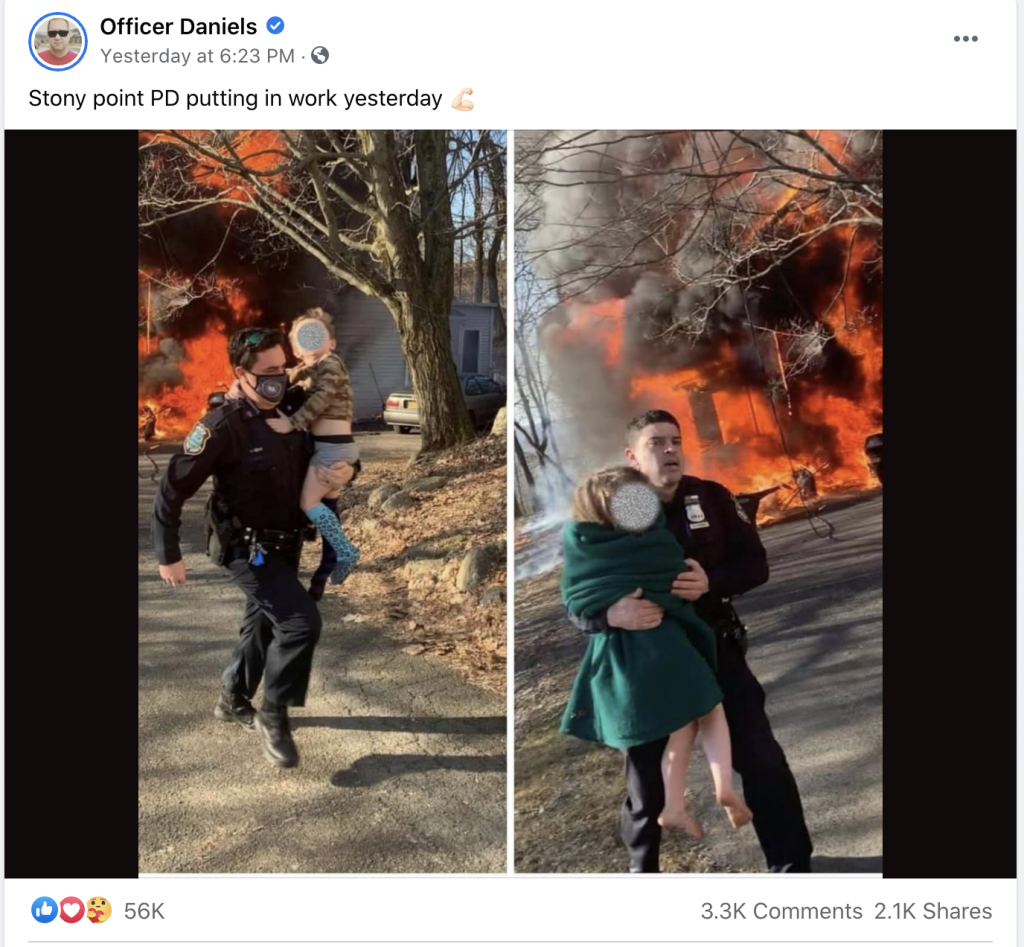 The two officers were first to arrive on the scene in their separate squad cars. They had to drive down a long driveway past another house to get to the one on fire. Stopping to talk to a neighbor who was standing outside, they found out how many people lived in the burning house. The neighbor told the officers that he believed everyone had been able to escape to the home's far side.
Agovino and Ferrara went to work to evaluate the burning house and search for any survivors. They stayed as close to the house as they could to make sure no one was passed out nearby, and Agovino said that within 25 to 30 feet, the heat coming off of the house was "just like unbearable."
Ferrara was able to navigate around the house, and in doing so, he noticed the house fire was spreading to a car in the driveway. He located the family and found out they were trapped because of the lay of the land.
"They're stuck — there's nowhere for them to go because there's an embankment with a drop-off," Ferrara told Coffee or Die. "[There were] two 5-year-olds and a 6-year-old. Everybody's in shock, [including two adults and] grandma, is panicked, and they all had basically frozen in place."
With the heat pouring from the house, Ferrara felt like his hair was about to burn. The children were in pajamas or underwear because of the rushed exit. Ferrara radioed Agovino for assistance. As soon as he arrived, Ferrara handed him one of the kids.
There was no other route to take besides the one going right past the burning vehicles; two cars and a motorcycle meant three gas tanks that could explode at any minute, and time was of the essence. Both officers rushed the kids past the burning obstacles and a downed power line that was arcing electricity. Also, "the gas main [into the house] was basically a massive blowtorch," Ferrara said.
"The objective was clear once we had a visual of the children and the elderly grandmother. It was: We had to get these people away from this fire before something terrible happened because there was nowhere to go," Ferrara said. "There was only one route, and the quicker that we did this, the better it was for everyone."
A third officer, Officer Billy Mari, arrived at the scene and tended to the kids at the neighbors' house to ensure they wouldn't run back toward the flames to find their family. Ferrara went back and managed to find a secondary route because their original had become too dangerous. He was able to walk the other adults and the third child down a side path to the neighbor's yard.
Mere minutes later, multiple explosions occurred and signaled that the vehicles' gas tanks had detonated. Both officers looked back and saw the house was now fully engulfed and collapsing as the firefighters worked to extinguish the fire. Nearby trees had caught fire and were falling as firefighters tried to contain the fire while awaiting the gas company to cut off the ruptured line from a neighboring access point. Two firefighters narrowly missed getting crushed by a large tree that fell during the incident.
"I had a moment where it was clear that we had gotten there just in the nick of time and we were able to do what we could do when we needed to do it," Ferrara said. Agovino added, "It could have been a completely different scene [had we not arrived when we did]."
For these two officers, a harrowing rescue was the start of their 12-hour shift. Both officers went unscathed, and one of the children was treated for minor burns on an arm.
Read Next: