The recent arrest of a homeless North Carolina veteran, in which police officers used a Taser on his service dog, made national headlines and drew attention to the uneven training that police receive on how to deal with service animals. And with Congress authorizing more service dogs for veterans through the Department of Veterans Affairs, more run-ins with police may lie ahead.
Joshua Rohrer and Sunshine Rae, his VA-prescribed Belgian Malinois service dog, were standing in a median near a busy shopping center in Gastonia, North Carolina, on Oct. 13 when a woman called 911. She told the dispatcher that Rohrer, a homeless veteran, was using Sunshine as a prop to garner sympathy — and cash — from drivers. When officers from the Gastonia Police Department showed up, witnesses say the confrontation turned violent.
After asking Rohrer for identification, police "slammed him up against the car" and handcuffed him, Justyn Huffman told WCNC.
Witnesses said Sunshine bit an officer's boot during the altercation, prompting one officer to tase the dog. Police later confirmed the tasing.
After being shocked, the dog bolted away. Rohrer's last memory of Sunshine is watching her disappear around the corner of a cop car, Taser wires trailing from her body, a scene he's replayed a million times in his head since that day, Rohrer told Coffee or Die Magazine in a recent interview.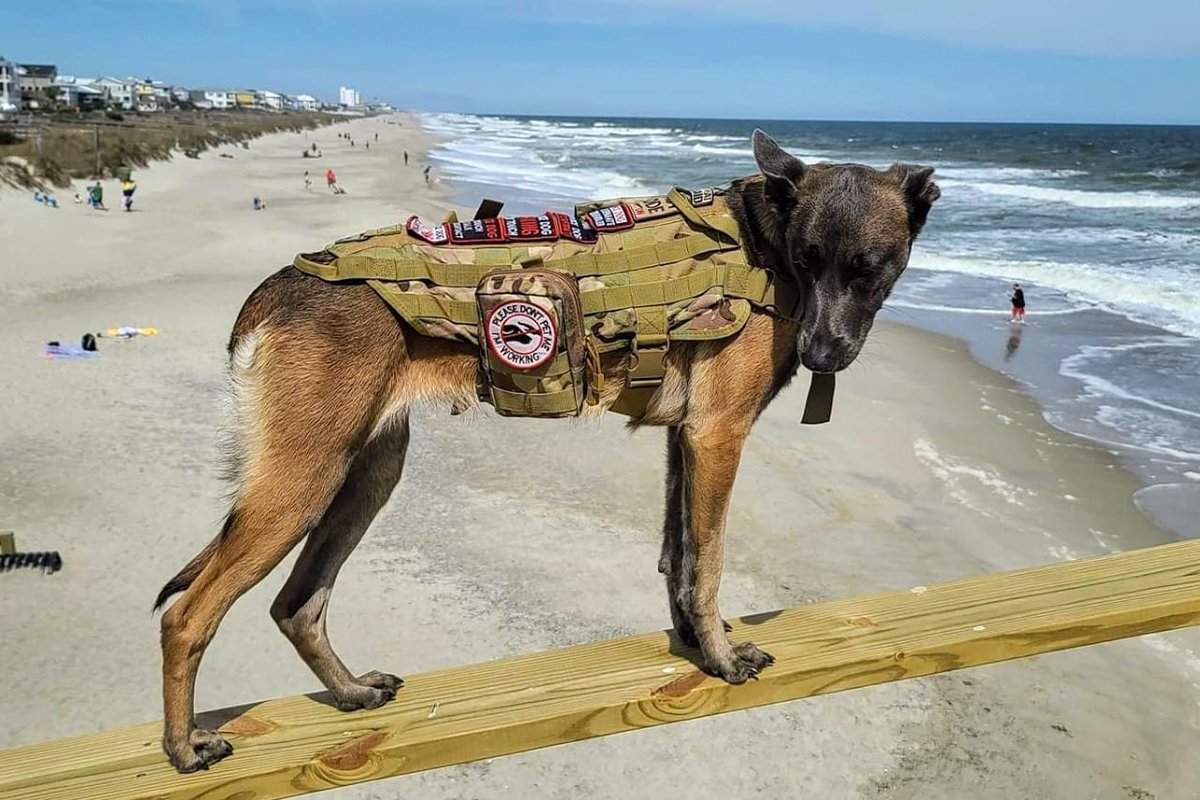 After police took Rohrer into custody, Rohrer's friend and VA advocate Dave Dowell collected Sunshine and took the dog to his own home. Rohrer was charged with panhandling and resisting arrest. But at Dowell's home, Sunshine slipped her leash and ran away the next morning. She was hit and killed by a car before Rohrer could find her.
"I'm still kind of in a state of shock. I haven't really had a chance to grieve," Rohrer said, almost eight weeks after the arrest. "I'm a mess. Without everybody's support and trying to help me, I don't know what I'd be doing right now."
Rohrer and Dowell spoke to Coffee or Die on their way back from a court hearing over whether the Gastonia Police Department will be forced to release body-camera video of the arrest. North Carolina law does not consider body-camera video a public record, so a media coalition — supported by Rohrer — has petitioned the courts to allow the video's release. The judge in the case has not yet made a decision.
Rohrer's case is the latest high-profile incident of police interactions with dogs, and particularly service dogs. Last month, a federal appeals panel ruled a police officer who shot two service dogs in 2017 acted unreasonably and should not be protected by qualified immunity.
However, only eight states — California, Colorado, Georgia, Illinois, Nevada, Ohio, Tennessee, and Texas — mandate that police be trained to recognize common canine behavior and know how to determine the level of force appropriate when responding to a dog encounter, according to a 2019 report from the National Police Foundation. Courts have historically treated pets as property, according to the Department of Justice.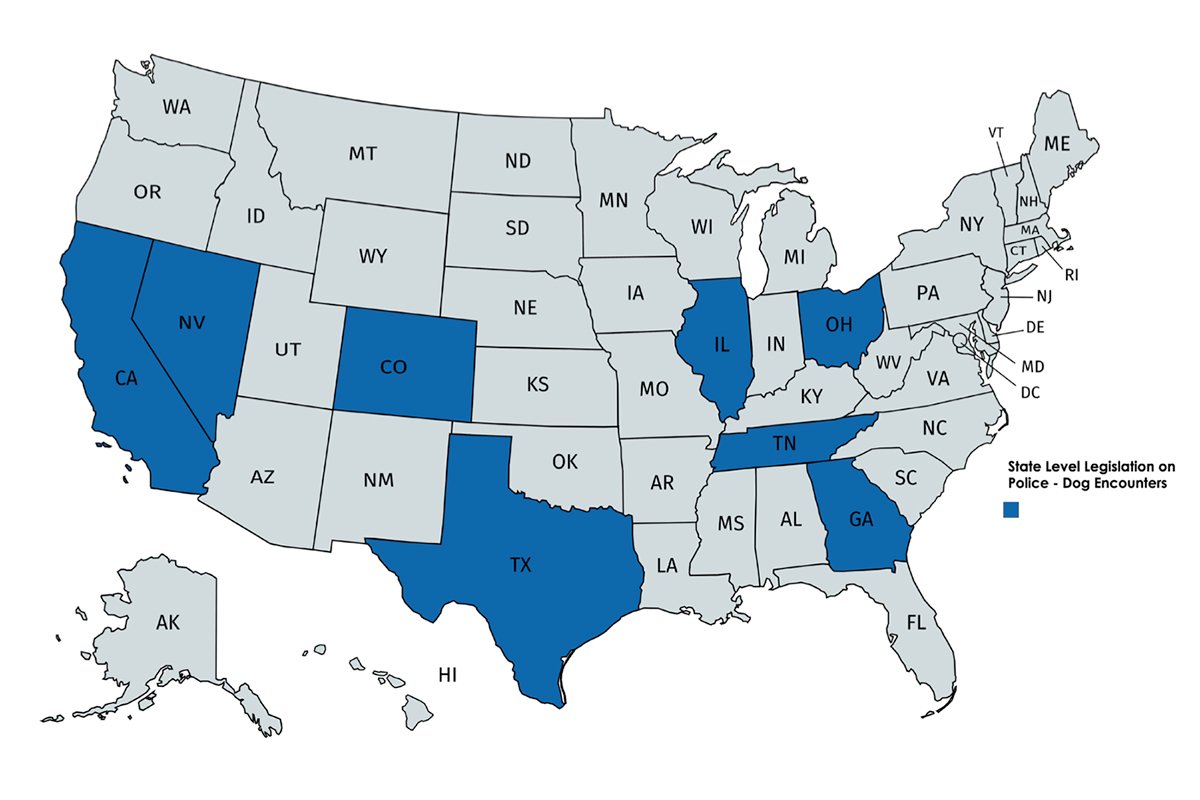 In many states, nonprofits or private companies offer voluntary training programs for police, and the National Sheriffs' Association helped develop an online training program that seeks to set a nationwide standard for law enforcement dog encounter training. But a single, standardized training program does not currently exist.
While service animals get higher protections than traditional pets under the Americans with Disabilities Act, service dog trainer Travis Hall told Coffee or Die that there are few — if any — laws specifically governing police interactions with service animals.
"The ADA is very clear on how [service animals] are allowed in publicly accessible areas," said Hall. Hall said the North Carolina police were not legally obligated to look after Rohrer's dog when they arrested him. "When someone is incarcerated and goes into jail, he's no longer in a publicly accessible area. The ADA is also very clear that you have to be the one to take care of your animal."
Hall and his wife, Melissa, have direct ties to the cause of veterans and service dogs; Travis is a Green Beret veteran with previous experience as a Special Forces K9 handler, while Melissa is a social worker. Inspired by the deep connection between warriors and their dogs, the couple started Second Chance K9, a nonprofit that pairs rescue dogs with SOF veterans suffering from post-traumatic stress and trains the dogs to meet each individual's needs.
Since body-camera video has not been released, the Halls couldn't comment too much on Rohrer's case. But generally, Travis Hall said, a "little softness and humanity" goes a long way in preventing police interactions from ending in tragedy.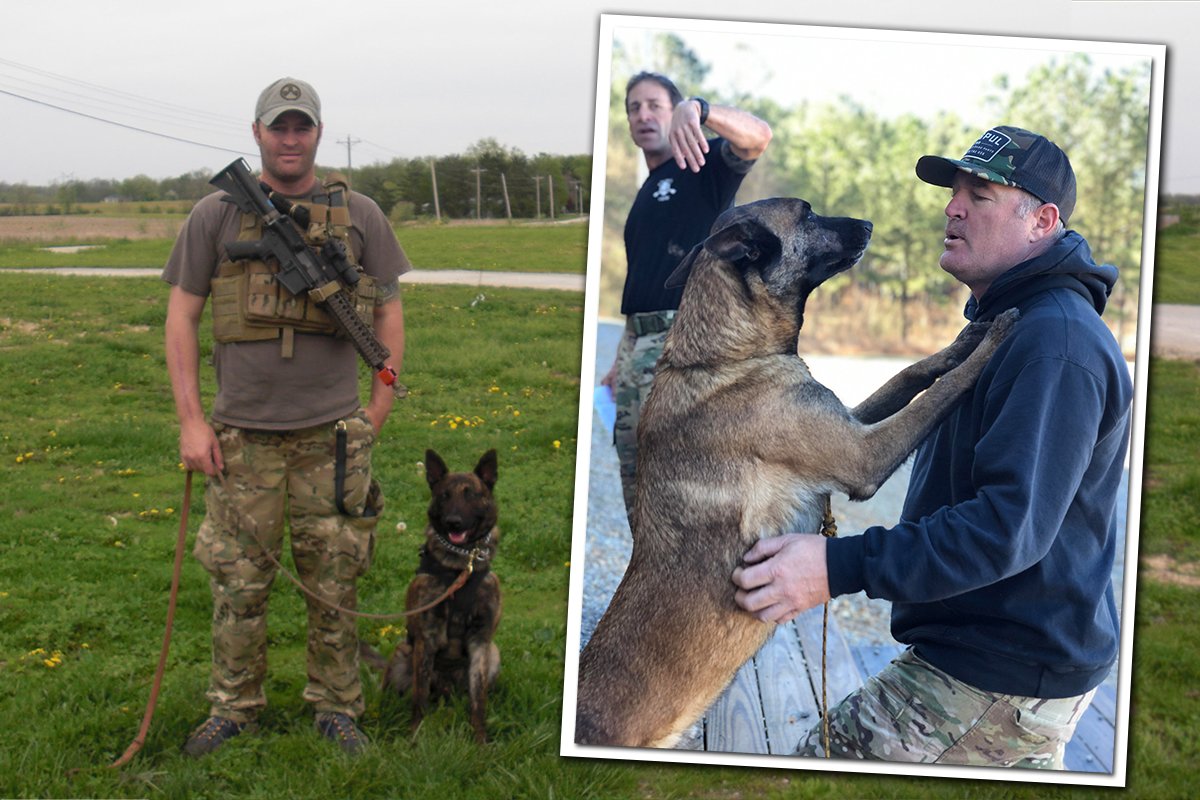 "If you grab your pistol or are outwardly aggressive, you're probably taking that veteran back into a pretty bad place," Travis Hall said.
In times he's been approached by a police officer, Travis Hall said he instructs his service dog into a sit or down position to ensure a peaceful interaction.
"But if you put hands on me … I don't know what my dog's going to do," he said. "Because at that point I do not have the ability to verbally and physically control my dog."
Melissa Hall suggested many negative interactions could be avoided by simply addressing the two questions authorities and businesses are allowed to ask a service dog handler under the ADA: Is the dog a service animal, and what work or task has it been trained to perform?
"When we work with veterans through our organization, we talk about how you're going to experience negative encounters with people that have their preconceived notions about your dog and you being a veteran and how to kind of avoid and deter and sometimes even just take a second to stay calm and educate [the other person]," Melissa Hall said.
More veterans could soon receive service dogs thanks to recently passed legislation in Congress. The Puppies Assisting Wounded Servicemembers (PAWS) for Veterans Therapy Act was enacted in late August, based on a growing body of research suggesting service dogs may ease PTS symptoms. The PAWS Act requires the Department of Veterans Affairs to include veterans with mental illness such as post-traumatic stress in its service dog referral program. It also directs the VA to launch a pilot program in which veterans with PTS help train service dogs for other veterans. At the end of the training, the veterans may also have the opportunity to adopt the dog.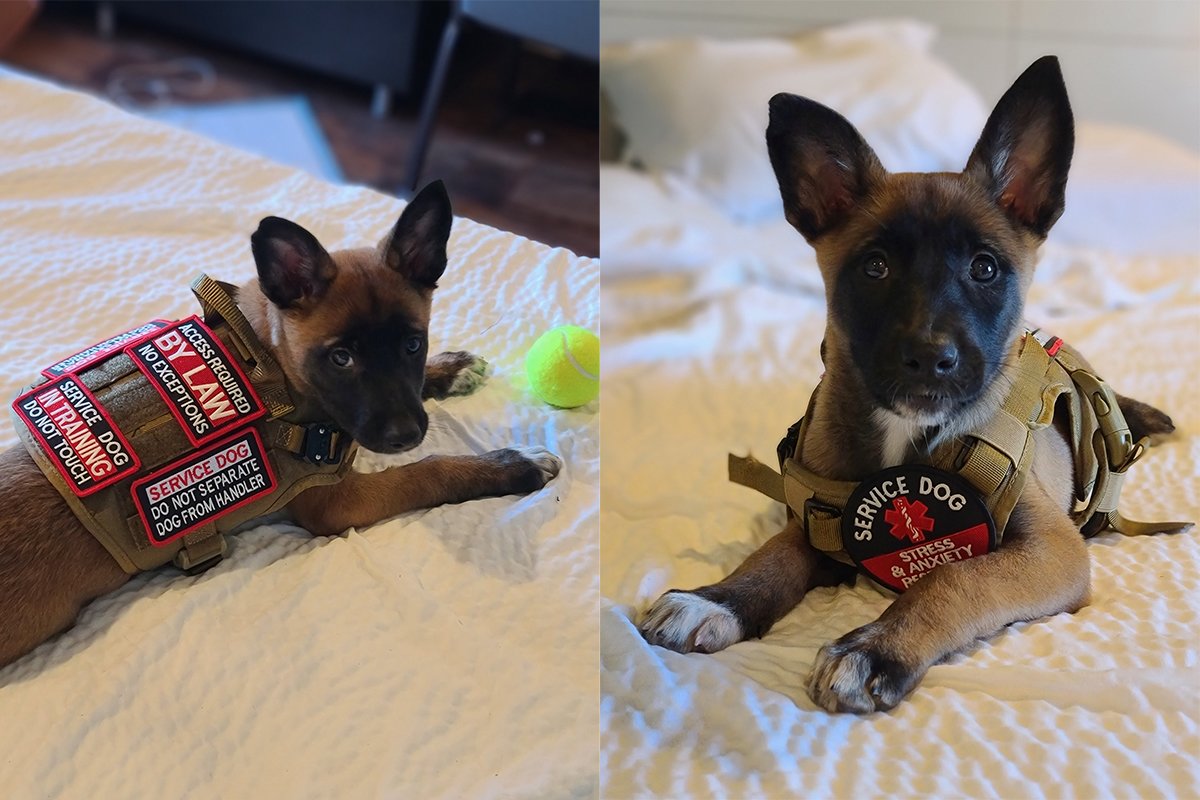 Meanwhile, Rohrer recently purchased a new Belgian Malinois puppy named Justice Rae and has started training her to do the tasks Sunshine used to perform, like deep pressure therapy to ease anxiety during a PTS episode, grounding, opening and closing doors, and picking up items he drops.
Rohrer is due back in court later this month. The Gastonia Police Department issued a statement after the arrest stating that it would "review the actions of all officers involved" in the incident.
Dowell made clear that those supporting Rohrer are not "anti-cop" but rather are pro-training.
"We understand that with budgets and hours, expecting an officer to work a 12-hour shift and come and do another four-hour training on how to work with animals, that's a big ask," Dowell said. "The money it takes to train them is a big thing, so we're not saying that all police departments or all officers are bad. But as a society we need to figure out how to up the training."
Read Next: