Law enforcement officers have a very difficult job, and one of the more harrowing circumstances some officers and federal agents experience is when they are caught in the crossfire with career criminals. Throughout history there have been many notable police shootouts that you may be familiar with that were either captured on video, were published in newspapers the next day with sensational headlines, or were listened to live as they happened from police scanners.
Melvin Purvis, a legendary FBI agent, personally gunned down Charles "Pretty Boy Floyd," John Dillinger, and Baby Face Nelson — all gangsters who were listed as "Public Enemy Number One." Then there was the North Hollywood Shootout in 1997 and the videos that emerged showing robbers exchanging gunfire with law enforcement, which ultimately changed the way they arm themselves. More recently, Massachusetts residents listened in on police scanners and videos recorded by Watertown homeowners as the manhunt for the Boston Marathon Bombers came to a bloody end.
These shootouts had a lasting impact on law enforcement and the community as a whole. However, these four lesser-known shootouts have equal importance.
1985 MOVE Bombing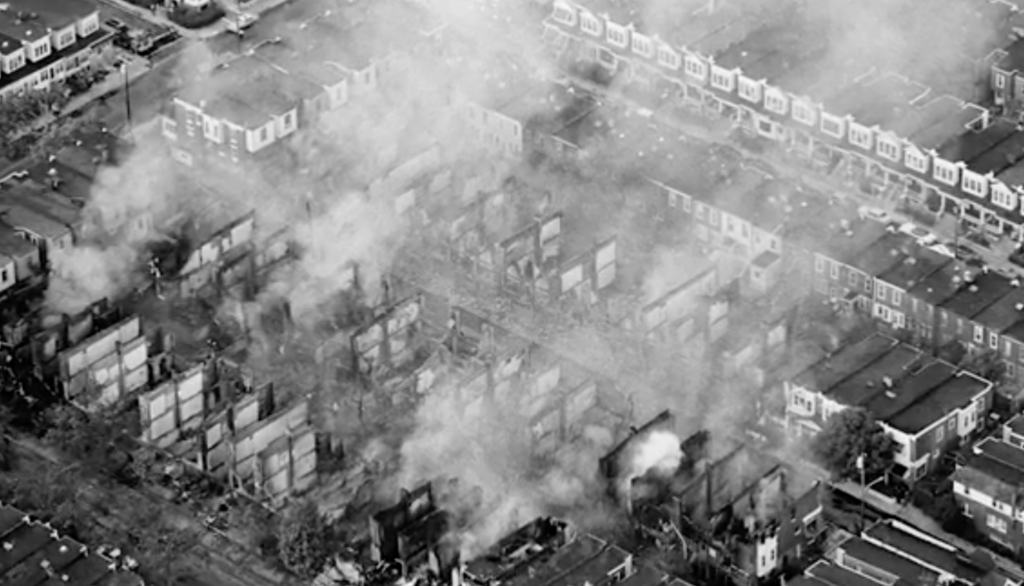 Thirty-five years ago, the Philadelphia Police Department used a satchel of C-4 explosive and dropped it from a police helicopter to conclude a chaotic shootout on May 13, 1985. The police were issuing arrest warrants against members of MOVE, a radical black liberation group, for rioting, making terrorist threats, and the illegal possession of firearms. The perpetrators were located in a series of apartments on Osage Avenue that was described as a "modest rowhouse transformed into a makeshift bunker."
A large police operation consisting of 500 officers surrounded the apartments, and a shootout ensued. More than 10,000 bullets were exchanged in the crossfire. In an attempt to quell the violence, the police used a Pennsylvania State Police helicopter to drop a bomb that exploded and set fire to 61 homes. Two of the 13 Americans and MOVE members escaped with their lives, but 11 died, including five children.
Although the use of explosives is a dark stain on the Philadelphia Police Department, they aren't the only department to use them. Some 31 years later, the Dallas Police Department used an explosive ordnance disposal robot equipped with an explosive charge to neutralize the Dallas Sniper on July 7, 2016, after significant bloodshed.
Four Dead in Five Seconds Gunfight
Dallas Stoudemire was a 6-foot-4 Texas Ranger in El Paso, Texas, who had a quick draw and a steady hand. His brother-in-law, "Doc" Cummings, suggested he'd take up the newly available Marshall position to help bring some law and order to the violent city. Stoudemire was the sixth Marshall in just eight months, and he wasn't about to be bullied by intimidating outlaws. On April 14, 1881, Stoudemire was minding his own business as he sat at a table to eat his lunch when he heard a commotion from inside Keating's Saloon.
An argument broke out between Constable Krempkau and ex-Marshall George Campbell. John Hale, a friend of Campbell's, then reached into Campbell's waistband and pulled one of his guns on Krempkau. Several words were exchanged when Hale fired a shot, severely wounding him. Before Krempkau hit the ground, Stoudemire had arrived on scene with his guns drawn and fired a wild shot that hit and killed an innocent Mexican bystander. He fired a second time, killing Hale as he took cover behind a post located just outside the saloon. Campbell burst through the saloon doors trying to defuse the situation, but Krempkau and Stoudemire struck him with a volley of fire. In five seconds, four men were dead, thus sparking the infamous "Four Dead in Five Seconds" Gunfight name and sealing Stoudemire's reputation as one of the finest gunslingers in Old West history.
Bangor Maine & The Brady Gang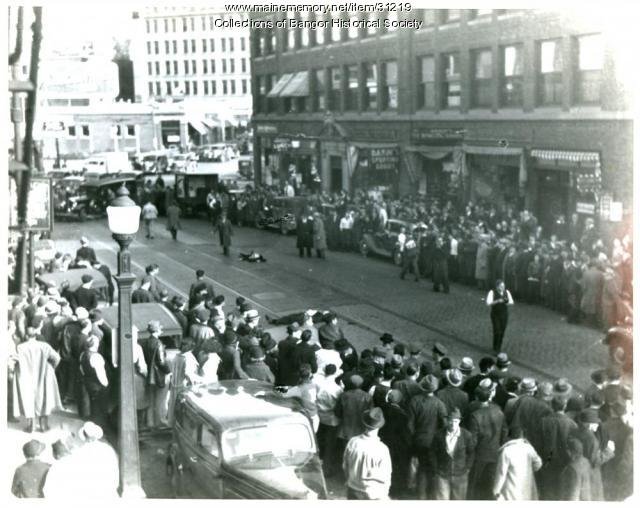 Alfred Brady, James Dalhover, and Clarence Lee Shaffer Jr. made up the Brady Gang, a violent criminal organization with a rap sheet that listed an estimated 150 armed robberies and two murders from 1935 to April 1936. These gangsters took their careers seriously and had the intentions to "make Dillinger look like a piker." While on their crime spree throughout the Midwest, they were arrested and imprisoned in Indiana but broke out of jail after they assaulted and stole the .38 revolver of a sheriff's deputy. The FBI took the case and tracked them through West Virginia and Maryland as they continued to rob jewelry stores and cash registers inside grocery stores.
The gang had their wits wound tight — they knew to remove the tires from their vehicles after a robbery committed in another state to avoid having the tire tracks traced back to them. They also stole two .30-caliber machine guns from an American Legion Monument and repaired them to use during their robberies. They realized law enforcement was cracking down on them, and they fled to a hideout in Bangor, Maine, where they stockpiled weapons and ammunition. The heavily armed men were tracked by Boston's Field Division within the FBI. On Oct. 27, 1937, at approximately 8:30 AM, the gang planned to rob the Dakin Sporting Goods Company.
FBI agents and Bangor Police were waiting for them disguised as pedestrians on the street or hidden inside nearby businesses. Brady sat in the backseat of their Buick getaway car while Dalhover and Shaffer approached the store. Dalhover entered the front door and was immediately arrested and handcuffed by FBI agent Walter Walsh and other agents tucked between the aisles inside. Shaffer was providing cover when he realized he was in the midst of a sting operation, and he fired bullets through the glass door. A shootout erupted in the middle of the street, and Brady and Shaffer were slain. Walsh took a bullet in the shoulder, but survived.
When the fire ceased, the police uncovered an arsenal of 35 weapons, including the two .30-caliber mountable machine guns.
Norco Bank Robbery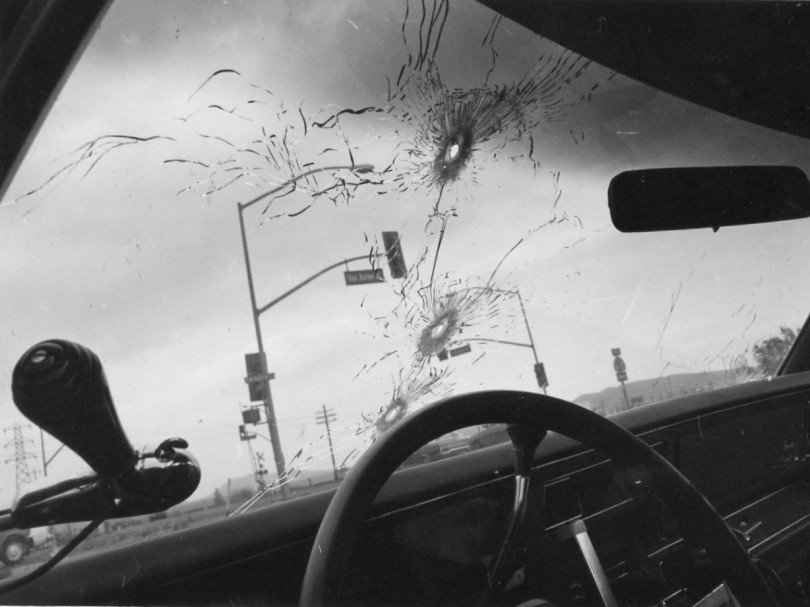 On May 9, 1980, five inexperienced but heavily armed criminals and neighborhood pot dealers stole a van and held the driver hostage. They planted a bomb as a diversion on the opposite side of Norco, a city located in Riverside County, California. However, a civilian driving by had extinguished the amatuer pyrotechnics before it could explode. Four men entered the Security Pacific Bank in Norco and left with $20,000 cash. Riverside County Sheriff's Deputy Glyn Bolasky crashed the party, and the four bank robbers ran outside and fired shots into Bolasky's windshield as he put the car in reverse. He was hit five times in the shoulder, face, both forearms, and left elbow. Somehow, he managed to exit his police cruiser and fire his shotgun at the van as it sped away.
He watched it crash into a fence and later learned that his shots severed the spinal cord of getaway driver Billy Delgado. The robbers ditched the van, stole a truck, and drove to the San Bernardino Mountains. The police gave chase while the robbers chucked homemade explosives from the van into the middle of the street to slow the officers down. A police helicopter hovered overhead and was forced to land after the robbers fired at it with assault rifles. They then ambushed and murdered Deputy Jim Evans as he tried to end the pursuit. They escaped but were captured two days later when police regrouped; a SWAT team arrested George Wayne Smith and brothers Christopher and Russell Harven.
The incident resulted in 33 police vehicles disabled or destroyed, eight police officers injured and one killed, three life sentences without the possibility of parole, and over 1,000 rounds of ammunition taken off the streets. The police have since changed their tactics in how they respond to police chases to better protect the safety of their officers and the public. "The Norco Bank Robbery isn't just a local story, it's part of American history," said Tom Pigeon, special events coordinator for the Riverside Sheriff's Association. "The 23-mile running gun battle was remarkably destructive. It's a wonder more people weren't killed."