In 2016, former U.S. Army Green Beret Nate Boyer wrote an open letter to Colin Kaepernick about Kaepernick's choice to remain seated during the national anthem.
Kaepernick responded by asking Boyer, who served a brief stint as a Seattle Seahawks long snapper, to meet with him in person. Boyer said at that meeting he convinced Kaepernick to modify his protest.
"I thought kneeling was more respectful," Boyer told NPR's Michel Martin in 2018. "And I will say that being alongside his teammates was the biggest thing for me. […] Kneeling's never been in our history really seen as a disrespectful act. I mean, people kneel when they get knighted. You kneel to propose to your wife, and you take a knee to pray. And soldiers often take a knee in front of a fallen brother's grave to pay respects. So I thought, if anything, besides standing, that was the most respectful."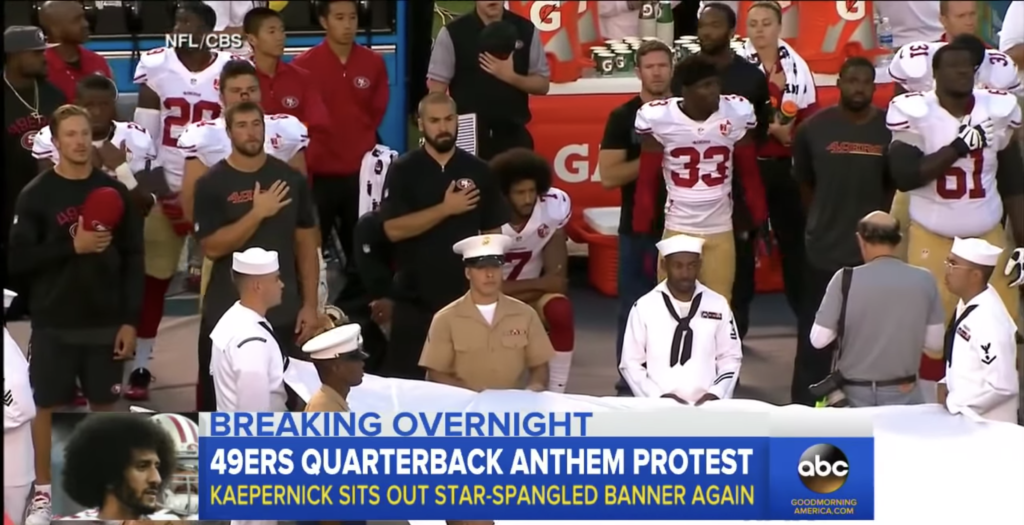 Four years after that fateful meeting, Minneapolis Police Officer Derek Chauvin killed George Floyd by kneeling on his neck for almost nine minutes. The disturbing video spread like wildfire across the country, and within days, American cities were burning.
As law enforcement officers in municipalities all over the country struggle to pacify angry protestors, some have appropriated the same symbolic gesture that ultimately killed Kaepernick's NFL career.
In Ferguson, Missouri, where protests and riots broke out in 2014 after Michael Brown was killed by Ferguson police officer Darren Wilson, Ferguson police knelt with protestors outside the police station Saturday, and Police Chief Jason Armstrong marched with a crowd of protesters seeking justice for George Floyd.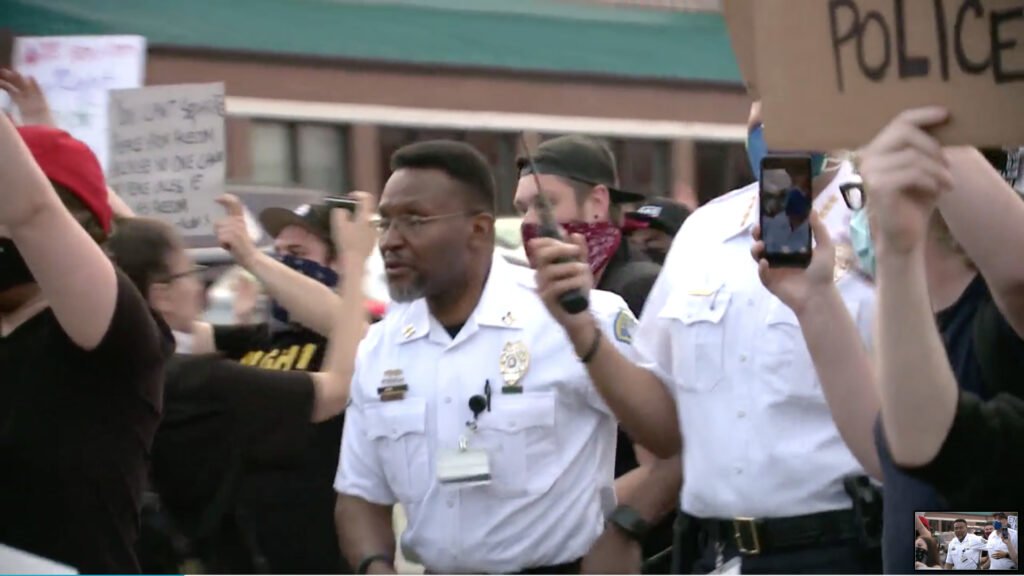 In California, Santa Cruz Police Chief Andy Mills took a knee with protesters in his city. SCPD tweeted a photo of the moment with the words, "taking a knee in memory of George Floyd & bringing attention to police violence against Black people."
In Coral Gables, Florida, police chiefs from across Miami-Dade County knelt down to pray with protestors in a show of solidarity. And in New York, several NYPD officers took a knee with protestors.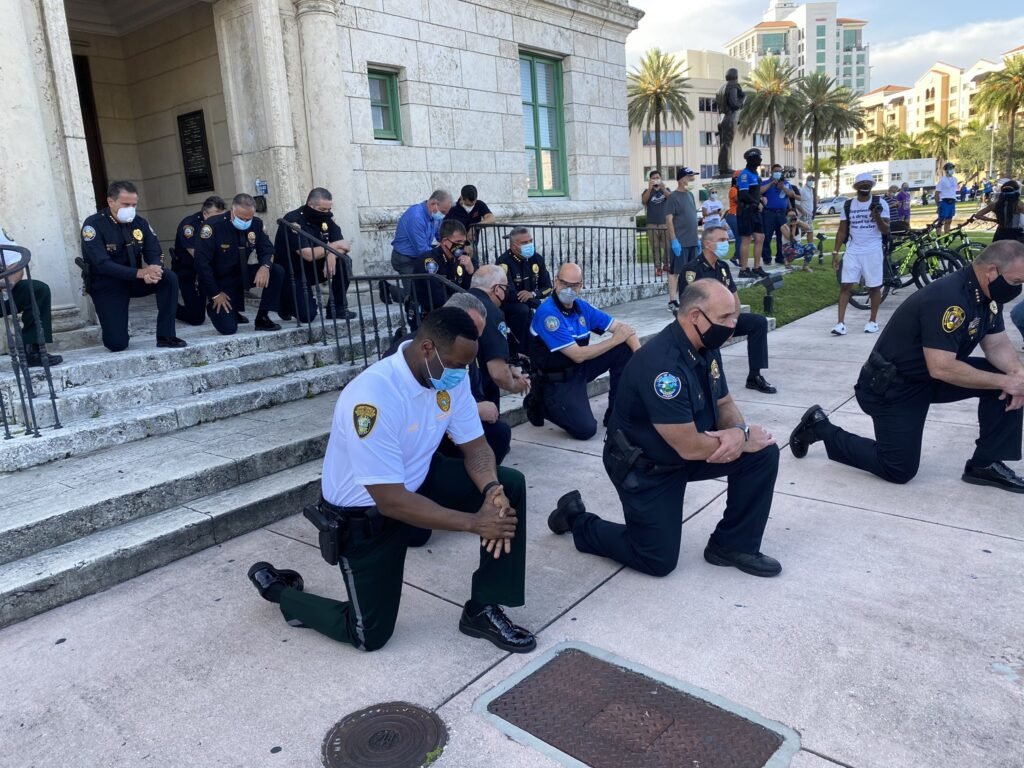 Genesee County Sheriff Chris Swanson, who serves residents in and around Flint, Michigan, became a potent symbol of unity when he laid down his baton and helmet amidst a sea of protestors and denounced Derek Chauvin's actions before saying, "You tell us what you need."
When the protestors started chanting, "Walk with us!" Swanson energetically replied, "Let's walk!" After walking with the protestors for hours, Swanson closed out the night with a short speech.
"In my entire career, I will never forget this night," he told the crowd. "Because what I saw was what the entire nation saw when they see people that are angry. People that feel like they don't have a voice turn in a second when the police listen to them, when the police understand them. And when I asked what I could do — because police condemn what happened in Minneapolis — that's not who we are. But there are good people that love you, that need to hear what you have to say. And once we did that, I asked one question. I said, 'What do we need to do? He said, 'Walk with us.' And here we are, walking with you, because all you're asking for is a voice and dignity for all, no matter who you are. I love you guys. The police love you. Flint Township, State Police, Flint City—I'm telling you; we're with you. Enough is enough on our end."
While Swanson's community experienced no rioting, police expressions of solidarity in other cities were no panacea. Racial tension has torn the country asunder, and President Donald Trump took the drastic step yesterday of mobilizing numerous federal law enforcement agencies and military units to "dominate" protestors.
"DHS and its partners will not allow anarchists, disrupters and opportunists to exploit the ongoing civil unrest to loot and destroy our communities," said Chad Wolf, the acting secretary of the Department of Homeland Security. "While the department respects every American's right to protest peacefully, violence and civil unrest will not be tolerated. We will control the situation and protect the American people and the homeland at any cost."
While America has been shaken by racism and police brutality throughout its history, Floyd's death has unleashed a new level of collective outrage.
Law enforcement leaders across the U.S. are vocally condemning the actions that caused Floyd's death and calling for Chauvin's prosecution.
All over the country, police officers are genuflecting — literally and figuratively — to protestors. Their actions appear to be an expression of hope that Dr. Martin Luther King Jr. was right when he spoke these words:
"Hate begets hate; violence begets violence; toughness begets a greater toughness. We must meet the forces of hate with the power of love … The ultimate weakness of violence is that it is a descending spiral begetting the very thing it seeks to destroy, instead of diminishing evil, it multiplies it. Through violence you may murder the liar, but you cannot murder the lie, nor establish the truth. Through violence you may murder the hater, but you do not murder hate. In fact, violence merely increases hate. Returning violence for violence multiplies violence, adding deeper darkness to a night already devoid of stars. Darkness cannot drive out darkness; only light can do that. Hate cannot drive out hate; only love can do that."