I have been working at Black Rifle Coffee Company for over four years now, and with each passing year it seems my coffee snobbery is kicked up another level (it's something about working in close proximity with credentialed coffee graders that cannot be avoided). I often find myself branching out to purchase new, exotic coffee roasts from all over the world in order to expand my palate and refine my preferences. It is on one such occasion, as I'm enjoying my morning brew, that I remember hearing about a coffee that is sold after some kind of wild cat eats it and poops it out.
After a hasty Google search, I discover that the animal in question is an Asian palm civet and that the coffee itself is referred to as kopi luwak (kopi is Indonesian for coffee, and the civet is known locally as the luak). This coffee is mainly produced in Indonesia and the Philippines; the beans are collected after they have traveled through the gastrointestinal tract of the civet cat, allegedly undergoing acidic, enzymatic, and fermentation treatment. That is, in layman's terms, coffee beans that have been digested, shit out, and sold for pretentious coffee nerds to enjoy. It sounds grotesque and the ever persistent voice in my head insists that I try it.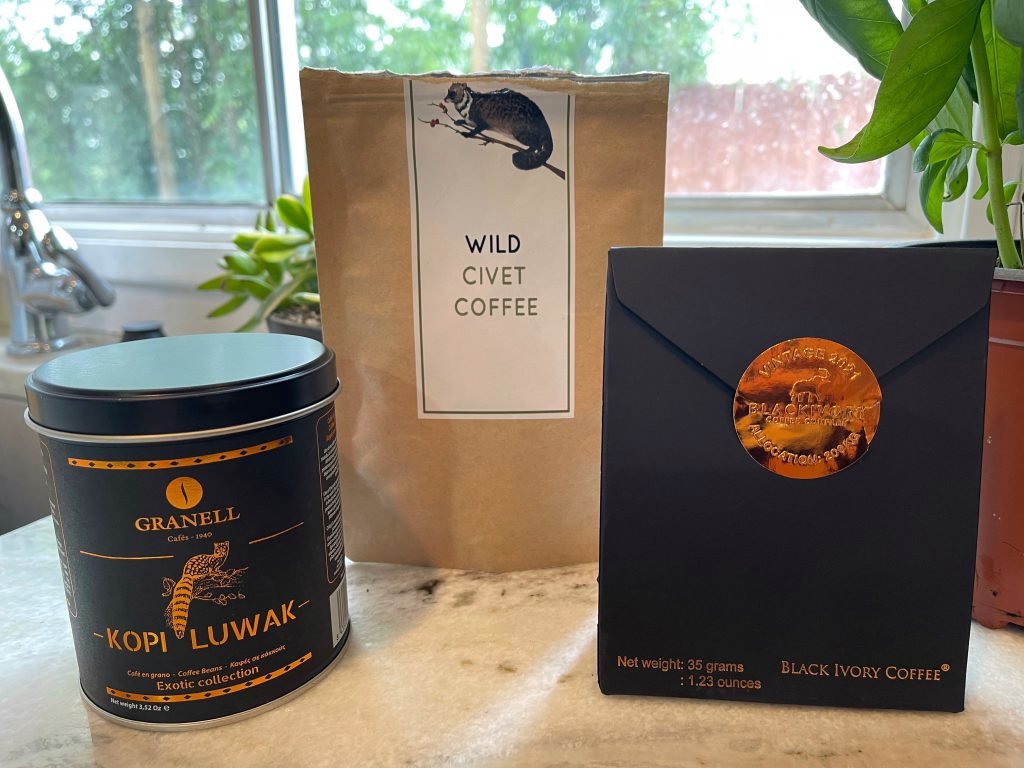 Amazon offers so many options of kopi luwak coffee that I'm unsure which to select, so I purchase two different kinds to sample. The first one comes in a plain, brown bag with a civet cat on the label (the civet pictured looks like a combination of a raccoon and a weasel). At $59.99 for 70 grams (2.4 ounces), I'd hardly say it was a bargain. The second coffee comes in a black tin canister with orange lettering. Another picture of a tiny civet cat adorns the label. I acquire this one at a whopping $113.94 for a 100-gram (3.5-ounce) container.
I am both so thrilled and revolted by the thought of my new venture that I decide to text my buddy, Edwin Parnell, to tell him the news. Edwin is a fellow BRCC employee and a Q Arabica Grader, meaning he is credentialed by the Coffee Quality Institute to grade and score coffee utilizing standards. That is his "technical" label, but I refer to it as "I don't know, he has like, a coffee doctorate, or something" when mentioning him in casual conversation.
"Have you tried that kopi luwak coffee?" I ask.
"I have. It's kind of a fucked-up coffee now. They realized that they can make money off of civet cats, so now they force-feed those little fuckers coffee cherries all day. There might be some legit companies that do it naturally, but there are a lot of scammers that take advantage of the price people are willing to pay, and honestly it's just not that good," he tells me.
Oh, no. What have I done? These poor shit-cats are being forced to defecate against their will.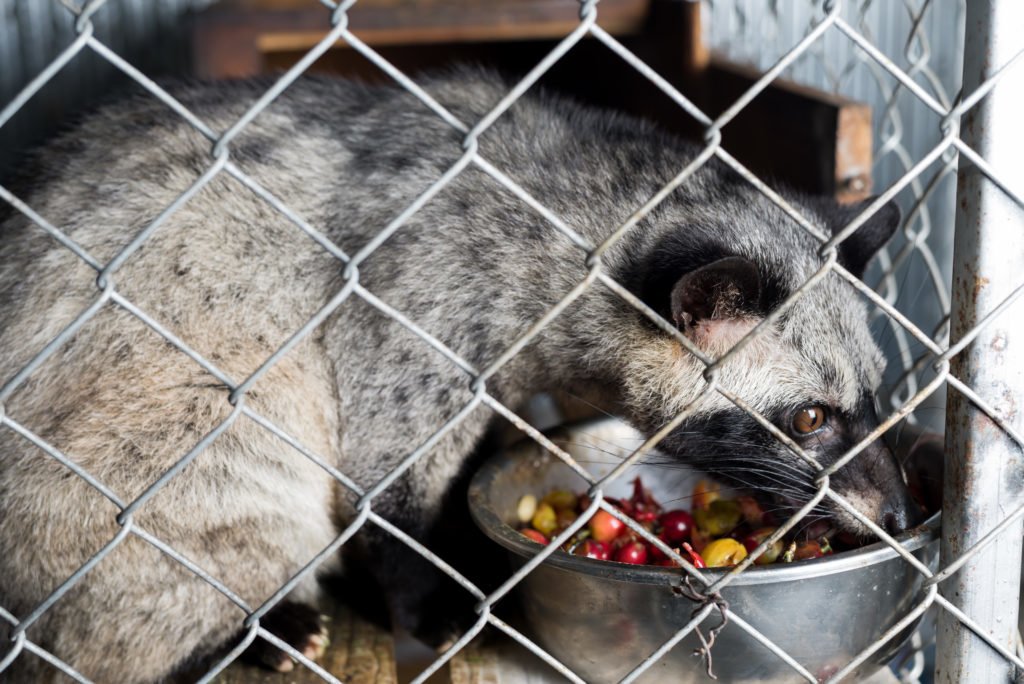 I feel a knot of guilt rise in my stomach as I remember seeing some disclaimers about not harming civets in the coffee descriptions. I had just glossed over it with the assumption that saying such things is standard procedure for anything involving animals.
In a panic, I go back to the descriptions of both coffees and meticulously analyze them both. The coffee in the plain, brown bag (produced in a volcanic area of Mount Matutum in the Philippines) has the disclaimer: "All our coffee is processed by free living Asian Palm Civets. – we don't think any animal should be harmed because of us! Also, the coffee processed by those little free living animals tastes much better than the ones processed by caged animals. The free living Civets eat only the ripest berries, because they taste sweeter than the other berries. This natural selection is the reason why coffee from free living Luwaks tastes better than coffee from caged Luwaks."
How prevalent is the captivity of these wild cats to further human self-indulgence? How does one truly know if their coffee is ethically sourced? I wonder.
The coffee in the black canister labeled "Granell Cafes – 1940" is sourced from plantations in Sumatra and also has a disclaimer: "Wild Asian Palm Civets roam free in the highlands of Indonesia, selecting the choicest coffee cherries for their personal consumption. All beans are sustainably harvested. NO ANIMAL HAS BEEN HARMED, ABUSED OR EXPLOITED IN ANY WAY IN THE PRODUCTION OF THIS COFFEE." This one also comes with a "Certificate Of Guarantee" from the Association of Indonesian Coffee Exporters and Industries stating that they have followed the "Animal Welfare Rule."
Civet coffee came about in the 18th century. The Dutch plantation owners forbade the Indigenous workers from picking coffee fruits for their own use, so the natives had to improvise.
I read on to discover that civet coffee came about in the 18th century when Sumatra and Java were part of the Dutch colonial empire in the East Indies. The Dutch plantation owners forbade the Indigenous workers from picking coffee fruits for their own use, so the natives had to improvise. They noticed the civets eating the coffee fruit, while leaving the seeds behind in their feces, seemingly unchanged. The Indonesian people then cleaned and roasted the beans, and brewed them into a beverage that was allegedly so delectable that it became a favorite of the Dutch plantation owners themselves. Even the origins of this coffee are unscrupulous.
While I am falling down this ethical rabbit hole, Edwin sends me a link to something that piques the height of my interest. The world's rarest and most expensive coffee! ELEPHANT SHIT COFFEE! (Okay, their marketing team did a better job than that, I'm paraphrasing here). The link leads me to Black Ivory Coffee Co., a company that boasts a commitment to elephant conservation and welfare. It proclaims that any purchase of this coffee supports "The Golden Triangle Asian Elephant Foundation in order to educate the children of elephant care-giving families on the plight of wild elephants in Thailand and on the issue of human elephant conflict."
This coffee is naturally refined (what a lovely euphemism) by Thai elephants in the province of Surin, Thailand. The best 100% Arabica cherries are selected and mixed in with the elephant's favorite foods (rice, banana, tamarind, etc.) to ensure that the elephants are happy and get their necessary nutrients. In addition to the claims of ethical treatment to both the elephants and their "care-givers," this coffee professes to be roast to order, which means that the beans aren't sitting in a warehouse for months on end, going stale. They are instead roasted in small batches and shipped out as orders come in to ensure the utmost freshness!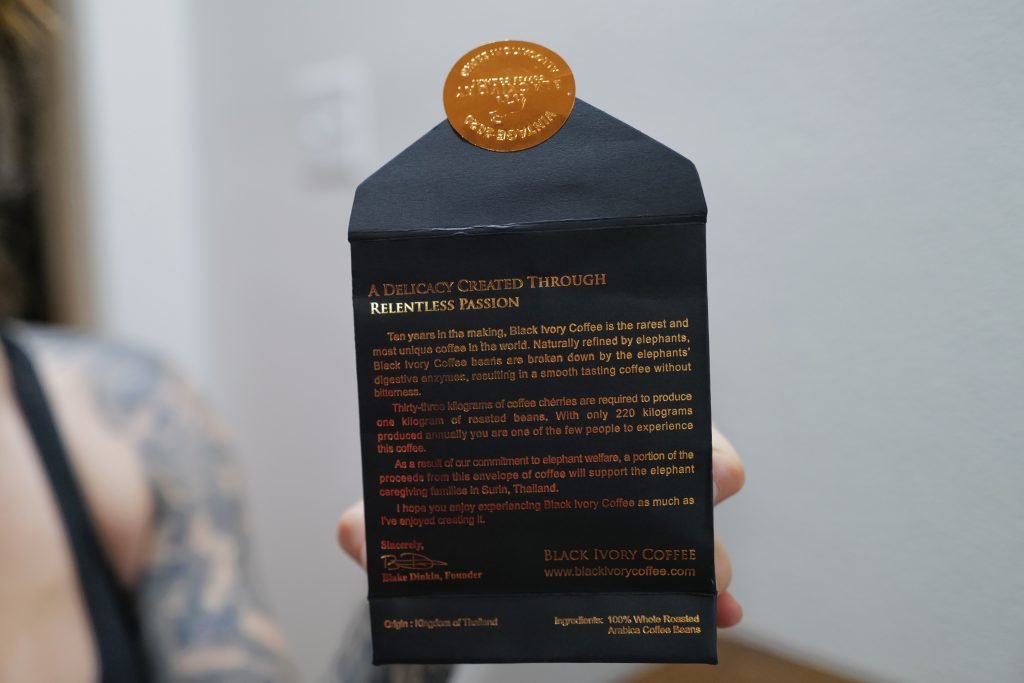 And just like that, they have my money. I am now ordering more coffee sourced from animal shit, something I never thought I'd do once in my life, let alone twice. A pound of this shit (pun intended) goes for $1,100. I opt for 35 grams (1.23 ounces) for $120 instead.
Once all three coffees are delivered, it's time to make some poo-brew. I decided to try the kopi luwak in the plain brown bag first. At $59.99, it is the least expensive of the three and has the blandest packaging. I open the bag and take a whiff. The beans give off a nutty/chocolatey aroma, and relief immediately washes over me. I don't know why I expected them to smell like they actually came out of the ass of a cat. After carefully inspecting them for any remaining poo residue, I grind up the beans and toss them into my Chemex.
I typically make a pour over coffee at a 16:1 ratio, which means I add 16 grams of water for every 1 gram of coffee. I've ground up 40 grams of this Kopi Luwak, so I'm going to add 640 grams of water at 203 degrees Fahrenheit. Upon the water's first contact with the kopi luwak, a burnt odor instantly hits my nostrils, and I predict that the coffee won't taste much better. The moment of truth arrives as I lift the mug up to my lips to take my first sip. The coffee is heavy and murky in my mouth. The burnt/overroasted taste is overwhelming and immediately destroys any redeeming qualities this coffee might possess. What a waste of money. I wouldn't suggest paying a cent for this coffee, let alone $59.99.
Are either of the other two coffees decent, or is this all just a gimmick?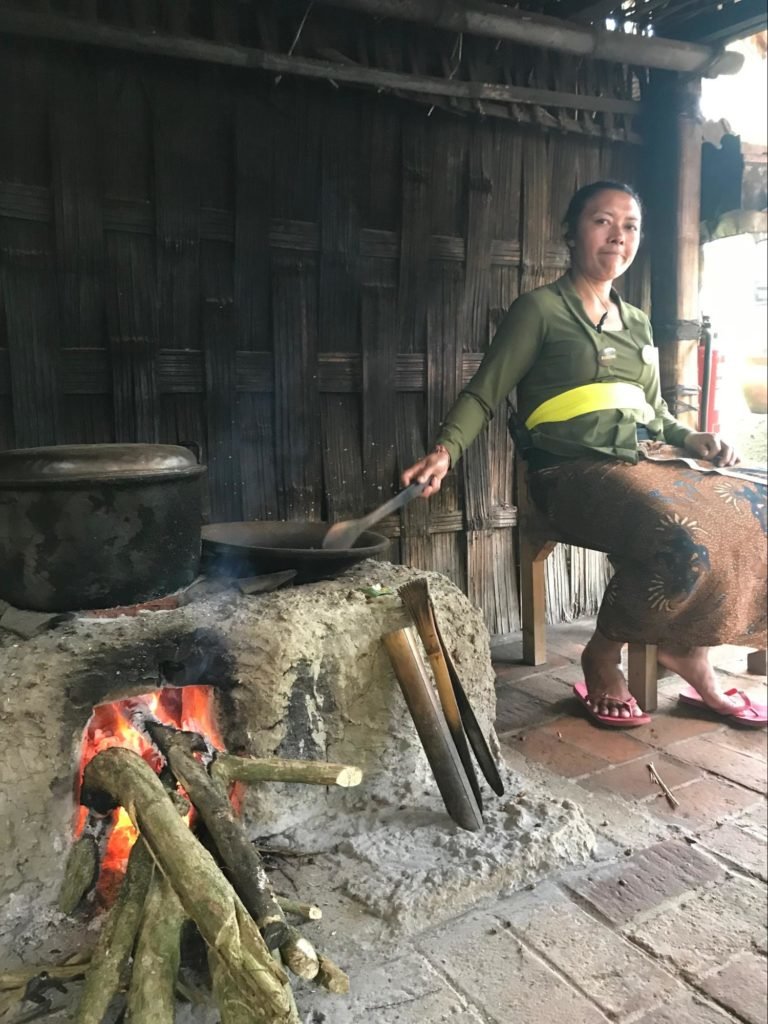 Kopi luwak No. 2 is packaged in the black canister with golden lettering. This one is roasted in Spain, with at least six different languages printed on the tin. It's time to find out if it is, in fact, worth the exorbitant $113.94. I notice these beans are similar in size and color to the first Kopi Luwak, yet upon smelling them they have a perceivably fruity aroma. I brew this one the same way as the first and take note of the tangy smell as the water drains through the grinds. Yet again, the time has arrived for me to sample this ostentatious brew.
As I take my first sip, I am pleasantly surprised to find the quality much better than the first kopi luwak. It still tastes like a much darker roast, yet there is a lack of a murky mouthfeel. Despite the increased quality, it is still very rich and much too dark for my taste. Once more, I determine the cost is exceedingly steep for the mediocre caliber of the coffee itself.
The third and final coffee is allegedly the world's most rare and expensive. For $120 per 35 grams, you can make approximately two cups of brew from beans sourced through elephant poop. Neat.
The tiny package is wrapped in delicate, charcoal tissue paper and sealed shut with an ebony sticker. Raised lettering reading "Black Ivory Coffee Company" graces the front of the sticker. Once removing this layer, a black envelope is revealed underneath. Fancy golden lettering on the back of the package describes the coffee itself, the commitments of the company, and ends with a printed signature of the founder, Blake Dinkin. The front of the package is sealed shut and emblazoned with a vibrant sticker of the company logo. Presentation is everything, and so far they are off to a phenomenal start.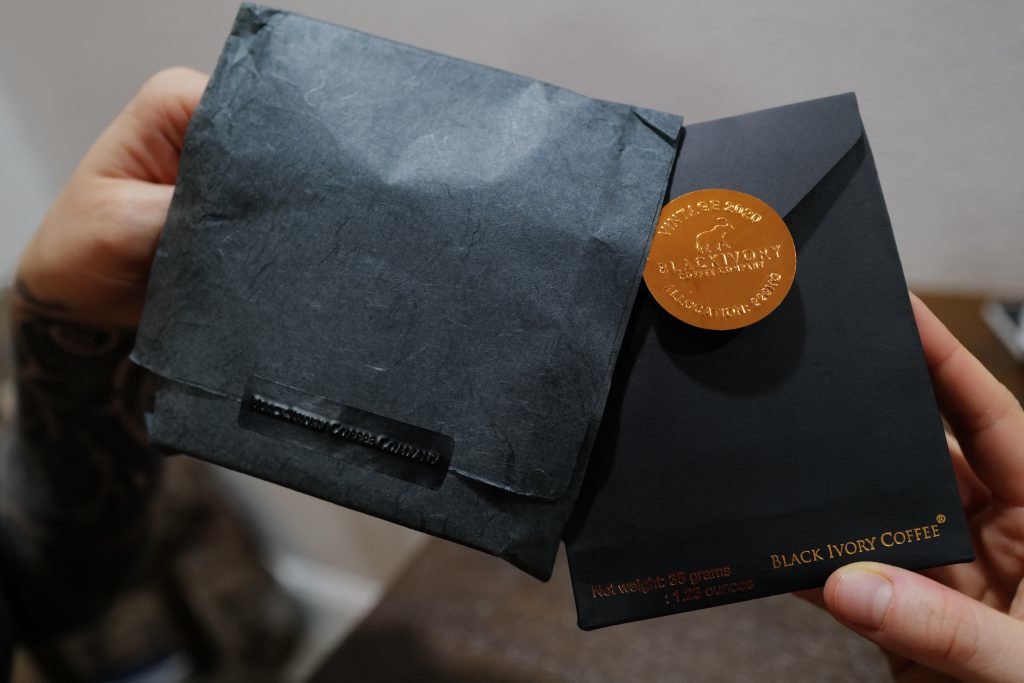 I remove an even smaller plastic pouch from inside the envelope, which contains the meager 35 grams of beans. I tear open the pouch in anticipation and note the beans are smaller and oilier in appearance. After a quick sniff, I note that while the beans are extremely pungent and a bit sour in aroma, it is not unpleasant. As the coffee blooms in the Chemex and the water trickles through the device, the "sour" aroma continues to grow. I'm faced with my final cup of poo-brew and ready to blindly dive in.
My first sip of this coffee is indescribable. The tart aroma transcends to taste, as I get hints of grassy and earthy notes. I take sip after sip, attempting to put into words the flavor of this fascinating coffee. I decide to read more on Black Ivory's website in an attempt to articulate what I'm experiencing. The company boasts of the coffee's lack of bitter taste, with a delicate tea-like complexity. They claim notes of chocolate, spice, tobacco, leather, grass, and red cherry, which can change depending on the elephant's diet. After some uncomfortable thought, I believe that my particular elephant loved eating grass and greenery. The coffee is true to its description and is one of the most unique coffees I have ever had. Perhaps an acquired taste, yet definitely the most enjoyable coffee of the three poo-brews I sampled.
While it's been a worthy coffee experience, I would not regularly purchase these outrageously priced coffees for my day-to-day life. I can comprehend the novelty of drinking brew from beans that have passed through the gastrointestinal tracts of animals, however I wouldn't necessarily recommend it for the average coffee drinker. Not to mention, the ethical questions that must be addressed when purchasing any coffee. Are the farmers and workers who produce this coffee fairly paid? Are there animals involved, and if so, are they being mistreated? How transparent is the company with information they present to the public? Do they convey an ethical mission? What it ultimately comes down to is thorough research and a desire to consume products that further the greater good of this Earth and all those who reside here.
Read Next: How Did You Become Passionate About Coffee?