Portland's streets saw no violence and were relatively quiet Thursday — the 64th consecutive night of protests and the first night since federal agents agreed to cede their mission of protecting federal buildings in the city to Oregon State Police. Violence between protesters, rioters, and federal agents occurred regularly for over a week leading up to Thursday night and often included exchanges of less-lethal munitions, CS gas, and fireworks.
Oregon Gov. Kate Brown negotiated the phased withdrawal of federal agents from Portland's streets with the Trump administration, promising to deploy State Police to protect the two federal buildings that have become the cite of often-violent clashes between protesters and federal agents since the Trump administration deployed the Department of Homeland Security task force to the city.
Brown reached out to Vice President Mike Pence July 23 to begin negotiations. Pence holds regular phone calls with governors about the COVID-19 pandemic, and Thomas Wheatley, the governor's interim director of communications, said Brown has a positive rapport with the vice president. Brown's staff described her relationship with Pence as "cordial," according to The Oregonian.
At the request of Oregon State Police, Portland police Thursday morning cleared the city parks and surrounding sidewalks across from the Mark O. Hatfield United States Courthouse, where protesters have gathered nightly for weeks. Police taped off the park, which remained empty for most of the day.
The Oregonian reported that "police removed the tape Thursday evening just as people prepared for a Black Lives Matter rally at the local Justice Center next to the courthouse. Portland officers who had been walking around the area also left." State police stayed inside the courthouse at least until 1:30 a.m. Friday when about 300 people remained in the area.
Negotiations between state and federal officials began shortly after a federal judge temporarily barred federal officers from using force, threats and dispersal orders against journalists and legal observers documenting the protests and law enforcement response, according to The Oregonian.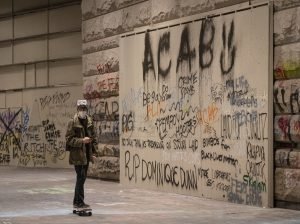 "U.S. District Judge Michael H. Simon, who is married to Democratic U.S. Rep. Suzanne Bonamici, rejected the federal government's argument that federal officers shooting journalists and legal observers with impact munitions in the back, neck and legs were 'unintended consequences' of crowd control. Simon further said individual federal officers or supervisors could be held liable if they intentionally disregard his ruling," The Oregonian reported.
"When wrongdoing is underway, officials have great incentive to blindfold the eyes of the Fourth Estate," Simon wrote in his ruling. "The free press is the guardian of the public interest, and the judiciary is the guardian of the press."
Kiley Delgado, a bar owner in the Portland suburb of Beaverton who joined the protest group Moms United for Black Lives and has attended protests in support of Black Lives Matter and against the DHS task force's presence since July 21, was outside the courthouse Wednesday night.
"Not a single firework was thrown that night," Delgado said. "I didn't see any violence from protestors. There were about 40 of us — moms, veterans, journalists — with our hands in the air, chanting, 'Hands up; don't shoot.' Then about 50 feds formed a line and started shoving us to the ground. A border patrol agent punched a man next to me in the face while another grabbed me by my backpack strap, pushed me back and held a lit tear gas canister right underneath the respirator vent on my gas mask. I've been gassed plenty of times, but this was different. I have the highest grade non-military gas mask. We thought we were going to die."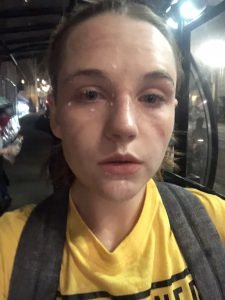 Brown's chief of staff Nik Blosser told The Oregonian/OregonLive that Trump administration officials did not demand any concessions or pledges from Brown before they agreed officers would depart.
"They're not gonna walk in and say, 'We screwed up,'" Blosser said. "But every action they took in the last week implied that, that they needed a different strategy […] They know every time they step out of the building, let alone step into the street, they get in trouble and they know that just strategically, the city of Portland won't even talk to them because of their actions."
Portland Mayor Ted Wheeler, who is also the city's police commissioner, prohibited the Portland Police Bureau from coordinating with federal officers. Wheeler attended the nightly protest in front of the federal courthouse July 22 and was subjected to tear gas.
In a telephone call Wednesday with reporters, acting Homeland Security Secretary Chad F. Wolf pushed back against the idea that the administration was changing course on its operation to quell protests in US cities.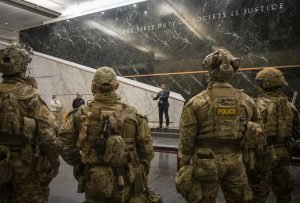 "The governor reached out, is what changed," Wolf said. "The governor made that decision finally around day 57 (of the protests), decided to be a partner and reached out to us to offer Oregon State Police. Why that did not happen on day 10 I do not know […] I'm glad that she changed her mind."
Wolf insisted federal law enforcement officers "will remain in Portland […] Our entire law enforcement presence that is currently in Portland yesterday and the previous week will remain in Portland until we are assured that the courthouse and other federal facilities will no longer be attacked nightly and set afire."
Wolf pledged to "surge up" or "surge down," depending on the circumstances on the ground.
Oregon State Police Superintendent Travis Hampton said his troopers will wear their standard police uniforms and iconic campaign-style hats — not riot or tactical gear to present an "officer friendly look around the courthouse."