Stories about prisoners of war (POWs) are normally dark, arduous tales of torture and seemingly endless hardship. However, one legendary Green Beret reshaped a predominantly somber narrative with the help of his cunning, brute force — and his beard.
Colonel James "Nick" Rowe was a graduate of the United States Military Academy at West Point and a Special Forces officer who served in the U.S. Army from 1960 to 1974. He was also recalled to active duty in 1981 and went on to advise the Armed Forces of the Philippines in the Philippine counter-insurgency. While his daring exploits span multiple theatres of operation, Rowe's legend was created in the jungles of Vietnam.
In October 1963, then-1st Lieutenant Rowe was three months into an advisory mission in South Vietnam. While conducting an operation to expel a Viet Cong unit from Le Coeur village, Rowe was captured during a firefight, along with future Medal of Honor Recipient Captain Humberto "Rocky" Versace.
Rowe went on to spend 62 months in captivity in an area of South Vietnam known as the "Forest of Darkness." During his time as a POW, Rowe was tortured and subjected to multiple forms of inhuman treatment. The ever-diligent survivalist, Rowe attempted to deceive the guards into thinking he was not a threat by convincing them he was an engineer who had been drafted into the military. This allowed Rowe to make several escape attempts in an effort to gain his freedom and return to his unit.
After more than five years of trying to keep watch over Rowe, his captors grew exhausted with him. The North Vietnamese sentenced him to death, and he was led into the jungle to be executed by a Viet Cong patrol. Rowe had a different plan.
During the execution attempt, Rowe's captors were distracted by the sound of nearby American helicopters. Rowe quickly overpowered his guards and made his way to a clearing where he could wave down the friendly birds.
According to accounts by the helicopter pilots, despite that Rowe was dressed in Viet Cong-style black pajamas, his thick beard that had grown during his years in captivity helped to identify him as an American. Rowe was ultimately rescued in 1968, and he returned stateside at the rank of major.
…despite that Rowe was dressed in Viet Cong-style black pajamas, his thick beard that had grown during his years in captivity helped to identify him as an American.
After exiting the military to run for Congress and author the book "Five Years to Freedom," Rowe decided to continue his military career in the U.S. Army Reserves. He was called back to active duty in 1981.
Then-Lieutenant Colonel Rowe personally designed and built a course that replicated his experience as a POW in Vietnam to be utilized as a training aid.
In 1987, he was assigned to command an advisory group in the Philippines. He worked closely with the CIA and intelligence organizations in the Philippines to prevent a communist revolution.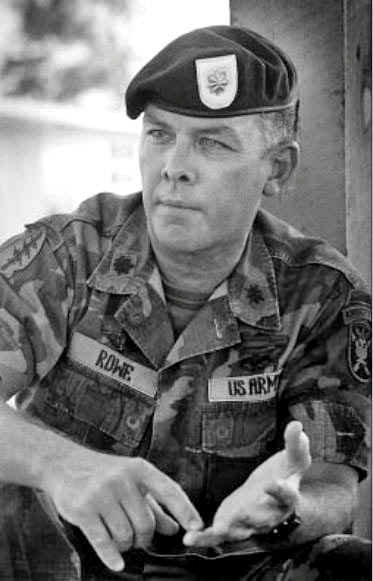 Rowe was killed in 1989 when his vehicle was ambushed by assassins from the communist New People's Army of the Philippines while he was conducting counter-insurgency training for the Armed Forces of the Philippines.
Survival, Evasion, Resistance, and Escape (SERE) is still taught at the Colonel James "Nick" Rowe Training compound at Camp Mackall, North Carolina, to special operations forces students. It is currently a graduation requirement for the U.S. Army Special Forces Qualification Course and widely considered to be the toughest — yet exceedingly vital — training curriculum in the special forces community.
Special Forces candidates are also allowed to grow beards during SERE, an exception likely inspired by the school's namesake.