By Miguel Ortiz
Ever since the first details were released about a stealth helicopter being used and crashing during the 2011 Navy SEAL raid that resulted in the death of Osama bin Laden, the internet aviation community has been awash with great interest and speculation about the aircraft. Recently, an image of what looks to be a forerunner for the stealth Black Hawk used in the raid surfaced online.
The internet community was quick to perform a visual autopsy on the image and scrutinize it for telling details that might reveal hidden secrets about the enigmatic project. One highly respected and anonymous contributor shared as many explicit details, the type that can only come from firsthand knowledge, as they could without breaching an NDA.
According to this source, the aircraft pictured is a YEH-60A at Edwards Air Force Base in 1989 or 1990. The helicopter is allegedly sporting a "Direction Finding Enhancement Kit", of which a half dozen were produced. The kit reportedly also featured additional components like tail modifications that do not appear in the picture. This is consistent with the fact that the tail rotor of the crashed Black Hawk from the OBL raid was heavily modified and resembled the tail rotor of the canceled RAH-66 Comanche stealth helicopter.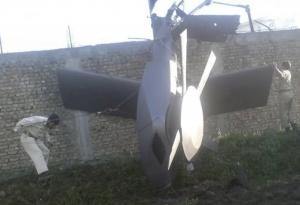 The anonymous source goes on to detail that those involved in the program nicknamed the aircraft the "Black Blackhawk." In keeping with its spectral name, the test team took a picture with the helicopter which the source had double exposed with them in and out of the photo. "We all looked like ghosts. This would be a real head-turner on the contest table," the source said.
At the same time that the "Black Blackhawk" was being tested at Edwards, the Lockheed YF-22 was being tested out of a hangar not too far away. The helicopter can reportedly be seen in some photos of the YF-22 flight test operations. Allegedly, the Lockheed engineers were bewildered when they first saw the YEH-60A with its kit.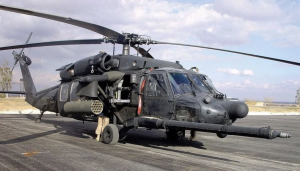 At one point, despite the secretive test site, the helicopter's test pilots had to take off one hour before sunrise and arrive back at Edwards one hour after sunset so that the aircraft would not be observed. Even this was a loosened restriction since the aircraft allegedly had to fly exclusively at night when it first began testing.
While the modern MH-60L Direct Action Penetrators flown by the US Army's 160th Special Operations Aviation Regiment are not pictured with any sort of stealth kit, the wreckage of the OBL raid helicopter and the release of this image are proof that the technology is out there and has been for some time.
This article was originally published Sept. 8, 2020, on We Are The Mighty.