President Joe Biden delivered a commencement speech at Cadet Memorial Field last week to celebrate the 240 graduating ensigns of the US Coast Guard Academy. During his roughly 25-minute speech, he discussed the role of US seapower in the world and international tensions that the US faces.
But that's not what made the news. Instead, numerous headlines homed in on a joke that landed with a thud.
Biden joked about Slice Pizza Bar in New London, a favorite spot for cadets to grab a bite to eat. "You passed through 100th week, and maybe spent a little too much time at The Slice," Biden said.
Crickets.
"You can clap," Biden said. "Come on, man, you're moving on. Show a little courage."
Biden also called the class "dull" for not laughing at his jokes.
It was a cringy moment for Biden's first presidential speech to a military academy. It also put him squarely in the middle of an unofficial but near-constant presidential tradition: delivering speeches, or sometimes just a joke, to or about the military that — pardon the pun — totally bomb.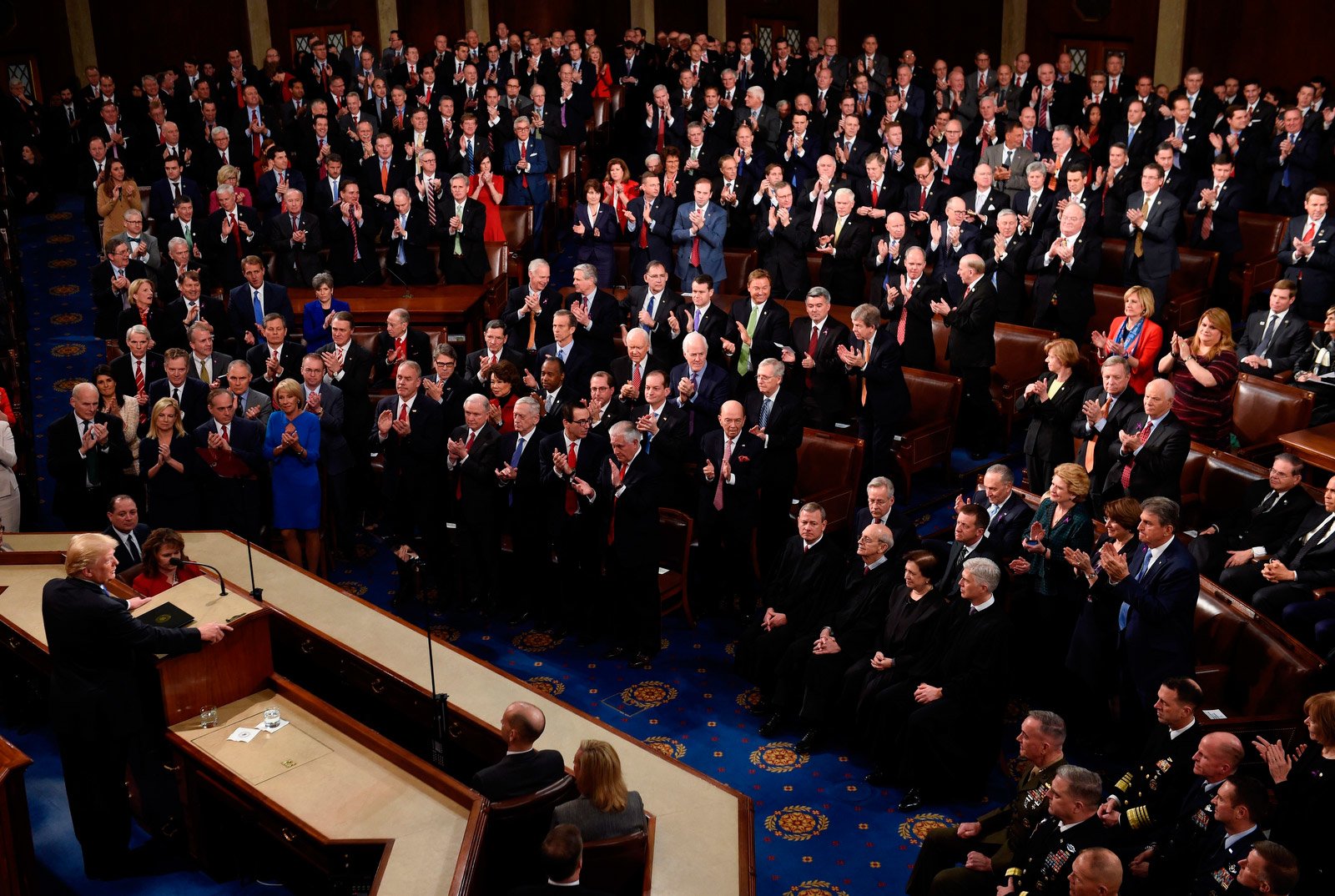 Why Do Presidents "Bomb" With Military Audiences?
One issue is that military audiences — from graduating academy cadets to four-star generals — are usually required to be bad audiences for politicians. A bedrock of the military-civilian relationship in the US is that the military stays out of politics and the Uniform Code of Military Justice, or UCMJ, requires troops to not participate in political events or overtly support political causes or candidates while in uniform or at work. Traditionally, this commitment to neutrality has extended to presidential speeches, under the notion that clapping, laughing, and cheering for a politician — even the commander in chief — could be construed as endorsing them if an election is near.
The highest-profile annual example comes when the president gives the annual State of the Union address to Congress. Members of Congress — all politicians — cheer and applaud if the president is in their party. But the generals who make up the Joint Chiefs of Staff have a long tradition: from their front-row seats, they listen respectfully, neither applauding nor showing disagreement (except when the speech might mention "troops overseas" or some clearly nonpartisan military topic). Justices of the Supreme Court, who also attend the State of the Union, follow a similar no-applause tradition.
So did the cadets in New London sit on their hands out of strong military bearing? Or were Biden's jokes just not that funny?
In the spirit of Biden's ill-received stand-up comedy bit, we put together a list of four other times presidents have put their foot in their mouths in front of military audiences.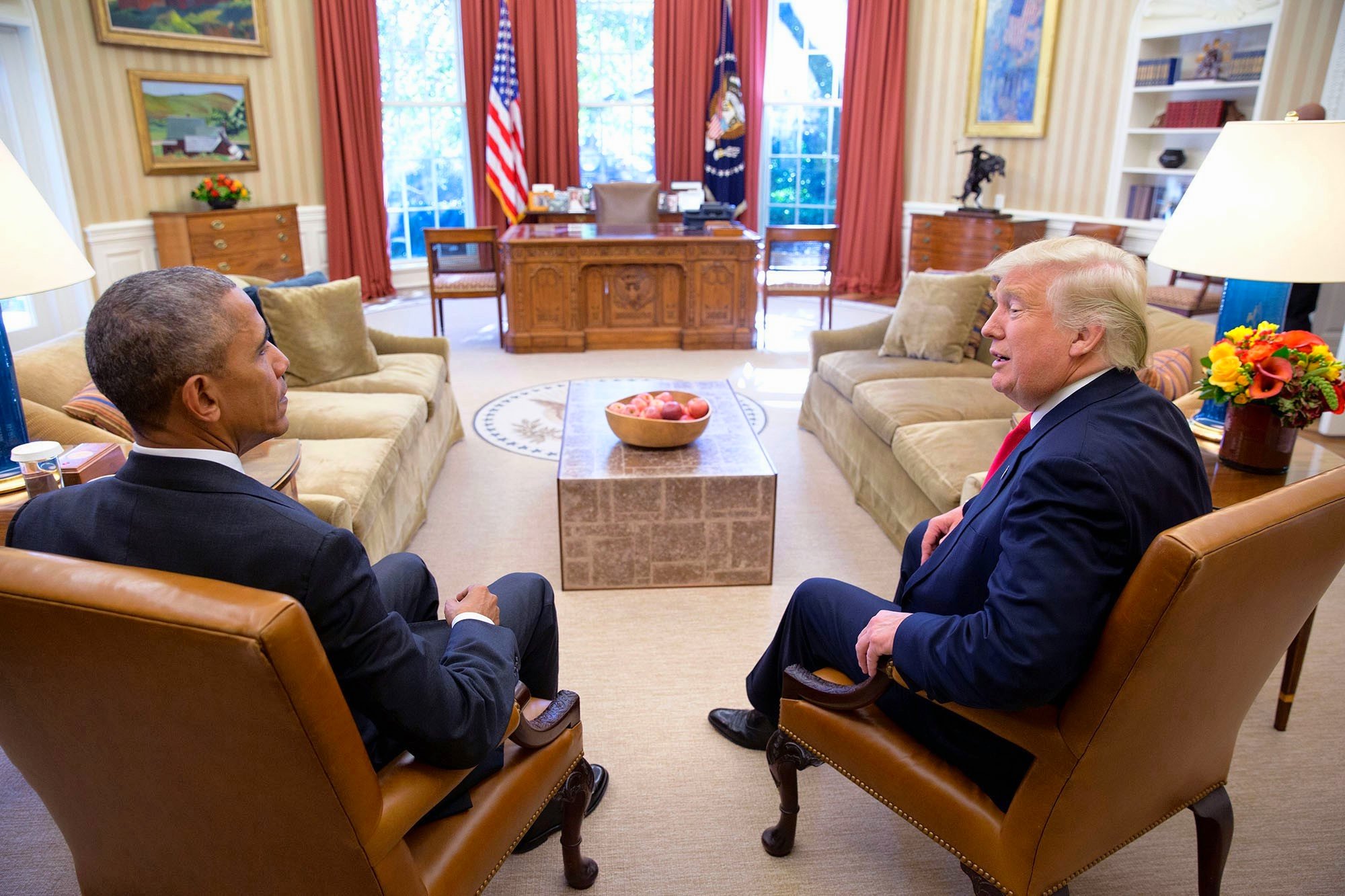 Donald Trump Ordered West Pointers Back To Campus During COVID-19
In 2020, President Donald Trump recalled nearly 1,000 West Point cadets who had scattered around the country following the postponement of their graduation ceremony during the height of the COVID-19 pandemic. With the pandemic at a high point, the US Naval Academy held a virtual event for its graduating seniors. The US Air Force Academy locked its seniors down on campus before an early graduation date for a speech by Vice President Mike Pence.
But Trump shocked even West Point faculty by insisting his in-person speech go forward, even though the class had already left campus. After Trump left, the cadets remained on campus for an additional 14 days to quarantine.
Ronald Reagan Joked About Bombing the Soviet Union on a Hot Mic
On Aug. 11, 1984, President Ronald Reagan made a controversial joke about bombing Russia while on a hot mic testing the sound before his scheduled radio address.
"My fellow Americans, I am pleased to tell you today that I've signed legislation that will outlaw Russia forever," the President said as if he was giving a real speech. "We begin bombing in five minutes."
Those in the audience snickered at the obvious sarcastic remark — but the Russians didn't. Soviet state media called the remark "unprecedentedly hostile" and US diplomats had to rush to smooth over tense reactions.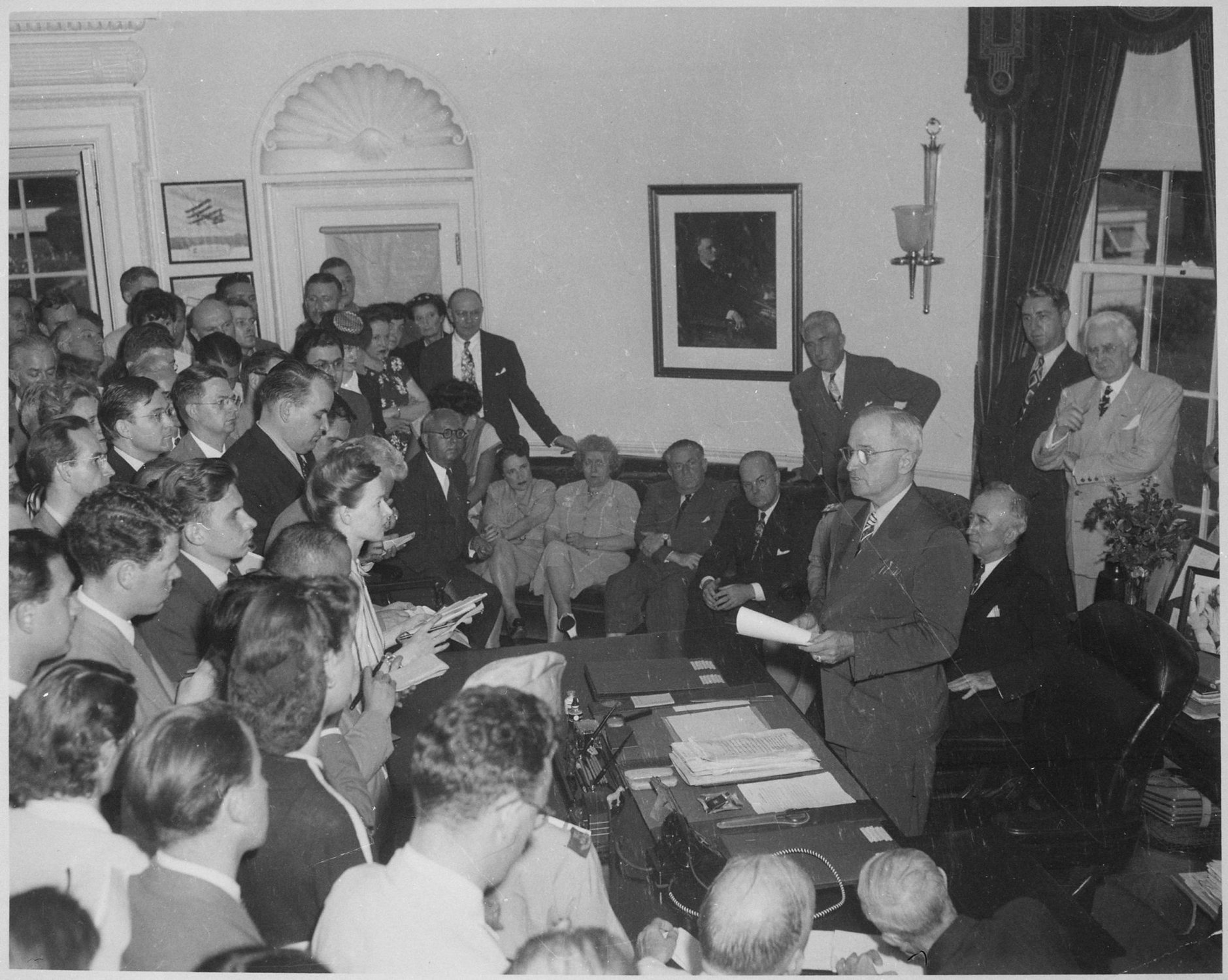 Harry Truman Seemed To Give MacArthur The Go-Ahead To Use Nukes In Korea
President Harry Truman is the only US President in history to approve the use of a nuclear attack when American warplanes dropped two atomic bombs on the Japanese cities of Hiroshima and Nagasaki during World War II. In 1950, Truman also considered a nuclear option for the Korean War. "There has always been active consideration of its use," he said at a news conference. "I don't want to see it used. It is a terrible weapon and should not be used on innocent men, women, and children who have nothing whatever to do with the military aggression."
Merriam Smith, a reporter from United Press International, then tried to pin Truman down: were civilian or military targets considered? Truman's answer seemed to be that US commanders in the field had a green light to use nukes.
"I'm not a military authority that passes on those things," Truman said. "The military commander in the field will have charge of the use of weapons, as he always has."
The United Press bulletin published the headline: "PRESIDENT TRUMAN SAID TODAY THE UNITED STATES HAS UNDER ACTIVE CONSIDERATION USE OF THE ATOMIC BOMB IN CONNECTION WITH THE WAR IN KOREA."
That "commander in the field" was Gen. Douglas MacArthur, known for his outspoken advocacy of aggressive action against China and in Korea; he was viewed as much more likely to use a nuke, if allowed to, than Truman.
Neither Truman nor MacArthur ever seriously considered nukes in Korea, and soon after control of all US nuclear weapons was put entirely under the president, via the "nuclear football." Today, no US military commander can order the use of a nuke.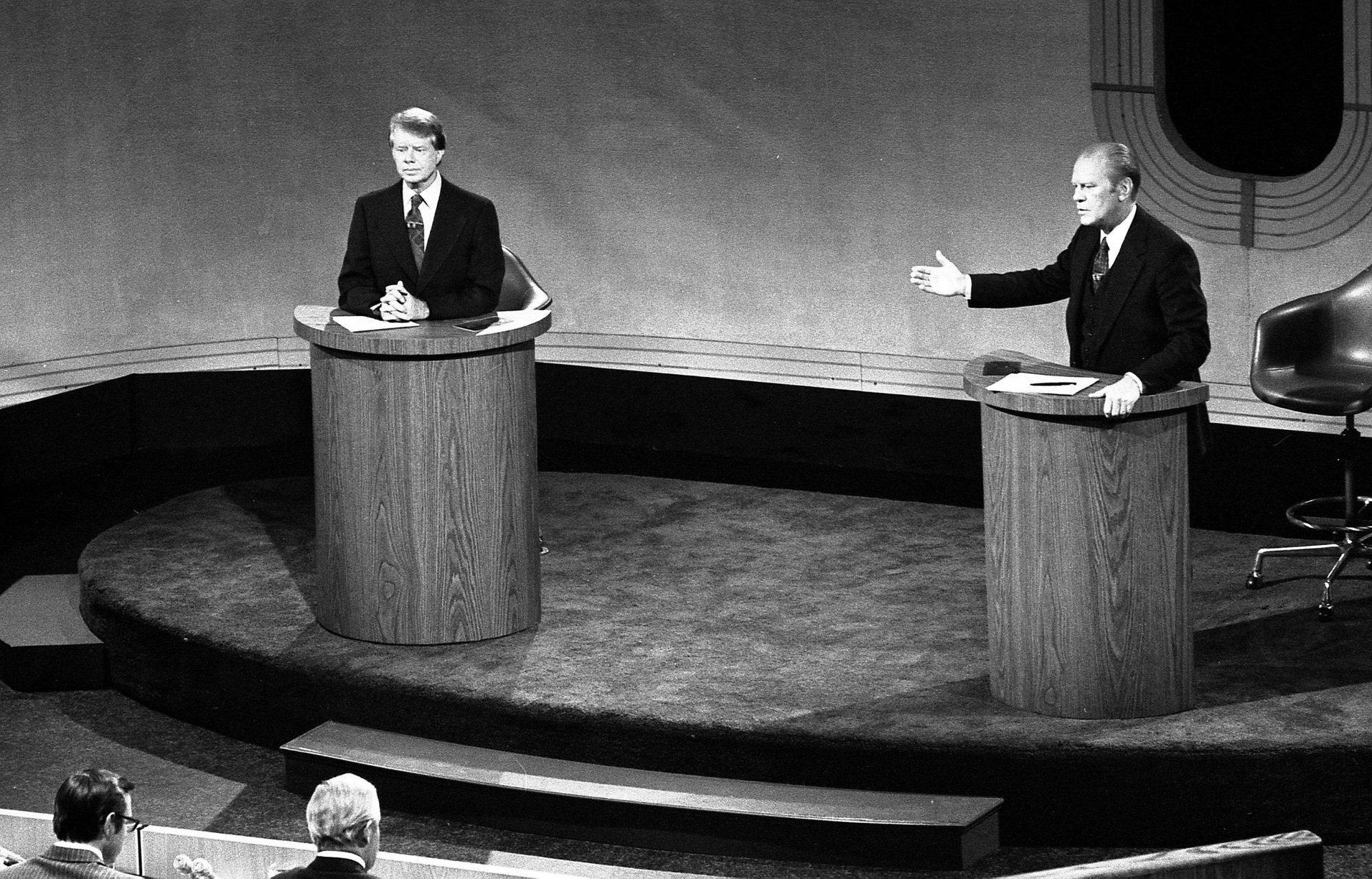 "Ford Frees Poland"
"There is no Soviet domination of Eastern Europe and there never will be under a Ford administration," said President Gerald Ford in the 1976 presidential debate against Georgia Gov. Jimmy Carter.
This answer was plainly not true. The Soviet-led Warsaw Pact alliance was in a perpetual stand-off with NATO, and denial of Soviet domination of Eastern Europe would have stunned any Poles, Czechs, Serbs, Romanians, Hungarians, Latvians, Lithuanians, or Estonians in the audience. It clearly baffled debate moderator Max Frankel, a journalist from the New York Times, who replied, "I'm sorry, what? … did I understand you to say, sir, that the Russians are not using Eastern Europe as their own sphere of influence in occupying most of the countries there and making sure with their troops that it's a communist zone?"
Ford doubled down on his stance stating the viewpoints of the people from Yugoslavia, Romania, and Poland were free of Soviet interference. Carter's running mate, Walter Mondale, joked through the remainder of the campaign that "Ford freed Poland."
Read Next: 10 Powerful Quotes From Wartime Presidents