This article was originally published Sept. 3, 2020, on Radio Free Europe/Radio Liberty.
German Chancellor Angela Merkel is facing growing pressure to toughen her stance toward Russia after her government announced that it had "unequivocal evidence" showing gravely ill Kremlin-critic Aleksei Navalny had been poisoned with a Novichok nerve agent.
German politicians and media are urging Merkel, in particular, to abandon the Nord Stream 2 project, an underwater Baltic Sea pipeline nearing completion that would bring gas from Russia to Germany.
"Diplomatic rituals are no longer enough," Norbert Roettgen, the head of the German parliament's foreign affairs committee, tweeted on September 2.
"After the poisoning of Navalny we need a strong European answer which Putin understands: The EU should jointly decide to stop Nord Stream 2," said Roettgen, a candidate to be the next leader of Merkel's Christian Democratic Union party.
Meanwhile, the top-selling Bild daily issued an appeal to abandon the pipeline, saying that pursuing it was "tantamount to us financing Putin's next Novichok attack."
"The apparent attempted murder by the mafia-like structures of the Kremlin can no longer just give us cause for concern, it must have real consequences," Green parliamentary group leader Katrin Goering-Eckardt said.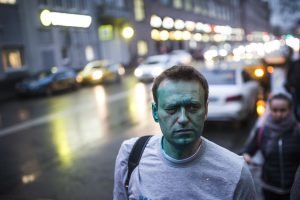 Chorus Of Condemnation
Russia faces a chorus of condemnation and calls to conduct a transparent investigation after a team of German specialists said they had found that a chemical nerve agent from the Novichok group was used against Navalny, who is in intensive care in a Berlin' hospital. The Soviet-style poison is suspected of being used in other attempts to silence outspoken Kremlin opponents.
The Kremlin on September 3 reiterated its stance that Russia should not be blamed for Navalny's condition.
"We would not want our partners in Germany and other European countries to rush to some sort of judgement," Dmitry Peskov, President Vladimir Putin's spokesman, told reporters.
"There is no reason to accuse the Russian state."
Merkel said that Germany has notified its EU and NATO partners about Navalny's "attempted murder by poisoning" in order to decide on "an appropriate, joint reaction."
She said there are now "some very serious questions that only Russia can, and must, answer."
Merkel added that any German or European response to the poisoning depends on whether Russia helps clear up the case.
Last week, the German chancellor rejected the idea that the Navalny case should be linked to Nord Stream 2, a project that has drawn the ire of the United States and some European partners.
NATO, Britain, France, Italy, Canada, the United States, and other countries have called for an investigation and threatened a joint response.
European Commission spokesman Peter Stano urged Russia to carry out an independent probe to bring any perpetrators to justice and that the bloc would react based on Moscow's next steps.
"We want to see a credible, through investigation that brings clear answers to all questions," Stano said, adding: "It's difficult to speak about punishment if you don't have [those] responsible at this stage."
In The Hague, the head of the world chemical weapons watchdog expressed "grave concern" over Navalny's case and said it was ready to help any member country that asked for its assistance.
"States party to the Chemical Weapons Convention deem the use of chemical weapons by anyone under any circumstances as reprehensible and wholly contrary to the legal norms established by the international community," said Fernando Arias, the director-general of the Organization for the Prohibition of Chemical Weapons (OPCW).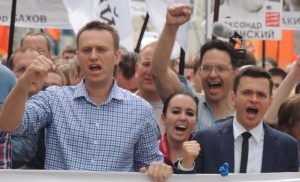 The U.S. National Security Council called the poisoning "completely reprehensible" and said Washington would work with allies "to hold those in Russia accountable, wherever the evidence leads, and restrict funds for their malign activities."
In Congress, lawmakers called on the Trump administration to impose congressionally mandated sanctions on Russia.
"The president of the United States must coordinate a strong international response to this latest aggression along with our partners and allies," said Democratic Senator Bob Menendez, the ranking member of the Senate Foreign Relations Committee.
Peskov said on September 3 that Moscow was "undoubtedly interested in determining the cause of what happened" to the Kremlin foe, and reiterated that Germany should officially present its findings to Russia.
"So far we have received no information," he said.

Navalny's poisoning has echoes with the case of former Russian double-agent Sergei Skripal and his daughter in the British city of Salisbury. A British investigation determined that the Skripals had been poisoned with Novichok and alleged that the attack was carried out by Russian state agents.
The British government expelled 23 Russian diplomats after Moscow refused to cooperate with an investigation into the Skripal poisoning. The United States and other European states expelled dozens of Russian diplomats in a coordinated response.
Navalny, 44, fell ill on a flight from Siberia to Moscow on August 20, forcing the plane he was traveling on to make an emergency landing in Omsk, where he spent two days in hospital before being evacuated to Germany. He is in a medically induced coma in an intensive-care unit at Charite Hospital in Berlin and is on a respirator.
Navalny, who has been attacked several times in the past, was visiting the Siberian cities of Novosibirsk and Tomsk for his latest investigation into government corruption before he fell ill.
Navalny's team published the results of their Siberian investigation on August 31, claiming that 18 out of 50 lawmakers in Novosibirsk were owners or represent owners of construction companies.
From the beginning, allies of Navalny have said that the Russian state was behind the poisoning.
Russia has previously refused to conduct a criminal investigation into the allegation that Navalny was poisoned, saying that no hard evidence had been found.
Russian doctors in Omsk initially said they did not find any evidence of poisoning in Navalny. The doctors updated their findings on September 2, saying the activist had carbohydrate metabolism complications and pancreatitis.
Copyright (c)2020 RFE/RL, Inc. Reprinted with the permission of Radio Free Europe/Radio Liberty, 1201 Connecticut Ave NW, Ste 400, Washington DC 20036.