It's 5:45 p.m. on a Sunday and I've been drinking. I just stepped out of my Uber at the Veterans of Foreign Wars Post 8315 in Schertz, Texas, a once distinctly small community on the northern outskirts of San Antonio that is now witnessing the early onslaught of urban sprawl. Behind me is a decaying industrial road that will undoubtedly see strip malls and single-family housing developments in the coming years. In front of me is the post itself, a communal staple that any American from a small town can visualize.
This old building, without a doubt, has held countless weddings, cookouts, reunions, quinceañeras, and other social gatherings over the decades, but tonight I'm here for the granddaddy of American gatherings: professional wrestling.
As I'm making my way into the venue, I spot a figure smoking a cigarette at an adjacent doorway. Roberto "Chino" Reyes' distinguishable frame and shoulder-length hair pop once I lock my eyes on him. At 5 feet 7 inches and 285 pounds, the barrel-chested Reyes is one part athletic-stocky and one part classic Texas paunch.
Chino greets me with the big smile and jovial tone I'm accustomed to, but he's not as talkative as usual. The conversation he's having in his head is clearly his priority. I'm all too familiar with this type of focus, which is common on the countless B-level indie film sets I've worked on.
"You're thinking about your performance, huh?" I ask, knowing the answer.
"Yeah, I'm going through all the steps of the match in my head," he responds, glaring through me.
That's my cue to give him some space and head inside. He isn't going to be Roberto "Chino" Reyes tonight. He's here as Chino "BaFa" Reyes — the Badass Fatass and tonight's main event.
The atmosphere is precisely how you would imagine a small-town VFW. At the bar, there's a half-dozen patrons with a median age of 50. The faint smell of tobacco is caked into the walls from the decades that smoke from Lucky Strikes filled the hall. And, of course, there's a lone bartender serving top-notch, bottom-shelf drinks.
I grab one of those drinks and make my way into the main hall, where I hear the distinct smash of bodies hitting the canvas before I even turn the corner. The sound is unmistakable to anyone who grew up in the late '80s and early '90s watching bygone legends of the ring punish their bodies on Saturday morning TV, but hearing it in person for the first time brings an entirely new level of appreciation.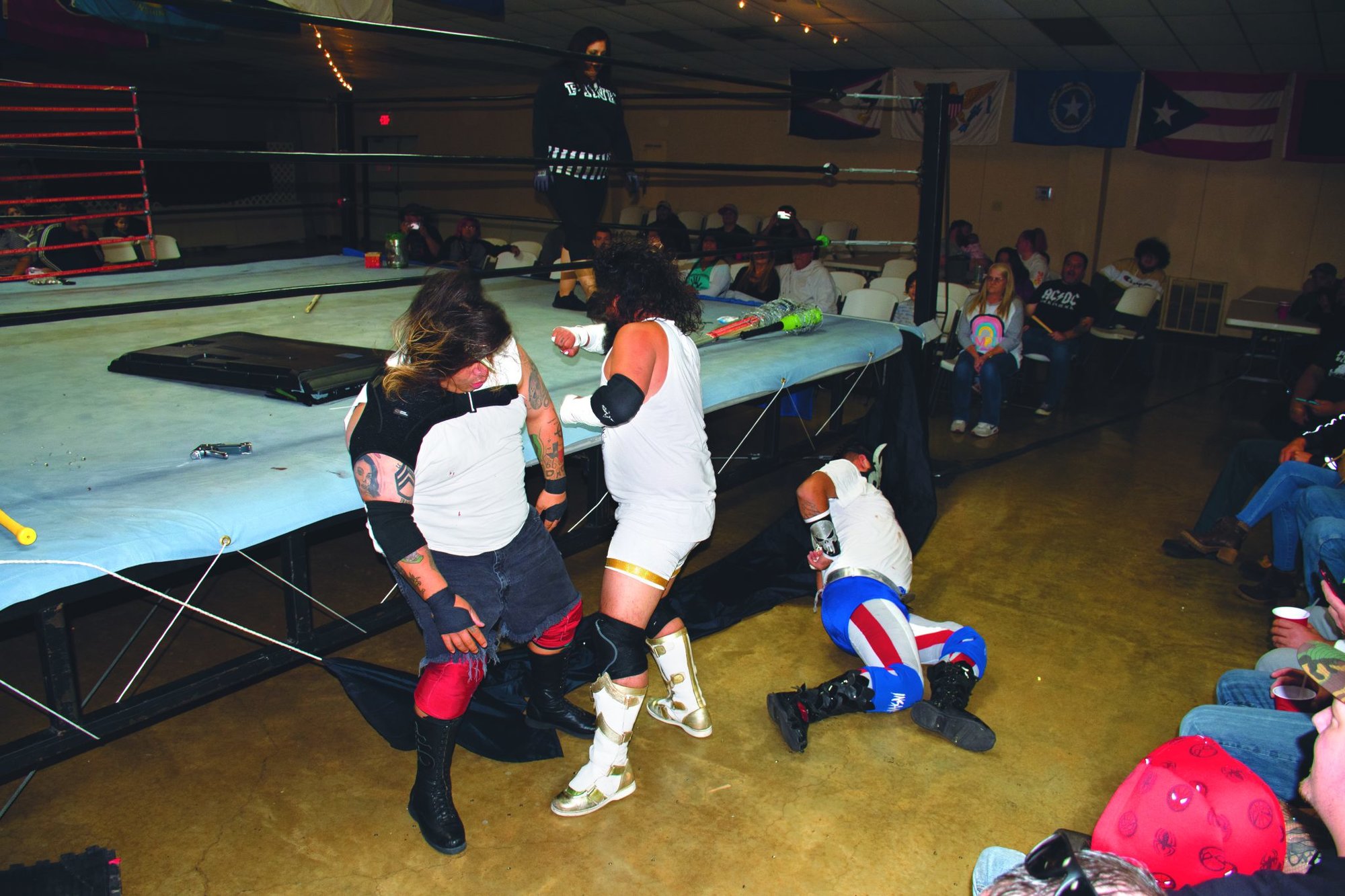 The room is half full — a mixture of the performers' family and friends with some die-hard wrestling fans peppered in.
As I navigate my way through the venue I'm approached by a shirtless man covered with tattoos in nothing but his wrestling spandex and boots. He introduces himself as John Brazier, or the wrestler known as Brysin Scott. Fresh out of his match, Brazier is walking the room and making chitchat with the audience.
After 20 to 30 minutes of getting thrown around a ring, Brazier would probably usually turn to rest and recovery mode, but he's pulling extra duty as event promoter. Simply Lost Promotions is his company, and the event is his inaugural go at the wrestling business. Brazier got into professional wrestling in 2006 but took a break to serve in the US Army from 2010 to 2016. He's now cutting his promotional teeth in an industry that can have a relentlessly difficult barrier to entry.
Brazier's not exactly trying to be another Vince McMahon, the architect of the massively larger WWE brand. Simply Lost is a passion endeavor and a family affair. Brazier grew up in the industry, and his wife, Veronica Brazier, who goes by the stage name Luscious Veronica Scott, is on the roster tonight. Veronica has been performing in the business for 21 years, and the couple's children are showing interest too.
"My dad was a wrestler so I've been around this since I was 7," John says.
One of the wrestlers gets launched from the ring and violently lands right in front of my feet. I'm consumed with feelings I haven't had since I was a child.
I take my seat in the front row as the co-main event — a tag-team match — is at its peak. The four performers with Hollywood looks and builds make the stunts look easy, though they're obviously not. The years of training, conditioning, and natural experience to pull off some of these acrobatic feats cannot be understated, even for a regional indie match. These guys are a rare combination of skilled stuntman, athlete, and entertainer. And, unlike the big names of the big wrestling companies, they're not getting financial compensation worthy of the damage they're doing to their bodies.
As the match nears its end, one of the wrestlers gets launched from the ring and violently lands right in front of my feet, albeit in a graceful way that only a wrestler can balance. I'm in a semicatatonic state as this happens. Yes, it's partly due to my alcohol consumption, but more so, I'm consumed with feelings I haven't had since I was a child going to the circus for the first time. The spectacle has amplified all my senses. An unbreakable smile is glued to my face.
I hear a soft whisper from the wrestler lying there at my feet.
"Move. Move."
Oh shit, he's talking to me. This is a guerrilla exchange between wrestler and spectator, an agreement that I must do my part to keep the show going. I jump up and move to the side. Without hesitation, his competitor launches from the top ropes and crashes into his opponent. This sends chairs, purses, drinks, and food flying, but no one seems to care about the loss of their things. The show trumps everything.
When the match ends and the chairs are put back in place, I'm craving more. Chino "BaFa" Reyes is up next.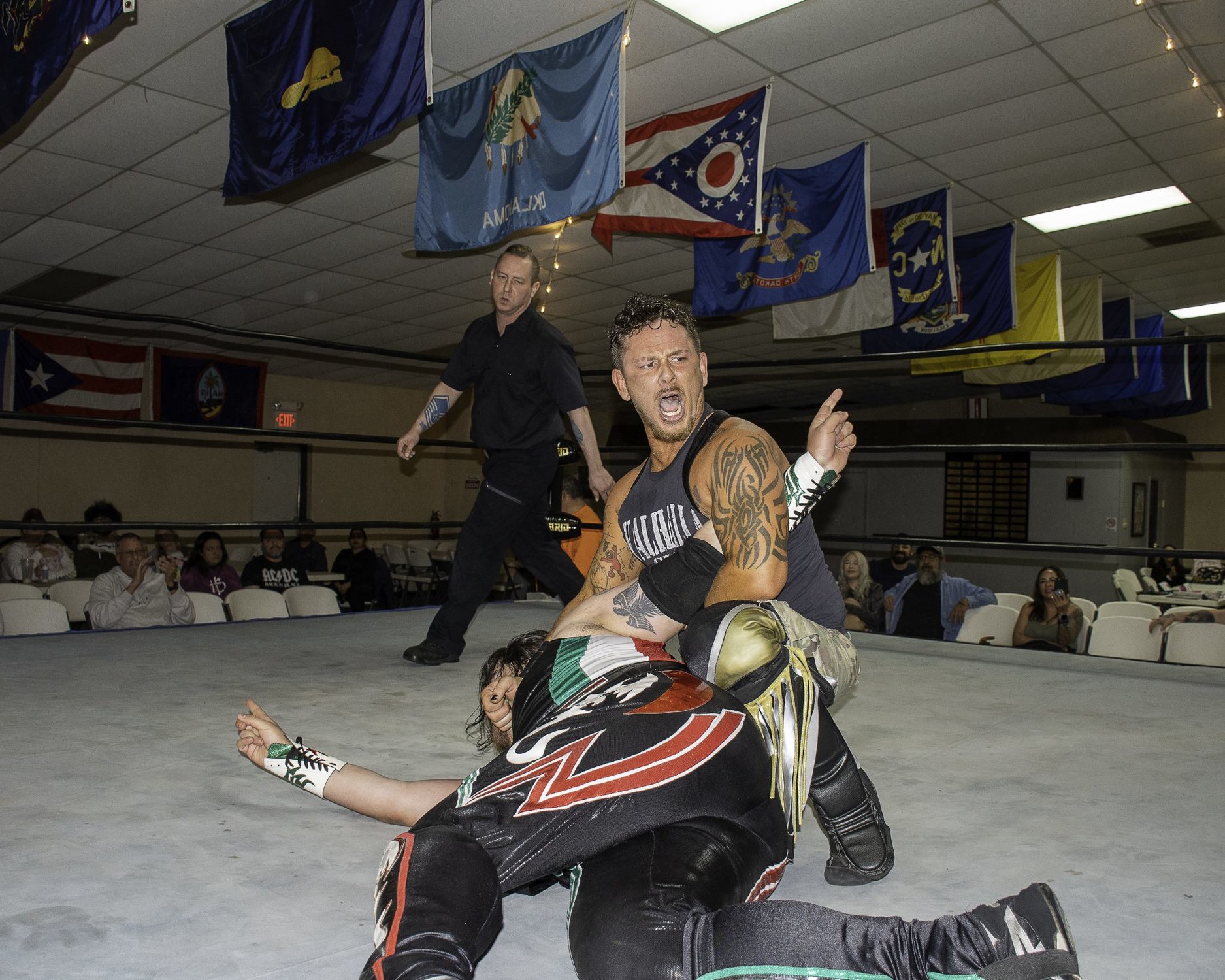 Chino's entry into wrestling wasn't born from a lifelong desire to get into the industry. It happened during a period when he was seeking catharsis. As his enlistment in the US Army was nearing its final days at Fort Sam Houston in San Antonio, he accompanied a local friend to wrestling training — a serendipitous decision to get out and about around the town after multiple deployments to Iraq.
"I was in a bad spot, so I said, 'Let me give it a try,'" he says about his wrestling origins. "When I would go wrestle or train, it really made me forget about things. It really made me combat my PTSD."
John Brazier said his experience was similar.
"After I got out of the Army and got my PTSD diagnosis, I looked at wrestling a different way, and it looked at me a different way."
The Army veterans had discovered an unconventional approach to battling an ancient problem.
"Around 2007 or 2008 — that's when a lot of the trainers thought I was ready to do it," Reyes says. "And that's when I ran with it — wrestling in different states, wrestling in Mexico, just wrestling wherever they'd book me."
These performances, while Reyes was still on active duty, birthed a passion for the industry that holds up almost 15 years later.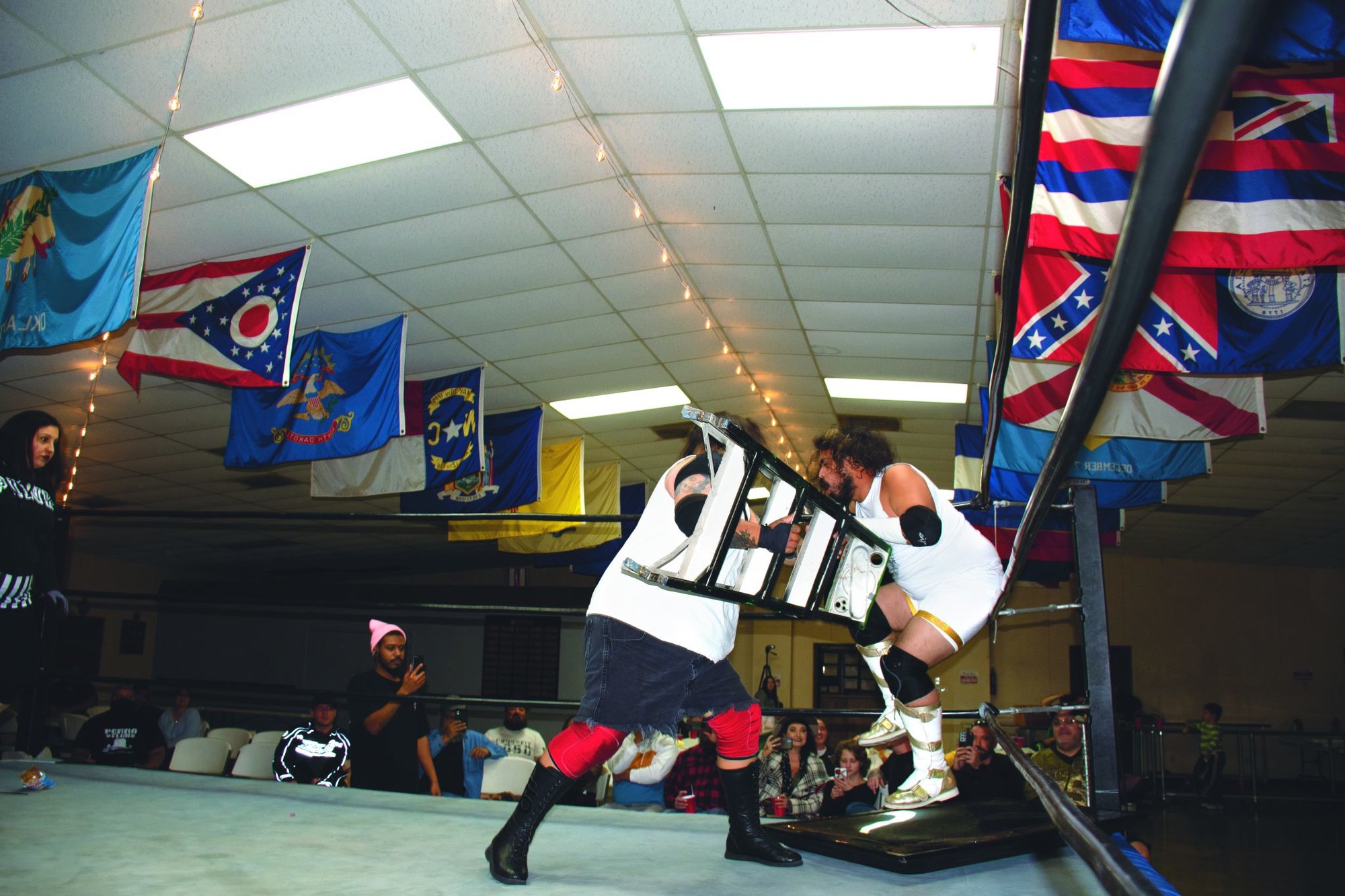 "I love doing it. I love showcasing it. I love entertaining crowds," the now veteran wrestler says. "I believe, not as a wrestler but as a worker, that you should be able to do everything in that business. If they say, 'Hey, tonight you're going to be the bad guy' — cool. Let me piss off the crowd. Let me do bad-guy stuff. Let me get everyone against me. Or 'Hey, tonight you're the face.' Cool. Once again, let me get the crowd to pump me up, to motivate me. Let me show them that I can do this and make a run for it."
For tonight's main event, BaFa is neither the heel (an industry term for a bad guy) nor the face (a good guy). He's a tweener, a mix of both roles — a morally ambiguous character fit for a seasoned wrestler like Reyes. What better way to end the night than pitting three men against one another as they all vie to be the lone victor? His opponents are Corvice, a dastardly bad-guy biker, and Luchador Insane, our masked hero.
As intro music kicks off, the Badass Fatass makes his entrance, screaming obscenities at the top of his lungs. He's clad in a wife-beater, cutoff black jean shorts, and knee and elbow pads.
His opponents make their entrances and take their corners. There's a brief moment of silence from the crowd before the bell rings. Ding! They're off.
Mayhem ensues. A gladiatorial fight of epic proportions is underway. The Luchador is a one-man highlight reel as he skillfully flips around his opponents and launches himself from the top rope to his awaiting adversaries on the canvas. BaFa's fight plan is clearly to use his shorter stature as leverage as he bulls himself into the other fighters like a bowling ball hitting pins. The biker does exactly what you'd expect from a bad guy: he fights rotten.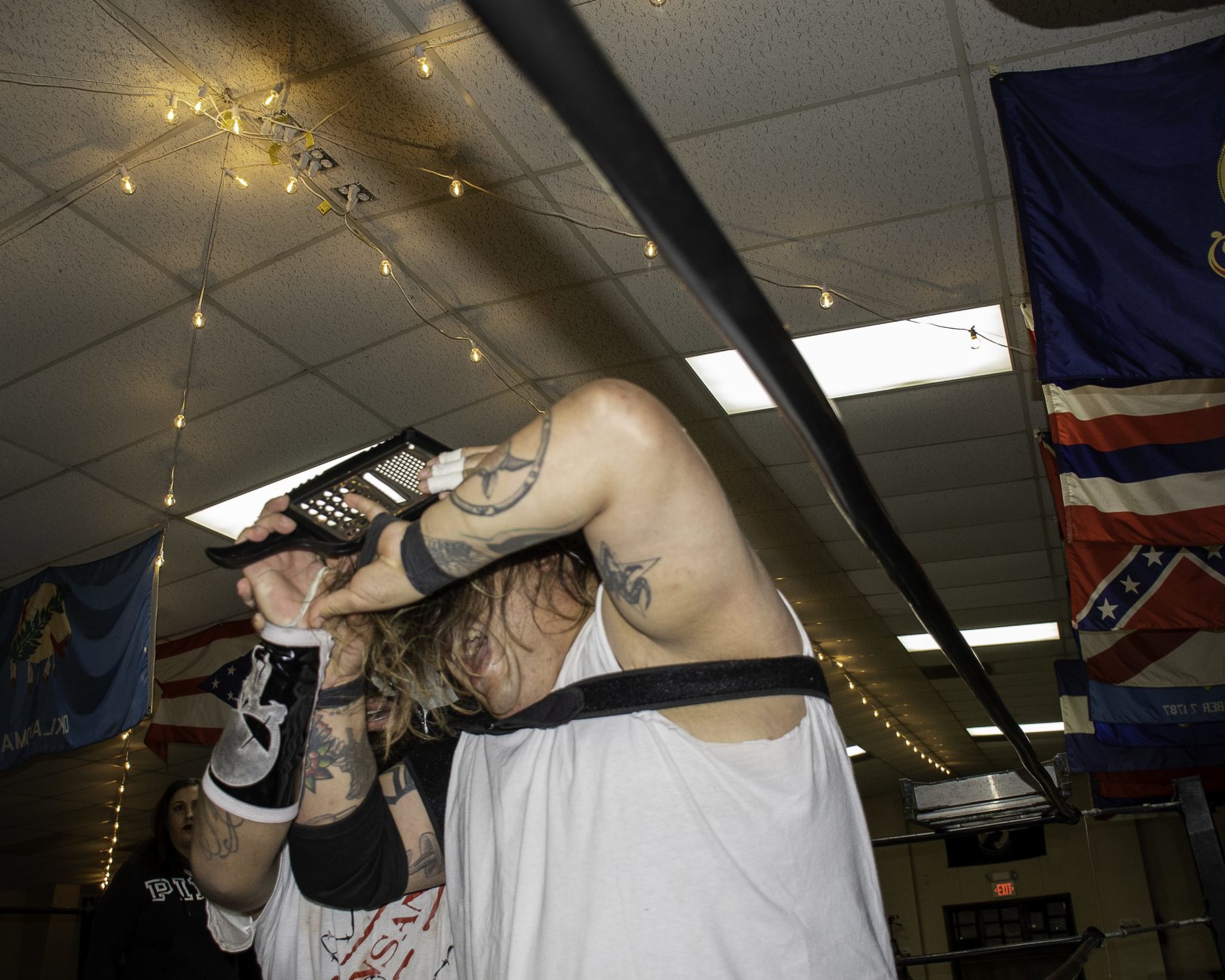 Minutes go by, and everything takes an ugly turn when Corvice breaks out a PVC pipe and starts smashing it into BaFa. The sound of hardened plastic hitting flesh is piercing, but not as piercing as the hundreds of thumbtacks that have just appeared on the canvas. Within moments, BaFa is launched into the tacks, which stick to his flesh. Blood oozes out from tiny little points on his body.
Could it get any worse? Yes. Here comes the stapler. Dollar bills are now being stapled onto BaFa's face and abused body. Blood, sweat, and debris adorn the canvas like a Jackson Pollock painting.
Every time I think it can't get worse, it gets worse. The relentless violence escalates further and further until it finally ends. Our hero, the Luchador, has crushed BaFa and Corvice in glorious battle.
Bruised and bloodied, the defeated BaFa slides from the canvas onto the floor and dramatically makes his exit, high-fiving his loyal fans on the way out.
The Badass Fatass will most certainly live to fight another day, and I have no doubt that Roberto "Chino" Reyes, the combat veteran who sought wrestling to escape his darkest days, will live to fight another day too.
As for me, I need another drink.
---
This article first appeared in the Spring 2022 edition of Coffee or Die's print magazine as "Let the Bodies Hit the Floor."
Read Next: