One woman was shot inside the US Capitol Wednesday afternoon after dozens of protesters stormed the building and forced a shutdown of debate on the Senate floor as Congress met to certify President-elect Joe Biden's Electoral College win.
Footage of the incident was posted on Twitter. WARNING: Disturbing content follows.
Thousands of supporters of President Donald Trump converged in Washington for a "Stop the Steal" rally, seeking to block Congress from certifying the election results. The protest turned violent as protesters clashed with police, breached the perimeter barricades around the Capitol and then stormed the building, forcing all members of Congress to evacuate.
All National Guard members in the district — roughly 1,100 — are being activated to help enforce a districtwide curfew that will go into effect at 6 p.m., according to federal officials. Agents with the Bureau of Alcohol, Tobacco, Firearms and Explosives are dealing with multiple pipe bombs in the area, and all law enforcement officers in the district have been ordered to contact their respective agencies for further guidance. All non-emergency personnel are being instructed to depart the district.
"The D.C. Guard has been mobilized to provide support to federal law enforcement in the District of Columbia," said chief Pentagon spokesman Jonathan Hoffman in a statement. "Acting Secretary [of Defense Christopher] Miller has been in contact with Congressional leadership, and Secretary [of the US Army Ryan] McCarthy has been working with the D.C. government. The law enforcement response will be led by the Department of Justice."
Before his supporters stormed the Capitol, Trump spoke at the rally in the morning, telling his supporters, "We will never give up! We will never concede! All Vice President Pence has to do is send it back to the states to recertify — and we become president."
Vice President Mike Pence released a statement before Wednesday's joint session of Congress, saying he lacks the constitutional authority to overthrow the results of the November election.
"Our Founders were deeply skeptical of concentrations of power and created a Republic based on separation of powers and checks and balances under the Constitution of the United States," Pence wrote. "Vesting the Vice President with unilateral authority to decide presidential contests would be entirely antithetical to that design. […] It is my considered judgment that my oath to support and defend the Constitution constrains me from claiming unilateral authority to determine which electoral votes should be counted and which should not."
Trump posted a video on Twitter around 4:15 p.m. Eastern time telling protesters to "Go home, and go home in peace," after reiterating his unsubstantiated claims that the presidential election was "fraudulent."
Update at 5:45 p.m. EST
By 5:30, law enforcement officials had cleared most of the protesters from inside the building, and the massive crowd began to break up and leave as law enforcement officers worked to reestablish a security perimeter and enforce the curfew. Law enforcement officers used CS gas and less-lethal munitions to secure the building and clear the area.
A man wearing an American-flag patterned cowboy hat that read "Trump is my President" told Coffee or Die Magazine that the protesters stormed the building "to prove that we could get in."
"Then we gave it back," said the man, who declined to give his name. "Donald Trump said, 'Quit being violent.' This time we will. Next time I won't. I took a month off of work. I will be here until we drag these motherfuckers out."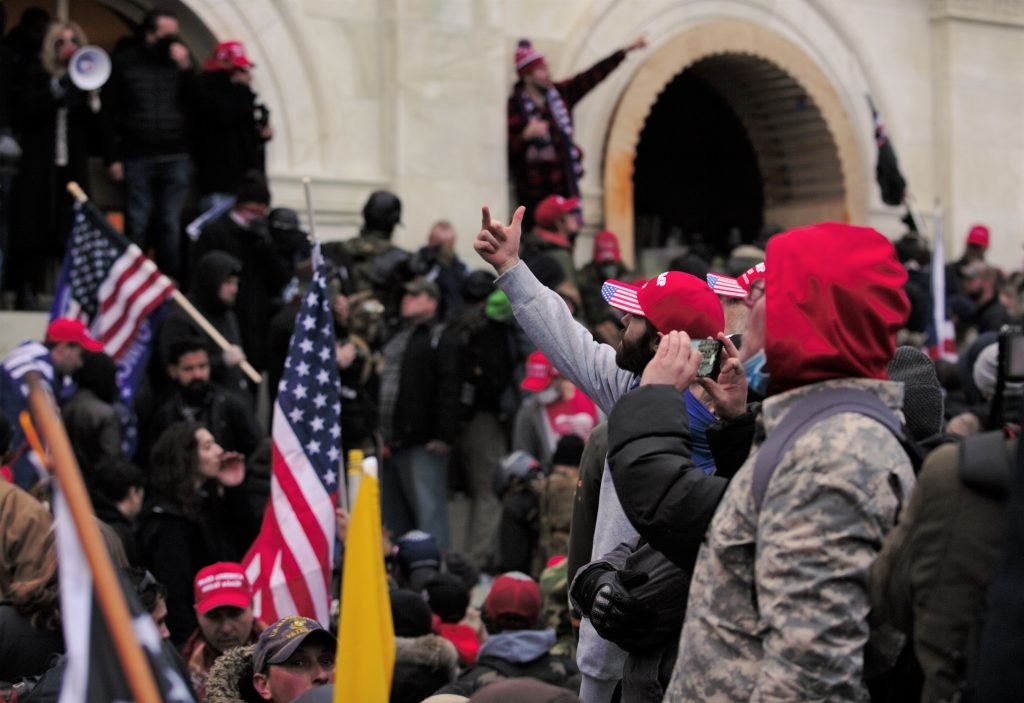 Update at 6:12 p.m. EST
Senator Jeff Merkley (D-Ore), tweeted that floor staff in the Senate chamber rescued the Electoral College ballots before the protesters made it to the chamber. "If our capable floor staff hadn't grabbed them, they would have been burned by the mob," Merkley said.
Update at 6:50 p.m. EST
District police spokesman Dustin Sternbeck told The Washington Post, the woman shot during the assault on the Capitol has died.
Video posted to Twitter appears to show the moment the woman was shot as she was part of a mob of protesters attempting to breach a chamber inside the Capitol. A gunshot is heard and then the woman, wearing a Trump banner around her neck, is lowered to the ground. The Post reported that the woman, who has not been identified, could later be seen being loaded into an ambulance with blood around her upper body.
Update at 7:36 p.m. EST
A law enforcement official told NPR's Carrie Johnson that the alleged shooter of the woman was a senior Capitol Police officer, and that the woman who was killed was unarmed.
While providing analysis of the aftermath of the protesters' assault on the Capitol, former Sergeant at Arms of the US Senate Terry Gainer told MSNBC, "I don't have an explanation of [law enforcement's] failure, but there was a freaking failure."
Twitter locked President Trump out of his account for 12 hours and removed three tweets, warning that Trump could be subject to a permanent suspension if he continues tweeting misinformation and inciting violence.
Update at 8:58 p.m. EST
Multiple news outlets are reporting that Congress has reconvened in order to confirm Biden's impending presidency.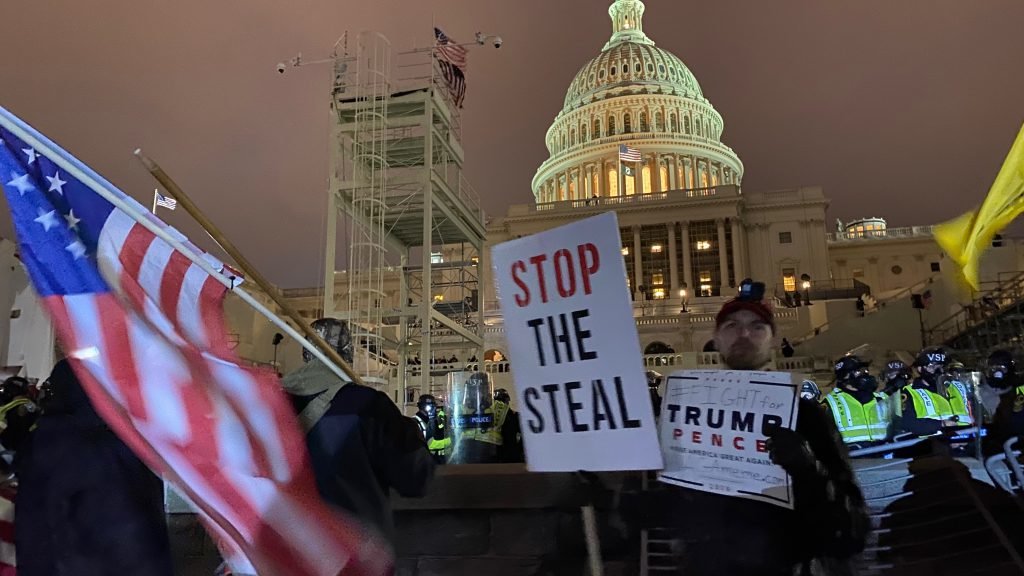 Update at 9:57 p.m. EST
The woman shot and killed at the Capitol today has been identified as 14-year Air Force veteran Ashli Babbit from San Diego, California, who had served four deployments, according to reports.
"I really don't know why she decided to do this," Babbit's mother-in-law told FOX 5 Washington's Lindsay Watts on Wednesday evening.
Babbit and her husband own a business together in San Diego, according to reports. He was not with her in Washington.