Tony Sutter was at work when he noticed photos of a vandalized sign pop up on his neighborhood watch group on Facebook Sunday afternoon. Sioux Falls, South Dakota, is a Purple Heart City, which falls under the Purple Heart Trail program. One of their signs marking Highway 11 had been spray painted black.
According to the Military Order of the Purple Heart, "The purpose of the Purple Heart Trail is to create a symbolic and honorary system of roads, highways, bridges, and other monuments that give tribute to the men and women who have been awarded the Purple Heart medal." The signs serve as visual reminders of the sacrifices US men and women have made on behalf of their country.
Sutter served in the US Army for six years and was injured during his last deployment to Afghanistan. His grandfather, who recently died, was a Vietnam War veteran. He has seen the rigors of war through the psychological toll it takes as well as seeing brothers and sisters wounded or killed overseas. So seeing the vandalized sign hit a nerve.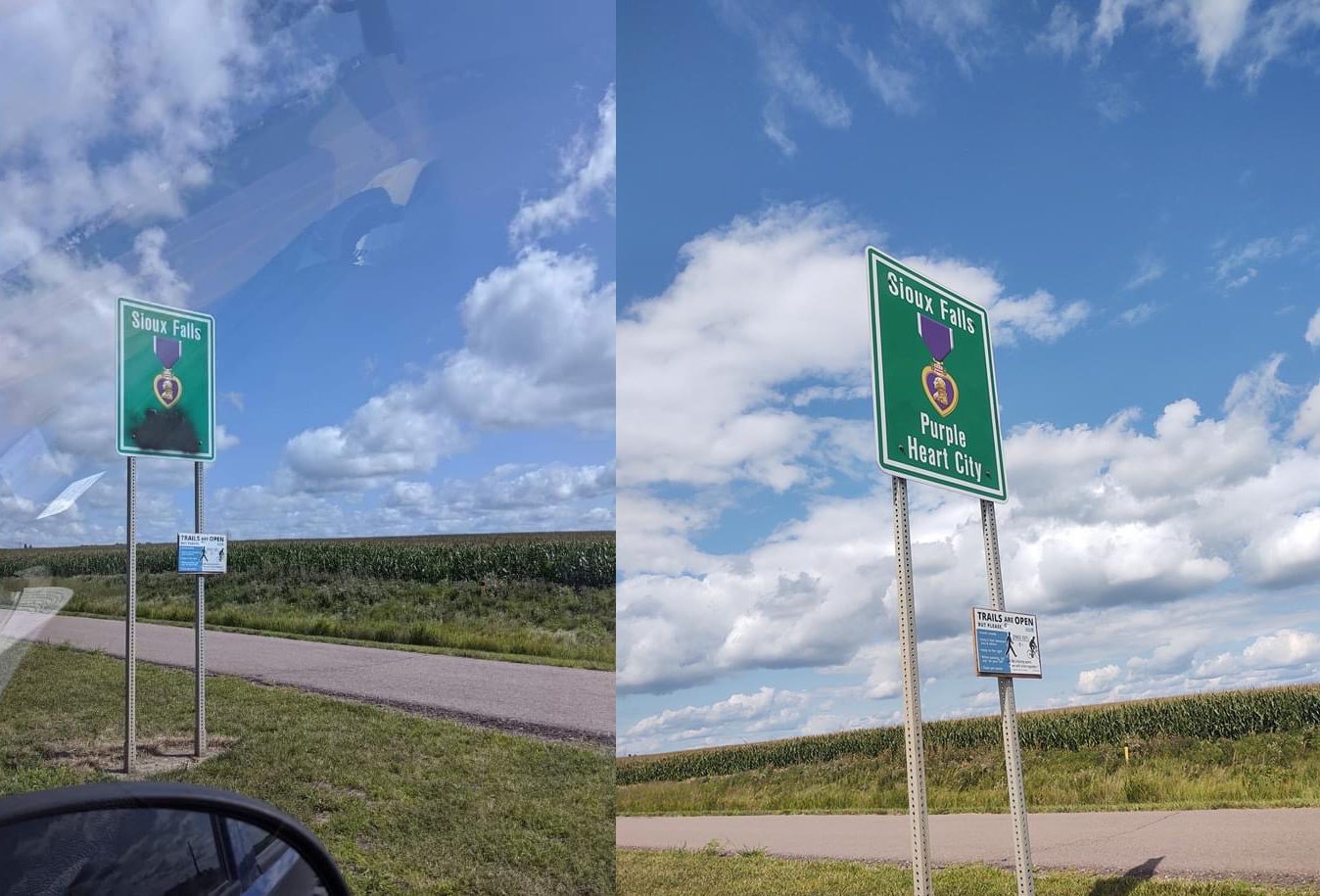 Sutter explained that regardless of what the vandal's intentions were, "make your own sign and do whatever you want with it, but something that the city of Sioux Falls thought was appropriate to show some respect for our wounded veterans [should be left alone] — I couldn't tolerate it, I gotta clean that up."
"If I could prevent somebody from having that heartache or that feeling of disrespect [from seeing that sign vandalized] — if I could prevent that from at least one veteran or one person in general, maybe a family member of a veteran who's been wounded, I'd say that's a job well done," Sutter said.
Sutter has an extensive background with mechanics and painting, so removing paint from the sign was not a problem. He grabbed a ladder and the proper chemicals to remove the paint and set out to Highway 11 and 57th Street, where the sign is located. Sutter was shaking in anger and shock over the disrespect someone had for the wounded veteran community. He thought about all of his friends and family who had been wounded while serving in the military as he scrubbed the paint away.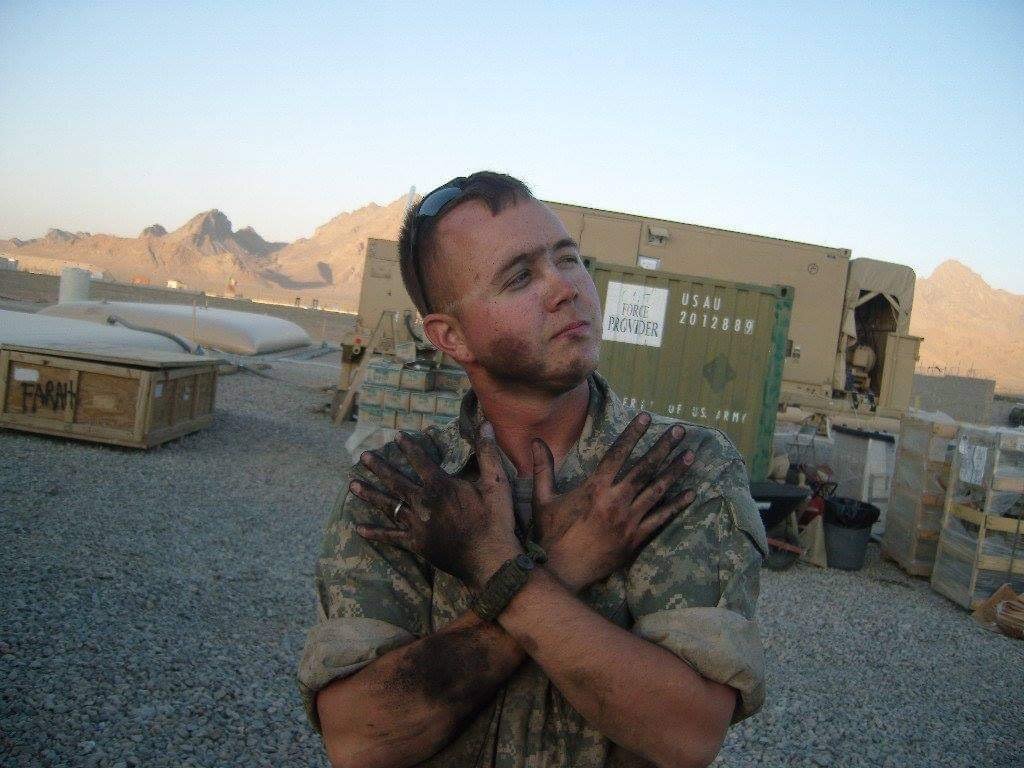 The connection with his grandfather was most present in his mind. Sutter's grandfather was a US Marine who served during the Vietnam War. They used to share quiet moments together — just being around each other was comforting due to their separate but similar experiences in war.
Sutter went through a dark period in his life that included a divorce and the weight of his past experiences weighing him down. He broke down while talking with his grandfather and, with his grandfather's support, decided to seek help. Within about a year, his grandfather sought help with his own experiences from Vietnam.
Sutter is aware of the hard times Vietnam veterans endured upon their return to the US after deployments. They were spit on and labeled as dysfunctional. When Sutter saw the Purple Heart City sign vandalized, he immediately thought of the Vietnam veterans, especially his late grandfather.
"You don't mess with my family, and we're all family," Sutter said of the military and veteran communities. "Whether we know each other or not, […] we're there for each other. I know for a fact my grandpa [was] looking down yesterday, and he had a big smile on his face. And I know that I made him proud because that's who he helped raise — was that person that I became, to look out for other people and not just myself."
---
Editor's note: The original version of this story indicated that Tony Sutter was a Purple Heart recipient. The article has been updated to reflect that he was injured in Afghanistan, but did not receive the Purple Heart.