KYIV, Ukraine — The high-flying tit for tat continues.
On Friday, the US Air Force flew B-52 bombers over all 30 NATO countries. In response, two Russian Su-27 fighters intercepted one of the American bombers while it was flying in international airspace over the Black Sea in what the US Air Force said was "an unsafe and unprofessional manner."
The Russian warplanes crossed back and forth about 100 feet in front of the B-52's nose, while at the same altitude and while engaging the afterburner. Those aggressive maneuvers restricted the American bomber's freedom to take evasive actions and caused dangerous turbulence.
"Actions like these increase the potential for midair collisions, are unnecessary, and inconsistent with good airmanship and international flight rules," said Gen. Jeff Harrigian, US Air Forces in Europe-Air Forces Africa commander, in a release.
"While the Russian aircraft were operating in international airspace, they jeopardized the safety of flight of the aircraft involved," Harrigian said. "We expect them to operate within international standards set to ensure safety and prevent accidents."
The B-52 was flying in international airspace and following all international air traffic rules, the Air Force said in a statement.
The Russian military disputed the American characterization of the aerial encounter, claiming its pilots flew a safe intercept.
"The pilots of the Russian jets approached the flying object at a safe distance and identified it as a US Air Force B-52 bomber," the Russian National Defense Control Center said, the Russian news site TASS reported.
The US side issued a video of the incident.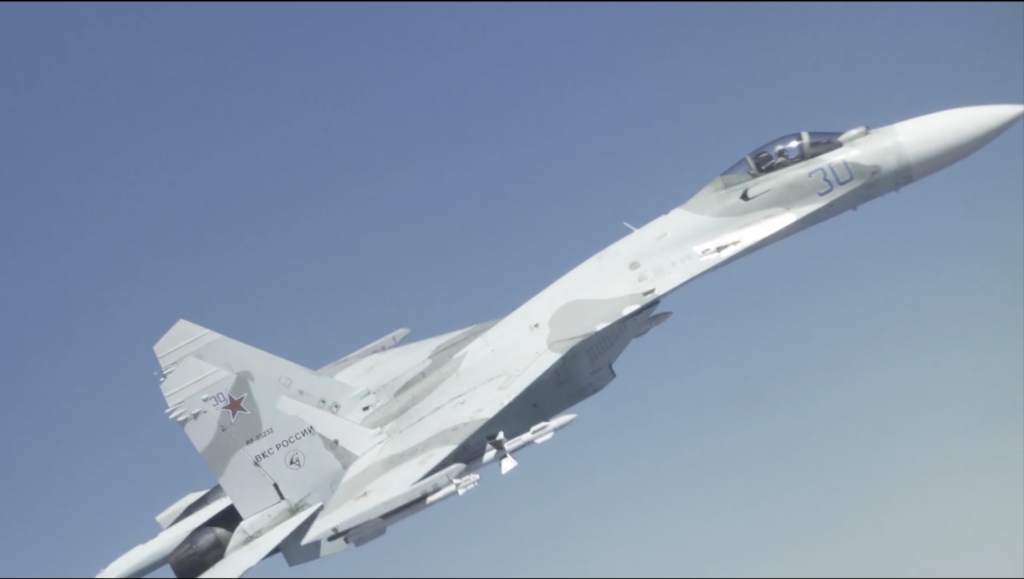 Four B-52 bombers based at Royal Air Force Fairford in the United Kingdom conducted the European leg of Friday's extraordinary bomber mission, which was named Allied Sky. Two additional B-52s based at Minot Air Force Base in North Dakota flew over NATO's North American countries, Canada and the United States.
Over the past few years, Air Force Strike Command has steadily dialed up its pace of so-called bomber task force missions. These bomber details, typically launched from American soil, often fly transcontinental missions to conduct simulated combat strikes in geographical regions ranging from the Arctic to Eastern Europe and the South China Sea.
Air Force Global Strike Command possesses the only intercontinental ballistic missiles and strategic bombers available to the NATO alliance.
Allied Sky was an extraordinary display of the global reach of America's strategic bomber fleet, as well as the force multiplying effect that America's allies have on American airpower. Yet, the mission was announced in advance, allowing the Russians ample time to organize a retort.
Late Thursday, hours in advance of the Allied Sky exercise, three groups of two Tu-142 Russian maritime patrol aircraft entered the Alaskan Air Defense Identification Zone, or ADIZ.
"The Russian aircraft loitered within the ADIZ for approximately five hours and came within 50 nautical miles of Alaskan shores; however, remained in international airspace and at no time entered United States or Canadian sovereign airspace," North American Aerospace Defense Command, or NORAD, said in a Friday statement.
The US dispatched F-22 advanced fighters to intercept the Russian aircraft. A Russian naval exercise was ongoing in the Bering Sea at the time.
"Our northern approaches have had an increase in foreign military activity as our competitors continue to expand their military presence and probe our defenses," said Gen. Glen D. VanHerck, commander of NORAD, in a statement. "This year, we've conducted more than a dozen intercepts, the most in recent years. The importance of our continued efforts to project air defense operations in and through the north has never been more apparent."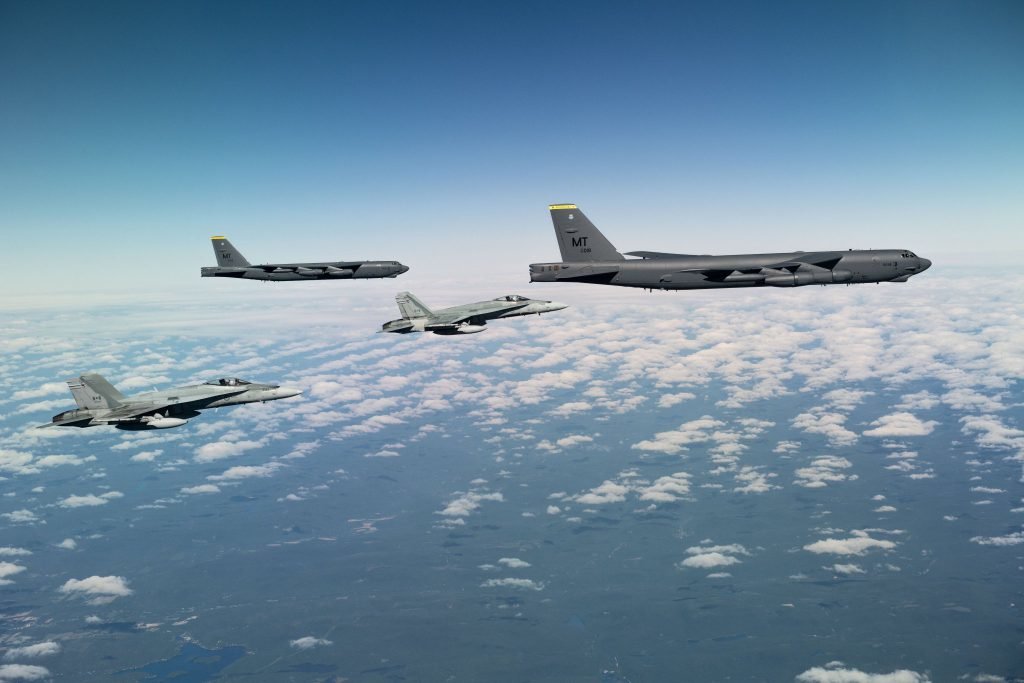 Also on Friday, the Russian military claimed that one of its Su-27 fighters intercepted a US Air Force RC-135 reconnaissance aircraft over the Baltic Sea.
"The entire flight of the Russian Su-27 fighter proceeded in strict compliance with the international rules of using the airspace," Russia's National Defense Management Center said Friday.
NATO-Russian relations chilled in March 2014 after Russia annexed Ukraine's Crimean Peninsula and began a war in eastern Ukraine that remains ongoing today.
Since 2014, Russia has also significantly increased the pace of its warplane flybys of the airspaces of northern NATO nations, as well as airspace off Alaska. NATO jets scrambled to intercept Russian warplanes more than 200 times in 2019.
Likewise, Russian intercepts of US warplanes operating in international airspace have become par for the course since 2014. And, typically, those aerial encounters are done in what the Air Force describes as a "safe and professional" manner.
While politicians in Moscow and Washington trade barbs, military leaders are more concerned with maintaining functioning lines of communication for the sake of defusing crises that might arise from mishaps or miscalculations. Consequently, Air Force officials are usually reluctant to unnecessarily cast aspersions on their Russian counterparts unless their actions are truly unsafe and unprofessional. Thus, the unusually blunt criticism issued by the Air Force for Russia's Friday intercept of the B-52 underscores the seriousness of the Russian pilots' overstep.
Since 2014, the US has boosted its military presence in Eastern Europe to deter Russian aggression against NATO allies in the region. US military personnel and warplanes have been rotating among NATO countries across the region, and an ongoing exercise to train and equip Ukraine's armed forces began in the summer of 2015.
The US buildup is intended to reassure NATO's eastern members of the reliability of US support; it's also a strategic gambit to pre-position troops and equipment to best defend against a Russian attack.
The Western alliance is engaged in a delicate peacetime back and forth with Russia in which both sides are prone to see routine military operations and exercises by the other camp as provocative acts of brinkmanship or regional power plays.
Russia's air activities over the Baltic Sea have been more aggressive since 2014, the year it invaded Crimea and launched a proxy war in eastern Ukraine. As a result, NATO has stepped up its air policing mission in the region. For its part, Moscow says NATO's so-called military buildup on the alliance's eastern frontier is a threat to Russian national security.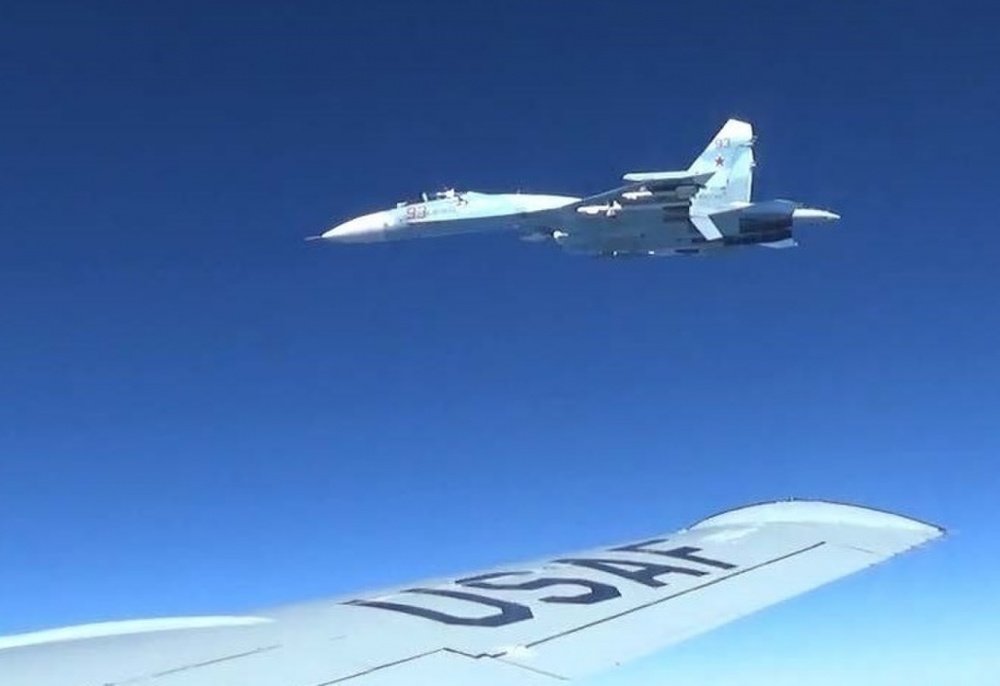 According to some military experts, Russia's contemporary fighter jet intercepts of NATO aircraft are more aggressive and more frequent than what the Soviet Union authorized its pilots to perform during the Cold War.
Soviet rules governing air intercepts were tightened after the 1983 incident in which Soviet fighter jets shot down a Korean Air Lines 747. Under Soviet rules of engagement governing intercepts of NATO aircraft, some of the Russian air force's recent actions would have been forbidden, said Oleksiy Melnyk, a former Soviet fighter pilot who is now co-director of foreign relations and international security programs at the Kyiv-based Razumkov Center think tank.
In an earlier interview, Melnyk described recent Russian air intercepts as "reckless," adding that Soviet fighter pilots would have been punished for such maneuvers if commanders had not approved them beforehand.
"These kinds of planned maneuvers are especially dangerous because they bring us very close to an unplanned accident. And any unplanned accident can have grave consequences," Melnyk said.