When it comes to understanding war, there is no substitute for getting your boots muddy and your hands bloody, but that does not mean books should be disregarded as a vital piece of the puzzle. Often, even for those who have lived it, conveying those experiences can feel virtually impossible. Lucky for us, some of the greatest wordsmiths have already put to paper those battlefield truths that are so difficult to articulate.
As previously mentioned by Coffee or Die Magazine, fiction often reveals a "higher" truth than nonfiction. There is no shortage of nonfiction histories and memoirs detailing what fighting is like, yet fiction has the freedom to create a feeling without being shackled by a rigid adherence to chronology. As Tim O'Brien, the author of The Things They Carried, put it, "What you do remember is the feel of it, and that is what I really wanted to communicate. […] You can tell them without having to tell the literal truth, most of which you can't even remember."
Here are four more instances in which fiction tells a "higher" truth.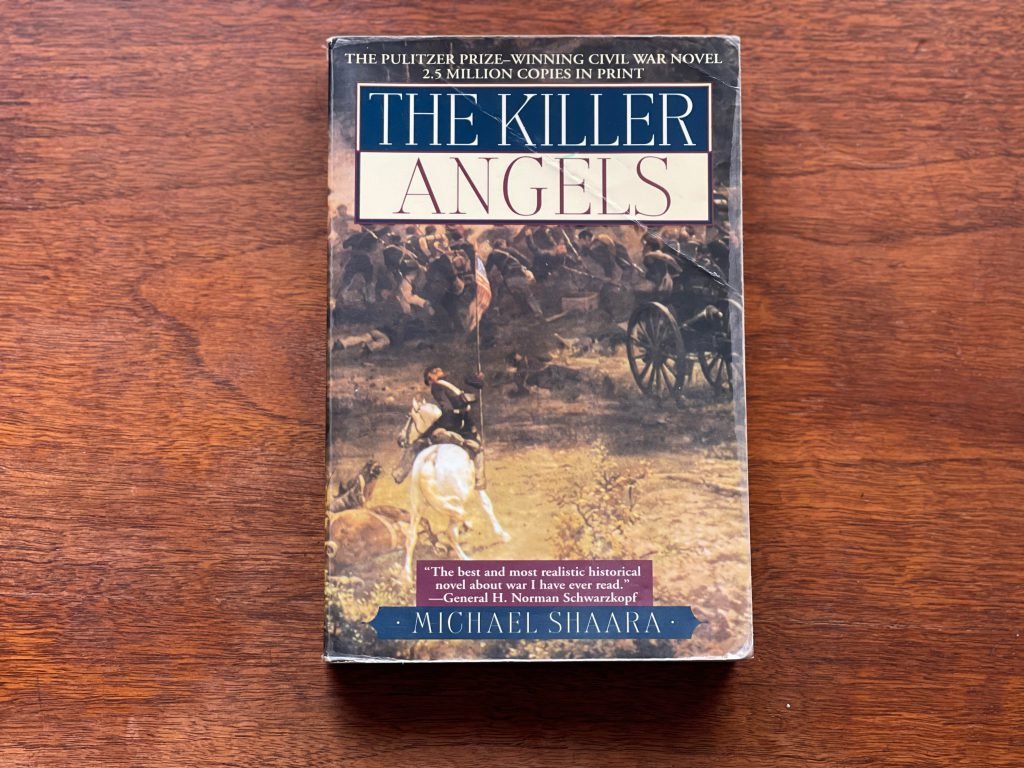 The Killer Angels by Michael Shaara
Michael Shaara's The Killer Angels tells the story of Gettysburg according to several of the historical figures who lived it. Shaara follows Lee, Longstreet, Chamberlain, and others from both sides, as they fight the three-day battle that resulted in over 50,000 casualties. Shaara claimed to have written the novel with the same goal as Stephen Crane, author of The Red Badge of Courage. Shaara quotes Crane, "reading the cold history was not enough; he wanted to know what it was like to be there, what the weather was like, what men's faces looked like. In order to live it, he had to write it." Gen. Norman Schwarzkopf said the 1974 novel was "the best and most realistic historical novel about war I have ever read." Here are a few quotes highlighting why The Killer Angels, a story written nearly half a century ago, about a battle that was fought over a century prior, continues to receive such high praise.
"To be a good soldier you must love the army. But to be a good officer you must be willing to order the death of the thing you love. This is … a very hard thing to do. No other profession requires it. That is one reason why there are so very few good officers. Although there are many good men."
"Chamberlain closed his eyes and saw it again. It was the most beautiful thing he had ever seen. No book or music would have that beauty. He did not understand it: a mile of men flowing slowly, steadily, inevitably up the long green ground, dying all the while, coming to kill you, and the shell bursts appearing above them like instant white flowers, and the flags all tipping and fluttering, and dimly you could hear the music and the drums, and then you could hear the officers screaming, and yet even above your own fear came the sensation of unspeakable beauty. He shook his head, opened his eyes. Professor's mind. But he thought of Aristotle: pity and terror. So this is tragedy. Yes. He nodded. In the presence of real tragedy you feel neither pain nor joy nor hatred, only a sense of enormous space and time suspended, the great doors open to black eternity, the rising across the terrible field of that last enormous, unanswerable question."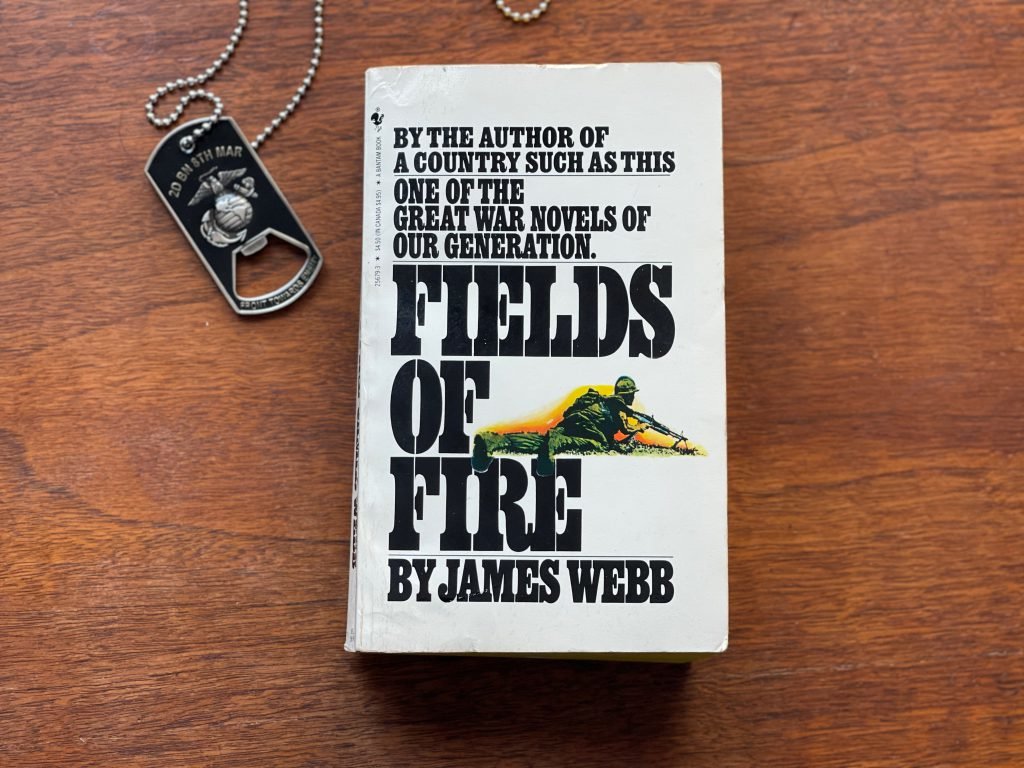 Fields of Fire by James Webb
One of the best novels to come out of Vietnam, James Webb's Fields of Fire will transport you into "the bush." It sets the bar for descriptions of modern combat. The book is a long walk through minefields, ambushes, and patrols. You will be hard pressed to find a story that better encapsulates the infantry experience. Want to know what it is like to live in the mud with the grunts, trade lead with an elusive enemy, and live the expendable existence of the average ground-pounder? This is your chance.
Not only does Fields of Fire take you to the rain-soaked paddies and jungles of Vietnam, but it tackles the confusing emotions of acquiring an extensive list of nontransferable skills that every good grunt masters and the frustrating lack of use for them outside of combat.
"I can tell from the crack of a rifle shot the type of weapon fired and what direction the bullet is traveling. I can listen to a mortar pop and know its size, how far away it is. I know instinctively when I should prep a treeline with artillery before I move into it. I know which draws and fields should be crossed on line, which should be assaulted, and which are safe to cross in column. I know where to place my men when we stop and form a perimeter. I can shoot a rifle and throw a grenade and direct air and artillery onto any target, under any circumstances. I can dress any type of wound, I have dressed all types of wounds, watered protruding intestines with my canteen to keep them from cracking under sunbake, patched sucking chests with plastic, tied off stumps with field-expedient tourniquets. I can call in medevac helicopters, talk them, cajole them, dare them into any zone. I do these things, experience these things, repeatedly, daily. Their terrors and miseries are so compelling, and yet so regular, that I have ascended to a high emotion that is nonetheless a crusted numbness. I am an automaton, bent on survival, agent and prisoner of my misery. How terribly exciting. And how, to what purpose, will these skills serve me when this madness ends? What lies on the other side of all this? It frightens me. I haven't thought about it. I haven't prepared for it. I am so good, so ready for these things that were my birthright. I do not enjoy them. I know they have warped me. But it will be so hard to deal with a life empty of them."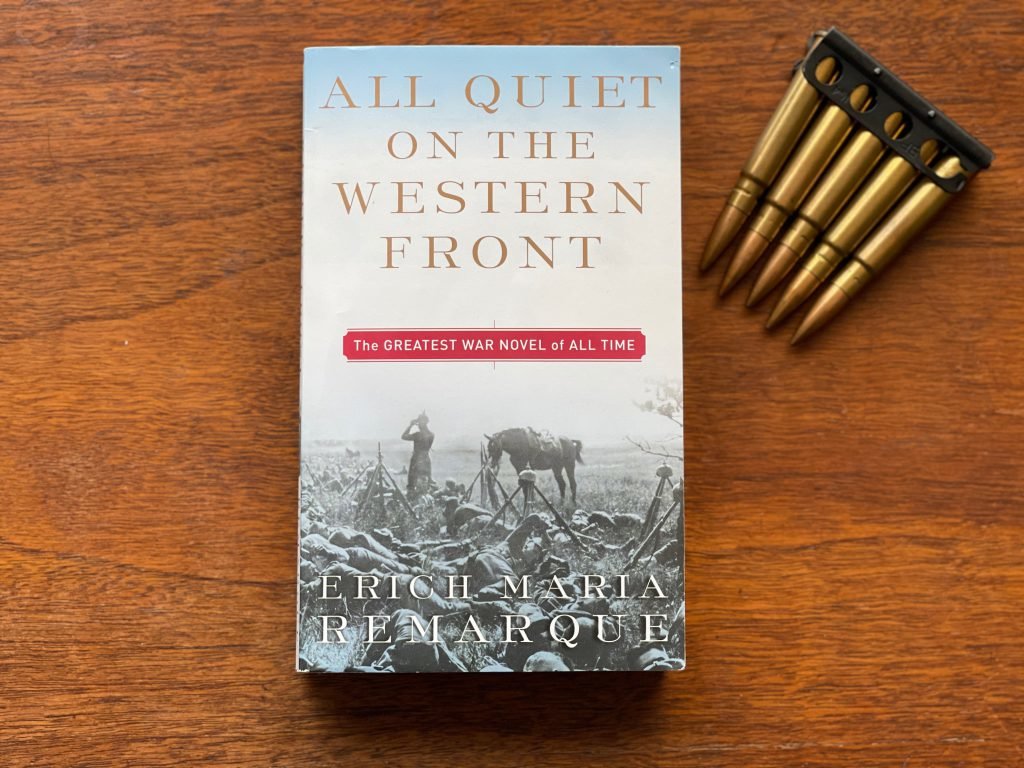 All Quiet on the Western Front by Erich Maria Remarque
The Ballantine Books cover of Erich Maria Remarque's anti-war classic, All Quiet on the Western Front, boldly claims it is "The Greatest War Novel of All Time." It is a tale of World War I as told by a young German soldier. In keeping with a common theme of World War I literature, it chronicles the shift from enthusiastic teenagers, eager for war, to disillusionment as their innocence is stripped away.
In addition to capturing the anti-war sentiment that followed World War I, Remarque is able to describe the appreciation soldiers under fire have for any amount of cover. He conveys what anyone who has found themselves stuck in the open has felt for even the slightest rise or divot in the ground.
"To no man does the earth mean so much as to the soldier. When he presses himself down upon her long and powerfully, when he buries his face and his limbs deep in her from the fear of death by shell-fire, then she is his only friend, his brother, his mother; he stifles his terror and his cries in her silence and her security; she shelters him and releases him for ten seconds to live, to run, ten seconds of life; receives him again and again and often forever."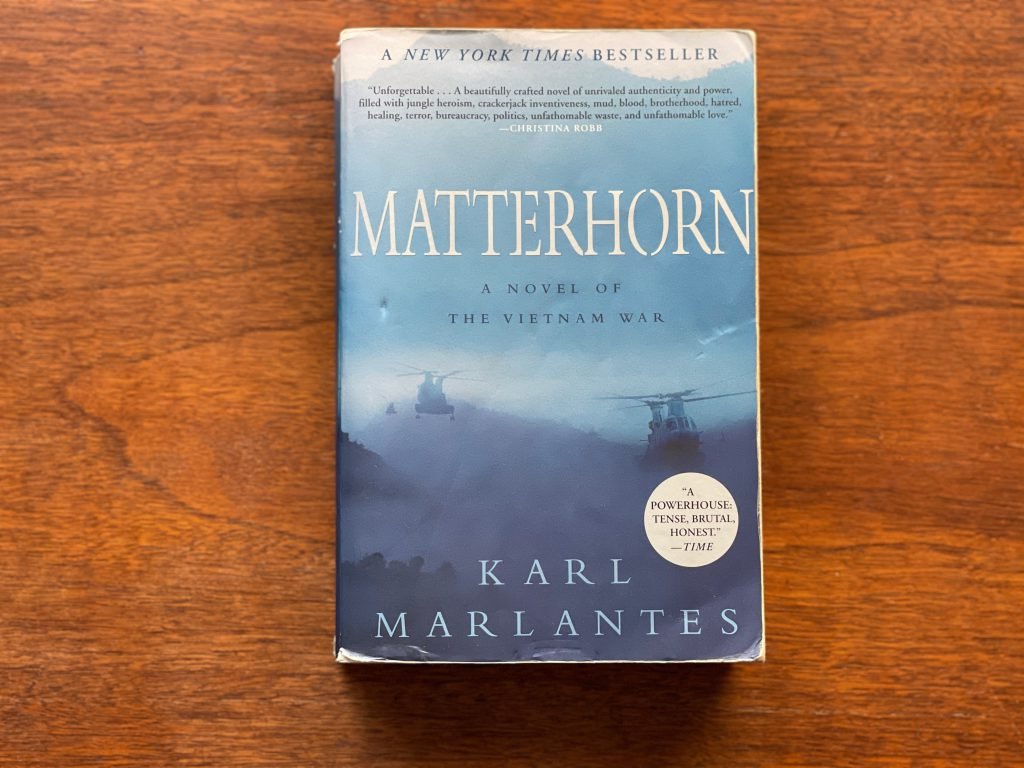 Matterhorn by Karl Marlantes
Matterhorn is always my first recommendation when someone asks for a book about war. Written over a period of 30 years by Rhodes scholar and Vietnam veteran Karl Marlantes, Matterhorn is a novel surrounding a boot lieutenant in charge of a Marine infantry platoon.
Sitting at over 600 pages, the story takes place over the short period of just several months. Because so much writing is dedicated to a small amount of time, Marlantes is able to dive deeply into what war is really like. No number of rereads will ever feel sufficient — there is simply too much to unpack. Here are just a few quotes that illustrate Matterhorn's brilliance.
"He ran as he'd never run before, with neither hope nor despair. He ran because the world was divided into opposites and his side had already been chosen for him, his only choice being whether or not to play his part with heart and courage. He ran because fate had placed him in a position of responsibility and he had accepted the burden. He ran because his self-respect required it. He ran because he loved his friends and this was the only thing he could do to end the madness that was killing and maiming them. He ran directly at the bunker where the grenades from Jake's M-79 were exploding. The bullets from the M-60 machine gun slammed through the air to his right, slashing past him, whining like tortured cats, cracking like the bullwhip of death. He ran, having never felt so alone and frightened in his life."
"Victory in combat is like sex with a prostitute. For a moment you forget everything in the sudden physical rush, but then you have to pay your money to the woman showing you the door. You see the dirt on the walls and your sorry image in the mirror."
"The kids filed quietly to the edge of the strip to wait for the helicopters. Other Marines stopped to watch them, wanting to say an encouraging word yet not daring to break into their private world — a world no longer shared with ordinary people. Some of them were experiencing the last hour of that brief mystery called life."
The best quotes cannot be given justice without the surrounding context of the entire book. To truly appreciate them, you will need to put in the work and patrol from cover to cover.
Read Next: