It's a 750-mile chase for sailboats and paddlers from Washington's Quimper Peninsula north to Ketchikan, but high winds and rough seas marred the start of this year's Race to Alaska.
The race kicked off at dawn on Monday, June 13, in Port Townsend, a city roughly 40 miles northwest of Seattle. And within the first few hours, at least three separate emergency calls had reached US Coast Guard Puget Sound watchstanders.
Winds gusting at 35 knots churned the waves more than a dozen feet high in the Strait of Juan de Fuca. One boat lost its mast, and rough seas capsized three more vessels. R2AK organizers later reported that seven of the initial 46 racers dropped out before finishing the initial 40-nautical-mile sprint to Victoria, British Columbia.
US Coast Guard personnel from Station Port Angeles told Coffee or Die Magazine the gale created the roughest conditions they've seen offshore in years.
"It was definitely some of the worst sea state I've seen since I've been here," said Boatswain's Mate 3rd Class Jessica Ford, who's been at the station for more than two years.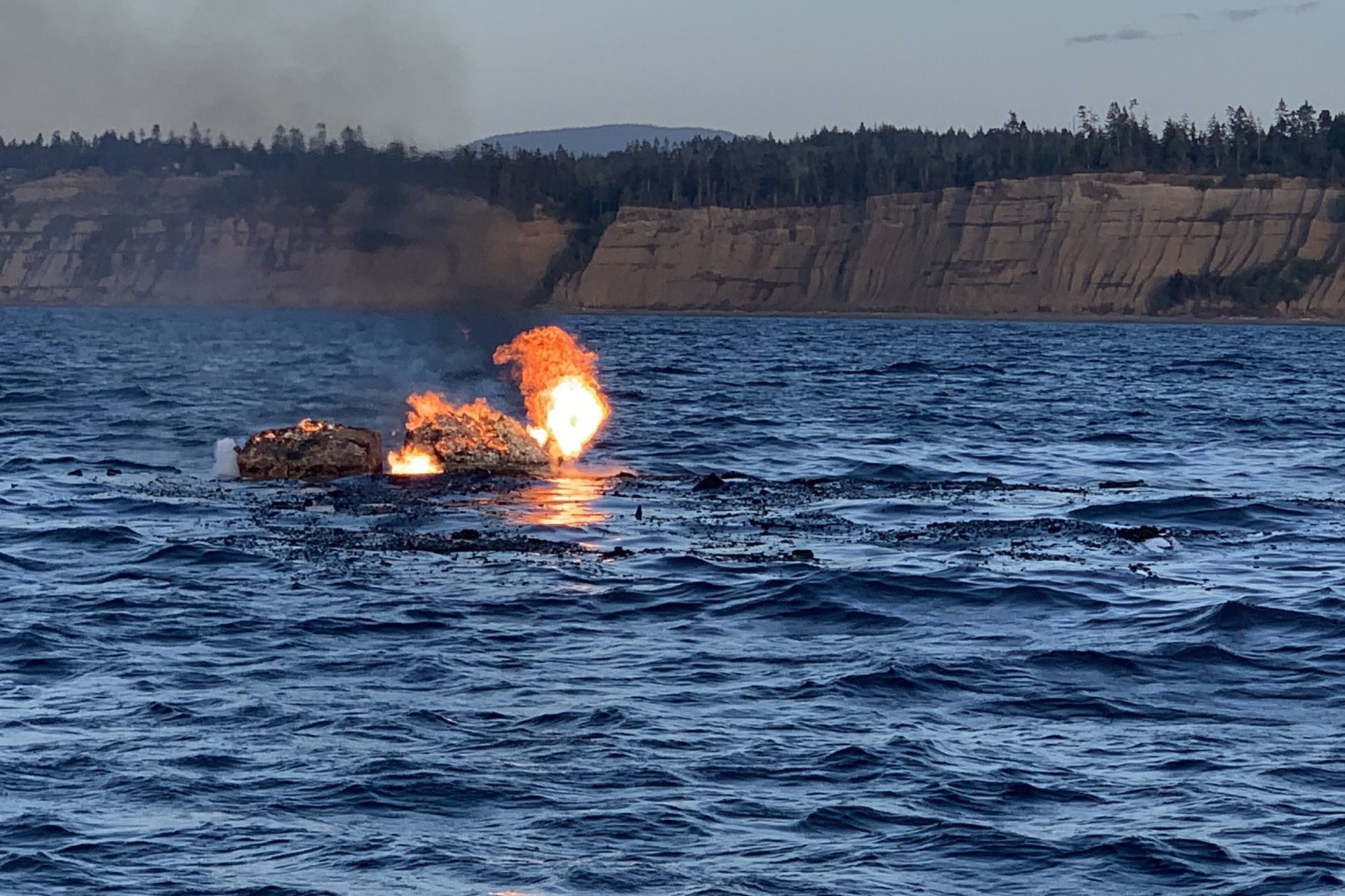 Race organizers retrieved the solo skipper of the first sailboat that overturned. But shortly after 6 a.m., a personal locator beacon began pinging roughly 6 nautical miles northwest of Port Townsend.
Watchstanders scrambled Ford's 45-foot response boat-medium crew, which included Machinery Technician 3rd Class Teigue Lehne, Machinery Technician 2nd Class Ryken Wernofsky, Machinery Technician 3rd Class Justin Anderson, and Seaman Chasiti Shafstall.
When the crew reached him, the California man was "just hanging out" atop a yellow catamaran, Ford said.
Shafstall said the boater told her a wave had "caught him at the wrong angle and his whole boat just flipped over." He had struggled to right his boat himself but eventually gave up.
"There was not a whole lot that he could do," she said.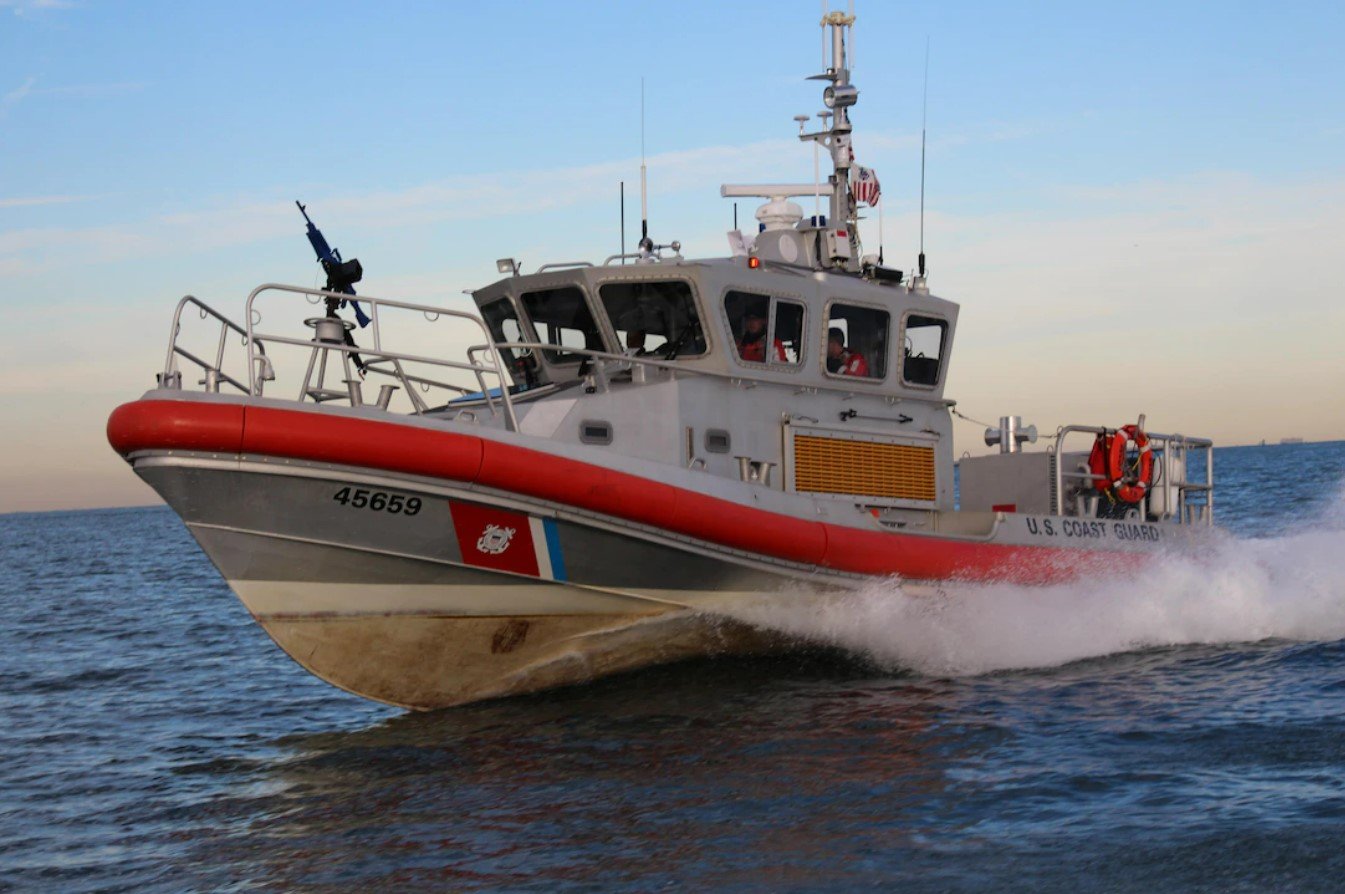 But the mariner didn't want to be rescued. He asked the crew to flip his catamaran so he could continue the race.
"I can understand the frustration at that point, but at what point do you get on the boat and be safe?" Ford said. "We needed everyone on scene, and we couldn't just hang out there and try to re-right his boat in the sea state that we were seeing."
The catamaran's sailor agreed to board the rescue boat for a trip to shore, but they couldn't take him there yet because they received a second rescue call.
They left the catamaran to be salvaged by Tow BoatUS.
Lehne, the machinery technician 3rd class, later called the morning mission the "craziest search and rescue case" he'd ever been on.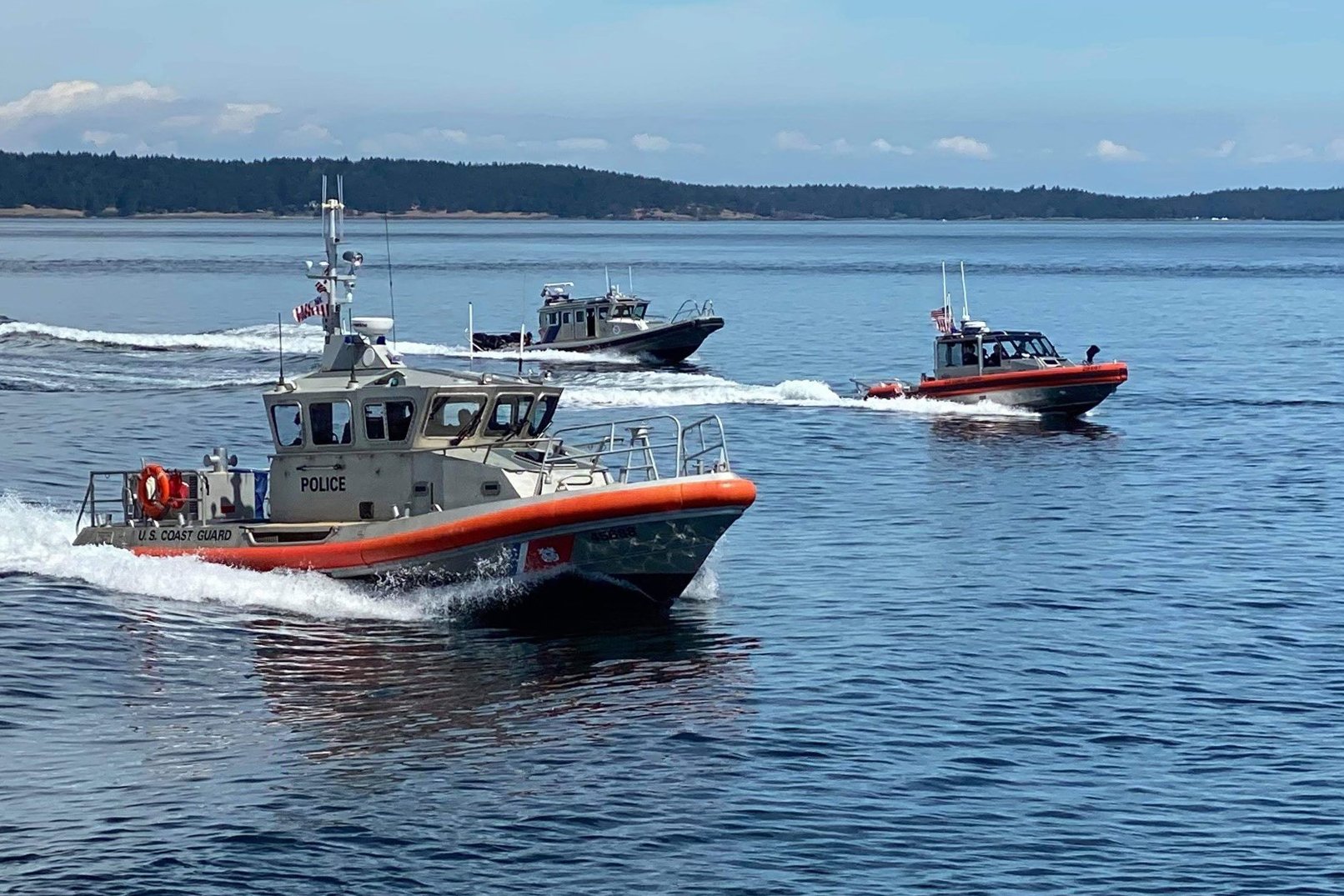 Luckily, a four-man US Coast Guard MH-65E Dolphin helicopter crew was flying to the second call.
Lt. Cmdr. Jared Highlander piloted the chopper alongside Cmdr. Chad Morgan, Avionics Electrical Technician 2nd Class Octavio "Octo" Estrada, and their elite rescue swimmer, Aviation Survival Technician 3rd Class Tyler Gantt.
Gantt told Coffee or Die the crew could practically see the disaster unfolding from their base, Air Station Port Angeles. When they got the mayday from the boat crew on the marine distress frequency, Channel 16, an arrow automatically spun on the helicopter's compass to guide the team to the capsized sailboat.
Less than eight minutes later, the helicopter crew spotted a pair of swimmers Gantt said were "getting smacked by waves" taller than an elephant.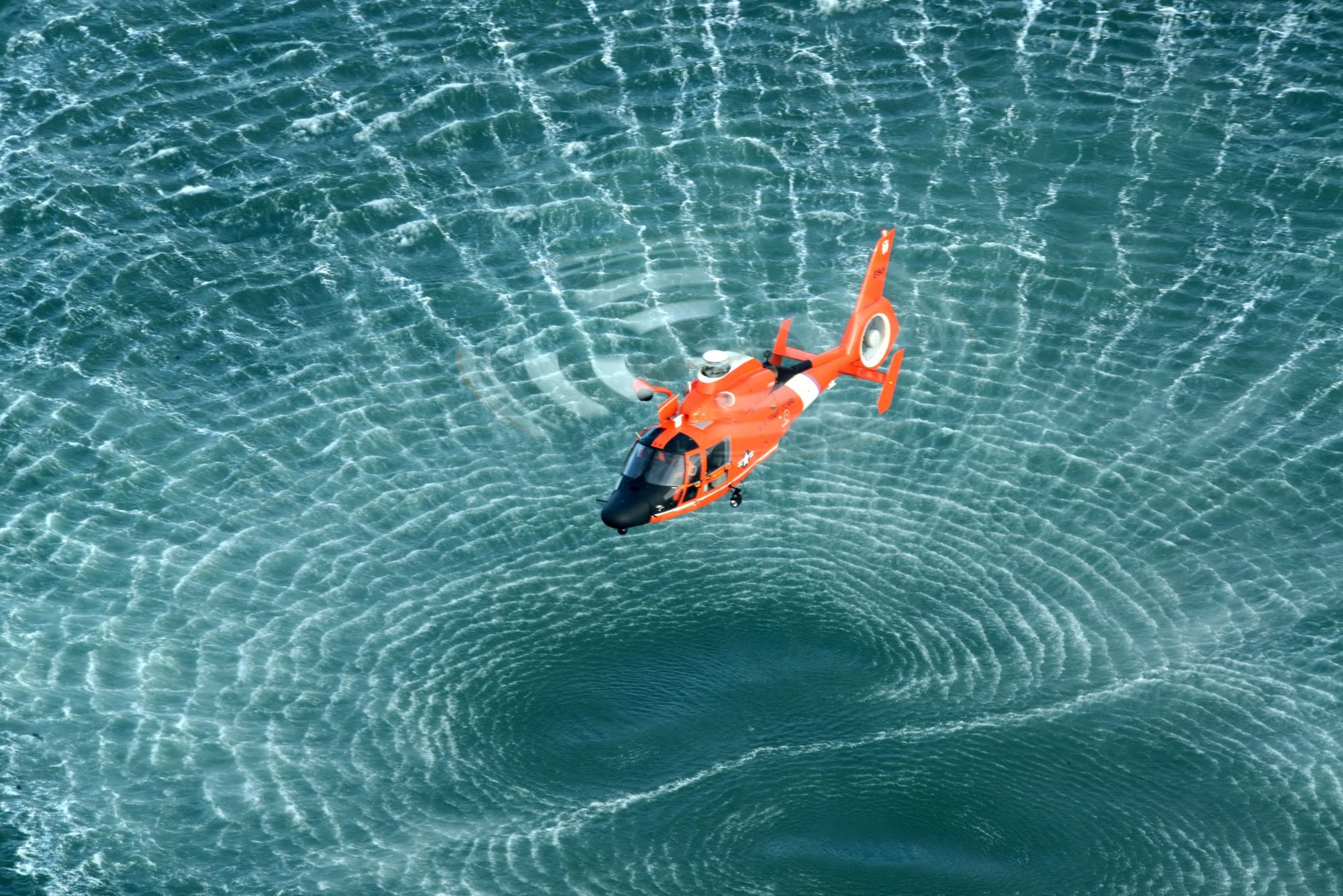 The two mariners clung to a small sailboat about a dozen feet long, its blue belly straight up in the air. Swirling gusts slapped at the crests, but Gantt said that "a helicopter likes wind."
"It helps us with power margins," he told Coffee or Die. "We can use the wind to our advantage."
Because most of his rescue missions seem to come at night or in shallow waters, Gantt said he rarely gets to free fall into the water. But he was in a deep stretch of the strait and the mariners below needed him immediately, so he took the leap from 15 feet into the roiling seas.
"They're ready when I'm ready," he said. "I'm looking at the waves now, and I'm going to try and time it because I want to jump into the crest of the wave. If I jump in between two waves, I'm going to be falling for longer."
He landed on the back end of a crest, maybe 20 feet below his helicopter crew. And that was okay.
"It's fun," he said. "Free falling is a good time."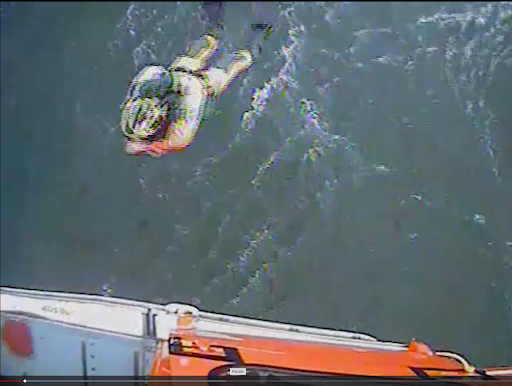 But as Gantt splashed to the boaters, he saw "a white wall of water" rushing his way, forcing him to dive like a duck under the waves. When he popped to the surface, he was right in front of the two mariners.
Both wore life jackets, but one man was in a wetsuit and the other just rain gear. He was shivering and appeared to be edging into hypothermia.
So when the crew lowered the basket, Gantt sent him up the hoist first.
"His jaw was shaking. His arms were shaking; legs were shaking," Gantt said. "I'm glad we got there when we did."
The water washing over him was 52 degrees Fahrenheit. The rescued man's body temperature had fallen to 94 degrees.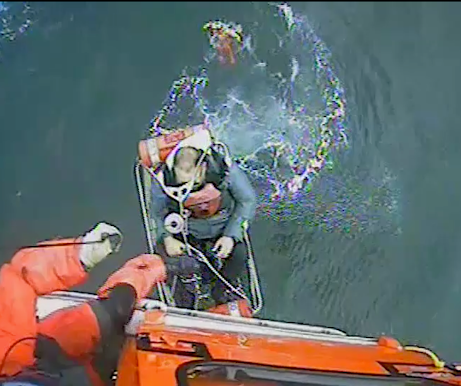 Gantt bobbed in the waves as his crew tugged up both mariners. Then at his 10 o'clock loomed a black and green cooler. Dodging the high waves, he made his way to it, hooked the cooler to his carabiner, and went up.
"At least I was able to save a little piece of property in there," he said.
Inside the helicopter, the crew learned that both survivors were military veterans, one from the Army and the other the Air Force. They appreciated a rescue from the Coast Guard.
The Coasties delivered them to a Port Angeles Fire Department ambulance waiting on shore, and they were rushed to Olympic Medical Center.
"Once I found out it was a race, it got me thinking: 'Holy smokes, I hope everyone else is doing okay out there,'" Gantt said. "It was choppy seas and a little bit uncharacteristic for the Strait of Juan de Fuca out there."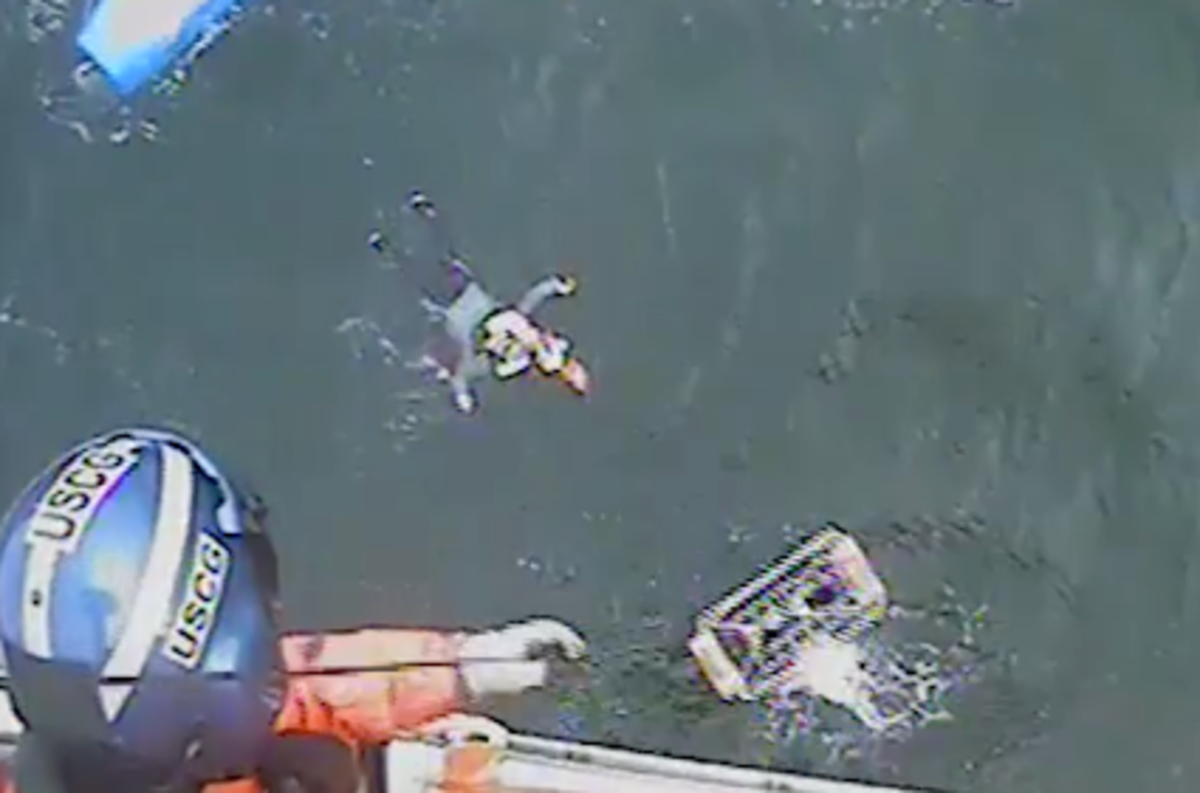 US Coast Guard crew members pointed to a few lessons readers might glean in the wake of the Race to Alaska rescues.
When the event kicked off, weather watchdogs had issued both a gale warning and a small craft advisory for the Strait of Juan de Fuca. Mariners need to be prepared for that kind of weather and equip their small craft and themselves with proper safety and communication equipment. They also need to test everything before they head to sea.
"If those sailors hadn't done that, it could have ended up a much worse situation," Wernofsky, machinery technician 2nd class, told Coffee or Die.
For the Coast Guard, the rescues off Port Townsend also reaffirmed that their hard training and tough schooling will save lives.
"It was a great payoff," Wernofsky said. "To do what we train for every day and to be here and go into a dire situation and have the best possible outcomes all around and coordinating and working with everybody — it was just a testament of that."
Read Next: What Do You Do When a Really Big Ship Does a Doughnut on the Savannah River?