Two days before we were blown up by an insurgent IED in Ramadi, my teammate got a letter from his dad — with a Purple Heart postage stamp on it.
We looked at that stamp, sitting on Camp Hurricane Point in 2004, with incredulity. It was bad juju.
Jason's dad got a Purple Heart in Vietnam, so I guess he thought it was appropriate. I'd never believed in omens or any kind of superstition, but the randomness of combat made me think, Well — maybe.
Why does a rocket-propelled grenade take a skip off a Humvee's hood, hit a guy in his chest plate, but not explode? Why does a piece of shrapnel from a mortar miss a Marine standing 20 feet from the impact, but hit a Marine 100 meters away sitting in his office? I felt sorry for the poor bastards who taught us we had to put sandbags around the port-a-johns. They learned that lesson after somebody got shredded by an insurgent's lucky shot with a 107 mm rocket while taking a morning shit. Bad luck doesn't care if you're busy taking a crap.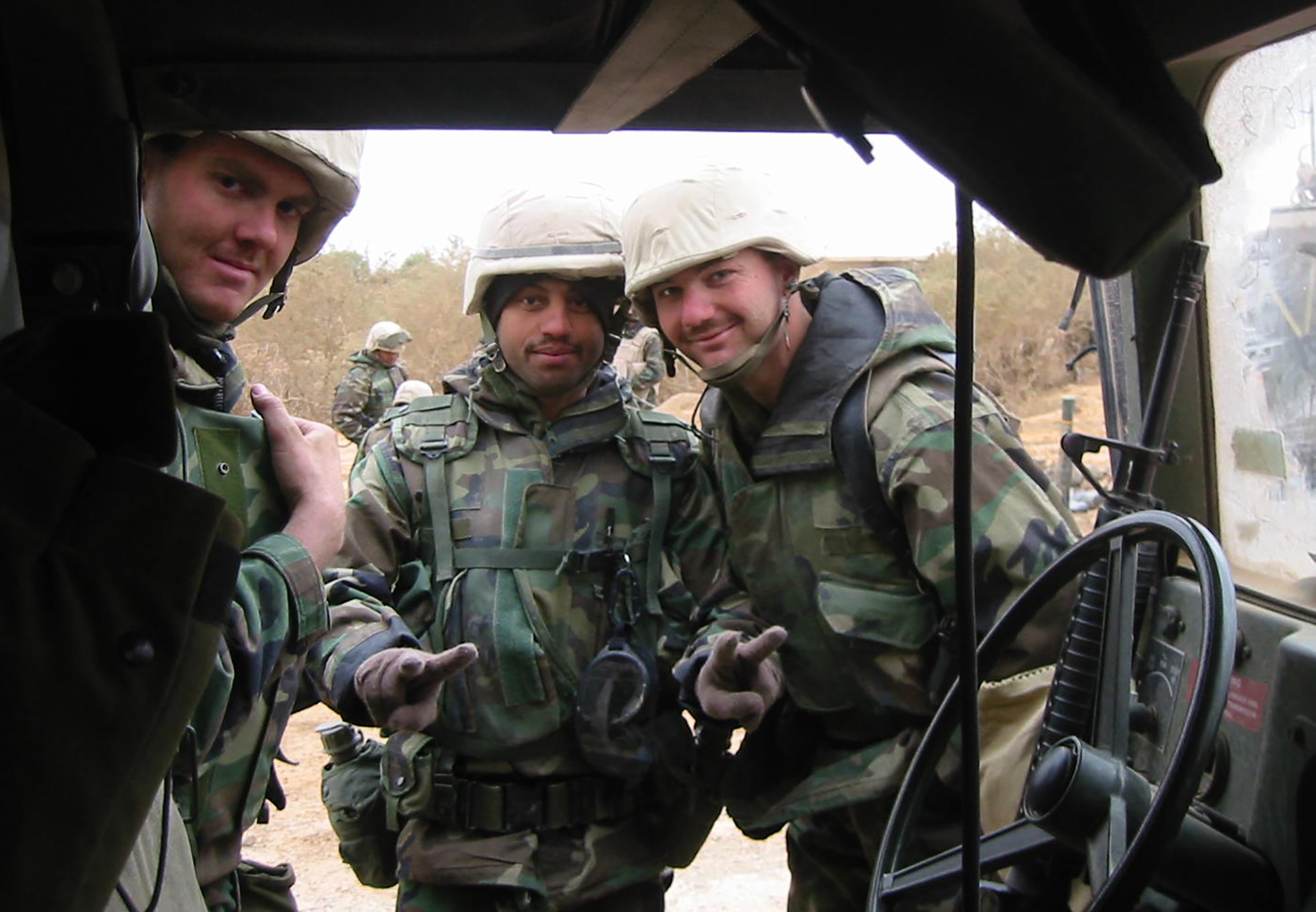 A little superstition can't hurt. One of my sources in Al Kut in 2003 gave me an amulet made by a local shaman. My source's son had extremely light skin, and sunscreen was almost impossible to find, or afford, in Iraq in 2003. I gave him 20 bottles of sunscreen, and he was eternally grateful. His way of repaying me was to give me a protective amulet.
In some places in Iraq, pre-Islamic magic still exists. The djinn and afreets from Arabic legends — the good and evil genies of Aladdin — are real. People believe in them. The witch doctors have power. He told me he'd worn an amulet made by the same shaman during the Iran-Iraq War, and he'd never been shot, though bullets had passed through the sleeves of his jacket. I've never been shot, in spite of how many times I've been shot at, and I've carried it every time I've been in combat. So. I suppose it works.
And then there's the luck of the Irish. I'm some kind of Scottish-Irish mix from a few hundred years ago. There are McColloughs in both Ireland and Scotland, so who knows where my mutt-blood actually originated.
Whatever my blood, St. Patrick is clearly my patron saint, and on St. Patrick's Day 2004, I was wearing a bit o' the green. It was my olive-drab Marine skivvy shirt under my desert cammies, but it counted.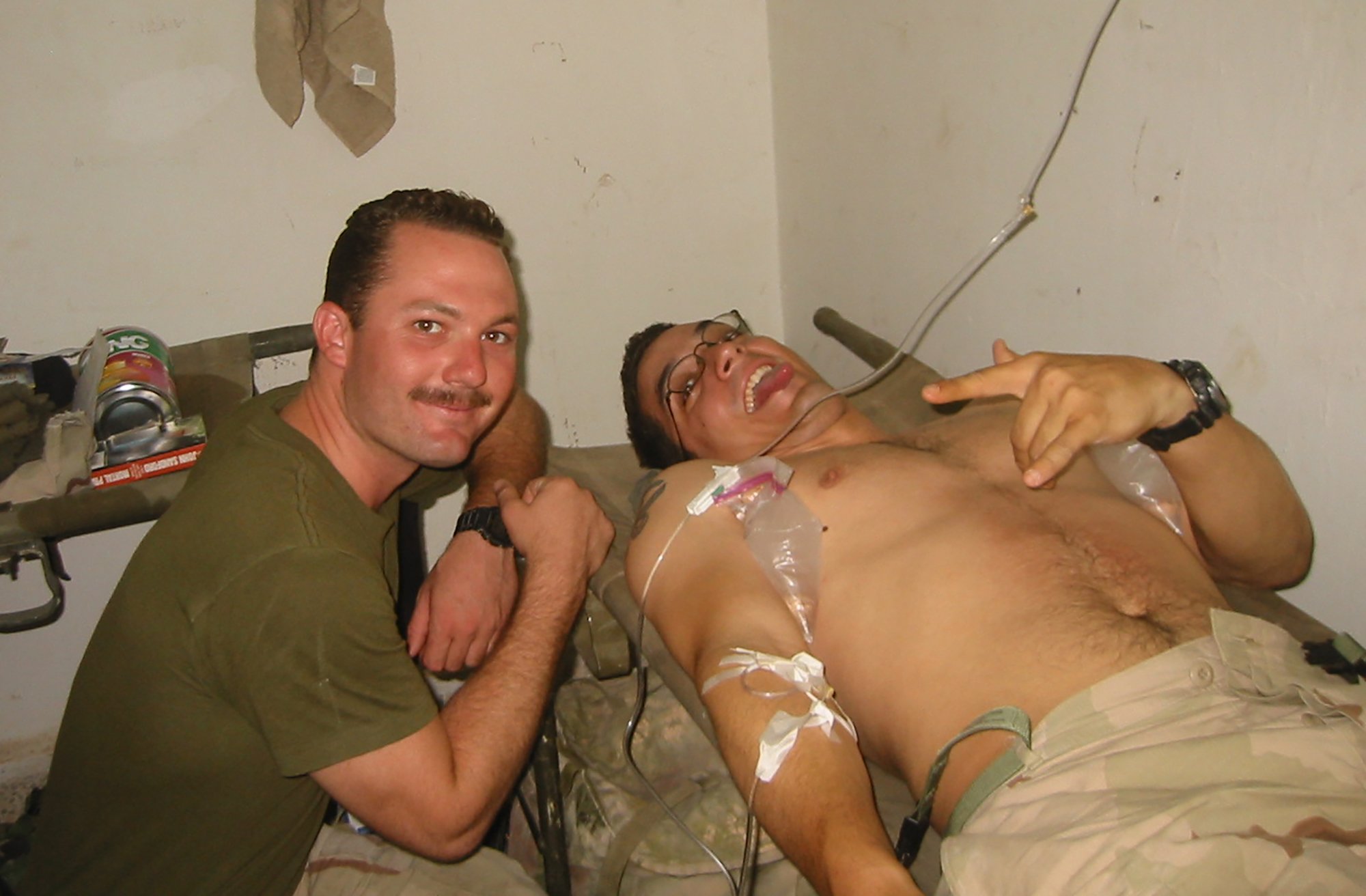 Jason had a Kentucky drawl as thick as a three-layer chocolate cake. He and I were going from Hurricane Point, headquarters for 2nd Battalion, 4th Marines, to what was called Combat Outpost on the far east side of Ramadi. Golf Company had captured an insurgent the previous night, and we rolled out with the morning supply convoy to do the interrogation. As counterintelligence Marines, we went where needed — patrols with grunts, raids, forward operating bases, detention facilities. We did whatever we could to collect human intelligence to help protect Marines.
The Sunni insurgency was just getting started in March of 2004, and Ramadi was the heart of the Sunni Triangle and the capital of Anbar province. Al Qaeda and Saddam loyalists and Sunni nationalists and outlaw Iraqi tribes were mixing into this mélange of alliances, what would become one of the toughest insurgent armies in history. The First Battle of Fallujah was about to start, due to the four American contractors hung from a bridge just after 2/4 got into country. The Marines of 2/4 didn't participate in the '03 invasion of Iraq, so none of them had seen combat. They all thought they wanted to. That changed quickly. In its six-month deployment, 2/4 lost 36 Marines killed in action, and had hundreds wounded. Jason and I were lucky to avoid making that KIA list.
There was no such thing as an up-armored Humvee in March of 2004. We had sandbags on the floorboards. We put sandbags in the back of a high-back. Some guys scrounged steel and knew enough about welding to slap slabs of metal on the sides of their Humvees. Everything was ad hoc. We felt we were lucky, we had steel L-shaped doors on our Humvees, 1/8 inch thick, instead of the plastic and canvas doors we had for the invasion in '03. When the improvised explosive device hit us, though, those L-shaped doors let the concussion into the vehicle and almost blew the roof off of the Humvee.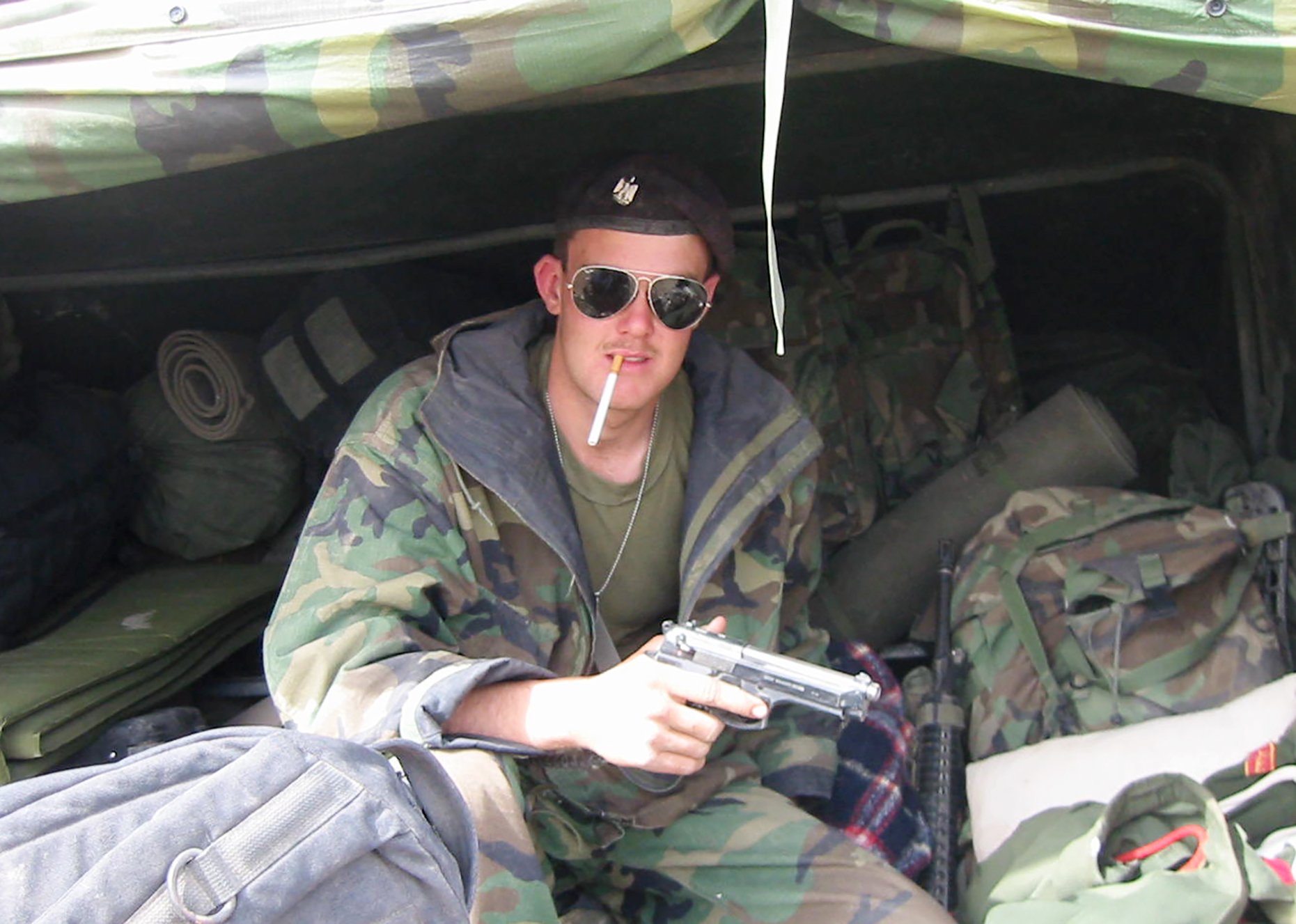 The convoy took the river road, instead of Route Michigan, which ran through the heart of the city. There were only two roads from Hurricane Point on the west side to Combat Outpost on the east side, but we tried to change it up. While we got our gear on, loaded the Humvee, and did our comms checks, I played "South Side," by Moby and Gwen Stefani.
"Here we are now, going to the east side
I pick up my friends and we start to ride"
There's a hairpin turn barely a kilometer from Combat Outpost. A natural chokepoint. The convoy slows to a crawl.
I remember a shepherd with a flock of sheep waving at us — just before the violent shock wave and a tsunami of crushing dirt as my Humvee almost flipped over.
When I came to seconds later, I immediately grabbed the mic and started yelling, "HET vehicle is hit, HET vehicle is hit!" Then I looked at the radio and saw the mic cord had been ripped from the radio, so I was just yelling to myself, screaming into an empty radio like a dumbass.
Jason and I staggered out of our ruined truck and tried to take haphazard fighting positions, waiting for the follow-on attack that didn't come. Our heads were ringing, ears and noses bleeding. The 2/4 Marines in the convoy set a quick perimeter and radioed for a quick reaction force and a tow truck.
"Here we are now going to the west side
Weapons in hand as we go for a ride"
We were lucky the bush-league insurgents had buried the IED too deep, or so the explosive ordnance disposal guys told us. If it had been shallow, we'd have been vaporized. Lucky.
We were lucky there was a shepherd with a flock of sheep between us and the blast. Evidently the sheep took a lot of the concussion.
We were lucky the IED didn't hit the fuel truck that was directly in front of us in the convoy.
We were lucky there wasn't a follow-on attack.
We were just fucking lucky.
When we finally got the truck hauled back to Hurricane Point, I drank a pint of whiskey (yes, in direct violation of General Order 1) and passed out for about 15 hours. Probably not the best idea for someone who'd just had a massive concussion.
We received our Purple Hearts, aka enemy marksmanship medals, a few days later. I felt strange about getting a Purple Heart for a blown-out eardrum and a concussion. Guys were getting their arms and legs blown off. One Marine took shrapnel from an IED, returned to duty, and got shot two days later.
I've always struggled with the feeling that I don't deserve a Purple Heart because the enemy mostly missed me.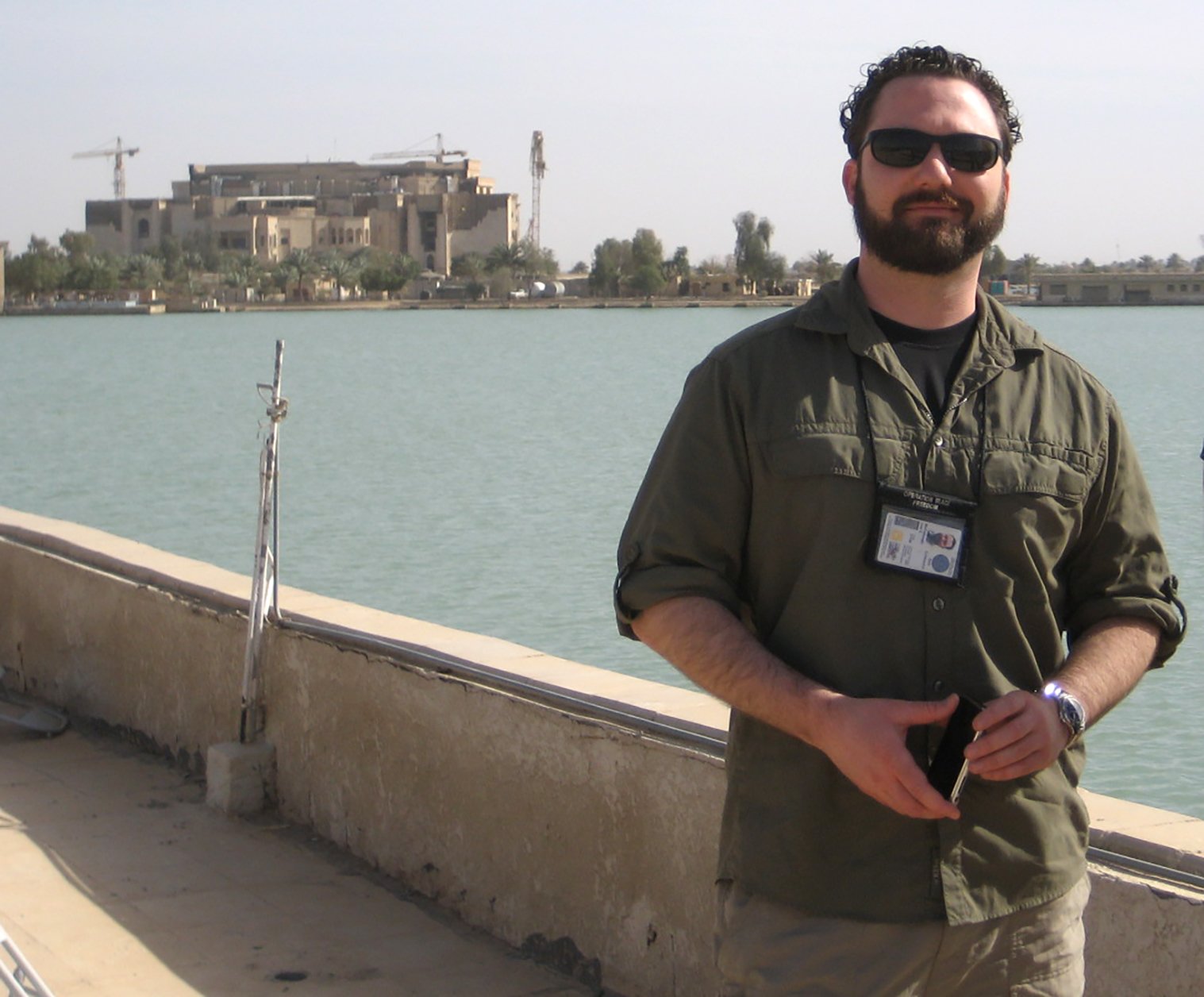 "Here we are now going to the south side
I pick up my friends, and we hope we won't die."
Ramadi in 2004 was a shit show. The insurgents from Fallujah flooded over to Ramadi when Gen. James Mattis locked Fallujah down.
They killed us, but their bodies stacked liked cordwood by the hundreds at the Ramadi hospital.
The grunts used the concrete next to the team's hooch to wash out the body armor of 2/4 Marines killed in action. Watching rivulets of our blood run into the Iraqi dirt, I remember thinking, Two WIA on the team in the first 10 days, and we have KIAs almost every day. And we still have five months to go? We're all gonna die.
My counterintelligence team ended up with one more wounded in action. Shane broke his leg jumping over a wall to escape a barrage of enemy fire. Three wounded out of a team of eight Marines, and too many close calls and near misses to count. But we all made it home alive. Luckily.
I guess you could say I've had my share of Irish luck. I've won thousands of dollars at the blackjack table on St. Paddy's Day. I've gotten laid while the Chicago River was being dyed green. But my luckiest March 17 will always be 2004. I don't believe in superstition. But anytime I do something dangerous I still wear that Iraqi shaman's amulet I got in 2003. Because, hey, maybe.
Read Next: Why Are Marines So Fanatical About the Marine Corps Birthday?