Author's note: The following contains major spoilers of the "Rambo" franchise — but given that the last installment before today's release of "Last Blood" came out 10 years ago, it's on you for reading this if you don't want to know what happened.
John Rambo is back. The Green Beret famously depicted by Sylvester Stallone is returning to the big screen today in "Rambo: Last Blood." At age 73, Stallone has played the character nearly four decades. The "Rambo" franchise is one of the most famous action movie series in the world and, alongside "Rocky," made Stallone a superstar.
However, the "Rambo" movies are more than just popcorn action flicks. The journey of the titular character offers a unique window into America's relationship with war — with other countries, with its own veterans, and within its own veterans.
It all started with the book "First Blood," which was released in 1972 as the war in Vietnam was still ongoing. For those who haven't read the book, it often comes as a surprise that John Rambo is not the hero; he's arguably the antagonist. The novel alternates in perspective between Rambo and police chief Wilfred Teasle — a Korean War veteran haunted by his own experiences — as they face off in a deadly game of wits.
The book version of Rambo is a sympathetic character — but also a violent and emotionally unstable one who kills several police officers, National Guardsmen, and innocent civilians as he flees authorities before his one-man war against a small rural community comes to an end. While the readers feel his pain, they're also terrified of him.
The book's author, David Morrell, began working on it in 1968, drawing inspiration from experiences shared by his students who had fought in Vietnam. It was meant as a character study examining the different ways war affects people and what they bring back home with them. Many of Morrell's contemporaries consider it a master class in suspense — when Stephen King taught creative writing at the University of Maine, he used it as a core text for his students.
But when the film adaptation entered production almost a decade after the book's release, Stallone — who had rocketed to fame for writing, directing, starring in, and winning an Oscar for "Rocky" — had enough clout to make significant changes to the script. He wanted Rambo to be a heroic figure. In the film, Rambo causes the death of one person — a pursuing police officer — and it's by accident. Teasle is rewritten to be more villainous and spiteful, and his veteran background is removed.
The film's original ending was a closer reflection of the novel. Rambo tells his former commanding officer, Colonel Sam Trautman, that he can't stop and that he can't live in a cell; he begs his comrade to kill him. Trautman refuses, and Rambo pulls the officer's Colt 1911 into his chest, resulting in the surprised soldier pulling the trigger and killing his former subordinate. Trautman looks mournfully at the dead veteran — a man failed by the system — and the camera refocuses on Rambo's corpse before the credits roll.
Test audiences found the ending too depressing, so it was reshot. In the ending that made the cut, Trautman tells Rambo his mission is over, to which he angrily responds, "Nothing is over!" Then he breaks down and confesses to struggling with post-traumatic stress disorder (PTSD) before Trautman escorts him away.
The film was a smash hit — and, as luck would have it, the new ending left it open for a sequel.
1985's "Rambo: First Blood Part II" picks up with Trautman plucking Rambo out of prison to send him back to Vietnam for a special mission to look for American prisoners of war (POWs) that may have been left behind. At the time, the issue of U.S. troops still listed as missing in action (MIA) in Vietnam was a hot-button topic, and some Americans believed that many of them could still be alive in Vietnamese prison camps.
In the first film, Rambo didn't kill anyone, but that changed in the sequel. This Rambo killed his enemies mercilessly. The action took center stage — and Stallone's abs took the spotlight. It was less a cerebral cat-and-mouse game and more of an all-out brawl. It was a fantasy where this time Americans could get a do over in Vietnam — and this time they would win. During the film, Rambo fights communist Vietnamese troops, the Soviets, and U.S. government bureaucrat Marshall Murdock, who is trying to cover up the POW issue.
After rescuing the POWs and confronting Murdock, he's reunited with Trautman. The colonel tells Rambo to return to America, but he chooses to stay behind, telling the officer, "I want what they want and every other guy who came over here and spilled his guts and gave everything he had: Once, for our country to love us as much as we love it. That's what I want."
"First Blood Part II" was part of a larger reckoning happening within American culture regarding the legacy of the Vietnam War. Films from the 1970s, like "Apocalypse Now" and "The Deer Hunter," were anti-war films that depicted veterans as deeply damaged and disillusioned by their experiences at war. But by the '80s, pop-culture stables such as "The A-Team," "Magnum P.I.," and "Miami Vice" had begun to reimagine Vietnam veterans as heroes. While the "Rambo" series still depicted its protagonist as emotionally wounded, it also depicted him as defiant, capable, and powerful. He was a man of action, righting wrongs and taking a stand.
However, Rambo's reception was and is complicated for Vietnam veterans. Some loved him and felt he embodied their struggle to readapt to American society. However, other veterans felt he reinforced negative stereotypes. Some special operations veterans in particular took issue with the depiction of Rambo — who was supposed to be a Green Beret — as a hulking wildman who literally fired from the hip rather than the disciplined, silent professionals they considered themselves to be. Special Forces troops are trained to handle missions thoughtfully and with nuance as they navigate complex cultures and unconventional threats. Rambo, conversely, fired his M-60 machinegun at inanimate objects because he was angry.
Regardless, general audiences loved the character. Not long after the release of "First Blood Part II," a children's cartoon called "Rambo: The Force of Freedom" hit the small screen. The show was basically a ripoff of "G.I. Joe" that saw Rambo lead a team to fight members of the terrorist group S.A.V.A.G.E led by the evil General Warhawk in fictional countries across the globe (sometimes with loose references to actual events).
It was the first cartoon adaptation of an R-rated movie, and the violence was heavily toned down for the young audience. It was bloodless and Rambo rarely killed anyone. Studios made a merchandising push with a line of action figures; ultimately, the toy line outlived the show.
In 1988, Rambo returned to the big screen with "Rambo III." Trautman seeks out Rambo, who has been living in Thailand, to recruit him for a special mission to deliver arms to Mujahideen fighters to help them fight the Soviet Union. Rambo refuses, and Trautman ends up captured by Soviet forces. Rambo decides to go to Afghanistan to rescue his mentor and friend.
"Rambo III" had more of everything that had made "First Blood Part II" a success. More violence, more explosions, and a lot more of Stallone's greased-up abs. The 1990 Guinness Book of World Records named "Rambo III" the most violent film ever made, with 221 acts of violence, at least 70 explosions, and more than 108 characters killed on-screen. With a production budget of close to $63 million, it was also the most expensive film ever made at the time.
Like it's predecessors, "Rambo III" also had things to say about the politics of the day. Along the way, Rambo befriends and fights alongside the Mujahideen. While held captive, Trautman mocks his Soviet captors by telling them, "If you'd studied your history, you'd know that these people have never given up to anyone. They'd rather die than be slaves to an invading army. You can't defeat a people like that. We tried; we already had our Vietnam! Now you're gonna have yours."
After Rambo rescues Trautman, they and the Mujahideen decimate a force of Soviet troops. Less than a year after the movie's release, the Soviets withdrew from Afghanistan.
The original ending included a caption dedicating the film to "to the gallant people of Afghanistan." The depiction of the Mujahideen and the lessons on the futility of trying to conquer Afghanistan is wrought with irony as the United States finds itself locked in an Afghan war that's even longer than the one the Soviets fought. Some Mujahideen became members of the Taliban, Al Qaeda, and other militant groups now fighting American troops.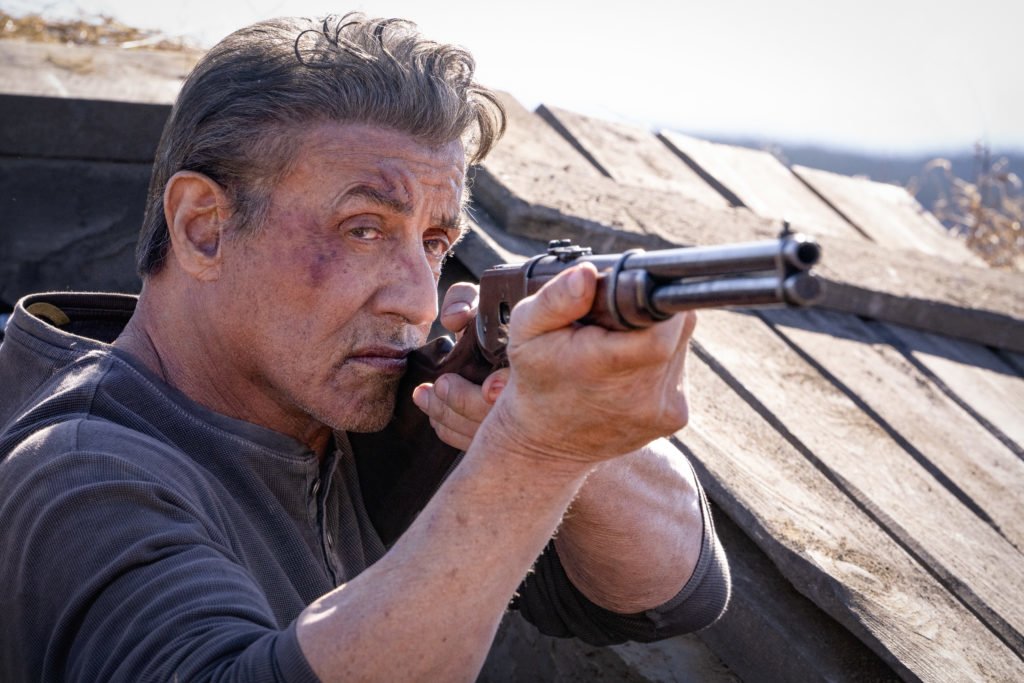 However, other Mujahideen fought against the Taliban — many joined the Northern Alliance or became Pashtun rebels in the south. During the Global War on Terrorism, American troops even found that Northern Alliance fighters have an affinity for the American hero Rambo. And for coalition service members who served at Camp Phoenix, many crossed paths with an Afghan gate guard who went by that name.
The Afghan guard became a legend for tackling would-be suicide bombers. He didn't carry a firearm in his duties, instead fighting assailants with a club or baseball bat. His commitment to guarding the gate earned him the praise of then-President George W. Bush and Sly himself. Stallone sent him an autographed photo in character telling him, "You are the real Rambo." He remained a fixture at Camp Phoenix until American troops handed the base over to Afghan Army troops in 2016.
In 2008, Stallone returned to the franchise by directing and starring in a fourth film called simply "Rambo." The fourth installment finds Rambo back in Thailand, older and angrier than ever. A group of American missionaries hire him to take them into Burma (Myanmar). He warns them that if they're not willing to bring guns or use violence, they won't solve anything.
Some critics slammed the film as a mindless and bloody romp that glamorized violence — and it is indeed violent, with more deaths than "Rambo III," exploding bodies, and several gruesome disembowelments. However, the film also includes surprisingly complex discussions about the nature of violence and trauma.
"It's in the blood! It's natural! Peace? That's an accident! It's what is! When you're pushed, killing's as easy as breathing," Rambo tells a naïve young missionary. "When the killing stops in one place, it starts in another, but that's okay 'cause you're killing for your country. But it ain't your country who asks you, it's a few men up top who want it. Old men start it, young men fight it, nobody wins, everybody in the middle dies and nobody tells the truth! God's gonna make all that go away?"
The film ultimately ends with Rambo deciding to rescue the missionaries alongside a band of mercenaries and Karen rebels as they fight a genocidal regime. The government in Burma banned the film, but it became an underground sensation nonetheless. Rebels in the country love the film and have even adopted some of Rambo's lines as battle cries.
"These incredibly brave people have found kind of a voice, in a very odd way, in American cinema," Stallone later told The Telegraph. "That, to me, is one of the proudest moments I've ever had in film."
However, other figures have drawn inspiration from Rambo as well, and not in the most positive way. When Iraqi militiamen rallied to fight against ISIS, a Shia militiaman who went by the nom de guerre Abu Azrael became a sensation on social media. Known as the "Iraqi Rambo" for his muscular build and his bravado on the battlefield, both Iraqis and Westerners initially praised him as a "badass." However, video later emerged of him mutilating alleged ISIS members and stories circulated of him engaging in routine extrajudicial killings — including beheadings.
John Rambo is an icon. He's a character that has been reinvented and reimagined in wildly different ways. The latest "Rambo" film will see the titular hero bringing the war home as he fights against Mexican drug cartels along America's Southern border. The title, "Last Blood," would suggest that his story is finally coming to an end. But ultimately time — and box office returns — will tell.
As Rambo famously said at the end of the first film, "Nothing is over."