This article was originally published Dec. 23, 2020, on Sandboxx News. Follow Sandboxx News on Instagram.
December saw the 75th Ranger Regiment achieving an astounding feat. On Dec. 17, the U.S. Army Rangers passed the 7,000-days mark of unbroken combat operations.
After the terrorist attacks of 9/11, Rangers were on the first units to deploy against al-Qaeda and the Taliban, who harbored the terrorist organization, as part of the Global War on Terror (GWOT).
Rangers deployed on combat operations in October 2001. A Ranger Reconnaissance team jumped into Afghanistan to recon an airfield. A few days later, on Oct. 19, 2001, A Company, 3rd Ranger Battalion, jumped in that airfield, known as Objective Rhino, and took it.
During the invasion of Iraq in 2003, Army Rangers assaulted, took, and defended the Haditha Dam, a vital strategic position, for days against a superior enemy.
Then, as the Islamic insurgency ignited, Rangers conducted counterterrorism operations throughout Iraq. The extremely heavy workload that was placed on the Joint Special Operations Command (JSOC) and the Special Operations Command (SOCOM) meant that Rangers were tasked with increasingly important missions.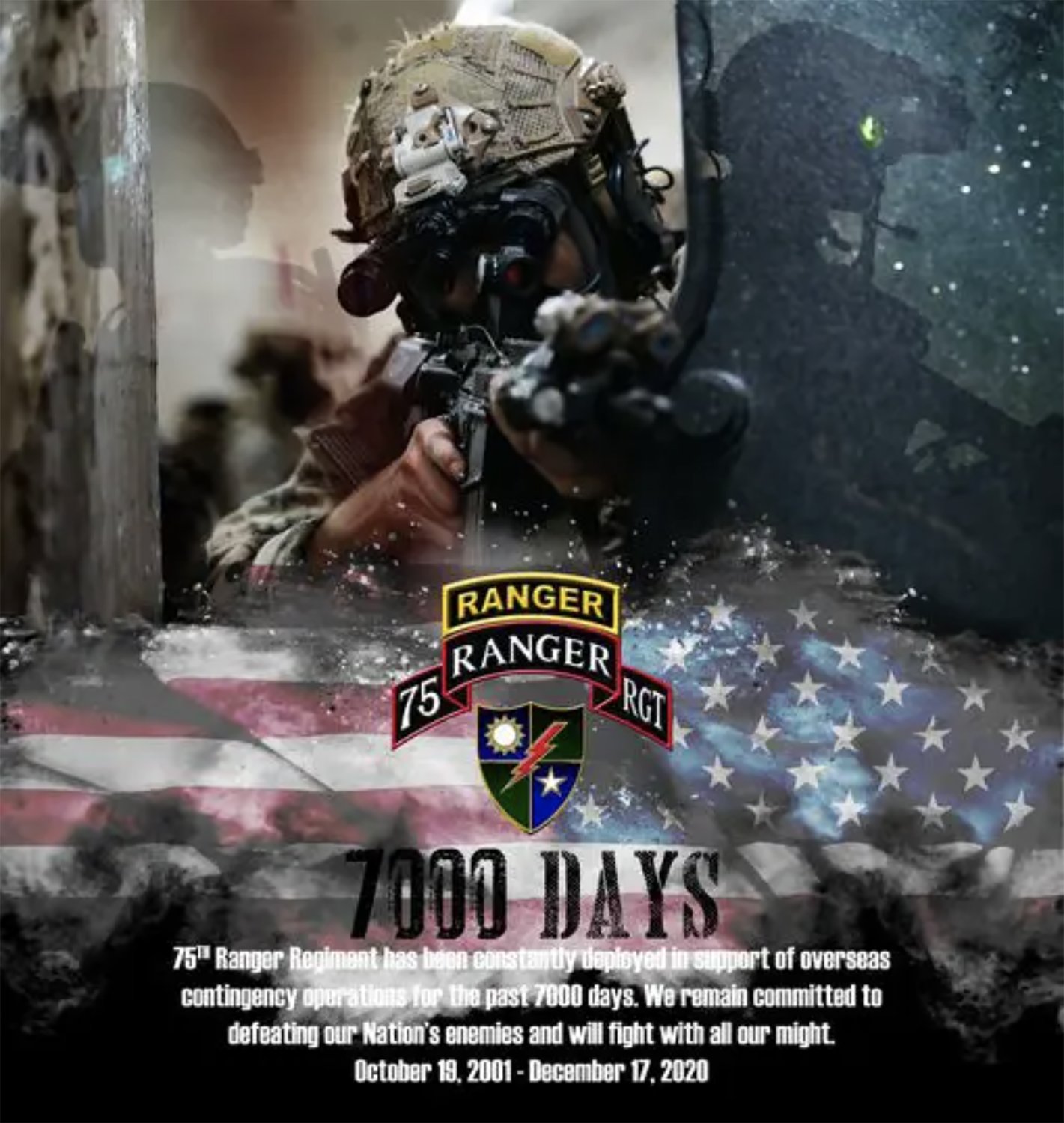 The limited number of operators that Delta Force and SEAL Team 6 could deploy offered the 75th Ranger Regiment an opportunity to be more than a blocking force for the military's Special Mission Units, an impression that had been cultivated, and even encouraged by some, in the 1980s and 1990s and cemented during the Battle of Mogadishu.
Rangers began getting high-value target missions, both in Iraq and Afghanistan. They did, however, continue to provide support to SEAL Team 6 and Delta Force during national-level missions, like Operation Neptune Spear, the SEAL Team 6 raid that killed Osama bin Laden in 2011, and Operation Kayla Mueller, the Delta Force raid that killed Abu Bakr al-Baghdadi, the leader of ISIS, in 2019.
The 75th Ranger Regiment is the US military's premier direct action and light infantry special operations unit. Comprised of five battalions, the 75th Ranger Regiment specializes in direct action, airfield seizures, special reconnaissance, and counterterrorism.
The unit has three infantry battalions (1st Ranger Battalion based in Hunter Army Airfield, Georgia; 2nd Ranger Battalion based in Joint Base Lewis-McChord, Washington; 3rd Ranger Battalion based in Fort Benning, Georgia), one Special Troops Battalion located in Fort Benning, and one Ranger Military Intelligence Battalion, which is also the newest addition to the unit, being activated last June, again based in Fort Benning.
The 75th Ranger Regiment shouldn't be confused with Ranger School, which is the military's premier leadership course and open to all branches. Although most Rangers, especially those in a leadership position, have gone through the two-month Ranger School, graduating Ranger School doesn't translate to an assignment with the 75th Ranger Regiment.
To serve in the unit, a soldier has to pass the Ranger Assessment and Selection Process (RASP), which has two versions (RASP 1 and RASP 2), depending on the candidate's rank.