Be good to your firearm and it will return the favor. Whether you use firearms for self-defense or hunting, they need to be maintained. Some people enjoy keeping their guns in top shape and always make time for a good cleaning. For others, however, maintenance is either not a high priority or it gets brushed to the wayside because time is a luxury they don't have. No matter what end of the spectrum you fall on, using well-made, functional tools will save time and make the process more enjoyable.
Real Avid manufactures some of the most innovative and well-designed tools and gear on the market today. One of my favorite aspects of Real Avid is that even though these tools are designed for firearms, they can be used in many other facets of life, giving you more bang for your buck.
We've rounded up a couple of new offerings for 2019 — and some of their classic products as well — from Real Avid. These products will make life easier and help your guns run to their full potential.
Smart Drive 90
New for 2019, the Smart Drive 90 is one of the most utilitarian tool sets that Real Avid offers. It is an advanced gunsmithing driver set that features a magnetic bit holder, rubber grip, jewelers spin top, and a 360-degree LED light. One of the most unique aspects of this kit is Real Avid's inclusion of what they call a "close quarter's driver." This driver creates Force Assist, which is a proprietary system that helps users loosen frozen-in-place screws as well as precisely tighten screws to avoid stripping. This kit is composed of 90 different pieces ranging from traditional Phillips-head bits to a collection of common torx bits and absolutely everything in-between. Real Avid also took the time to engrave the size on each bit. In my opinion, this kit is well-worth the money given its versatility to go beyond the gun. MSRP: $100.
AR15 Armorer's Master Kit
For those dedicated to all things AR, this new-for-2019 AR15 Armorer's Master Kit should be on your wish list. Composed of master grade tools, this kit contains everything you need for building your own gun or customizing an existing AR. Real Avid has even included some unique tools that are exclusive to this kit, such as the AR-15 pivot pin tool. For those familiar with installing a pivot pin and the cursing that it causes, this tool simplifies the task. Giving you more than just the tools, Real Avid has also included a guide with step-by-step instructions on everything from building a complete gun to common modifications. These are directions you can trust — unlike that YouTube tutorial from TactiCOOL TOM you found on a random Google search — and all the tools you need are at your fingertips. And labeled. With so many tools, Real Avid had the foresight to encase them in a durable, well-designed, organized, and space-saving case. Although this is an awesome and comprehensive kit, if you don't typically do this kind of work, your money may be better spent elsewhere — this product is more streamlined than utilitarian. MSRP: $250.
Universal Smart Mat
As simple as it sounds, this is one of my favorite products. A protective work surface is crucial when working on your gun, and the Real Avid Smart Mat takes that idea a step further. It's lightweight and extremely durable with an oil resistant surface that allows you to clean your guns without ruining the top of your workbench or table. Unlike other mats on the market, Real Avid has included a unique parts-keeper tray, which prevents small gun parts from rolling away and getting lost. One compartment is magnetic, providing extra insurance that all those small and necessary parts will stay where you put them. The parts-keeper tray is attached to the mat, and the unit staying folds easily for convenient storage. Real Avid offers several mats varying in size and aesthetics, and some are even complete with tools like the Master Cleaning Station. MSRP: $20.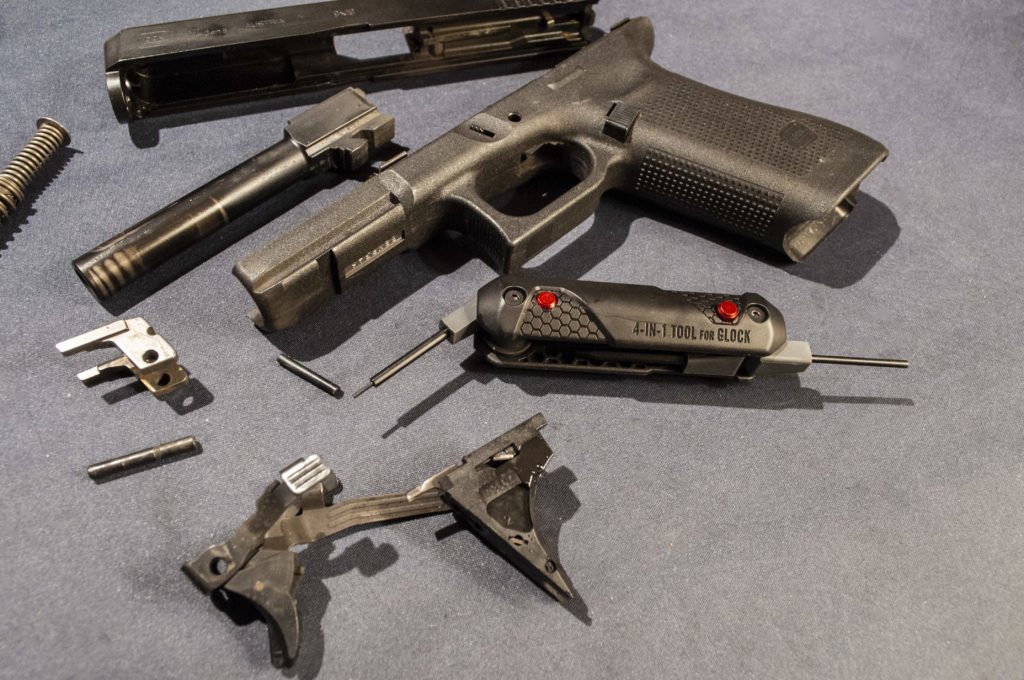 4-in-1 Tool for Glock
While well-known for their ease of breakdown and disassembly, Glock pistols do require tools once you move beyond fieldstripping. The Real Avid 4-in-1 Tool for Glock is a small pocketknife-style unit that works on every Glock and even includes a front-sight driver. Each tool sits inside the frame and is spring loaded. A simple push of the button releases the tool and allows quick access. One thing I wish it incorporated was a small strap to hook inside my range bag. This is the type of tool I like to keep with me, and it typically gets lost inside my bag. MSRP: $25.
Bore Boss
One of the more unique items Real Avid has available is their Bore Boss. This is a compact, self-storing bore snake that is much more than the sum of its parts. It has a single-piece cable with an integrated bronze brush and braided mop. Real Avid has solved the challenge of pulling tight bore snakes by designing a handle at the end of the snake that allows you to pull with ease. All of this is in a single compact unit. Once you've cleaned your barrel, simply wrap it around the polycarbonate frame and close it. It's small, compact, and space saving. MSRP: $10.