Around 2:30 p.m. Friday, the women of Platoon 3241, Lima Company, 3rd Recruit Training Battalion, moved into their squad bay aboard Marine Corps Recruit Depot San Diego and met their drill instructors for the first time.
The recruits of Platoon 3241 are the first women ever trained aboard the West Coast installation, and the day that new recruits move from the receiving barracks to the squad bay they'll call home is affectionately known as "Black Friday." Similar to what the Army used to call "Shark Attack," the baptism in chaos is meant to introduce the recruits to the high-intensity operational tempo that defines entry-level military training.
Read Next: Female Recruits Make History, Stepping Onto Yellow Footprints at All-Male Boot Camp in San Diego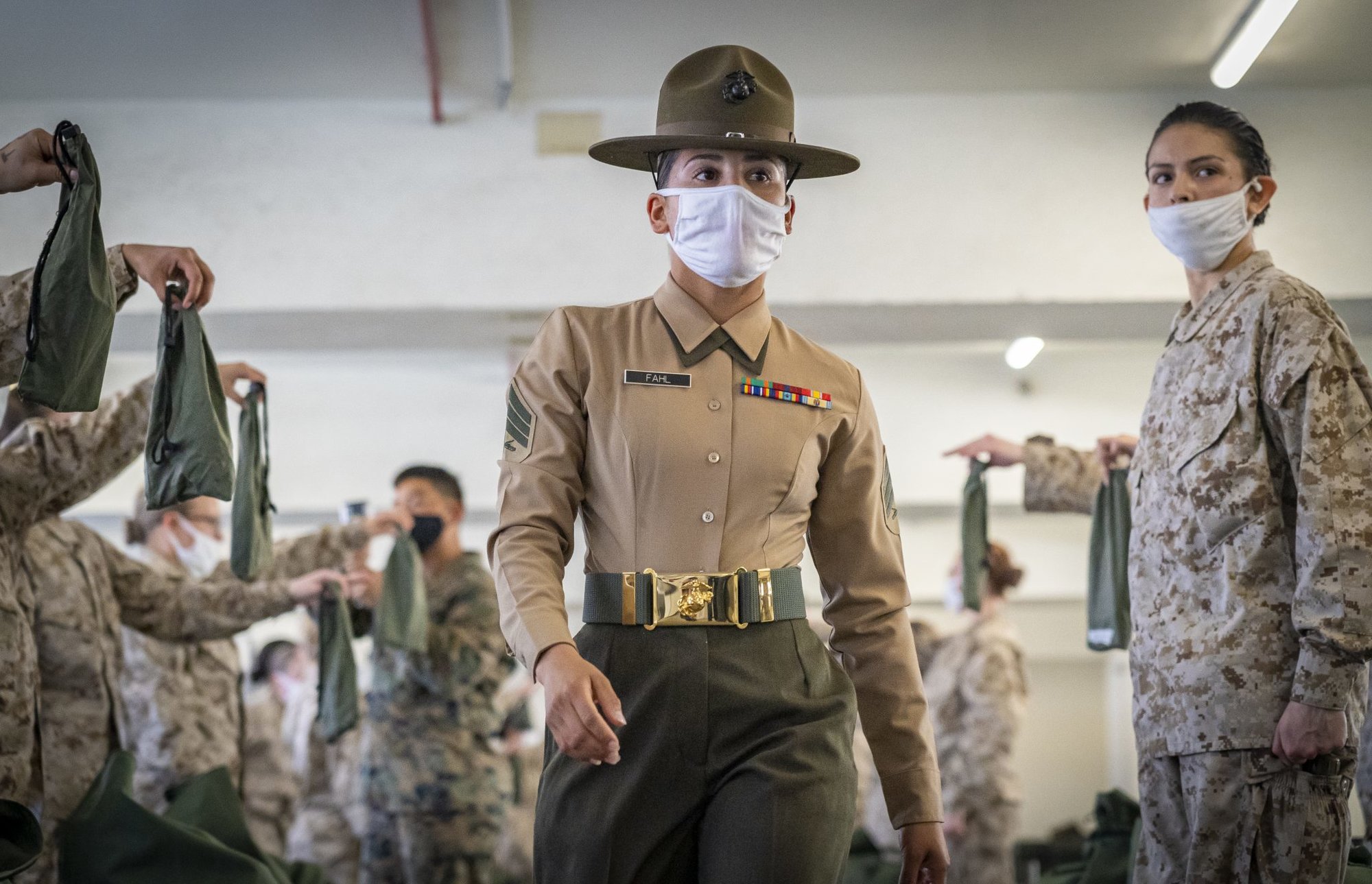 Previously, all women who enlisted in the Marines trained exclusively at Marine Corps Recruit Depot, Parris Island, South Carolina, at the all-female 4th Recruit Training Battalion, but when Congress passed the 2020 National Defense Authorization Act, it included in the legislation a prohibition against gender-segregated recruit training at both of the Corps' recruit depots. Until this year, the Marines sent all males west of the Mississippi River to San Diego, and all males east of the river to Parris Island. Congress has given the service until 2025 to fully integrate training at Parris Island, and until 2028 to do the same at MCRD San Diego.
Staff Sgt. Amber Staroscik, senior drill instructor for Platoon 3241, introduced herself and her team Friday and delivered the same speech every Marine recruit receives from their senior drill instructor. Afterward, Staroscik turned things over to her team of drill instructors.
"From then on, it's chaos for the recruits," said Staroscik, who completed a tour of duty as a drill instructor aboard Marine Corps Recruit Depot Parris Island, before volunteering for the duty in San Diego. "It's a lot of movement, setting up the house. They're doing things they've never done before, learning things from the ground up. It's important for us to be aggressive and demonstrate our authority — to break them down and then build them up from there — because that's how we show them the structure of how we want things done."
Coffee or Die Magazine was granted access to Platoon 3241's Black Friday to capture these historic photos.