Charles McGee, one of the last surviving members of the celebrated all-Black Tuskegee Airmen, died in his sleep Sunday morning, Jan. 16. He was 102.
McGee saw combat in three wars, flying 409 combat missions in World War II, the Korean War, and the Vietnam War. In nearly every period of his career he blazed a trail, in military service and in retirement — but he often chose to focus on the legacy of the Black pilots he served alongside in the Tuskegee unit in an era of institutionalized segregation and racism.
"Tuskegee Airmen are Black pilots, mechanics, and support people who — when our country declared war against Hitler — came forward and dispelled the biases and generalizations that because of the color of our skin we couldn't support our country in a technical area," McGee said in a US Air Force promotional video, following a White House ceremony in February 2020 recognizing his honorary promotion from colonel to brigadier general. "Our task was to keep the air clear of German fighters that were destroying many of our bombers."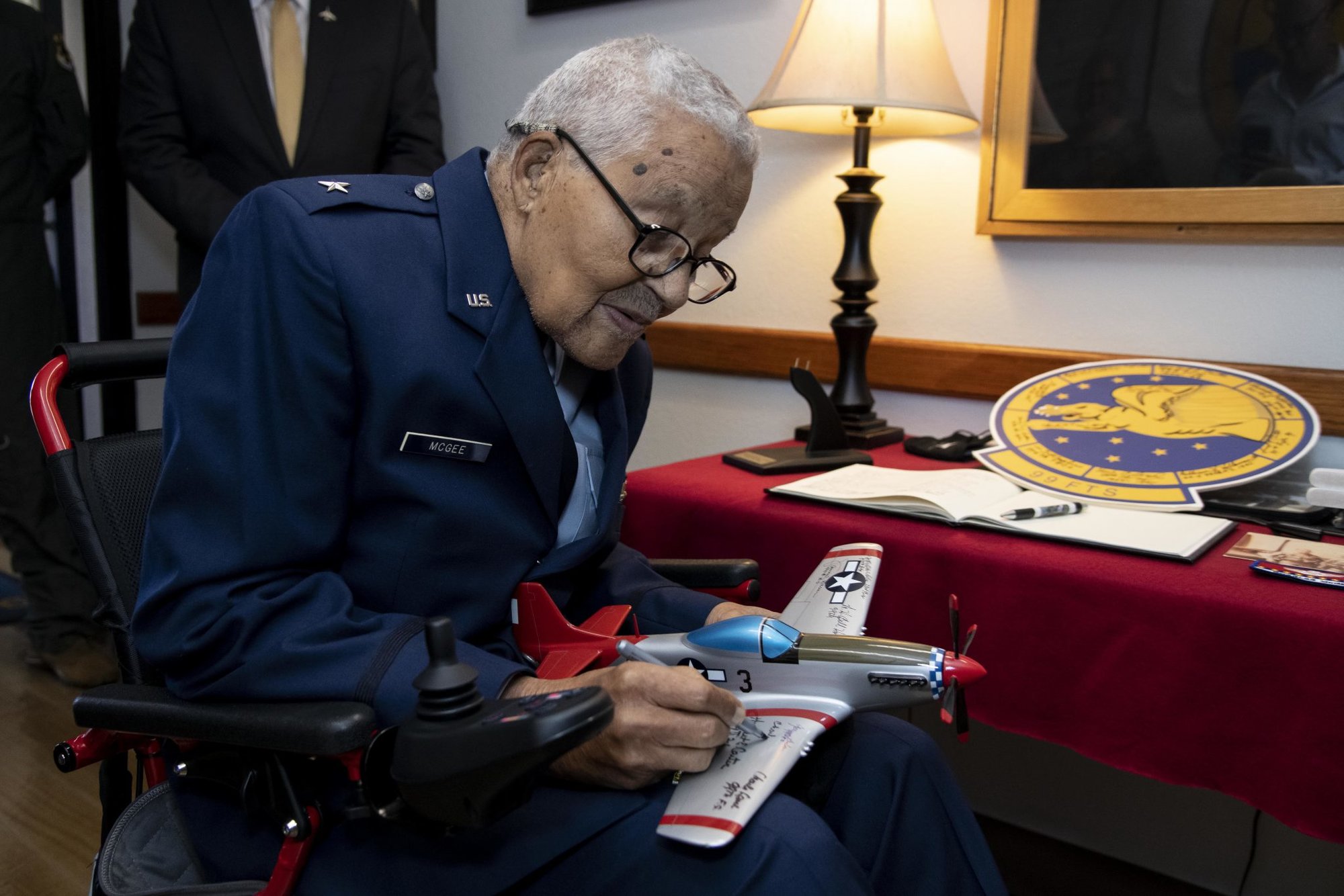 McGee, a native of Cleveland, Ohio, pondered on his 22nd birthday whether to leave the University of Illinois early. That day, Dec. 7, 1941, the Japanese launched a surprise attack against Pearl Harbor and other US bases, thrusting the United States into World War II. Then in his sophomore year, studying engineering and drilling with the university's ROTC program, McGee ultimately decided to enlist in the US Army in 1942.
Among the 14,000 volunteers to make up the Tuskegee Airmen, fewer than 1,000, including McGee, earned their pilot's wings to fly with the segregated 332nd Fighter Group, known as the Red Tails for the brightly painted tail sections of their aircraft. The Tuskegee Airmen's unit remains active in today's Air Force as the 332nd Air Expeditionary Wing.
On Feb. 14, 1944, McGee piloted his first combat mission with the 301st Fighter Squadron of the 332nd Fighter Group based in Italy. McGee flew escort missions inside Bell P-39Q Airacobras, Republic P-47D Thunderbolts, and North American P-51 Mustang fighter aircraft to protect B-24 Liberator and B-17 Flying Fortress bombers over Germany, Austria, and the Balkans. Sometimes their missions called for low-level strafing runs over enemy airfields and rail yards.
McGee engaged and downed a German Luftwaffe Focke-Wulf 190 while escorting B-17 bombers on Aug. 23, 1944, over Czechoslovakia. He flew 137 combat missions in World War II and was promoted to captain. McGee returned stateside in December 1944 and became an instructor for future Tuskegee Airmen at Tuskegee Field. He remained at the base until it was closed in 1946.
In 1947, McGee transitioned to the newly independent Air Force and decided to make a career out of flying. He flew F-80 Shooting Star and F-89 Scorpion jet fighters at Lockbourne Air Field in Ohio. However, the aviator flew all 100 of his combat missions in the Korean War inside a P-51. As a lieutenant colonel in the Vietnam War, he commanded the 16th Tactical Reconnaissance Squadron at Tan Son Nhut Air Base, near Saigon, and recorded 172 combat missions in a RF-4 photoreconnaissance aircraft.
McGee racked up 6,308 flying hours throughout his three-decade-long career. According to Air Force records, his accomplishment of 409 combat missions during World War II, the Korean War, and the Vietnam War is surpassed only by Col. Harold Snow, who flew 666 missions, and Col. Ralph Parr Jr., who flew 641. McGee earned the Distinguished Flying Cross with two Oak Leaf Clusters, the Legion of Merit with one Oak Leaf Cluster, the Bronze Star, and the Air Medal with 25 Oak Leaf Clusters, in addition to two Presidential Unit Citations and other campaign and service ribbons. He retired in 1973.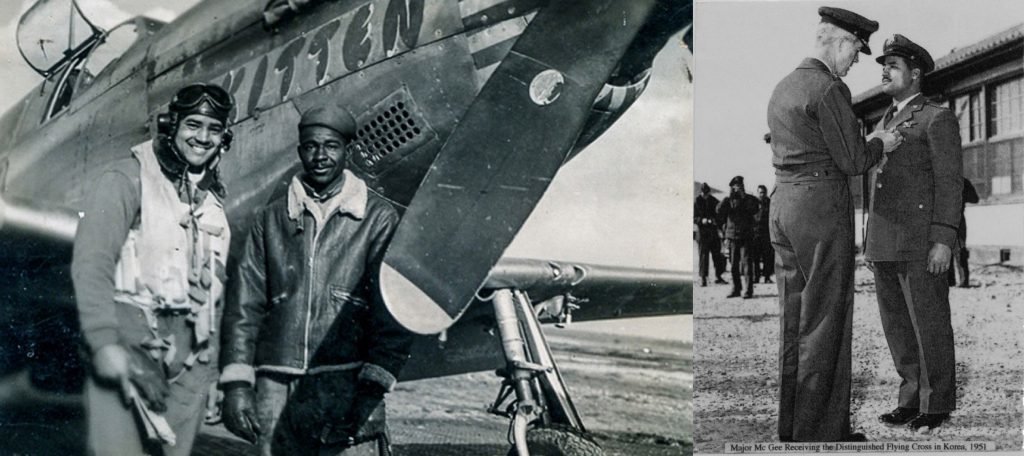 After leaving military service, McGee resumed the education that World War II had interrupted and obtained a business administration degree from Columbia College in Columbia, Missouri. He worked as a corporate executive in real estate and purchasing, managed the Kansas City Downtown Airport, and created the Tuskegee Airmen Inc. support group for the unit's past veterans.
In 2007, the Tuskegee Airmen were honored with the Congressional Gold Medal for their trailblazing legacy, and McGee was inducted into the National Aviation Hall of Fame in 2011. A year later, he served as a consultant for the 2012 film Red Tails, a movie about the Tuskegee flyers.
McGee met and married Frances Nelson in 1942, and they were married until her death in 1994. They had three children, 10 grandchildren, and 14 great-grandchildren.
Read Next: How This Three-War Double Ace Became a MiG Killer