Winston Groom, the Vietnam veteran and Southern writer best known for his 1986 novel Forrest Gump, which became the beloved 1994 film starring Tom Hanks, died in his sleep Thursday at his home in Fairhope, Alabama. He was 77.
Groom's stepson, Frederick Helmsing, told the New York Times that a heart attack was the likely cause of death.
In a 2014 interview with C-SPAN, Groom said his beloved character — now an iconic figure in American culture — was born from a conversation over lunch with his father, who described a childhood memory of an intellectually disabled young boy who could play the piano beautifully. At about the same time, he saw a 60 Minutes segment about idiot savants.
"I started making notes, and that same night at some point, I had the character Forrest Gump," he said.
Groom wrote the book's first chapter that night, and the work poured out of him from that moment forward. He said his friend Joseph Heller, who wrote Catch-22 — the acclaimed satirical novel about a cowardly American bombardier and his fictional squadron in World War II — told him he'd written his dense, irreverent narrative in just six weeks, which seemed impossible to Groom.
"That was a remarkable thing," he said. "I wrote [Forrest Gump], I think, in about six weeks. And it was just an every-night thing. It was like it was writing itself. And I remember Joe Heller telling me Catch-22 wrote itself. I never believed it. But this thing did."
In a 1994 interview with the Times, Groom said, "It's almost like the lizard part of my brain went into gear and bypassed the brain up here." He pointed to his forehead. "It will never happen to me again."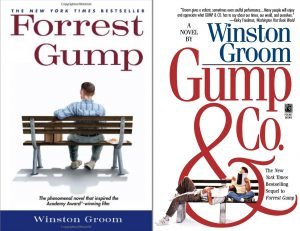 By the time he wrote Forrest Gump, Groom had already published three well-regarded novels — Better Times Than These, As Summers Die, and Only. His nonfiction book, Conversations with the Enemy: The Story of PFC Robert Garwood, was a nonfiction finalist for a Pulitzer Prize.
Groom's father was a lawyer at the Pentagon during World War II. Born in Washington, Groom later moved with his family to Mobile, Alabama, where he grew up. He attended UMS-Wright Preparatory School — formerly the University Military School — in Mobile. He attended the University of Alabama and was a member of the ROTC. Commissioned as an Army second lieutenant in 1965, he deployed to Vietnam for a combat tour the following year.
Upon completion of his military service, Groom failed to find work with some of the reputable magazines he sought employment with. He told the Times in 1994 that he "ended up working in a paper box factory earning a dollar an hour." Eventually, he found work as a reporter for The Washington Star — a daily paper once considered Washington's newspaper of record — where he covered police and the courts.
"I covered Watergate," he told the Times' William Grimes with a laugh. "I knew Bernstein from way back, and Woodward I knew from the courts. I looked into the story, and I came up with the conclusion that these two guys were making the whole thing up."
Groom worked at the Star for 10 years before quitting to follow his dream of being a novelist. According to Grimes, Groom found his literary tribe through Adam Shaw, a court reporter for The Washington Post and the son of the novelist Irwin Shaw. Through his friend, Groom forged ties with Shaw and the novelists James Jones and Willie Morris, who helped inspire him to make the jump to full-time writing as a novelist and nonfiction writer.
"I thought, 'Well, if I don't get out of here to do this now, I'll never do it,'" he told C-SPAN. "So I announced that I was going to resign to write a book. And I thought that was rather brave, because that sort of burned my bridges. I'd be too embarrassed to go back to the newspaper."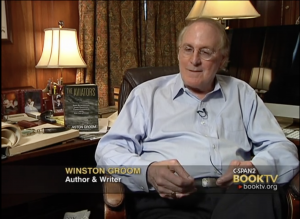 Groom's first novel, Better Times Than These, was a success, and P.J. O'Rourke, the political satirist and journalist who knew Groom for decades, told the Times he believes Groom's 1978 debut "was the best novel written about the Vietnam War."
"I'd never done anything worth a hoot in my life except that," Groom said about his service in Vietnam and his decision to write about the war. "It's something that was very impressed on me — to write about men in war."
Groom toiled away as a writer for years, enjoying enough critical and commercial success to sustain his career. Then with the release of Forrest Gump — which earned nearly $700 million at the box office, was nominated for 13 Academy Awards, and won six, including best picture, director, actor, and adapted screenplay — his beloved character became a household name. When the novel was republished as a paperback after the film's release, it sold more than 2 million copies.
Groom told the Times' Grimes, he didn't mind the creative liberties the filmmakers took in taking "the rough edges off the character" and dialing back some of the satirical punch. In the novel, Gump stands 6 feet, 6 inches tall and weighs 240 pounds, and Groom had envisioned John Goodman in the title role.
Groom's only small complaint in 1994 was directed at the roughly 2 million readers who found his book, which sold roughly 30,000 copies in its original hardback printing, only after seeing the film.
"Where were you eight years ago?" he asked Grimes playfully. "It's the same damn book."
The film release of Forrest Gump led Groom to write a sequel called Gump & Co. It also prompted the founding of Bubba Gump Shrimp, the popular seafood restaurant chain inspired by a beloved character from the film.
During his career, Groom wrote eight novels and more than a dozen nonfiction books. The Patriots, a combined biography of Alexander Hamilton, Thomas Jefferson, and John Adams, is set to be published in November by National Geographic.
Groom, who was married three times, is survived by his wife, Susan Groom; a daughter, Carolina Groom; his stepson, Helmsing; and two other stepchildren, Guy Helmsing and Margaret Browning.