Kimber America is known for its high-end 1911s. So when they announced a new striker-fired gun, people took notice. For a new gun to succeed — especially a striker-fired gun in a market full of them — it must bring something valuable to the table. A characteristic that goes beyond aesthetics and focuses on functionality. Something that makes it stand out over the rest and hold its own.
The Kimber EVO SP is a subcompact, striker-fired pistol chambered in 9mm and designed for concealed carry. However, unlike its polymer peers, the EVO is all-metal construction, which gives it a bit of an edge.
"The EVO SP is the industry's next generation striker pistol and provides the best subcompact shooting experience on the market," said Tom Scott, Kimber's senior director of marketing, in an email to Coffee or Die. "It offers features that aren't typically available on striker guns such as a metal frame, 1911 grip angle, interchangeable grips and backstraps, and a safe takedown action that doesn't require pulling the trigger."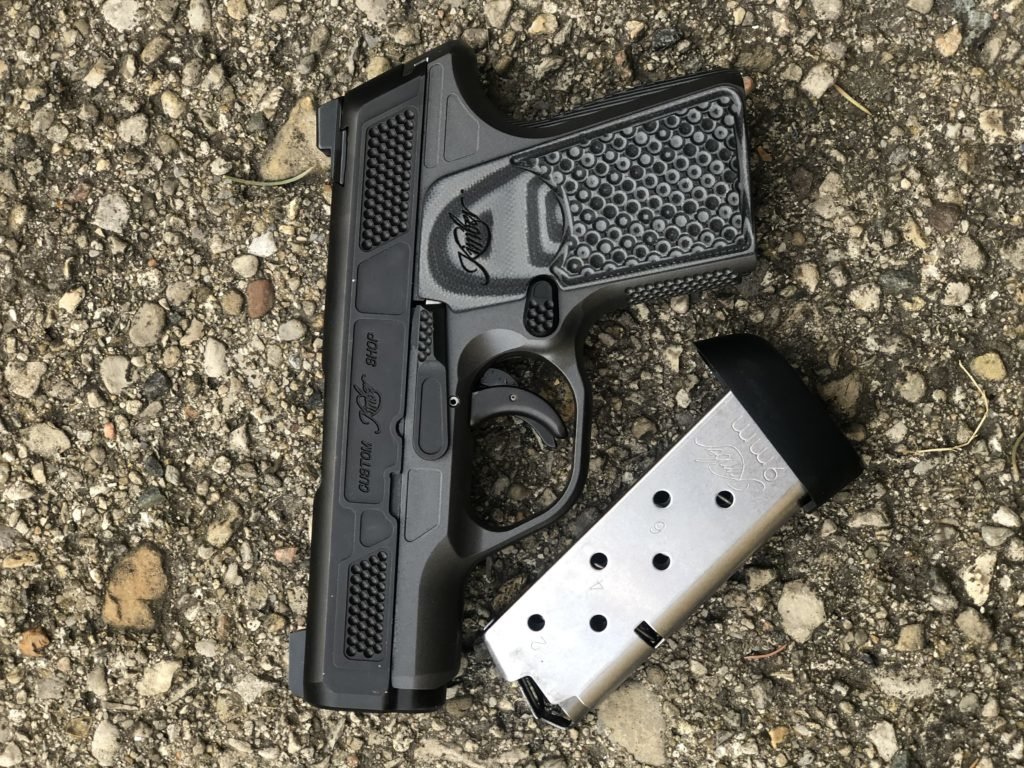 Wanting to ensure the best experience for shooters, Kimber machined the EVO to the tightest allowable tolerances, testing it with multiple human hands before they finalized the design. The EVO is available in four different models: EVO SP Custom Shop (CS), CDP, TLE, and Two-Tone. All are chambered in 9mm.
All four models feature an ambidextrous magazine release, a striker indicator for visual and tactile confirmation that the striker is cocked, TRUGLO Pro sights, no trigger press disassembly, an aluminum alloy frame, an FNC-finished barrel and slide, a beveled magazine well, a flared ejection port, and an innovative grip system that eliminates the need for specialty hardware or the possibility of overtightening screws.
I had the opportunity to run the EVO SP CS for this article. The CS edition has a few "extras," including Stiplex front and rear cocking serrations, Stiplex frontstrap checkering, G-10 Stiplex inspired black and gray grips and backstrap, upgraded TRUGLO Pro Sights with a high-contrast front ring, and matching frame cuts to accent the slide and overall appearance. The frame is finished with Kimber's patented KimPro II finish and an FNC (ferritic nitrocarburizing) slide to ensure durability.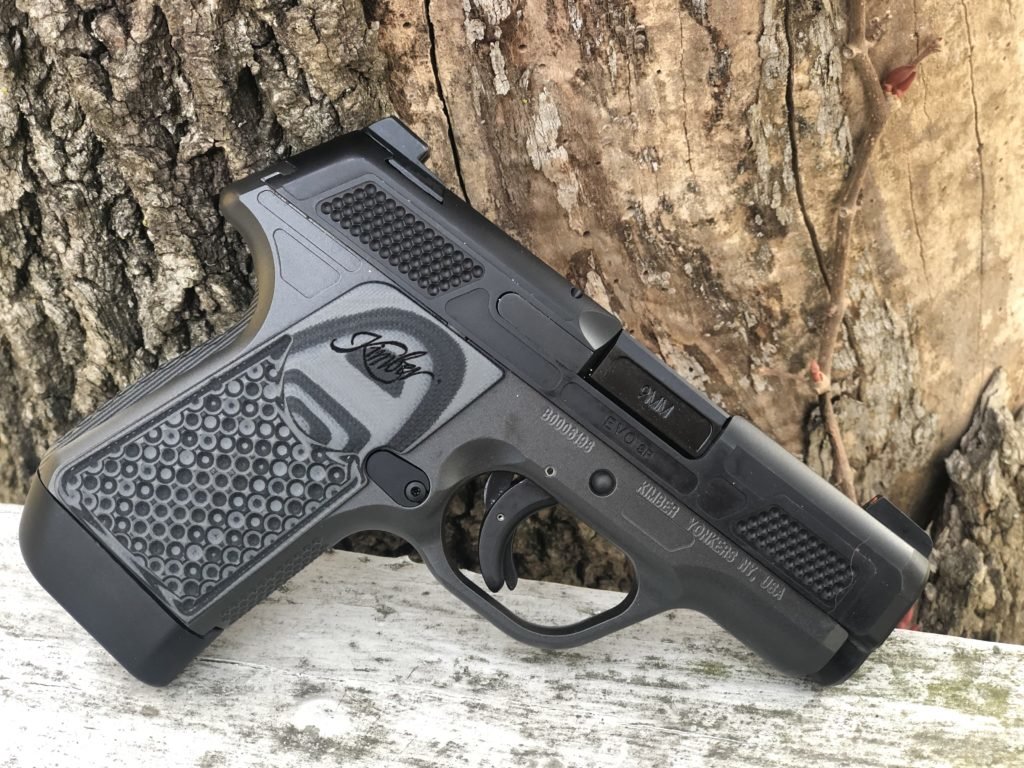 The first impression out of the box: this gun is sharp and features all the attention to detail we've come to expect from Kimber. The EVO SP is small with smooth, rounded edges, which make it a breeze to conceal. Despite its small size, the full-metal construction lends a mental confidence that this pistol means business. The heft of a metal gun often makes it feel more secure in the hand. But how it performs on the range will inform my full opinion. The ammo of the day was Hornady FTX 115-grain Critical Defense, Hornady 147-grain XTP Custom, Federal 115-grain Syntec Training Match, and Federal 135-grain Hydra-Shok. The first five shots gave me a good group, with one flier.
My initial reaction to the EVO was positive. The trigger breaks between 6 and 7 pounds, which is a bit heavy for my liking, but it has a crisp, short reset, making follow-up shots easy and accurate. The Ledged TRUGLO Pro sights were probably my favorite feature. The rear sights are blacked out while the front sight has a high-contrast ring. This setup allows for quick sight acquisition, which led to consistent and tight groups.
Given its size, I prepared for recoil but was pleasantly surprised. The EVO is not jumpy, nor does it have the muzzle rise I expected. The reason for this is likely is two-fold. One, the EVO is all metal with an aluminum frame, making it heavier than a similar-sized polymer pistol. That heft will aid in reducing muzzle rise. Two, understanding your grip. Unless a gun is poorly made, a good understanding of proper grip will help you to run most guns you pick up. Grip is one of the most overlooked fundamentals of shooters today.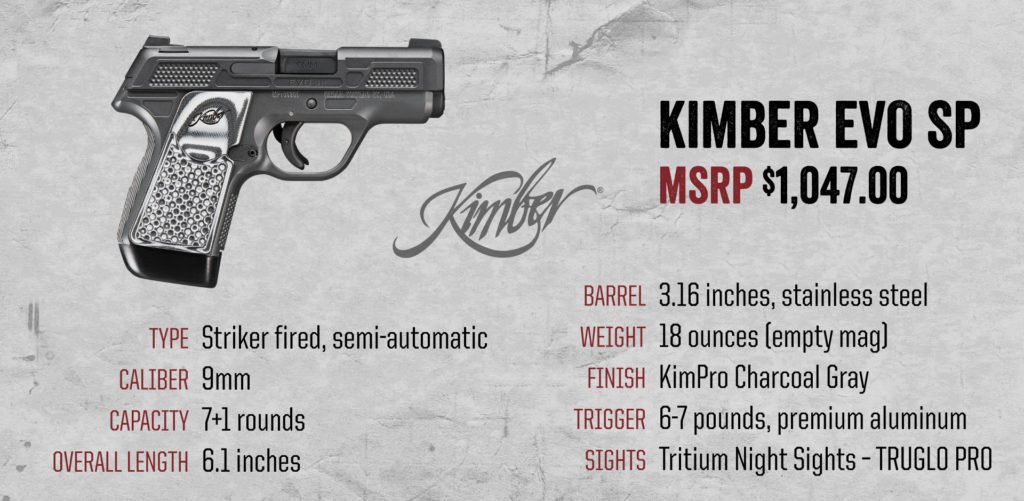 Out of the 250 rounds fired, the only issue I had was one failure to feed. Other than that, it ran smoothly and took each type of ammo without a problem. That's a pretty good track record considering that this is a brand-new pistol still in the break-in period.
The grips, however, left me a bit conflicted. The texture was a little rough for my hands. It didn't hurt or scratch, it just didn't seem to mesh with me. The conflict lies in the fact that even though it wasn't my preferred texture, they enabled me to get a good purchase on the gun. Obviously, not everyone will have this issue, which is why trying it out for yourself is so imperative.
Overall, my experience with the Kimber EVO SP was enjoyable. It was accurate and fun to run, both in static shooting as well as moving and shooting with various drills. I highly encourage you to try it out and see how it runs for you.