Tim O'Brien's The Things They Carried is one of America's most celebrated pieces of war literature. The book, which was published in 1990, is a collection of linked, semi-autobiographical short stories inspired by O'Brien's experiences as a soldier in Vietnam. The book sometimes gets classified as a novel, depending on who's defining the form.
Reviewing the classic for Booklist, Martin Brady described The Things They Carried as, "A kind of 'faction' presented as a collection of related stories that have the cumulative effect of a unified novel. […] The prose ranges from staccato soldierly thoughts to raw depictions of violent death to intense personal ruminations by the author that don't appear to be fictional at all."
While I count myself in the camp of readers who wouldn't call the book a novel, I think Brady's description is mostly spot-on. The book works as an almost-novel, but most of the stories stand on their own, with several being widely anthologized and studied in creative writing programs all over the country.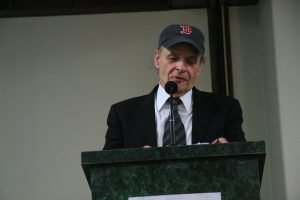 How to Tell a True War Story is one of the greatest American short stories ever written and arguably the strongest work in the fantastic collection. Since it was first published in Esquire in 1987, O'Brien's brilliantly rendered meditation on the chasm that separates Truth from memory and warrior from civilian has cemented itself as one of the quintessential pieces of American war literature. The story also serves as a perfect example of the type of metafiction O'Brien was playing with throughout The Things They Carried.
For anyone who spends a lot of time pondering that old epistemological quandary of what we talk about when we talk about "Truth," How to Tell a True War Story offers some comforting answers that manage to be non-answers at the same time. Confused? Here's a sample:
"In any war story, but especially a true one, it's difficult to separate what happened from what seemed to happen. What seems to happen becomes its own happening and has to be told that way. The angles of vision are skewed. When a booby trap explodes, you close your eyes and duck and float outside yourself […] The pictures get jumbled; you tend to miss a lot. And then afterward, when you go to tell about it, there is always that surreal seemingness, which makes the story seem untrue, but which in fact represents the hard and exact truth as it seemed."
Another poignant truism from the short is this standout excerpt: "War is hell, but that's not the half of it, because war is also mystery and terror and adventure and courage and discovery and holiness and pity and despair and longing and love. War is nasty; war is fun. War is thrilling; war is drudgery. War makes you a man; war makes you dead."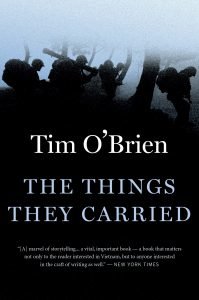 On the Rainy River is another standout story from the collection.
"This is one story I've never told before. Not to anyone," the story begins. In it, O'Brien tells a tale of almost fleeing across the border to Canada after receiving his draft notice. It is a raw and honest meditation on the forces that sent him and so many other Americans to Vietnam. In On the Rainy River, O'Brien challenges our American ideals about courage and cowardice, managing in the closing paragraph to invert the concepts in a way that left me contemplating the story and its themes for days afterward.
Nearly every short in O'Brien's celebrated collection is a strong work of fiction that can stand on its own, but it's O'Brien's thematic threading, brutal honesty, and courageous vulnerability that make The Things They Carried one of the "Truest" of all the great books about Vietnam.
Born and raised in Minnesota, O'Brien was drafted into the Army in 1968 and sent to Vietnam, where he served from 1969 to 1970 in 3rd Platoon, Company A, 5th Battalion, 46th Infantry Regiment, 23rd Infantry Division.
He has served on the faculty of Texas State University in San Marcos' Master of Fine Arts in Creative Writing program. His many accolades include a Guggenheim fellowship, the James Fenimore Cooper Prize for Best Historical Fiction, the Katherine Anne Porter Award, the Dayton Literary Peace Prize lifetime achievement award, an award from the American Academy of Arts and Letters, and two National Endowment for the Arts fellowships.
O'Brien also won the National Book Award in 1979 for his heady, surrealist novel Going After Cacciato, which is arguably an even stronger work than The Things They Carried. But that's a story for another day.
For now, if you've never read The Things They Carried, it's past due time to get after it. If you have read it, it might be time for a reread. O'Brien's shorts are as timeless and powerful as ever.