A pair of ISIS suicide bombings in the predominately Shiite Bab al-Sharqi neighborhood in Baghdad on Jan. 21 spawned a new pro-Iran extremist group called Alwiya Waad al Haq — the "Righteous Promise Brigades."
Two days later, Saudi Arabian air defenses intercepted an armed drone inbound to the country's capital city of Riyadh. At first, Saudi defense officials speculated that Iran-backed Houthi rebels in Yemen were responsible for the Jan. 23 drone attack. Yet, the Houthis denied involvement, and the two-day-old Righteous Promise Brigades ultimately claimed responsibility in a Telegram post.
"This attack could indicate a significant change in how the Iranian regime imposes pressure on its adversaries around the Persian Gulf," reports the Critical Threats Project, an initiative of the Washington-based American Enterprise Institute think tank.
The upstart Shiite extremist group has threatened follow-on attacks against Saudi Arabia and the United Arab Emirates, accusing both countries of covertly supporting ISIS.
"After the [Persian] Gulf's Arabs persisted in their crimes against the peoples of the region and continued to support ISIS criminal gangs and takfiri groups that have the blood of innocent people on their hands, here are the people of the Arabian Peninsula who fulfill their promise by sending drones of fear to the kingdom of the House of Saud and crushing their strongholds in Al Yamama Palace and other targets in Riyadh," the extremist group said in a statement posted to Telegram, the Tehran Times reported.
ISIS is a Sunni terrorist group that has targeted Shiite Muslims, Christians, Yazidis, and other religious minorities across the world. The Jan. 21 twin suicide bombings in Baghdad — targeting a popular outdoor market — killed at least 32 people and wounded about 100, Iraqi officials said. It was the first double bombing in Iraq since 2018.
Iran-backed Shiite militias operate with relative impunity across Iraq. In the northern Iraqi Kurdistan region, Iran's proxy militias have a long history of attacking the compounds of anti-Tehran, Kurdish Iranian groups. Iran-backed militants are also responsible for no fewer than 15 attacks against American and US-led coalition personnel since Jan. 3, 2020, the day a US drone strike killed Qassem Soleimani, commander since 1998 of Iran's Quds Force.
Since that attack, Iran has leveraged its network of proxy militias in Iraq to harass US forces as they draw down within the embattled country. Tehran has also used those Iraq-based paramilitary forces as a springboard from which to launch attacks against Iran's regional adversaries — Saudi Arabia, above all.
"Iran likely provided coordination and technology for the Riyadh attack," the Critical Threats Project states in a report regarding the Jan. 23 drone attack against Saudi Arabia. An analysis by the Terrorism Research and Analysis Consortium, or TRAC, echoed that assessment, saying the Righteous Promise Brigades is probably "at least tacitly supported by Iran."
The US State Department, for its part, condemned the Jan. 23 attack and pledged to help Saudi Arabia defend its airspace against armed drone attacks.
"We are gathering more information, but it appears to have been an attempt to target civilians," Ned Price, State Department spokesman, said in a Jan. 24 statement. "Such attacks contravene international law and undermine all efforts to promote peace and stability."
On Jan. 26, Saudi Arabia's air defenses intercepted another weaponized drone that was targeting government buildings in Riyadh.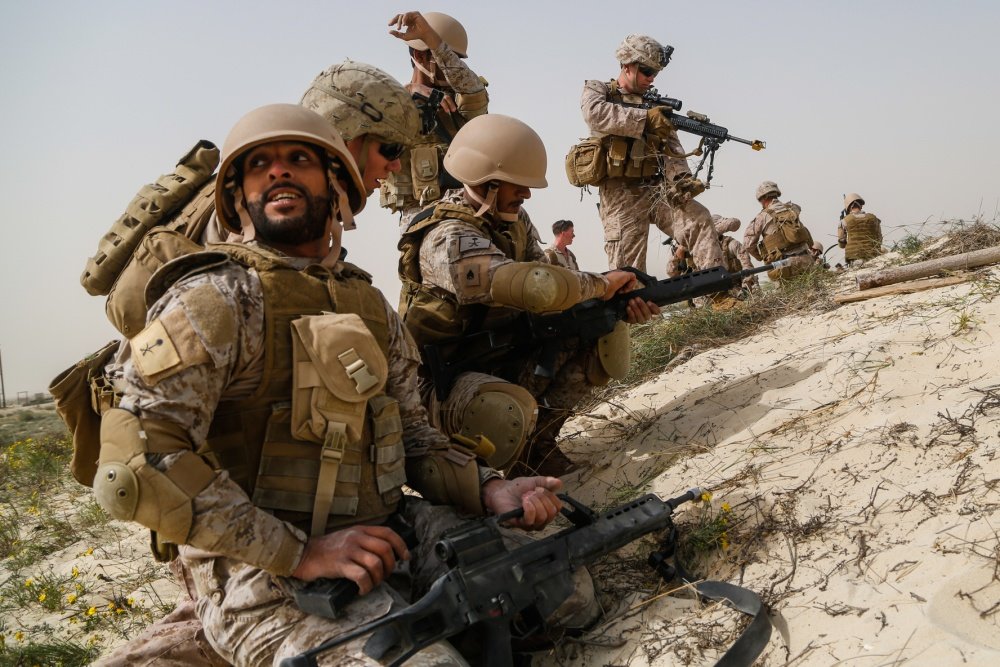 Since Soleimani's killing, a number of new Shiite militant groups have emerged in Iraq. According to regional news reports, most of these groups claim their independence from Iranian overlordship. Yet, some terrorism experts say that the groups' statements closely mirror the verbiage of official, state-sanctioned propaganda coming out of Tehran. As a result, many experts say that Iran is cultivating a bench of proxy forces that it can use to execute attacks against its Arab foes while maintaining plausible deniability.
Relying on proxy forces to conduct attacks against adversaries is textbook gray zone warfare — a doctrine Iran has embraced.
"The potential expansion of Iraqi proxies' ability and willingness to target foreign states in ostensibly deniable ways and in coordination with other components of the Axis of Resistance would pose a growing security challenge to the US and its regional partners," Katherine Lawlor and Nicholas Carl, the authors of the Critical Threats Project report, wrote.
"These shadow militias are actually covers for certain attack types and propaganda efforts conducted by preexisting Iranian proxy organizations in Iraq," Lawlor and Carl continue. "This obfuscation confuses the information space and makes it more difficult for Iran's enemies to hold these groups accountable for their attacks."
In a Telegram post, the spokesman for the Iran-backed Kataib Hezbollah extremist group — a Shiite paramilitary outfit based within Iraq — heaped praise on the Righteous Promise Brigades for the Jan. 23 drone attack and called for other "mujahedeen" to follow suit.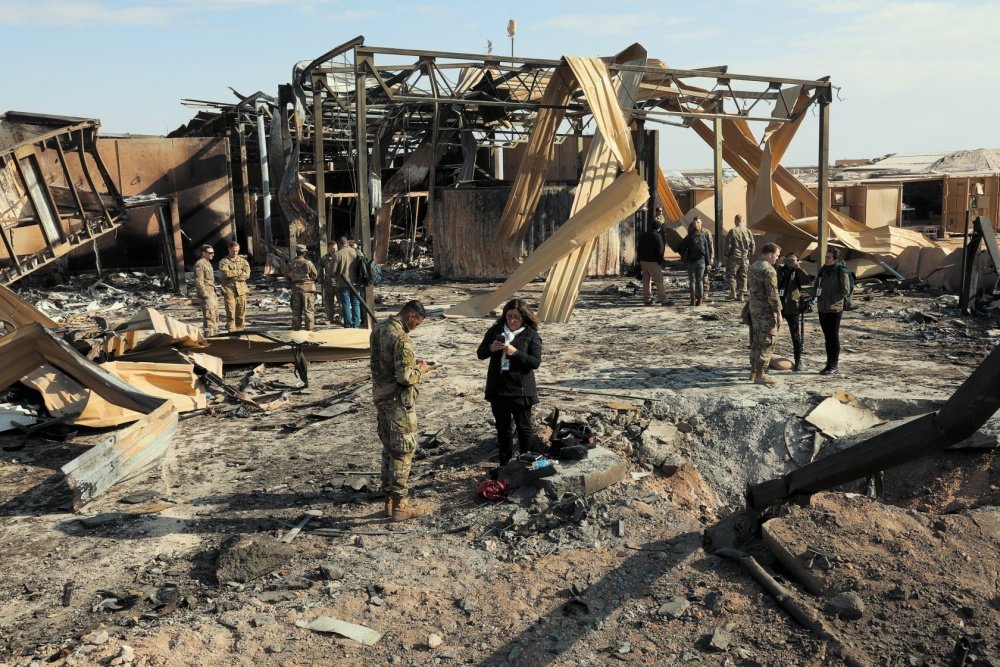 Kataib Hezbollah likely wields the most advanced arsenal of weaponized drones among Iran's Iraqi proxies. US and Saudi officials suspected Kataib Hezbollah of conducting an armed drone attack against Saudi Arabian oil installations in May 2019.
In fact, based on the group's established drone capabilities, the Critical Threats Project concluded that Kataib Hezbollah probably conducted the Jan. 23 Riyadh drone strike. Along that line of thinking, the Righteous Promise Brigades is likely a foil meant to conceal Tehran's responsibility.
"The pattern of the ostensibly new group's claim fits with a long-running Iranian-directed and Kataib Hezbollah-coordinated effort to obfuscate responsibility for proxy attacks targeting US and allied forces and contractors in Iraq," Lawlor and Carl write for the Critical Threats Project.
While ISIS has lost its territorial "caliphate" and now largely operates from the shadows, ensconced within the remote mountains and deserts of Iraq and Syria, the terrorist army also maintains sleeper cells within urban areas across Iraq.
Operation Inherent Resolve, the international coalition formed to prosecute an air war against ISIS in 2014, still regularly supports Iraqi troops with airstrikes and airborne intelligence, surveillance, and reconnaissance as they continue to prosecute raids on ISIS holdouts.
Nevertheless, the recent bombings in Baghdad underscore the fact that ISIS remains a serious threat to Iraqi security — and the domestic, Shiite backlash against Sunni radicals threatens to spark a regional conflagration.
According to the Critical Threats Project: "Iran may leverage its Iraqi proxies to conduct additional attacks on regional adversaries, indicating a step change in Iraqi proxy capabilities and willingness to conduct attacks."