Federal prosecutors in California late Thursday, Jan. 13, charged four suspects tied to both the Florencia 13 street gang and the Jan. 10 robbery and slaying of off-duty Los Angeles Police Officer Fernando Arroyos, who was gunned down while house hunting with his girlfriend.
F13 members Luis Alfredo "Lil J" De La Rosa Rios, 29; Ernesto "Gonzo" Cisneros, 22; Jesse "Skinny Jack" Contreras, 34; and an associate believed to be the 18-year-old girlfriend of Rios, Haylee Marie Grisham, face federal violent crime in aid of racketeering charges, better known by prosecutors as VICAR.
If convicted, the defendants will either spend the rest of their lives behind bars or be executed. In court filings, FBI agents allege that three of the defendants copped to the robbery and shooting of the police officer, and another reportedly admitted his crimes to a jailhouse informant.
It remains unclear which of the gang members fired the round that killed Arroyos during the botched robbery and shootout inside F13 territory.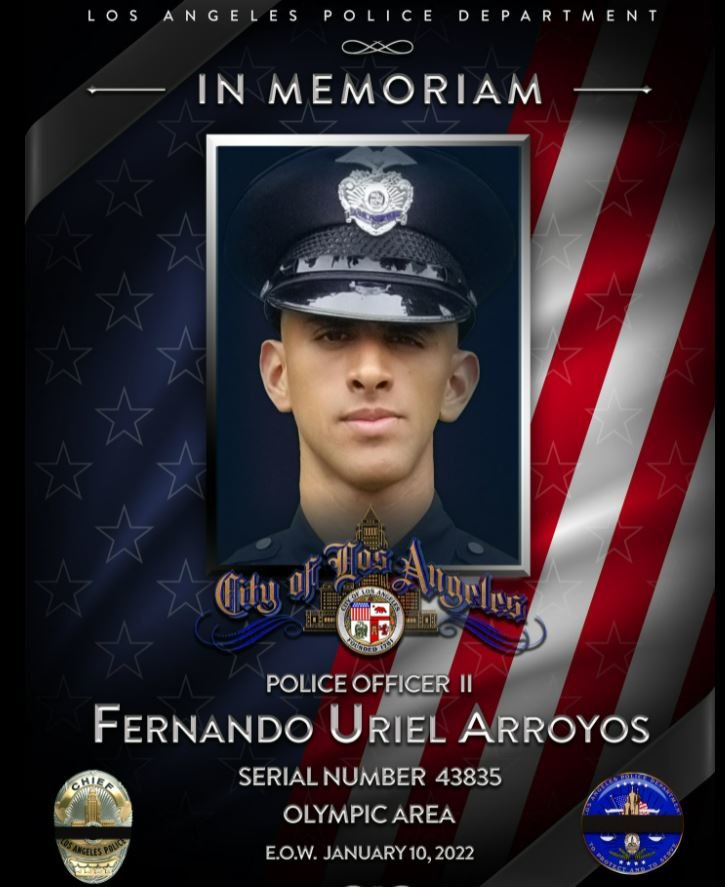 The four suspects were handed over to federal agents by deputies from the Los Angeles Sheriff's Department and are slated for an initial appearance Friday afternoon in Los Angeles rather than be charged in California Superior Court.
That's because Sheriff Alex Villanueva believes Los Angeles County District Attorney George Gascon won't seek homicide enhancement charges for the murder of a cop and the gang affiliations of his alleged killers. The feds will use VICAR to do that.
"That's their prosecutorial stance," Villanueva said during a late Thursday press conference. "We have the freedom and the ability to apply and look for other sources of prosecution."
When asked if Villanueva's decision to seek federal charges was a rebuke to Gascon, the sheriff said, "I think it speaks for itself, really" and suggested any apparent slight to DA could be read in the light of the saying "beauty is in the eye of the beholder."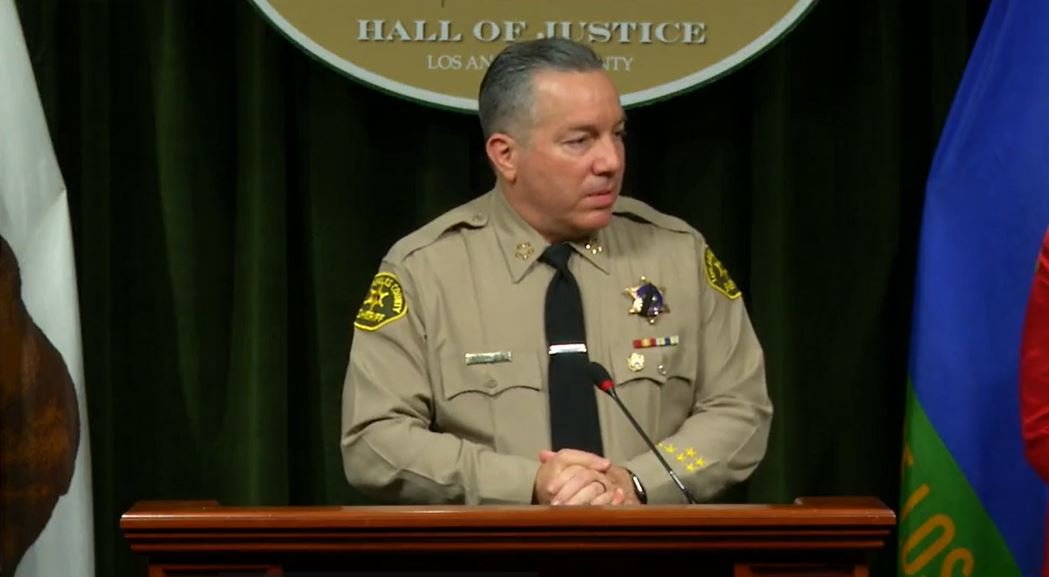 FBI agents working alongside Villanueva's deputies didn't wade into the political dispute. In their court filings, they put Arroyos in F13 gang territory on Jan. 10. Over the past seven years, federal prosecutors have charged more than 50 defendants with ties to F13, part of a series of crackdowns designed to defang a Mexican Mafia syndicate renowned for murder, assaults, robberies, extortion, smuggling, and money laundering.
As part of its Mexican Mafia membership fees, F13 pays "taxes" on illegal activities within its territory, which runs across wide swaths of the Florence-Firestone neighborhood and the cities of Huntington Park, South Gate, Maywood, Bell, and Lynwood, according to the FBI.
In exchange, Mexican Mafia leaders behind bars provide protection for F13 members when they get incarcerated.
According to the FBI, Rios confessed to detectives on Jan. 12 that he was a member of F13's Tony Locos clique. He has "FLORENCIA" tattooed across this chest with a "13" in the middle of it and "Tiny Locos" inked on his left elbow.
Cisneros also allegedly confessed to F13 membership. He has an "F" tattooed on his face and "FIP" on his right forearm, which agents believes stands for "Florencia in Peace."
Contreras has F13 and "RIP Trigger 64" tattoos and allegedly admitted to detectives he once was an F13 member linked to the Midnight Street Boyz clique, but said he quit the gang after the births of his children. Agents believe he also goes under the street name "Flaco."
Grisham allegedly told detectives she had been dating Rios for roughly a year and knew he was in F13. According to the FBI, she also admitted being present when Arroyos was robbed and shot.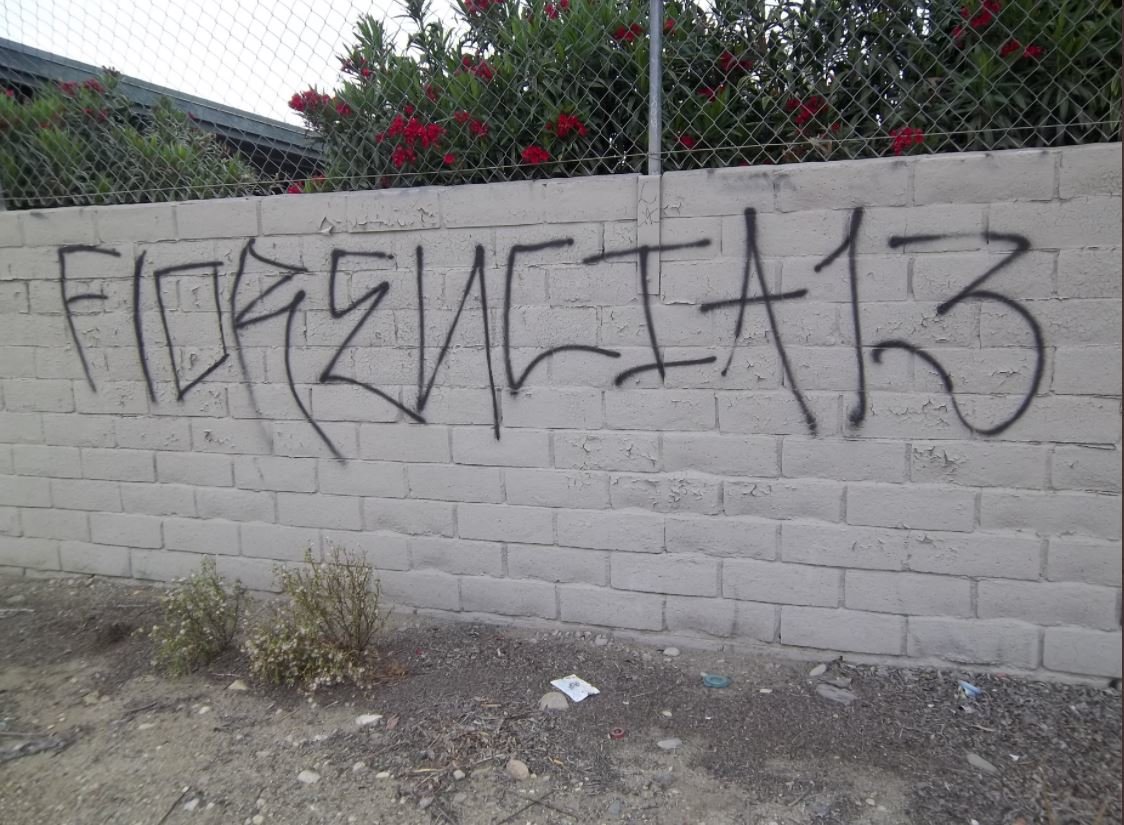 A key piece of evidence appears to be videotape surveillance camera footage that shows the black Nissan Titan pickup truck bringing Rios and Cisneros around 9 p.m. Jan. 10 to 1712 E. 87th Street in Los Angeles, where Arroyos and his girlfriend were looking at property to buy.
Footage appears to capture the two men pointing handguns at Arroyos and his girlfriend. They allegedly took a jewelry chain from the officer's neck and a walking stick from the woman before there was an exchange of gunfire with Arroyos.
Arroyos can be seen running toward an alley, where he collapsed from a single gunshot wound, according to the FBI.
Arroyos was rushed to St. Francis Medical Center where he was pronounced dead at 9:38 p.m., 22 minutes after the Los Angeles Sheriff's Department Century Station received a call about shots fired in the 1700 block of East 87th Street.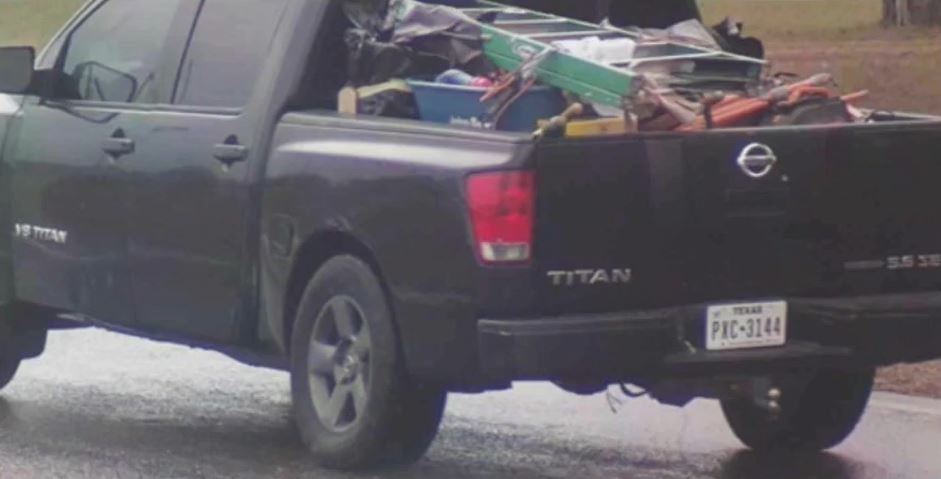 Other video cameras allegedly recorded the black pickup as it fled the scene. FBI agents say it stopped on Junction Street, where Contreras allegedly exited the truck to lean an apparently injured Cisneros against a parked car.
According to the FBI, Rios confessed to detectives that he was driving the truck and they were on the street to "make money," which he explained meant to rob someone. He said Grisham was in the front passenger seat and Contreras and Cisneros sat in the back.
Rios allegedly admitted that he held a loaded handgun as he took the woman's walking stick, while Cisneros robbed Arroyos of his wallet. Rios said he took the wallet from Cisneros and fired his weapon at least once while Cisneros discharged his, according to court records.
Rios said he took $100 from the wallet before chucking the wallet out the truck window along Avalon Boulevard. He also tossed his white hooded sweatshirt, which was splattered with blood after a bullet grazed his left rib cage.
A jailhouse snitch allegedly dimed out Contreras, who reportedly told the informant that Arroyos' chains made the gang single him out for the robbery.
Grisham allegedly told detectives it was Rios who blurted out, "He has a nice chain; let's get it." Law enforcement officers also apparently recorded her speaking to an informant in her holding cell. Grisham told her they had engaged in a similar stickup around 2 a.m. on Jan. 10 and used the proceeds to buy new clothes and shoes.
During a Jan. 13 interview with detectives, Cisneros also allegedly confessed to his part in the robbery.
Read Next: Chicago Cops Dish on Daring Navy Pier Rescue