The guard dogs at Tyndall Air Force Base in Florida have a new look that's a little less man's best friend and a lot more Black Mirror.
The 325th Security Forces Squadron started testing Quad-legged Unmanned Ground Vehicles (Q-UGVs) — commonly referred to as robot dogs — in March. The semi-autonomous robots can provide surveillance and perimeter security in rough terrain or unsafe conditions, according to Air Force officials.
Philadelphia-based Ghost Robotics designed the Vision 60 model robots. They have 14 sensors and advanced multidirectional thermal and infrared video capabilities, allowing for 360-degree awareness and artificial intelligence-based threat detection.
"The sky is the limit," Maj. Jareth Lamb, Force Protection Modernization Branch chief, said in a press release. "If these 'dogs' can assist our forces in the field or in an expeditionary response capacity, I think that's a win. But it's still early. This is the first time that we've explored this type of technology, so there's a lot we're still learning."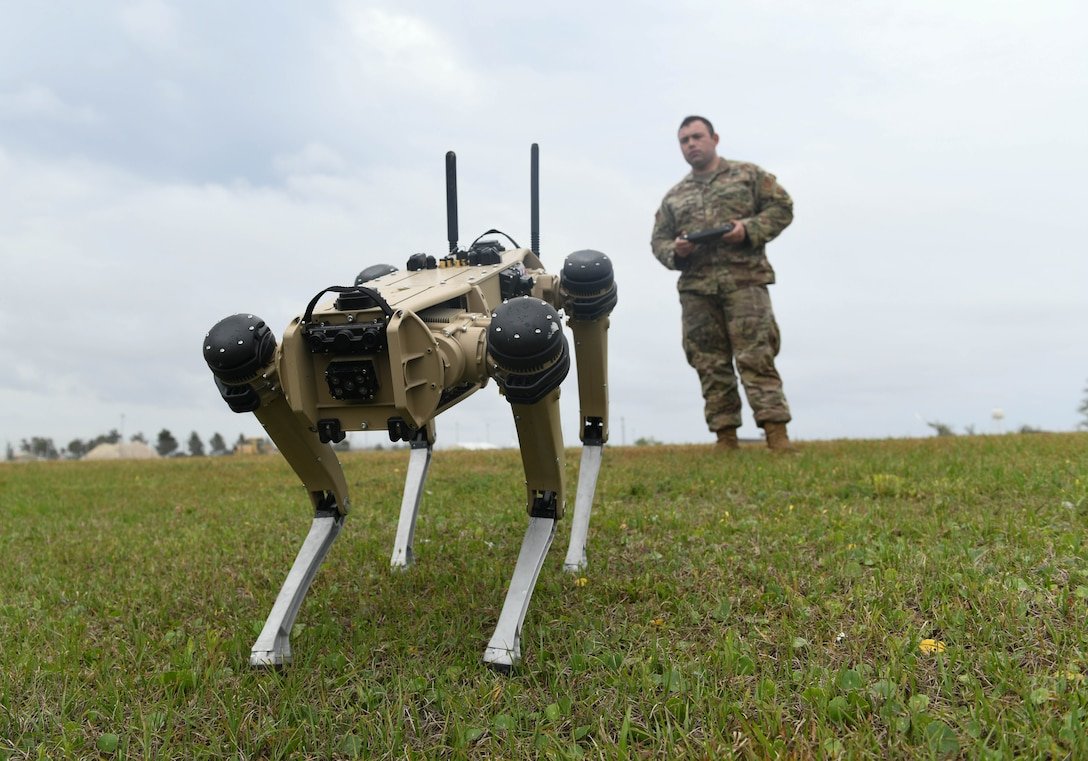 Tyndall is the first military base to deploy the robots, according to Special Programs Division program manager Johanna Lewis. Testing of the prototypes will continue through the fall as teams determine the full scope of how they work.
"Having them just walk around is not what we're after," Lewis said. "We want them to patrol the base using their integrated sensors to provide our forces in the base security operations center with useful, mission-critical data."
The robots come with a control pad and joystick, so operating them is a breeze for anyone who has played video games, Lamb said. Security officers can also program a path and let the robots act as an extra set of eyes and ears. Officers in the Base Defense Operations Center can watch exactly what the robotic Rover is detecting through its mobile camera and even issue verbal commands to people through a radio attached to the dogs.
Just in case the hairless, tailless intruders are raising suspicion among real canines on base, Air Force officials maintain the robots are not meant to replace military working dogs. They just want to add another layer of security.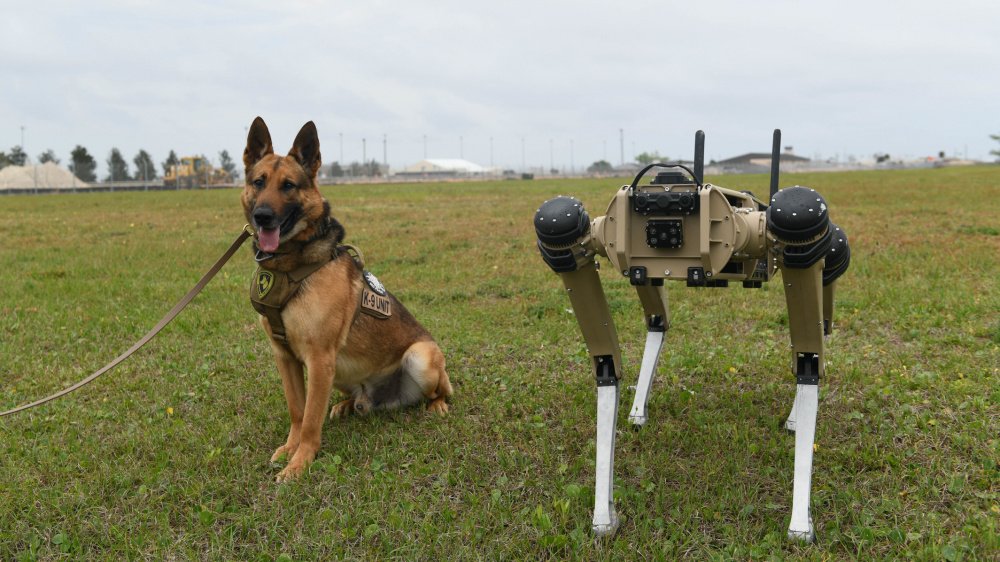 Although it's still early, AI-enabled robots could be a force multiplier with numerous uses across the military and beyond. The mechanical mutts could even save lives, scouting for threats and preventing human exposure to possible dangers.
Ghost Robotics posted a video last fall of the Vision 60 Q-UGV equipped with a disruptor, showing how it could be used by bomb technicians in the military or local law enforcement.
"I think we're really just scratching the surface about how we can leverage this exciting capability," Lamb said.
What could possibly go wrong? Look no further than the sci-fi section of your local bookstore or Netflix to find out.
Read Next: Army Studies How Exoskeleton Technology Adapts to Soldiers