LVIV, Ukraine — Residents in Lviv woke to air raid sirens on March 13, just as they had for the past few mornings. This time was different though; a muffled explosion could be heard in the distance.
The Ukrainian military confirmed approximately 30 Russian cruise missiles fired from the Black Sea struck the International Center for Peacekeeping and Security near Yavoriv in Lviv oblast, located roughly 10 miles from the Polish border. Death tolls rose overnight as officials scrambled to reach survivors with the count at 34 dead and 134 wounded as of Sunday morning.
Residents reported two more explosions on the outskirts of Lviv, and the mayor of Ivano-Frankivsk, southeast of Lviv, confirmed more missile attacks on the city airport.
The attacks are seen as an escalation and expansion of Russia's war effort in Ukraine. Until now, the city of Lviv has been seen as safe harbor for fleeing Ukrainians since the invasion on Feb. 24, and western Ukraine, in general, has not been targeted as heavily as cities in central and eastern parts of the country. In fact, life in Lviv has gone on somewhat normally, considering the times. Restaurants are open, people crowd the streets, and traffic jams the city center every day. The only indicators of nearby war are a nightly curfew and blackout, statues being covered in protective material, and checkpoints that ring the city.
Still, many residents are anxious. Oleksandr Sokolov, a local resident of Lviv Coffee or Die spoke to shortly after the air raid sirens had stopped, said he and the people of Lviv "live in a constant state of anxiety and constant readiness to just get up and go."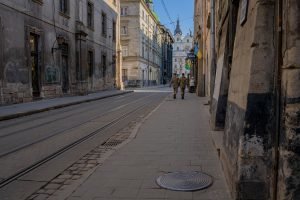 The strike on Yavoriv is significant because of its proximity to the Polish border; it's Russia's western-most attack thus far. Florida National Guard soldiers had trained Ukrainian military as recently as February this year at the base. Poland is in NATO, and any attack on a member nation — even an errant missile — would invoke Article 5, which states "an armed attack against one or more of them in Europe or North America shall be considered an attack against them all…"
President Biden confirmed the United States' commitment to NATO in a statement on February 25. "The United States will defend every inch of NATO territory. Our commitment to Article 5 is ironclad."
At the time of this report, air raid sirens are blaring in Lviv, and the capital of Kyiv still stands.
Joshua Skovlund contributed to this report.
Update, March 13, 8:15 a.m: This story has been updated with the latest announced number of dead and wounded.
Read Next: