HORISHNI PLAVNI, Ukraine — Some brought their donations in big boxes or within heavy sacks slung over their shoulders.
Some carried plastic bags filled with food and clothes and medicine.
One woman, in her 80s, arrived with two glass jars containing pickled vegetables from her garden.
Spurred by Russia's unprovoked invasion of their country, the citizens of this small Ukrainian city on the east bank of the Dnipro River have mustered all available resources to support the war effort and ease the suffering of fellow civilians caught in the crossfire.
"Even teenagers, who just a week ago only cared about drinking beer and having fun have volunteered to help," said Olena Dudko, the director of Horishni Plavni's public library, where the city's donations are collected. "I'm extremely proud of our nation, and I know it's impossible for Russia to defeat us. This is our land, and we will stand our ground."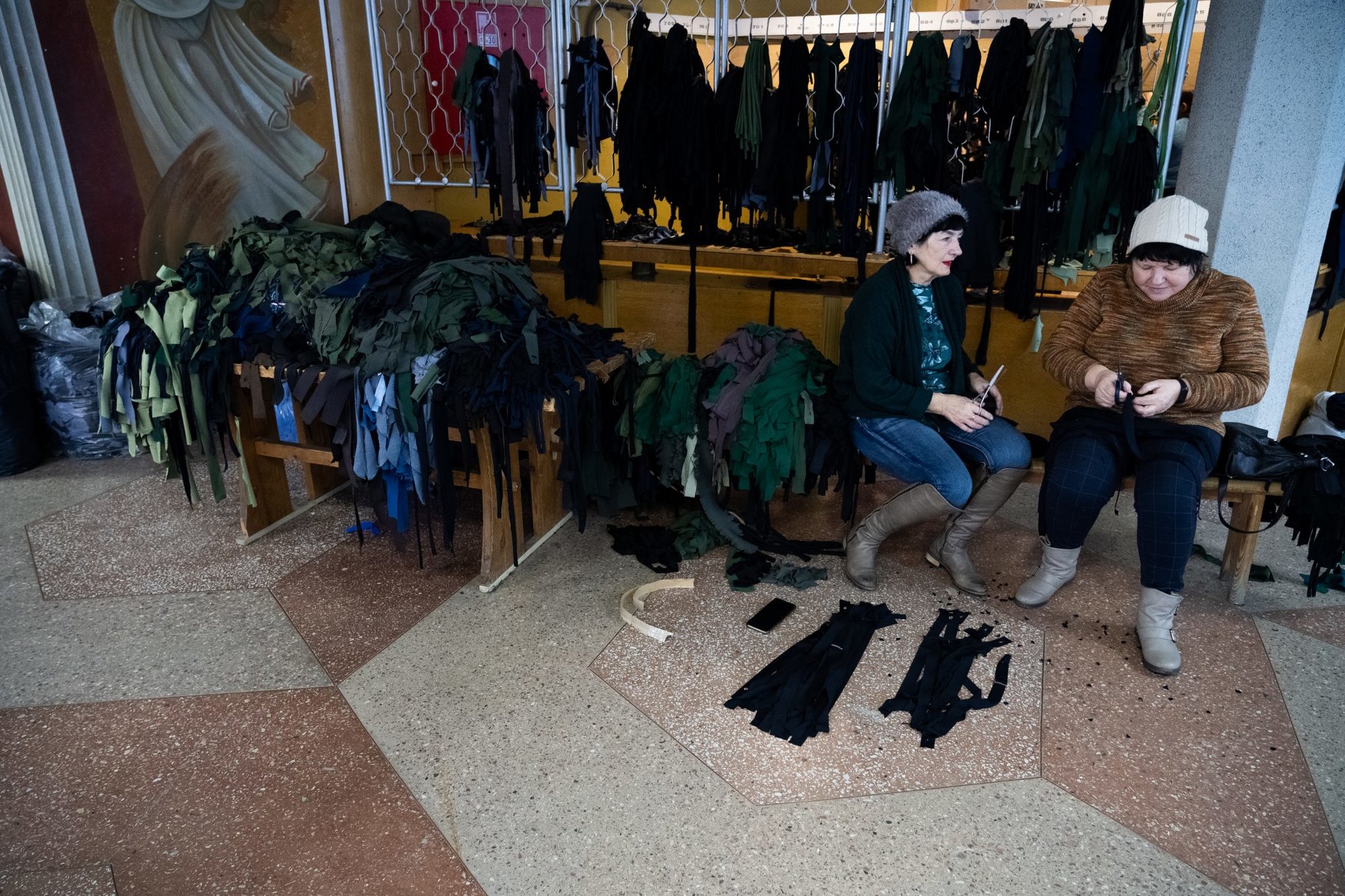 A team of volunteers has been working at the library around the clock since Feb. 26 to sort and pack donated goods before they're sent onward to civilians and soldiers in Kharkiv, just a few hours away by car at the forward edge of Russia's invasion.
Just over a week ago, children would come to the library in search of books they needed for school projects. Now the library's shelves are filled with packages of food, clothes, and medicine.
Among the donations are bags full of sweets in order to "add a little bit of joy people's lives," Dudko said.
There are also bags containing slabs of cured pork fat — a Ukrainian specialty called "salo" — destined for Ukrainian soldiers defending Kharkiv.
"This is Ukrainian Snickers. It has lots of energy and vitamins," Dudko said, holding up a plastic bag full of salo.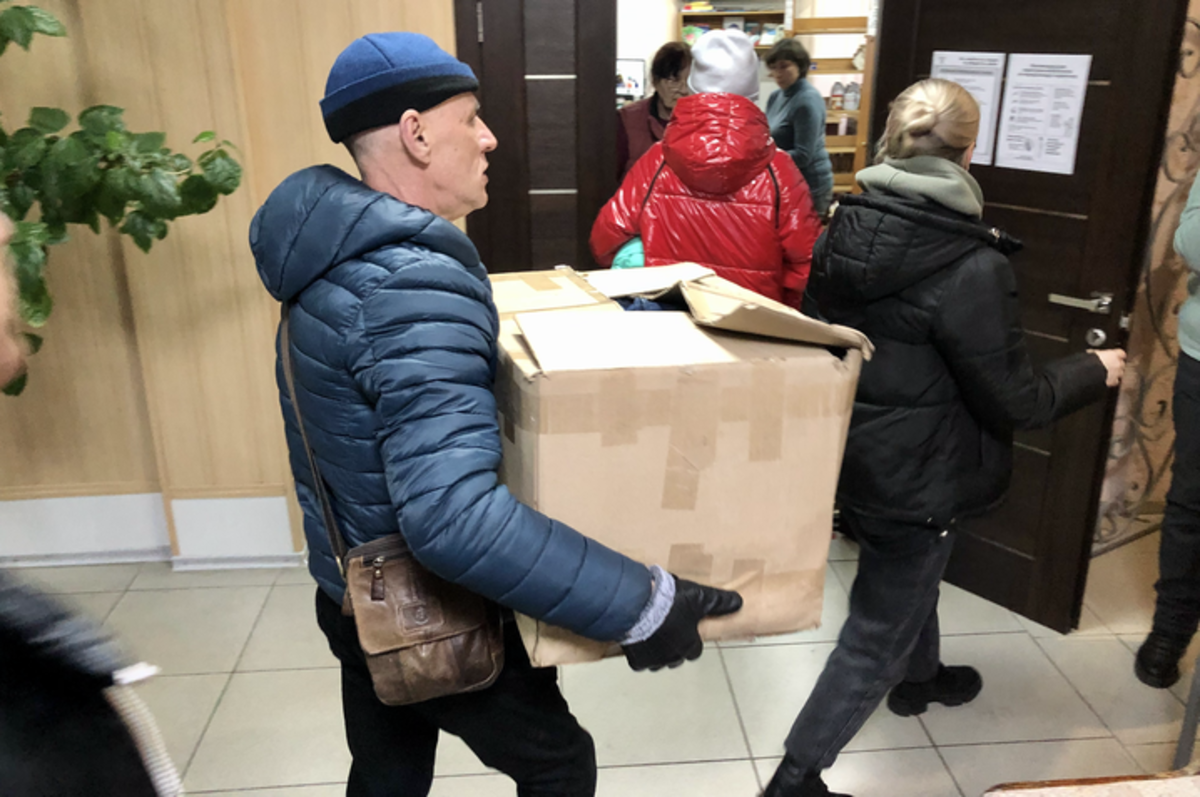 Out of Horishni Plavni's overall population of about 50,000 residents, roughly 80% work in the local mining industry and earn an average salary of about $500 a month.
Before Russia's countrywide invasion on Feb. 24, most residents didn't have much in the way of spare resources. But this is wartime, and civilians are simply doing what they must in a moment of national crisis.
"People want to do something. They don't want to just sit at home and feel helpless," said Irina Zelenskaya, a volunteer at the library. "Everyone wants to find a way to be useful, and to not be alone."
A few blocks from the library, volunteers have turned a parking lot into assembly area for the final packaging of parcels of aid. The volunteers act like they're working against the clock — there is much shouting, and the pace of activity is frenetic.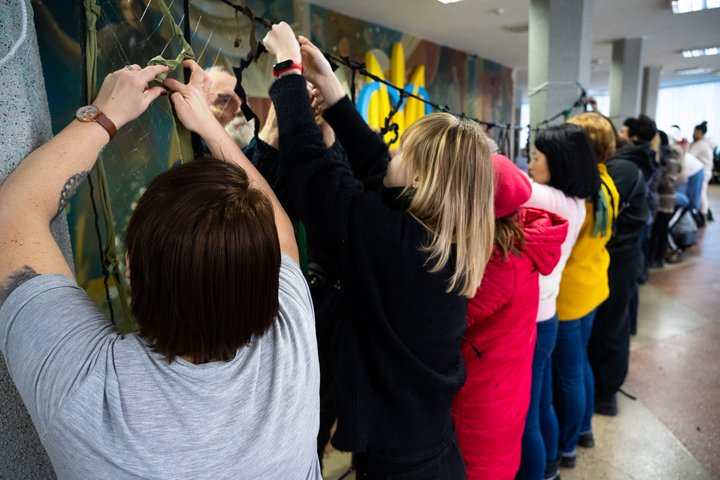 A line of workers forms a human chain to pass the readied bundles into an awaiting car. They take advantage of every cubic foot of free space inside the vehicle. When ready, the driver shakes a few hands and then speeds off toward the front lines.
After each car departs, the volunteers keep on working, preparing for the next delivery.
Although Horishni Plavni has not been struck by a Russian attack, the air raid alerts have frequently sounded, adding anxiety to people's daily lives. So, too, do the daily images of barbaric Russian bombardments in places like Kharkiv, Mariupol, and the outskirts of Kyiv.
Many residents now worry whether similar scenes of destruction will soon play out in their hometown as well. With Russian forces advancing from the south and east, Horishni Plavni is under threat, and life is consequently getting harder.
Local defense forces have fortified important buildings. Armed soldiers are posted around town and often seen on the streets. Identification checks are frequent.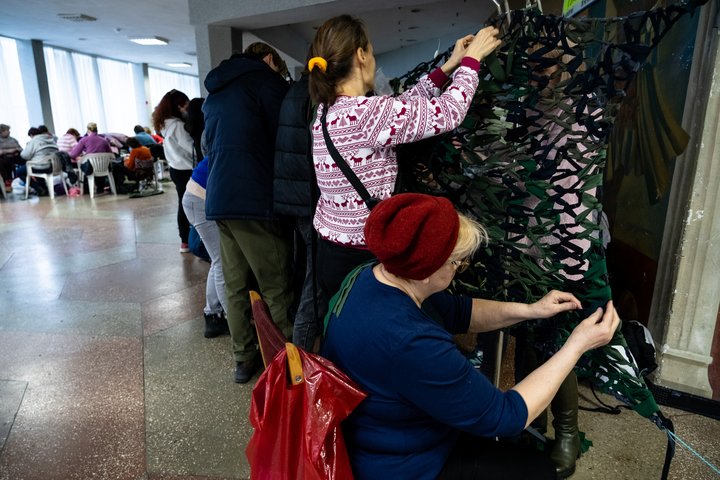 The normal processes of modern society, the invisible glue that keeps life functioning, have already been strained by the war. There are long lines at the ATMs and gas stations. Shelves at local supermarkets are going bare of basic foodstuffs due to disruptions in the national supply chain.
Horishni Plavni's mayor has banned alcohol sales and put a curfew in place.
Despite everything, there's no sense of panic. Rather, the war seems to have galvanized the city's climate of volunteerism and patriotism.
One small example — when parting ways these days, residents typically say "everything will be okay," or "until victory," rather than a simple goodbye.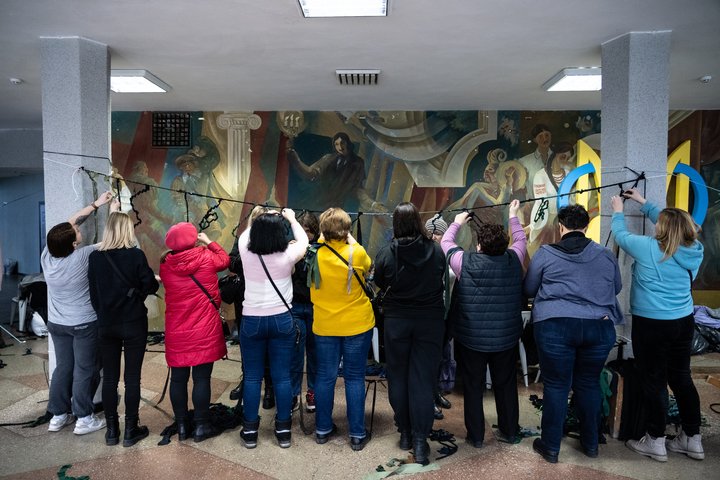 Soviet volunteers founded Horishni Plavni in 1960 as a settlement for workers in nearby iron-ore mines. The city's original name was "Komsomolsk," named after the All-Union Leninist Young Communist League, or "Komsomol."
The town was renamed Horishni Plavni in 2016 as part of Ukraine's 2015 decommunization laws.
Reminders of Soviet military history — World War II, in particular — are prolific around town.
Sometimes, the evidence is subtle or hidden. Like the old tanks, bombs, bullets, and soldiers' helmets that are still frequently unearthed in the surrounding woods.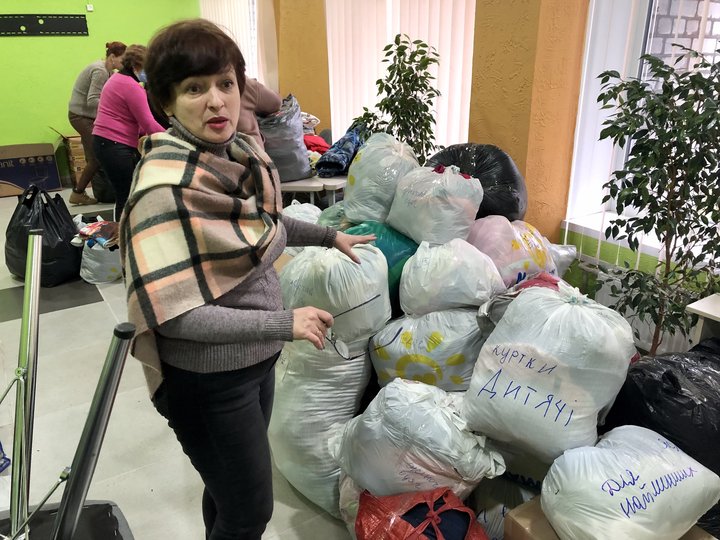 Other reminders of the military past are more overt. At a riverside park stands a towering concrete Soviet-era war memorial. Memorial plaques and statues at the site honor fallen Soviet soldiers from World War II and the war in Afghanistan. There's also a memorial to the International Brigades that fought in the Spanish Civil War in the 1930s.
Many people in this city have family ties to Russia and speak Russian at home. Before Feb. 24, opinions were divided about Russia among the population. Ten days into a full-scale invasion, there's been a sea change in people's attitudes. There is now near total disdain for the country and its president, Vladimir Putin — a likely bellwether for the difficulties a Russian occupation force would face in any region of Ukraine these days.
There's also a pervasive desire among Horishni Plavni's citizens to help out however possible, in order to secure Ukraine's survival as a sovereign state.
"We are full of energy and motivation and hope," said Mykola Mokh, a displaced person from Kharkiv who is among the volunteers in Horishni Plavni. "I have no depression, and no fear of death. I'll do whatever it takes to live in a free country."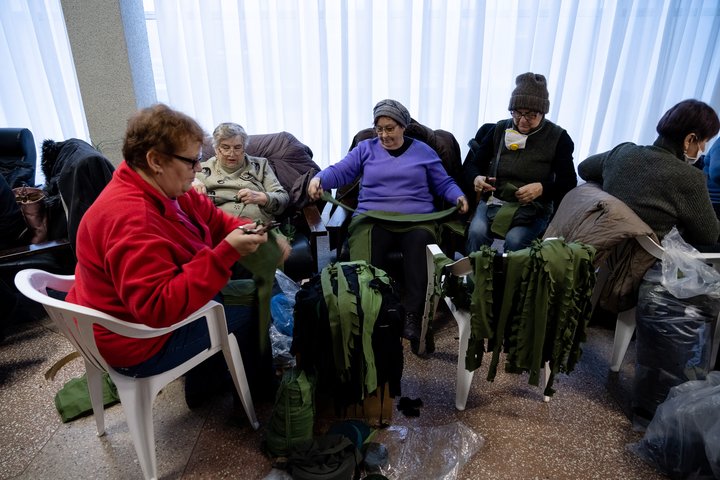 Since the war began, the lobby of a downtown building in Horishni Plavni has transformed into a workspace to produce camouflage netting. The place hums with activity each day while hundreds of volunteers, ranging from children to the elderly, cut strips of fabric and weave them into nets.
For an outsider, the scene is striking. The Russian army is bearing down on this place, and yet, rather than submit to fear or focus on personal priorities, these Ukrainians are volunteering to help their community.
"We are helping our guys protect themselves," said Raisa Klymchuk, the project director. "We are at war. This is our duty."
The mood was not somber among the volunteers, nor was it pessimistic. Rather, groups of older women sat in circles and conversed as they cut strips of fabric. Those who stood and weaved the fabric into nets were also often engaged in conversation. There were smiles and laughs.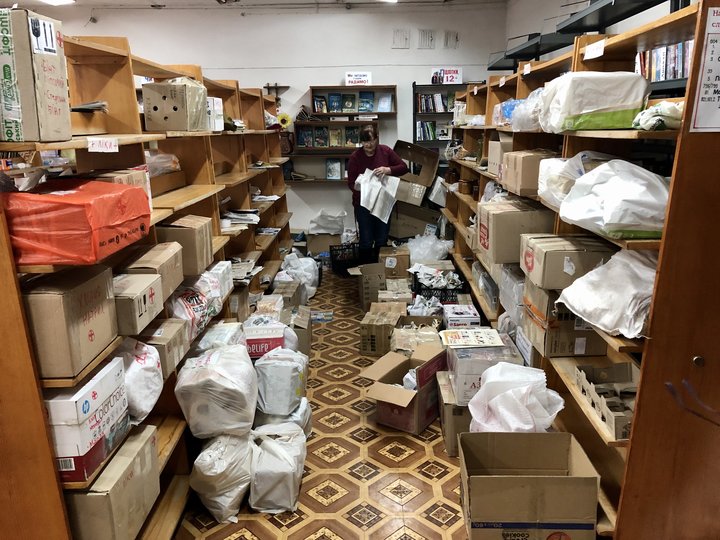 This was not a climate of fear or pessimism. Rather, there was a clear strength forged by community action. A single purpose to which everyone had subscribed — victory. And in that common cause all individual anxieties seemed to fade.
Sitting alone at home, perhaps one could succumb to fear or depression. But those fears almost instantly fade when acting in concert with one's community — and feeling useful.
"We are all united by our desire to help," Klymchuk said. "And the most important thing is to have something to do."
Read Next: Tank-Killing Ukrainian 'General' Is US National War College Graduate