KYIV, Ukraine — The clouds parted and the sun shined Monday, Dec. 20, here in Ukraine's capital city. But it was no cause for joy. After days of rain and snow, the clearing skies signaled a coming stretch of days with weather more favorable for Russian airstrikes.
With Russian forces massed on the border raising concerns of a major offensive in the coming weeks or months, Ukraine has entered into what some intelligence observers have described as a Russian invasion "danger period." Reflecting the heightened threat, the US State Department issued an updated travel alert for Ukraine on Monday, putting the assessed threat at level four — the highest "do not travel" alert issued by the department.
"U.S. citizens should be aware of reports that Russia is planning for significant military action against Ukraine," the State Department alert states. "U.S. citizens choosing to travel to Ukraine should be aware that Russian military action anywhere in Ukraine would severely impact the U.S. Embassy's ability to provide consular services, including assistance to U.S. citizens in departing Ukraine."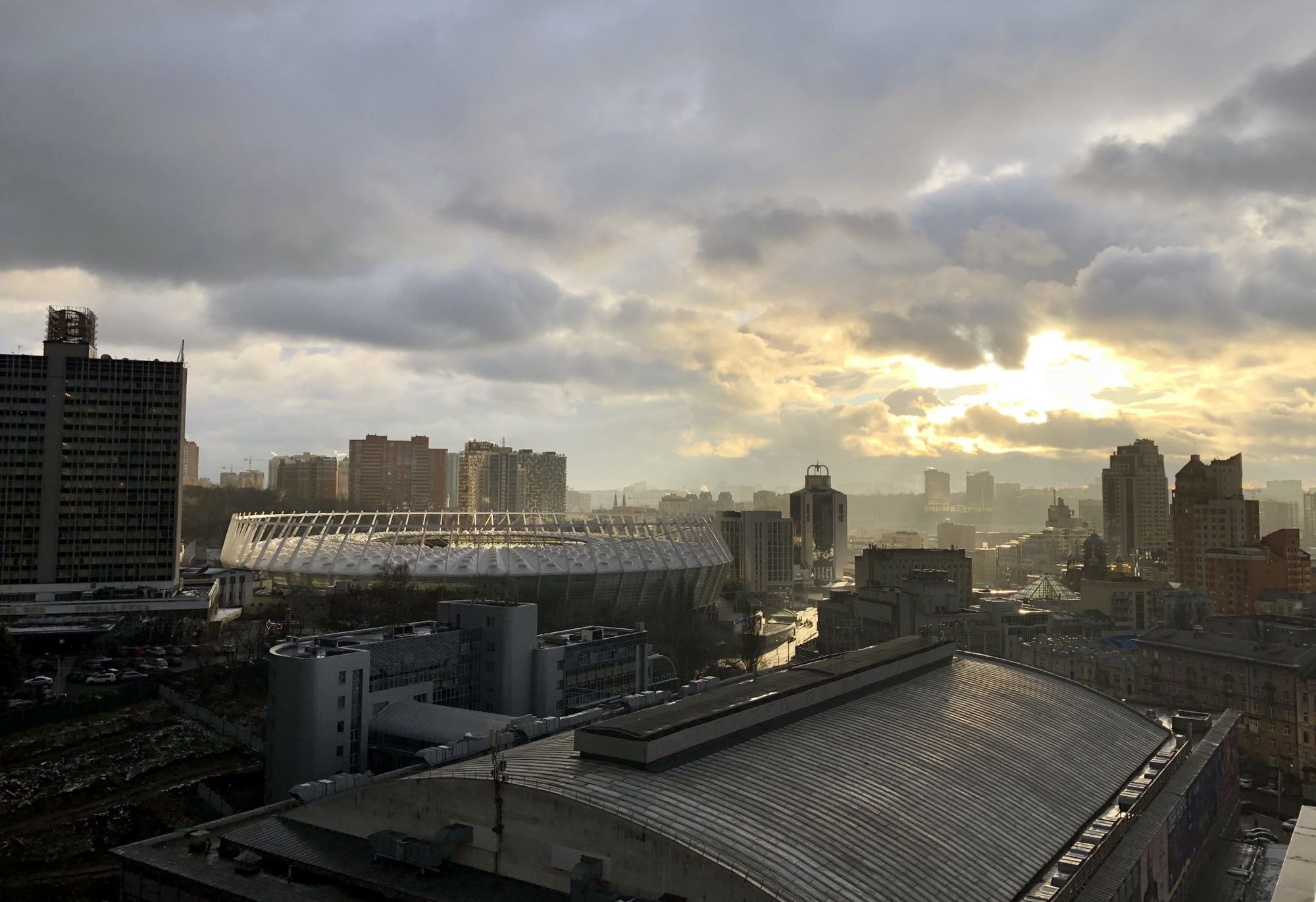 Apart from the clearing skies, the ground is freezing after days of consecutive subzero temperatures, potentially facilitating the movement of Russian heavy weapons and armor as part of an invasion force.
Open-source intelligence analysts and Western officials report that Russia's military buildup along Ukraine's borders has not relented in its pace and now includes medical vehicles, river-crossing equipment, air defense systems, mine-clearing vehicles, and other logistical supplies. This new hardware supplements a buildup of Russian military equipment and manpower on Ukraine's borders that dates back to April 2021.
"Months into Russia's military buildup, the pace appears to be continuing steadily," Michael Sheldon, a research assistant at the Digital Forensic Research Lab, wrote in a Friday report.
Across Ukraine's capital city, meanwhile, life goes on — much as it has for the past seven and a half years of war.
Holiday shoppers fill Kyiv's malls while endless loops of Christmas classics like "Holly Jolly Christmas" play over loudspeakers. At the Gulliver shopping mall, parents and children meander through a Christmas workshop for "Grandfather Frost," the Ukrainian equivalent of Santa Claus. Beneath a spectacular Christmas tree set up in St. Sophia's Square, holiday revelers line up for mulled wine.
Kyiv's citizens are moving ahead and enjoying their holiday season. Yet there is an unseen danger over the horizon. Just a few hundred miles from here, more than 100,000 Russian soldiers lie in wait — the question is, what for?
"It feels a little like the opening scenes of a zombie movie," Anastasia Popandopulos, a public relations specialist in Kyiv, said. "Of course I'm worried."
Western experts and officials said it's still unclear whether Russian President Vladimir Putin had made a final decision about taking significant new military action against Ukraine.
"We know their capabilities, but we never know their intent, and as you know, the Russian doctrine is always to deceive or mislead as part of any operation," Mark Hertling, the former commanding general of US Army Europe, told Coffee or Die Magazine. "Putin isn't a gambler, but he does take risks."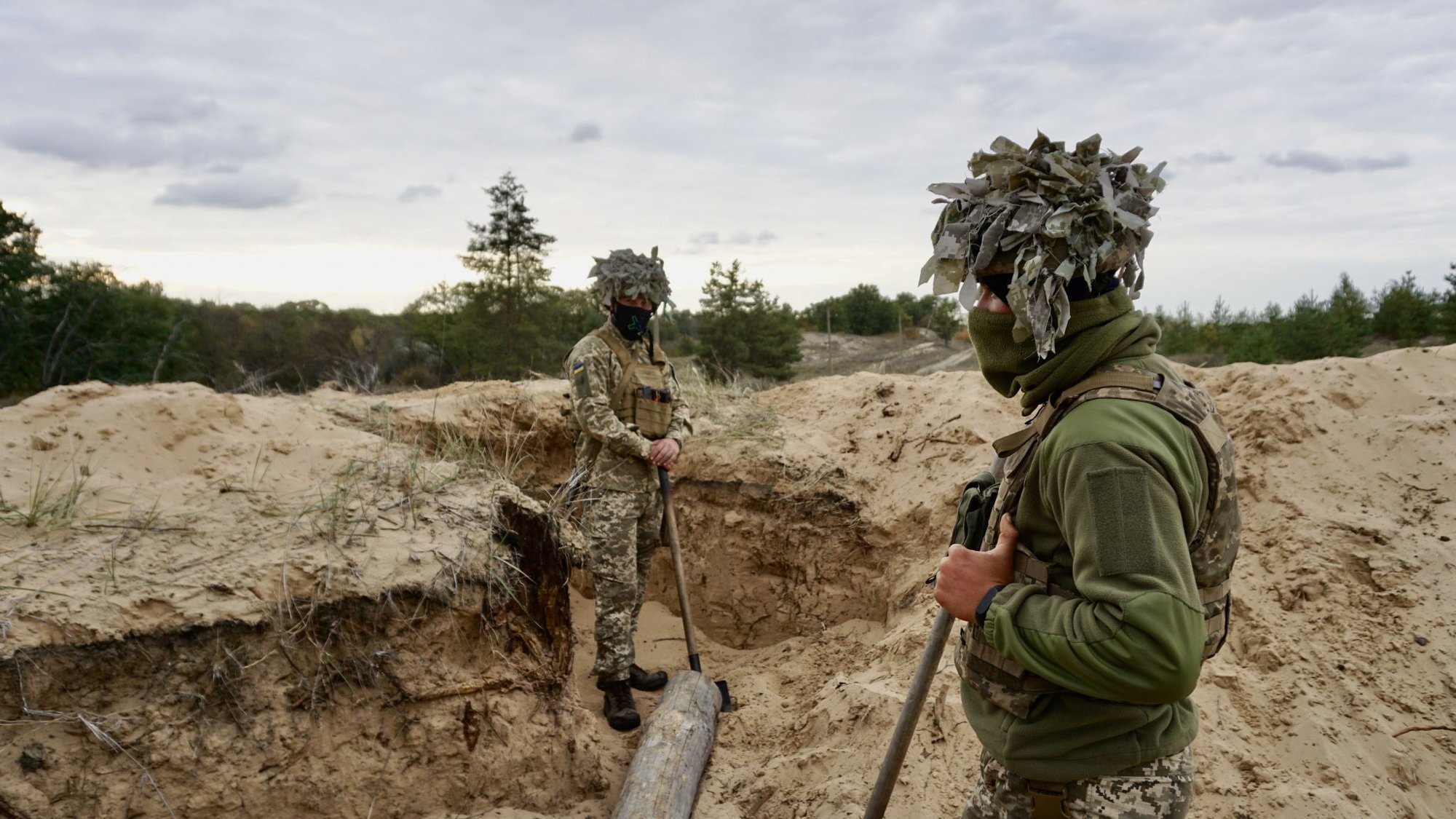 The political messaging currently emanating from the Kremlin is particularly troubling. Notably, Putin recently compared Ukraine's ongoing war effort in the Donbas to a "genocide" against ethnic Russians.
On Tuesday, Putin is scheduled to participate in an "expanded" meeting of the Russian Board of the Ministry of Defense and will hold an operational meeting with the Security Council of the Russian Federation, the Russian news site TASS reported.
Russian Deputy Foreign Minister Sergey Ryabkov said Monday that, if NATO ignores a recent laundry list of security guarantees demanded by Moscow, "we would find forms to respond, including by military and military-technical means," TASS reported.
Russian Deputy Foreign Minister Andrei Rudenko also upped the diplomatic rhetoric Monday, claiming that Ukraine's recent actions had forced Moscow to take "radical steps" to guarantee Russian security.
"The matter is not about fear, the matter is that our neighbors, not only Ukraine, have reached a kind of a boiling point, which really forces us to take certain radical steps, at least, we say that we are prepared to think in a different way," Rudenko said, Russian news agencies reported.
Christmas Day marks the 30-year anniversary of the day the Soviet flag came down for the final time over the Kremlin. And Dec. 31 marks the official 30-year anniversary of the Soviet Union's dissolution. Symbolic milestones, should the Kremlin make a final decision on military action against Ukraine in the coming days.
The diplomatic tough talk is also emanating from Belarus — a post-Soviet state that borders Ukraine and has tight ties with Moscow.
On Saturday, the Ministry of Defense of Belarus published a video of two Russian Tu-22M3 bombers on an aerial patrol over Belarus while being escorted by Russian and Belarusian Su-30SM fighters. And on Monday, Belarusian Foreign Minister Vladimir Makei confirmed that Belarus was ready to host Russian nuclear weapons on its territory because of so-called threats from NATO, including the presence of NATO troops in Ukraine.
In the Donbas warzone, fighting is ongoing along a static, fortified front line. Since 2014, Ukrainian forces have fought a defensive war against a force of Russian regulars and conscripts drawn from Russian-occupied territory in eastern Ukraine.
The Ukrainian military is on guard against a Russian offensive but has not yet mobilized its reserve forces. Ukrainian Marines stationed in the war zone near the southern city of Mariupol have not demonstrably changed their force posture, according to personnel who are communicating with Coffee or Die via text message.
Even so, the mood among front-line Marines has steadily shifted from general skepticism about the likelihood of a Russian attack to a collective sense that some sort of escalatory event is likely to happen soon.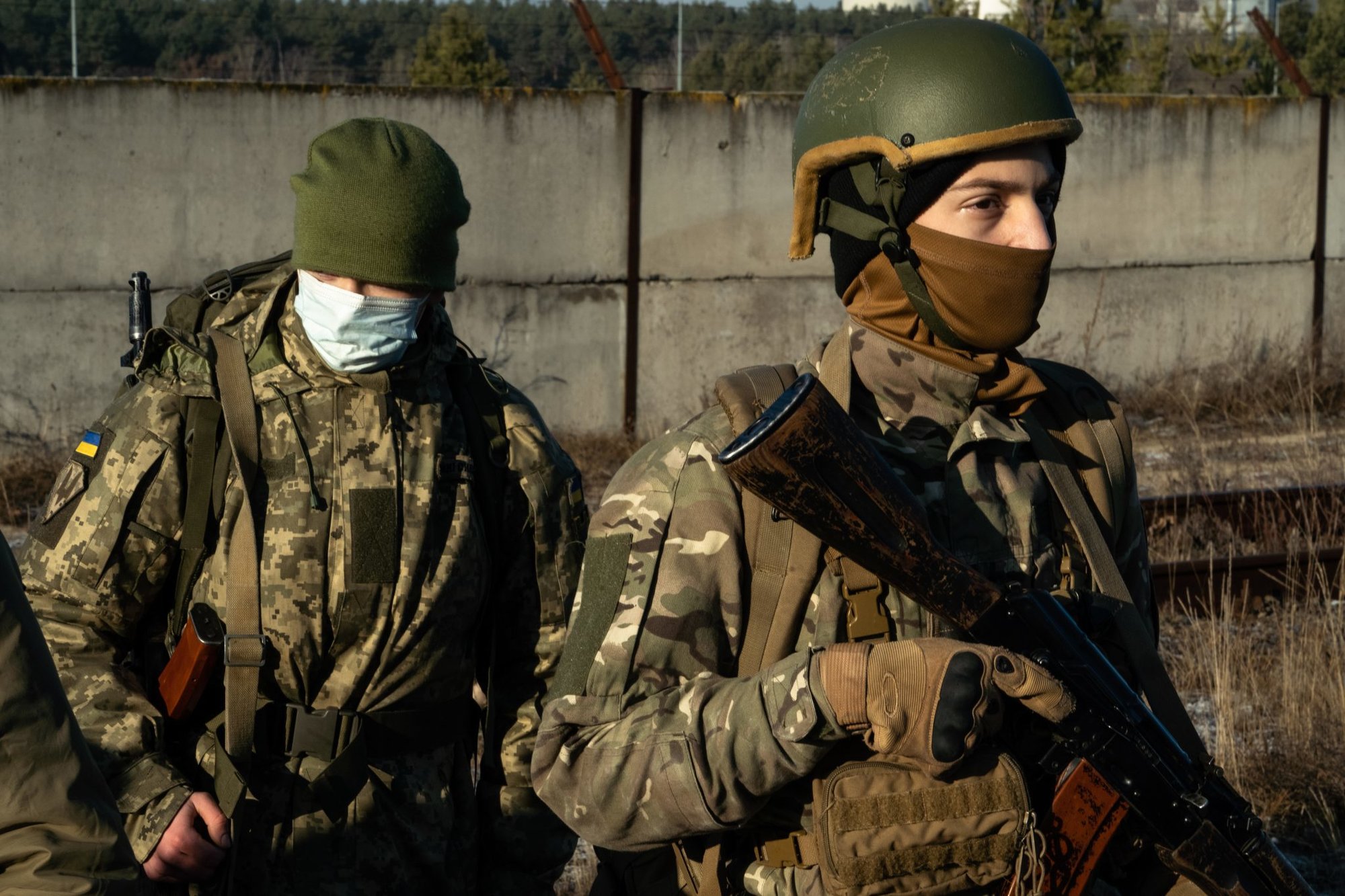 The winter weather may also play to Russia's advantage when it comes to warding off European sanctions in retaliation for an offensive against Ukraine.
Russia supplies about 50% of the European Union's natural gas imports. With the dead of winter approaching, and with European gas inventories running low, Russia may be able to leverage the threat of a gas cutoff to coerce the EU into rethinking its potential punitive options.
"I consider this a high probability event that in case of an armed aggression against Ukraine, Russia will leverage low European gas inventories to ensure Brussels' response [to] Moscow's actions will be limited," wrote Konrad Muzyka, the president of Rochan Consulting, a Polish defense consultancy.
Ukrainian officials are now taking concrete, public steps to prepare the country for a wider war — specifically, a Russian air campaign. Consequently, officials have bolstered air defenses across the country and readied bomb shelters in Kyiv.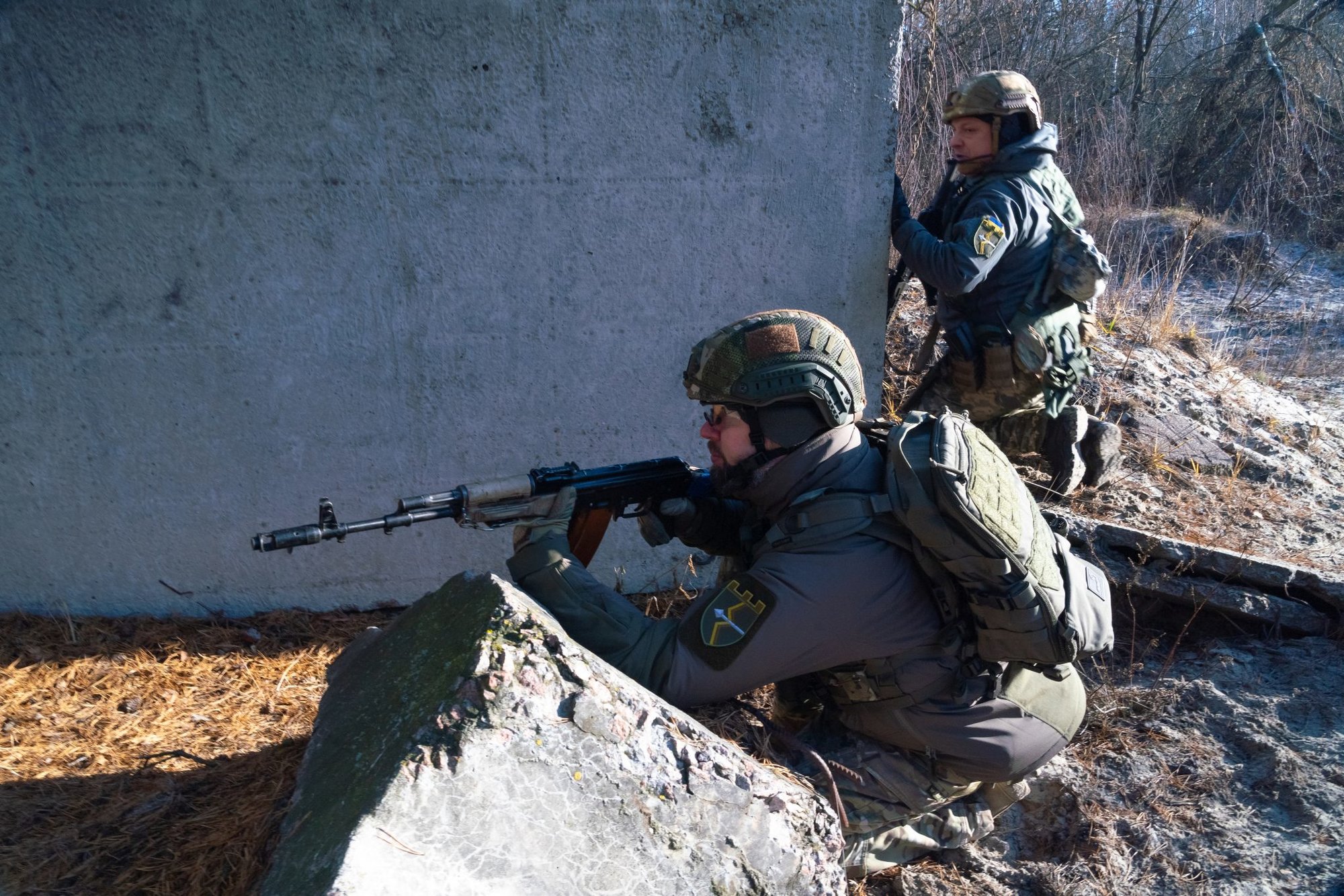 Reports that Russia has mobilized reserve forces could also signal plans to actually hold Ukrainian ground, some experts said — a prospect that raises the specter of a humanitarian catastrophe and a flood of millions of refugees into neighboring countries, according to some Ukrainian government estimates.
Apart from its conventional military forces, Ukraine's defense against a Russian ground offensive would include a societywide war effort intended to harass and bog down Russian units in partisan warfare. Although many Ukrainians were initially skeptical about the likelihood of a wider Russian offensive, the public mood has shifted. A recent poll found that about one-third of Ukrainians are willing to take up arms to resist a Russian invasion.
Western military technology has markedly improved the survivability of Ukraine's combat forces in the Donbas. Notably, units equipped with US counterbattery radar systems have seen sharp decreases in casualties from Russian shelling.
Yet with a possible Russian offensive only weeks or months away, time is rapidly running out for Western military aid to substantially affect Ukraine's short-term air defense capabilities.
Read Next: