When Taras Ostapchuk, a Ukrainian sailor, partially sunk Russian oligarch Alexander Mikheev's huge superyacht Saturday, Feb. 26, he had no regrets.
"I said to myself: why do I need a job if I don't have my country?" he told Ultima Hora after a Spanish court released him.
Ostapchuk was a mechanic on the yacht Lady Anastasia, a nearly 50-meters-long example of the so-called superyachts favored by many Russian oligarchs like Mikheev, CEO of Russia's state-owned arms exporter Rosoboronexport. Ostapchuk became enraged after seeing video of an apartment block in Kyiv attacked by weapons he believed were built by Rosoboronexport. So he flooded and destroyed the engine room, leaving the boat marooned in Mallorca.
"I am not a hero, I am an old man," he said to the local press as he prepared to hop a flight to Poland, ready to fight for Ukraine. He plans to volunteer with the first military commander he can find. "I have never picked up a gun, but if necessary I will pick it up. Why not?"
From the opening hours of the Russian invasion, there have been calls to seize the exorbitant wealth of oligarchs tied closely to Vladimir Putin. The theory behind the calls is that Putin is unlikely to be moved by battlefield results or sanctions that strike everyday Russians, but that howls from his privileged inner circle could get him to change course. As Russian troops poured into Ukraine, that sentiment coalesced under a general call to action against the oligarchs' superyachts, which many see as the most visible symbol of the oligarchs' collective superwealth. The movement's slogan: "Seize the yachts."
Longtime Alaska Rep. Don Young said he would introduce the Bringing Oligarch Accountability Through Seizure (BOATS) Act in the House of Representatives. The act would seize all Russian yachts and commercial vessels if they passed through the waters of the United States, including Russian-owned vessels flying flags of other countries.
"We must send a message of zero tolerance for Russian aggression, which requires us to make life as difficult as possible for Putin's sycophants," Young said in a press release.
Even if that law passed — which is unlikely — it would probably have little effect. According to research by internet yacht trackers, Russian oligarchs rarely visit US ports, preferring more private playgrounds of the ultrarich; Mikheev's ill-fated trip to Mallorca, a lush Spanish island, is a good example of that tendency.
While Young works on drafting the bill, we thought we would take a look at some of the yachts that could be affected by these harsh sanctions … or potentially sunk by Ukrainian saboteurs.
(All estimated wealth totals below are pre-international sanctions.)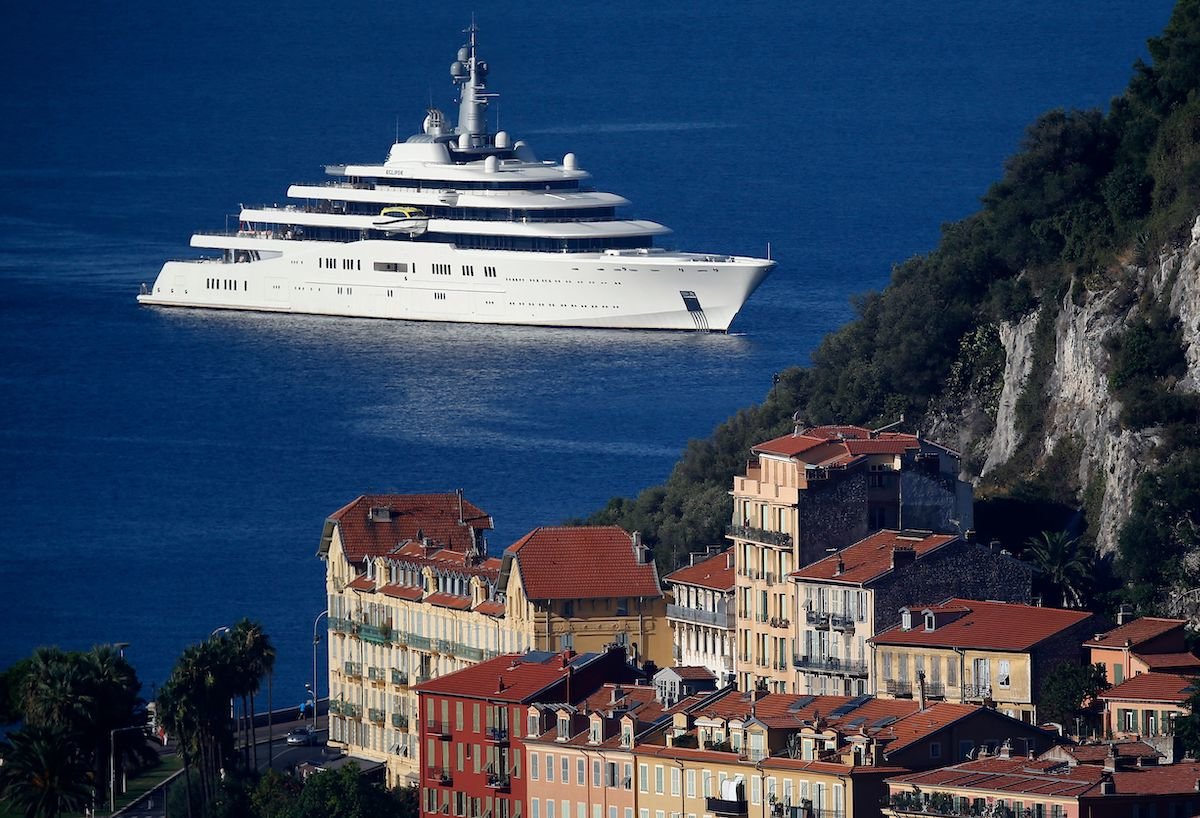 Eclipse
Current location: St. Martin, Caribbean
Owner: Roman Abramovich
Estimated wealth: $14 billion
Putin owed Roman Abramovich perhaps more than he owed any other oligarch, since Abramovich was the man who recommended that then-Russian President Boris Yeltsin name Putin as his successor in 1999. Abramovich, who for years held a controlling interest in oil company Sibneft, is best known to many in the West as the owner of London's Chelsea Football Club. He is currently in Belarus, assisting with peace talks at the request of Ukraine, but his superyacht is the undisputed champion among Russian superyachts. It is 163 meters long — about 20 feet longer than a US Navy Arleigh Burke-class destroyer. It cost $500 million to build and has lasers installed on the deck to ruin the photos of any prying paparazzi. Its amenities include a movie theater, a disco, and a medical clinic capable of handling minor surgical emergencies. If you're hungry, you have your choice of a wide variety of food at the restaurant Elements, or you could go with sushi at Koko's. Abramovich also owns a second ridiculously huge yacht: the 139-meter My Solaris, which is currently in Barcelona.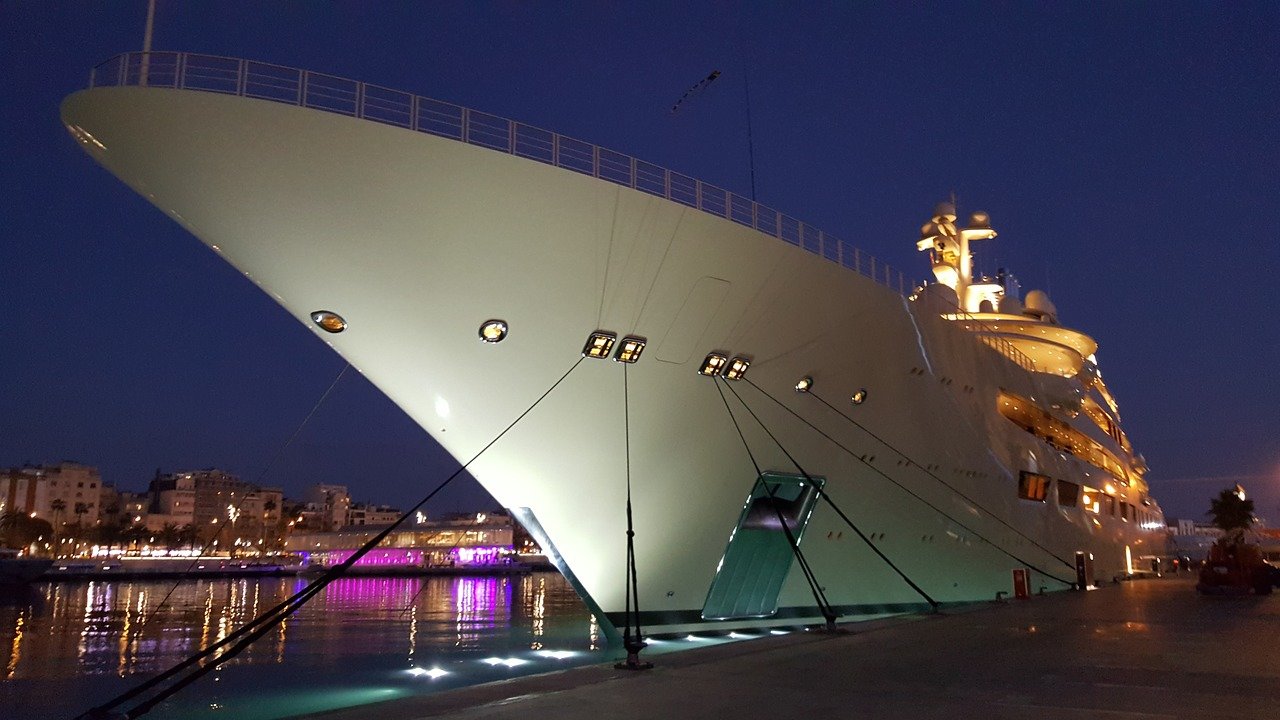 Dilbar
Current location: Hamburg, Germany
Owner: Alisher Usmanov
Estimated wealth: $15 billion
Alisher Usmanov is the majority shareholder in Metalloinvest, an enormous Russian industrial conglomerate. He owns the second-largest mobile phone company in Russia, MegaFon, so you know he enjoys puns. He also owns the Udokan copper mine and the Kommersant publishing house, is an accomplished saber fencer, and spent six years in an Uzbekistan prison for "theft of socialist property" in his 20s. His superyacht runs a close second in length to the Eclipse at 156 meters. Details about this yacht, beyond those regarding its massive size, are sparse, but it does boast a 25-meter swimming pool, said to be the largest pool ever installed on a yacht. It also features a huge garden and more than 1,000 sofa cushions for its guests' comfort.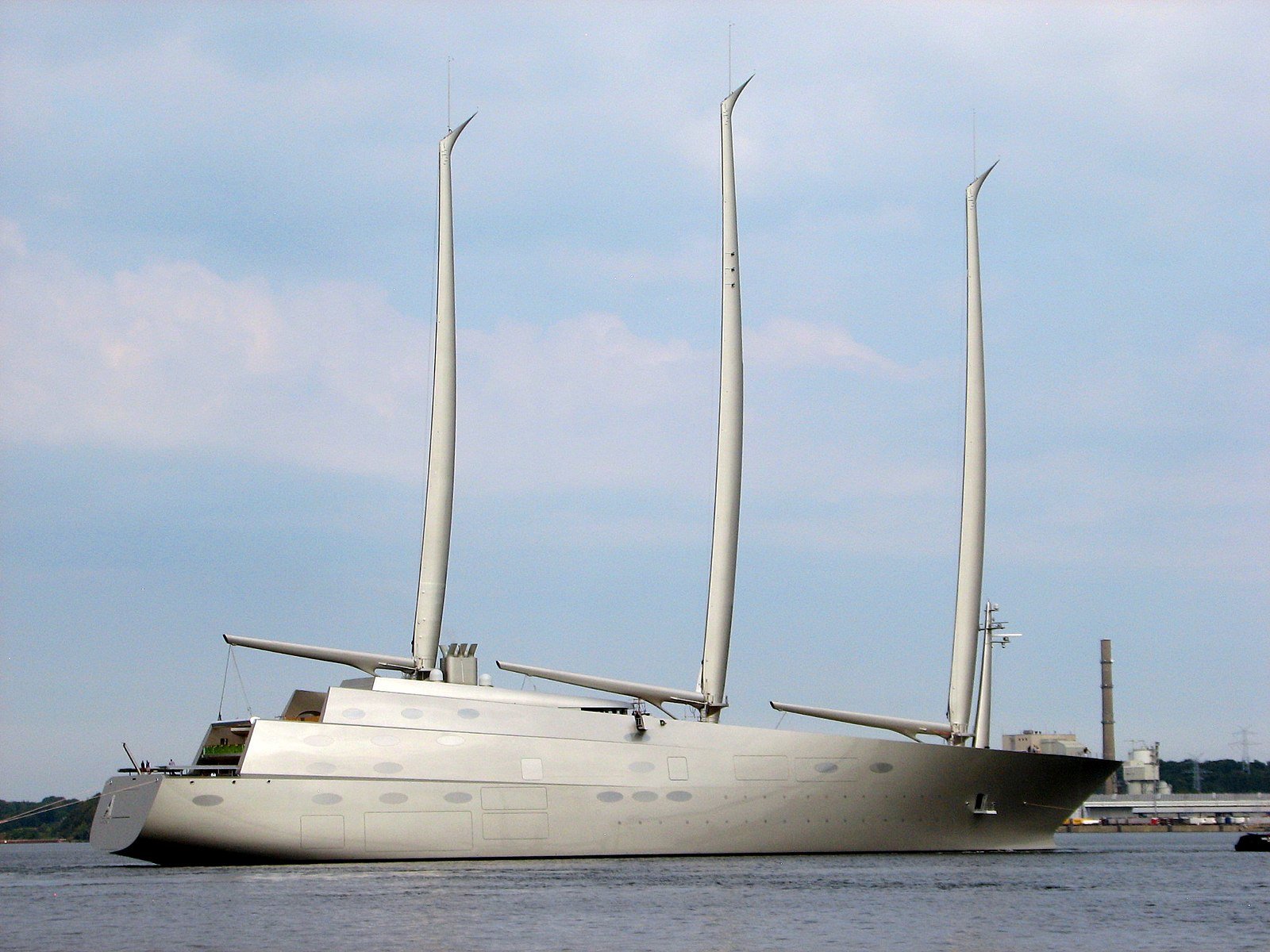 Sailing Yacht A
Current location: Dubai, United Arab Emirates
Owner: Andrey Melnichenko
Estimated wealth: $23 billion
Andrey Melnichenko holds majority shares in the largest chemical company in Russia, Euro Chem, and the largest coal company in Russia, SUEK. His wife is a Serbian model and former pop star from a 1990s girl group called, fittingly, Models. Unlike the other yachts on this list, this unique little number has its engine assisted by sails and was designed by the French architect Philippe Starck. Its main mast is 100 meters tall, taller than Big Ben, and the boat itself is 143 meters long. There's a hand-carved banister inside this thing that cost $60,000, as well as bespoke bathroom faucets that cost $40,000 each. Walls are mirrored glass and silver leaf, and the master suite has bombproof windows and a rotating bed. Like Abramovich, Melnichenko has another yacht, Motor Yacht A. He is not creative with boat names.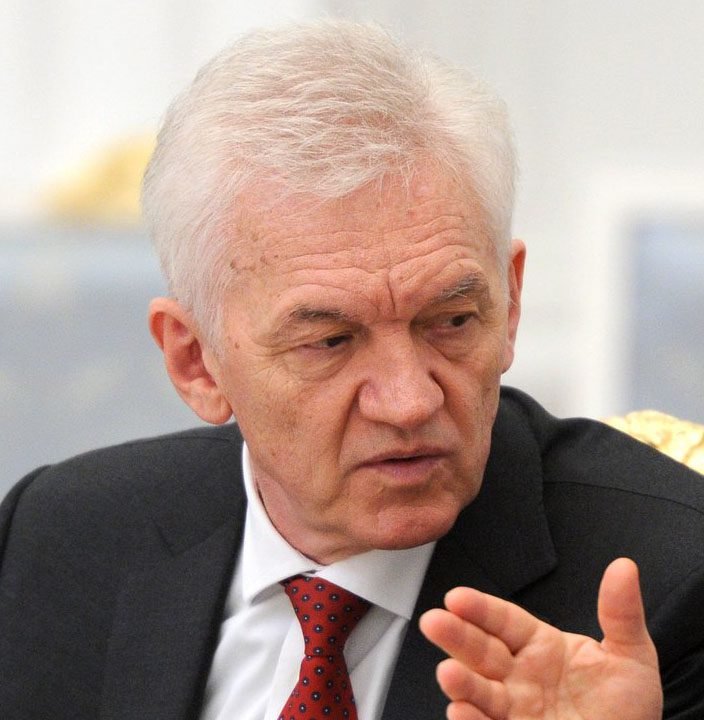 Lena
Current location: San Remo, Italy
Owner: Gennady Timchenko
Estimated wealth: $21 billion
This little 40-meter yacht seems like a puny contender on this list. It doesn't have the world's largest yacht swimming pool or 10 different places to eat and drink. But it is owned by Gennady Timchenko, who is one of Putin's closest oligarch buddies. Timchenko has, thus far, lived up to his reputation for loyalty. "You have to pay for everything in your life. Even for your friendship with the president," Timchenko once said, according to Forbes. Timchenko owns the Volga Group, combining his investments in energy, transportation, and infrastructure, which does make it sound as if he could afford a better boat.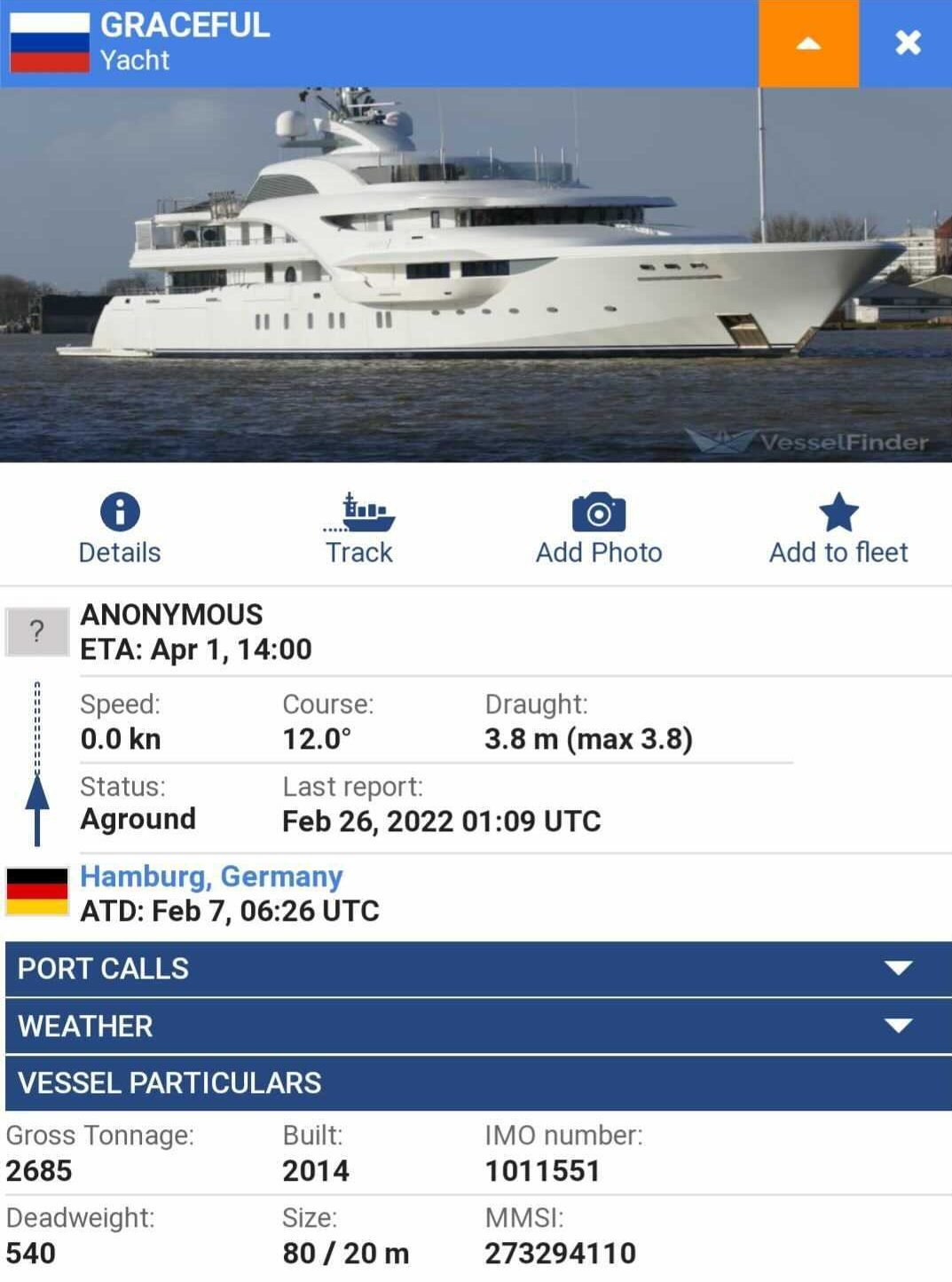 Graceful (aka FCKPTN)
Current location: Kaliningrad, Russia
Owner: Vladimir Putin
Estimated wealth: Unknown
Just before Russian troops crossed the border into Ukraine, this 80-meter yacht made a dash from a port in Hamburg — of NATO-member Germany — back home to Russian waters. But that didn't put the yacht beyond the reach of hacker group Anonymous. On Saturday, hackers changed the boat's name on international maritime logs to "FCKPTN." They also altered the boat's tracking information to make it appear as if it had run aground on the now-famous Snake Island and set its destination as "hell." At least on the way to hell, Putin can enjoy the yacht's swimming pool that transforms into a dance floor.
Read Next: