Ukrainian forces destroyed a large Russian landing ship Thursday, March 24, leaving the ship burning at its pier after a missile strike at the Ukrainian port of Berdyansk, about 50 miles southwest of the besieged city of Mariupol.
A Ukrainian general confirmed the strike to Coffee or Die Magazine. Brig. Gen. Kyrylo Budanov, chief of Defense Intelligence of Ukraine, told Coffee or Die that Ukrainian forces had hit a Russian Alligator-class landing ship with a land-based rocket while it was docked at Berdyansk. Though only lightly armed, such a ship carries troops and materiel. With a capacity of about 1,000 tons, the 1960s-era ship could carry as many as 20 modern tanks, though it was unknown what was on board when the vessel was hit.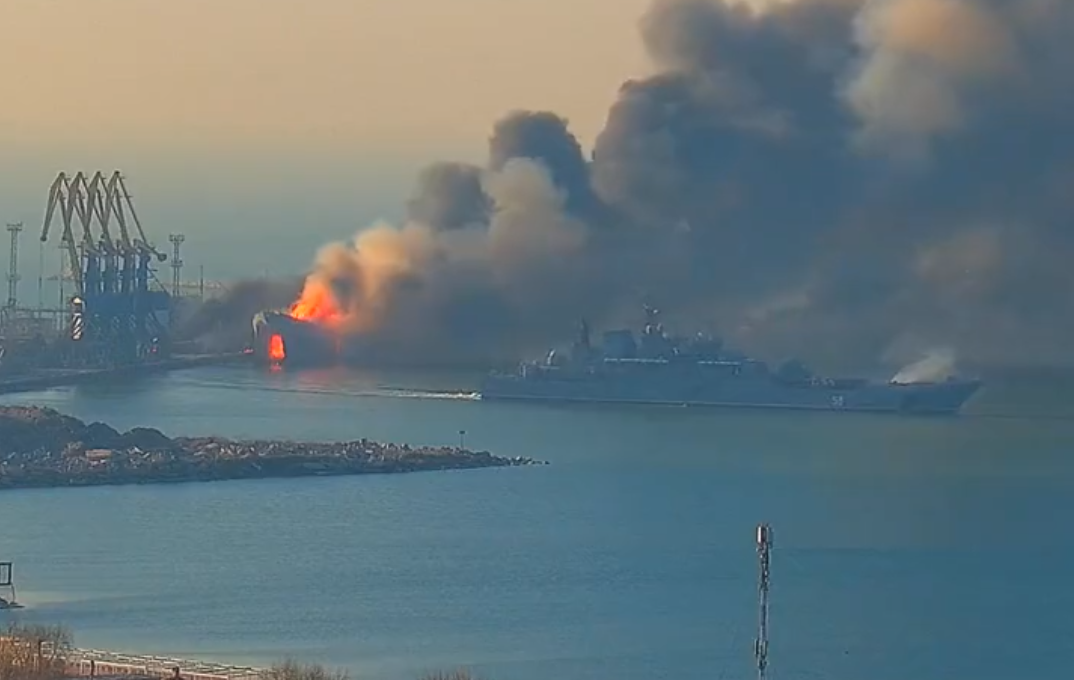 Budanov would not say how the Ukrainians had targeted the ship but provided videos and pictures of what appeared to be an explosion on the ship at or soon after impact. Those videos matched extensive video of the burning ship shared on social media outlets, including Twitter, Telegram, and TikTok, which appeared to show the ship suffering a series of explosions after being hit, consistent with fire consuming stores of ammunition, fuel, or other explosive material on board.
Other ships identified as Russian cargo transports were seen steaming out of the harbor as the stricken ship burned.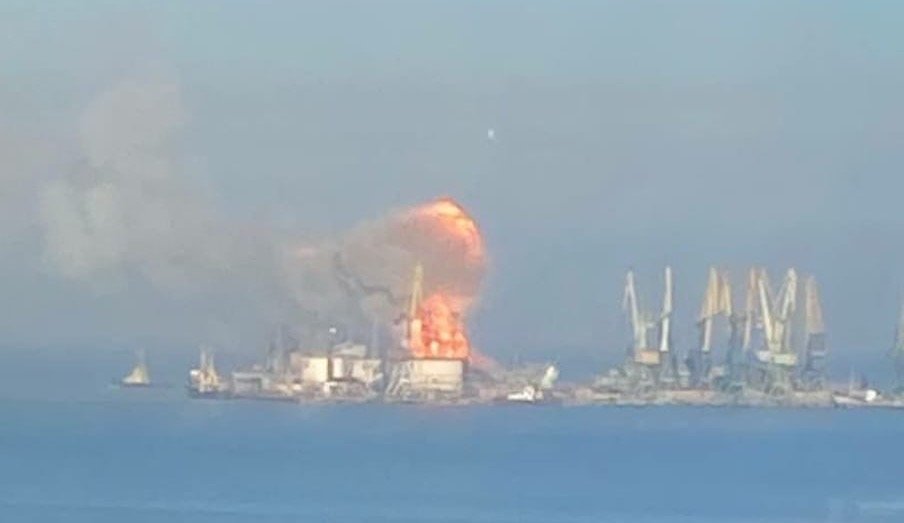 The stricken ship is relatively small — about 100 meters long, roughly akin to a larger US Coast Guard cutter, but only about a third the size of equivalent ships in the US Navy's Military Sealift Command — but its loss could prove a major setback to Russian logistics if its navy is unable to reliably land supplies at the port. Berdyansk is one of the few ports in Ukraine under Russian control, while the major port cities of Odesa and Mariupol remain in Ukrainian hands.
Budanov would not say what kind of ground-launched missile had been used in the attack, but a Twitter post from Elint News, which tracks weapons and equipment used in Ukraine, noted a Russian-language post on Telegram from Saturday that appeared to capture wreckage from a Tochka-U short-range ballistic missile on the ground at Berdyansk.
Read Next: