KYIV, Ukraine — The Russian military is testing its first batch of "Terminator" tank support fighting vehicles.
Built on the chassis of Russia's T-72 tank, the heavily armored Ramka-99 BMPT-72 tank support combat vehicle — colloquially known as the "Terminator" — is equipped with a lethal suite of weapons capable of destroying tanks, armored fighting vehicles, infantry, helicopters, and some aircraft. It's also designed to protect its five-man crew from radiation after a nuclear blast.
A video posted by the Ministry of Defense of the Russian Federation on both Facebook and Twitter on Monday shows several Terminators in a live-fire exercise alongside tanks from the 90th Tank Division in the Chelyabinsk region of the Urals. Under overcast skies, the armored formation advances across a snowy field while intermittently firing various weapons. Infantry are seen moving on foot behind the line of armor.
"Tankers of the Central Military District are mastering the new BMPT 'Terminator,' which came to them for a trial operation. They study all the combat capabilities of the combat vehicles and test them in action," the Russian Ministry of Defense wrote on Facebook.
Produced by Russia's largest battle tank manufacturer, UralVagonZavod, the Terminator was primarily designed to destroy enemy forces equipped with anti-tank weapons in an urban environment. Effectively, the Terminator serves as a "guard" for its associated tank unit, according to UralVagonZavod.
"In order to change the perspective on its use, we refer to it more often as a fire support combat vehicle (BMOP) rather than a tank support fighting vehicle (BMPT). That is, it can be used both as part of armored, motorized infantry formations and on its own, which is very important," UralVagonZavod's press office said in a release.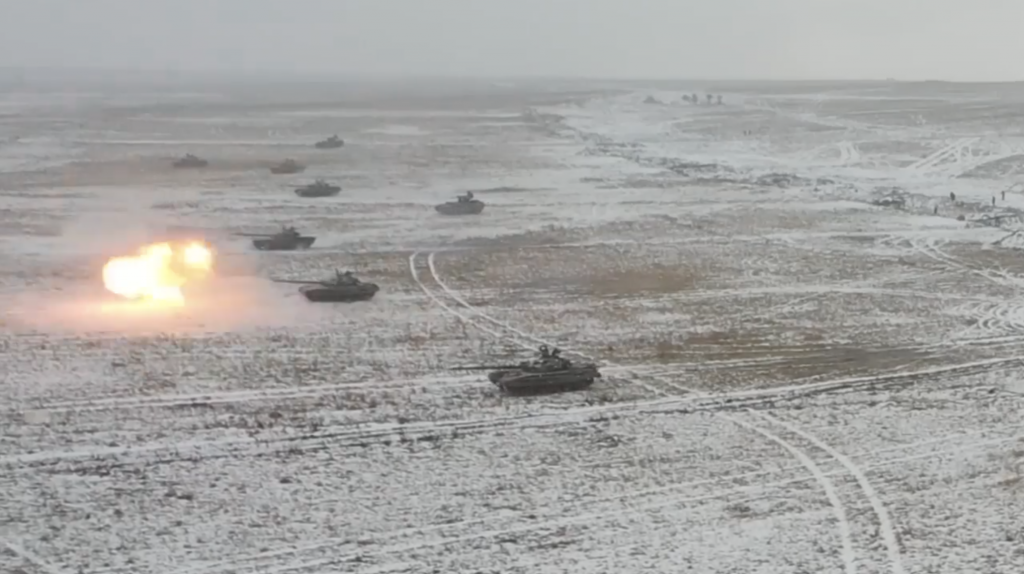 The Terminator appeared in the 2018 "Victory Day" parade on Moscow's Red Square, and first saw combat in Syria in 2017. That year, at the Hmeymim air base in Syria, Chief of the Russian General Staff Valery Gerasimov demonstrated the fire support combat vehicle to Syrian President Bashar Assad.
According to the Russian news site TASS: "The tank support combat vehicle was created in response to modern battlefield tactics. Local conflicts over the past several decades have demonstrated that a tank needs protection against enemy grenade launchers in urban conditions."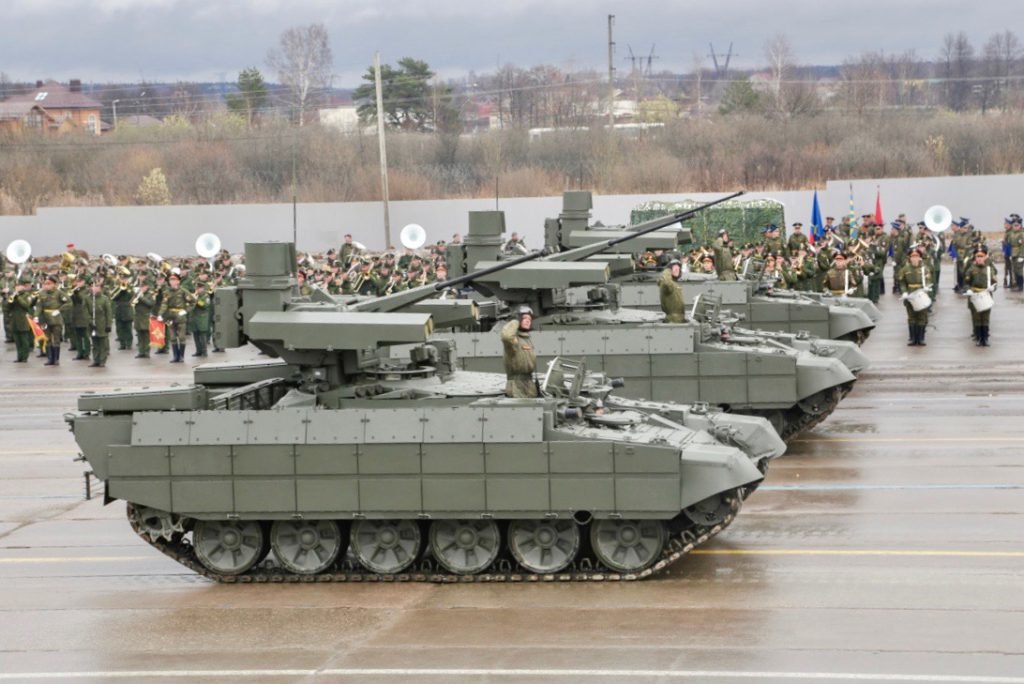 The Terminator is equipped with multiple weapons, including: four Ataka supersonic anti-tank missiles with a range of more than 3 miles, two 30 mm guns that can fire both armor-piercing and high-explosive fragmentation rounds (effective against infantry forces and helicopters), two grenade launchers with 600 grenades, and a Kalashnikov submachine gun. According to Russian defense officials, the Terminator can simultaneously track three targets.
"One BMPT actually substitutes one motor rifle platoon: six infantry fighting vehicles and 40-strong personnel. It is actually impossible to survive under the Russian vehicle's fierce precision fire," UralVagonZavod's press office said in a release.
The Terminator's design dates back to 2006 and was first showcased to international arms buyers in September 2013 at the Russia Arms Expo. However, the project stalled for years due to budgetary concerns. The Russian Ministry of Defense finally approved the purchase of its first batch of Terminators in 2017. So far, the Russian army has taken possession of eight of the vehicles, according to news reports.
In addition to its formidable armor, the Terminator is also designed to protect its crew from radiation in the event of a nuclear exchange.
"The Terminator tank support combat vehicle is multipurpose and highly protected, with powerful armament, modern fire control devices and high maneuverability," the Russian Ministry of Defense wrote on Facebook.
Terminators saw use in the Zapad-2017 military exercise, which comprised forces from Russia and Belarus. According to Russian media reports, Kazakhstan — a former Soviet republic — has purchased an unspecified number of Terminators, marking the only foreign export, to date, of the armored fighting vehicle.
The US Javelin anti-tank missile was introduced in 1996. In 2018 the US delivered its first batch of Javelins, also known as FGM-148s, to Ukraine — a post-Soviet country with which Russia has been engaged in a low-intensity land war since 2014.
To date, Ukraine has not used the Javelins in combat.