Update, April 14, 4:20 p.m.: The Moskva sank in the Black Sea while being towed to its home port in a storm, Russian state media said. It was reported to be the largest Russian warship in the Black Sea.
Original Story: The Pentagon confirmed that a major Russian warship, the Moskva, was burning and sailing for its home port on Thursday, April 14.
"She has significant damage," said a senior defense official in a background briefing to reporters. The crew, the official said, "still appears to be battling a fire on board."
In a Thursday afternoon briefing, Pentagon spokesperson John Kirby said that while the ship had appeared to be under its own power earlier in the day and headed toward the Russian naval base in Sevastopol in the disputed territory of Crimea, by Thursday afternoon it was no longer clear if the ship was moving on its own.
Kirby would not confirm how the fire started, but Ukrainian officials claimed credit, saying its military hit the ship with two Neptune missiles, Ukrainian-built rocket anti-ship missiles.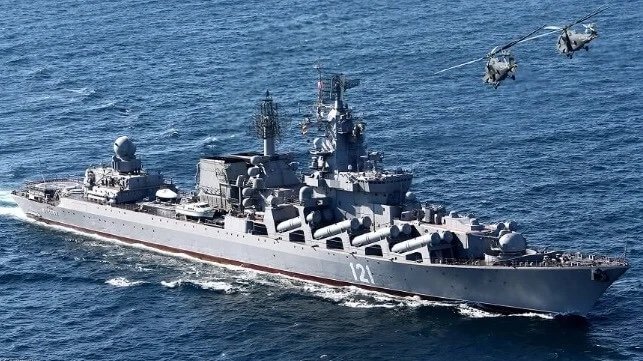 "It has been confirmed that the missile cruiser Moskva today went exactly where it was sent by our border guards on Snake Island!" claimed the governor of Odesa, Maksym Marchenko, referring to the Moskva being told to "Go fuck yourself" in the opening days of the war by a band of border guards on the outpost of Snake Island.
The Pentagon official said the ship began to burn about 60 to 65 nautical miles south of Odesa, a major Ukrainian port city that Russian ships have blockaded for months. The Neptune missile is reported to have a range well in excess of 100 miles.
Wednesday, Russian officials confirmed an explosion on the ship and claimed that the crew of 510 had been evacuated, according to the Russia Today website.
The damaged Moskva could end Russian hopes for an amphibious landing on the Black Sea coast, including at Odesa. Calling the ship a "12,500-ton, 612-foot mobile missile battery," Forbes wrote in January that the ship "packs enough anti-ship missiles to wipe out the entire Ukrainian navy and enough air-defense missiles to swat away any conceivable aerial attack on the Black Sea Fleet's amphibious flotilla."
The Moskva is believed to be the largest ship in Russia's Black Sea Fleet, and is roughly equivalent to US guided-missile cruisers. It carries 16 anti-ship missiles, over 100 S-300 and SA-N-4 Gecko anti-aircraft missiles, anti-submarine weapons, and several close-in machine-gun systems for its own defense. Moskva is larger than comparable surface combatant ships in the US military, such as US Ticonderoga-class cruisers and Arleigh Burke-class destroyers.
The Pentagon said four or five ships cruising with the Moskva had relocated to more than 80 nautical miles off the Ukrainian coast.
Read Next: