Four American troops were injured after a vehicle collision with Russians in Syria this week, underscoring a broader uptick in aggressive encounters between US and Russian forces in the war-torn country this year.
According to news reports from multiple agencies, the Americans suffered concussions after a collision on Wednesday between Russian and American light-armored vehicles near Dayrick in northeast Syria. Two Russian helicopters also reportedly buzzed the American motorized patrol, passing within about 70 feet of a US vehicle, according to reporting by the Associated Press.
US officials said a Russian vehicle purposefully collided with an Americana MaxxPro Mine-Resistant Ambush Protected All-Terrain Vehicle, or MRAP — an upgraded version of an armored fighting vehicle that became a staple of US operations in Afghanistan and Iraq due to its ability to withstand improvised explosive device attacks.
The incident was allegedly recorded in a video and posted to social media. In the video, Russian military vehicles appear to be pursuing at least two American MRAPs. Russian helicopters can also be observed flying overhead. All the Russian and American vehicles appear to be conspicuously flying their respective national flags.
"To deescalate the situation, the coalition patrol departed the area," National Security Council spokesman John Ullyot said in a statement. "Unsafe and unprofessional actions like this represent a breach of deconfliction protocols, committed to by the United States and Russia in December 2019."
The Russian Defense Ministry accused the Americans of trying to block a Russian military police convoy, which, according to Moscow, the Russian side had announced to the US-led coalition ahead of time.
"In violation of the existing agreements, the US troops attempted to block the Russian patrol," the ministry said in a statement. "In response to that, the Russian military police took the necessary measures to prevent an incident and to continue the fulfillment of their task."
US and Russian ground forces interact daily in Syria, Pentagon officials say. While the majority of those interactions are not contentious, there has been an uptick this year in overall encounters between the two sides, thereby raising the chances of a confrontation due to accident or miscalculation. At sea in the Mediterranean, as well, US Navy vessels report frequent run-ins with a wide gamut of Russian naval vessels, including submarines.
"We coexist in some of the same spaces," Maj. Gen. Kenneth Ekman, deputy commander of Combined Joint Task Force Operation Inherent Resolve, told reporters in July. "As we do that, we abide by the deconfliction protocols. Whether it's on the ground or in the air, we see each other all the time."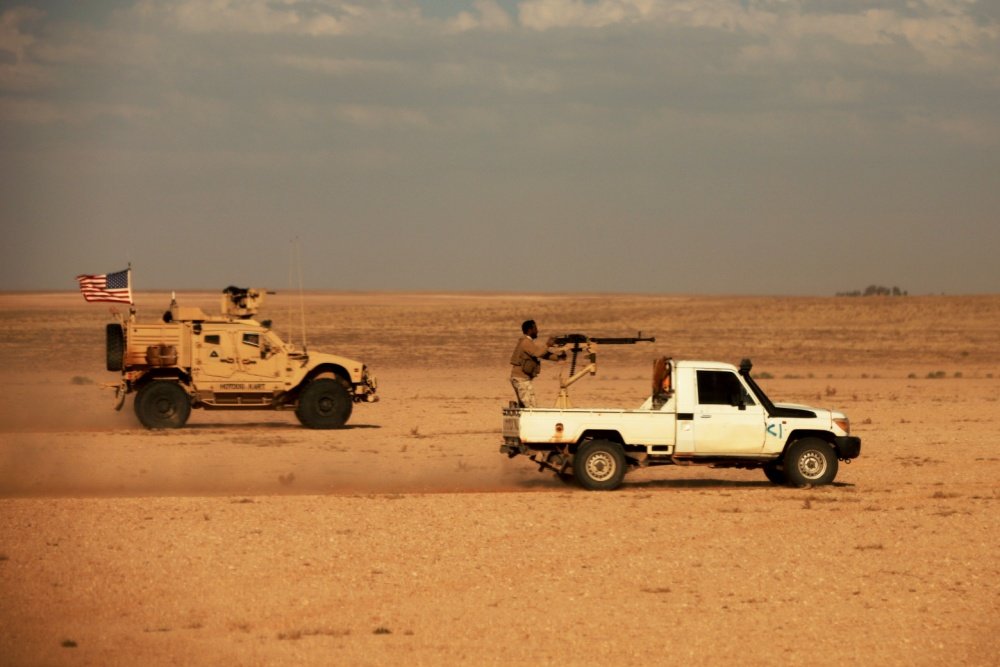 There are hotlines between US and Russian commanders meant to ease communication and prevent a mishap in case of mistaken identity. Yet recent reports suggest that dangerous encounters between Russian and US forces are increasing.
"These are not daily occurrences, but they have been increasing in number, and thus is troubling," James F. Jeffrey, America's global envoy for the war against ISIS and the top diplomat overseeing the war in Syria, told reporters in February.
On the ground in Iraq and Syria, ISIS has lost its caliphate and now operates from the shadows. However, the terrorist army has not been totally defeated and still counts some 10,000 militants within its ranks, according to a recent UN report.
Consequently, American military personnel remain on the ground in both Iraq and Syria to assist local partners in holding the ISIS threat at bay. Russia has deployed its military in Syria to bolster the regime of embattled dictator Bashar al-Assad, who has presided over a deadly civil war since 2011.