On Tuesday, the Sacramento County Sheriff's Office announced the deaths of Deputy Adam Gibson and Riley, a K-9 assigned to fellow Deputy Jesse Brucker, after an exchange of gunshots occurred following a vehicular pursuit of a burglary suspect.
At 10:07 p.m. Monday, SCSO deputies located an occupied vehicle in the area of Avondale Avenue and Arden Way matching the description from a series of burglaries. Deputies identified the man inside the vehicle as an active parolee. When they attempted to search the vehicle, the man was uncooperative and fled in his vehicle.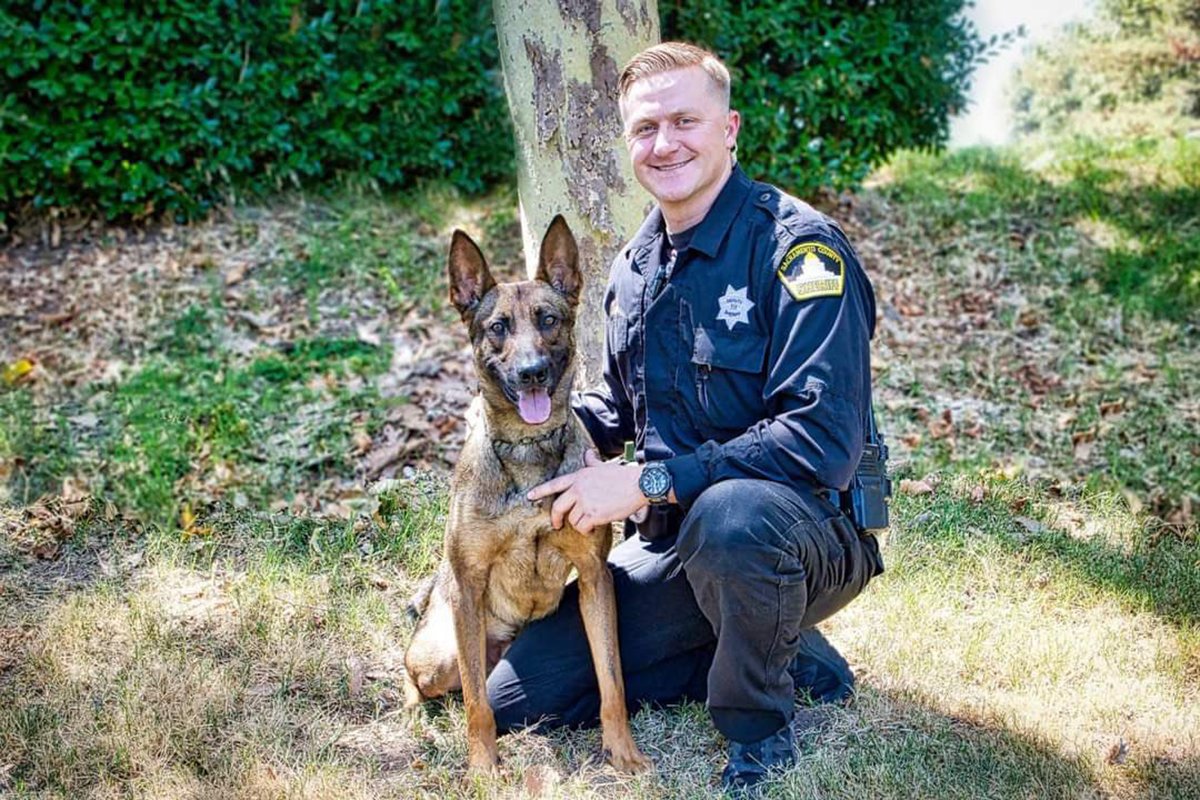 Deputies pursued the suspect for approximately 2 miles, until his vehicle was disabled after hitting a curb and came to a stop next to a chain-link fence within the Cal Expo Complex. Additional officers arrived to provide backup. The suspect failed to comply with multiple commands to exit the vehicle. Deputies fired less-lethal beanbag rounds through the suspect's back window to obtain a better view inside.
Riley was deployed through the window and into the vehicle, and the suspect started shooting. The gunfire struck Gibson, Riley, and a second unidentified deputy. Multiple deputies returned fire, fatally wounding the suspect. The injured deputies were rushed to a local hospital, where Gibson, 31, was pronounced dead.
The second deputy, 43, was stabilized and transferred to a trauma center for more advanced care and treatment. The SCSO said that the second deputy, who has been serving with the SCSO for 13 years, is in stable but serious condition.
Gibson was with the department for six years, during which he worked in corrections, patrol, and as a K-9 handler. He received the Sheriff's Office Bronze Star for Bravery and a Major Incident Ribbon in 2018 after he saved an apparently suicidal man who attempted to jump off a bridge. The man changed his mind at the last minute, according to KCRA3.
Gibson is survived by his wife, Rachel, and their 9-month-old child, as well as his parents, Doug and Sandee Gibson, and several siblings. According to the SCSO, Gibson served in the US Marine Corps, completing two deployments to Afghanistan before leaving the military.
The Sheriff's Professional Standards Division will investigate the officer-involved shooting, and the Sacramento Police Department Homicide Division will investigate other aspects of the incident. An independent review of the shooting will also be conducted by the Sacramento County District Attorney's Office and the Inspector General, according to the SCSO news release.
Neither the SCSO nor the US Marine Corps responded to requests for further information at the time of publication.
---
Editor's note: In this article we originally stated that Riley was the K-9 partner of Deputy Adam Gibson, both of whom were shot and killed on Jan. 19. However, Riley was assigned to Deputy Jesse Brucker, who was also shot during the incident. The article has been updated to reflect this information.