Investigators executed multiple search warrants at a sailor's home and property and have questioned the individual suspected of intentionally setting a fire July 12 on the USS Bonhomme Richard as the ship was docked at Naval Base San Diego, according to multiple sources.
ABC News San Diego first reported Wednesday that multiple sources with close ties to Naval Criminal Investigative Service (NCIS) said investigators have identified the sailor as an arson suspect in their probe.
"The Naval Criminal Investigative Service and the Bureau of Alcohol, Tobacco, Firearms and Explosives have focused their investigation on one sailor from that ship," a senior Navy official told the New York Times. A Defense Department official who was not authorized to speak with reporters confirmed the arson investigation to the Times and said the investigation was expected to be completed by the end of September.
Commissioned in 1998, the USS Bonhomme Richard is an amphibious assault ship whose primary mission is to embark, deploy, and land elements of a Marine landing force by helicopter, landing craft, and amphibious vehicle. It can also act as a light aircraft carrier.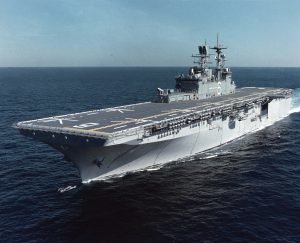 Navy officials said the fire started in an area where Marines would typically park tactical vehicles, but the area might have been temporarily filled with combustible materials as shipyard workers moved items around.
The fire that consumed the ship and burned for four days as crews struggled to contain it broke out around 8:30 a.m. on Sunday, July 12. Roughly 160 sailors were on board at the time. While the fire caused no fatalities, 68 military and civilian firefighters were treated for injuries including heat exhaustion and smoke inhalation.
The San Diego Fire Department quickly joined federal firefighters in the initial effort to contain the blaze, but efforts were halted temporarily after an explosion inside the ship injured at least one person and forced personnel to temporarily withdraw.
For days, media reports circulated dramatic photos and video of smoke clouds billowing from the burning ship, and air and sea crews attempting to contain the devastating blaze.
More than 400 sailors from 16 nearby ships fought the blaze, which took four days to extinguish, the Times reported.
Defense News reported that Chief of Naval Operations Adm. Michael Gilday provided a summary of the damage to Navy leaders in July. He said a series of explosions and a 1,200-degree inferno damaged 11 of the ship's 14 decks, and "the island is nearly gutted, as are sections of some of the decks below."
Rear Adm. Eric Ver Hage, the Navy Regional Maintenance Center commander and director of surface ship maintenance and modernization, said Tuesday that repairing the Bonhomme Richard would likely take years.
"We'll see what we'll do with the Bonhomme Richard, but that will be a massive effort to repair her," Ver Hage said.
The tragedy has highlighted concerns within the Navy and Defense Department regarding the service's inadequate shipbuilding capacity.
"We don't have enough capacity in peacetime; we can't get ships delivered on time with the predictability we need today," Ver Hage said.
He pointed to two separate, deadly collisions involving the US destroyers Fitzgerald and John S. McCain in 2017. Both of the ships took years to repair, returning to duty at sea earlier this year.
If the Bonhomme Richard cannot be repaired and returned to duty, it would be the second Navy vessel lost to arson since 2012 when a civilian shipyard worker set a fire aboard the Los Angeles-class attack submarine USS Miami, causing up to $700 million in damages.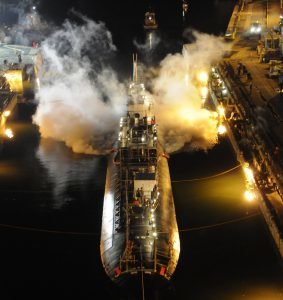 The Navy initially said it would repair Miami but later determined it was more cost effective to decommission the more than 20-year-old vessel.
Casey James Fury was sentenced to 17 years in prison and ordered to $400 million in restitution for setting the fire, reportedly because he wanted an excuse to go home early that day because he was suffering an anxiety attack and had no more vacation or sick leave.
Navy spokesman Lt. Sam Boyle told Task & Purpose that the Navy has not lost a ship the size of the Bonhomme Richard since the aircraft carrier USS Hornet was sunk during World War II.
Marine Commandant Gen. David Berger recently made dire warnings about the US's shipbuilding and repair capacity relative to major adversaries such as China, Military.com reported.
"Large ships offer superior endurance and flexibility for forward presence but are lucrative targets," Berger said in a draft doctrine statement. "Replacing ships lost in combat will be problematic, inasmuch as our industrial base has shrunk while peer adversaries have expanded their shipbuilding capacity. In an extended conflict, the United States will be on the losing end of a production race."
Military.com reported Wednesday that, "Numerous government and think tank reports over the years have noted the persistent and prolonged delays in getting Navy ships into the yards for repairs and maintenance and getting them back to sea."
Investigators have not identified a motive in the Bonhomme Richard case, and no one has been charged.