On April 12, 1964, Buddy Werner, a U.S. Olympian and world-class alpine skier, was tragically killed alongside Barbi Hennenberger of the West German ski team while trying to out-ski an avalanche in the Swiss Alps.
Avalanches in the Swiss Alps are a prevalent danger — on average, 80,000 avalanches occur each year. Even with modern airborne technology such as airplanes and helicopters, a variety of dog breeds continue to play a vital role in rescuing victims submerged below feet of compact snow and ice.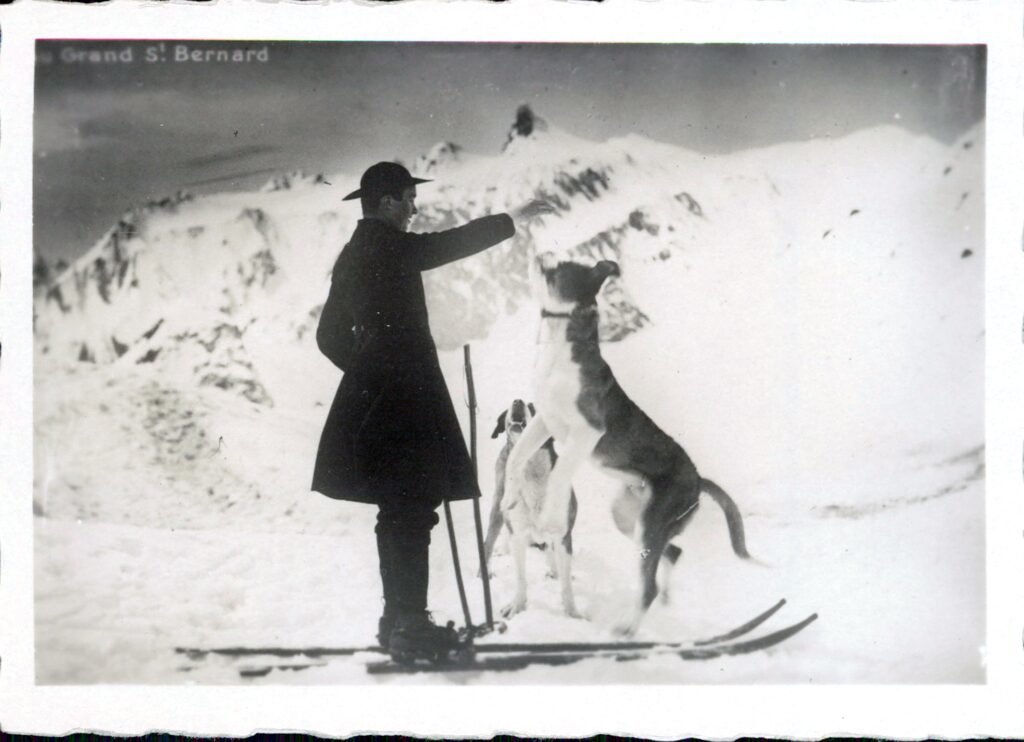 Saint Bernard de Menthon, an 11th century Anglican vicar general of the Aostas diocese (currently in Italy), founded a hospice and a monastery to be used as a refuge for travelers, vagabonds, and pilgrims during the Middle Ages. The Great Saint Bernard Hospice is located along a 49-mile route between Italy and Switzerland infamous for its raging storms and blizzard conditions. Mountaineers would become encased in snow tombs, and it was an impossible task for the monks to find someone trapped in the mountains at 8,000 feet above sea level with limited visibility.
The late 17th century brought the first Saint Bernard mountain dogs to the Great Saint Bernard Pass to protect the guests staying at the hospice. Saint Bernards are descendants of Asiastic mastiffs brought to the region by the Romans. They were smaller in stature and shorter haired than Saint Bernards today, but retained the familiar red, brown, and white fur.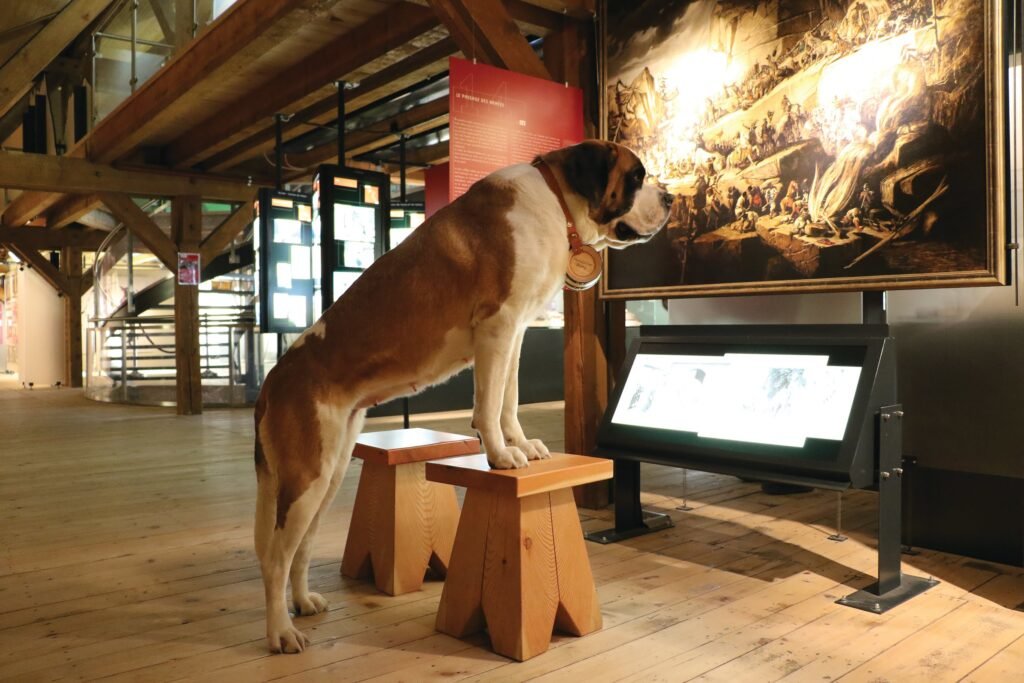 These loyal companions, then called "Barry dogs," a name attributed to one of the most famous Saint Bernards during that time, had an incredible sense of smell. Barry saved some 40 people during his lifetime (1800-1814). Whether it was using his nose to discover a victim who had been swallowed by an avalanche, navigating groups of travelers alongside his guide through the Alps, or using his excellent sense of direction to find lost stragglers and return them to the group, Barry and other Saint Bernards had a wonderful reputation.
The Saint Bernards would often use their bodies to warm a wounded traveler they had located while another dog would seek help from the monks back at the hospice. Once the monks were contacted, they'd follow their companions into the abyss and retrieve the victim, sometimes with a sled in case they were unable to walk due to an injury or frostbite. The monks also assisted Napoleon and his army of 250,000 strong across the pass from 1790 to 1810. The "legend of the Barry" was spoken of amongst the soldiers, stating a mountain dog would appear within view as he traveled through "the White Death" to reach them.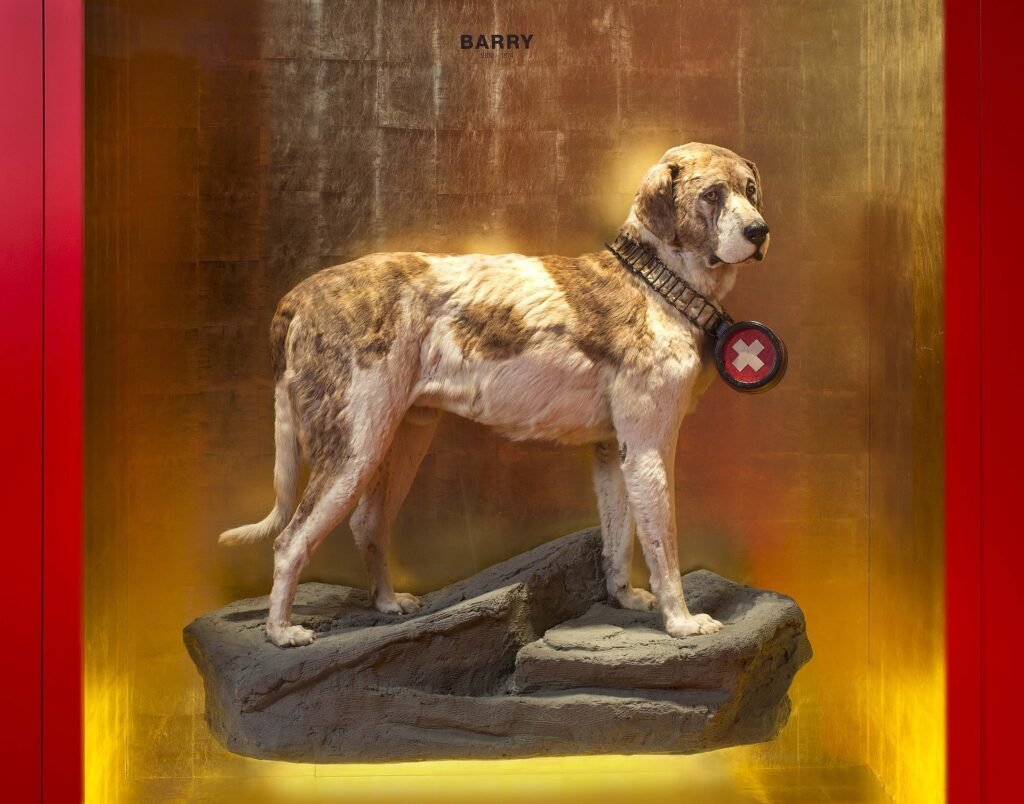 Saint Bernards rescued some 2,000 people during these years, including a 12-year-old boy in 1897 who was found in a crevice nearly frozen to death before he was shaken awake by the dog. Although the painting "Alpine Mastiffs Reanimating a Distressed Traveller" by Sir Edwin Henry Landseer suggested the dogs carried brandy in a small wooden barrel or cask that hung below their necks in an attempt to provide warmth or a desperate morale boost for a lost traveler, there is no evidence to substantiate that claim.
In 2005, the Barry Foundation took ownership of the 300-year-old breeding kennel from the Holy Order of the Great Saint Bernard Monastery. Barry, the legendary avalanche dog, was immortalized via taxidermy and now stands proud to educate the public about these extraordinary dogs at the Natural History Museum in Bern, Switzerland.