It's not every day that San Francisco's firefighters are called to rescue pole dancers, but it's also not every day that the Golden State Warriors win their seventh NBA championship
On Monday, June 20, thousands of fans flocked to the city's streets for the team's victory parade. A festive few climbed a traffic light pole at Fifth and Market Streets and began twerking atop the street signs attached to it.
City cops flagged their dancing as potentially dangerous and called for a ladder engine to fetch the fans off the elevated street sign. And that mission went well, with the dancers descending the ladder. Until one stopped atop the firetruck and started gyrating. More shenanigans ensued.
"Patience is key," said Lt. Jonathan Baxter, San Francisco Fire Department Homeland Security Operations and Public Information officer, who explained to Coffee or Die Magazine why personnel spent 40 minutes negotiating with the crowd to leave the disco dance floor they'd made of the city's rescue vehicles.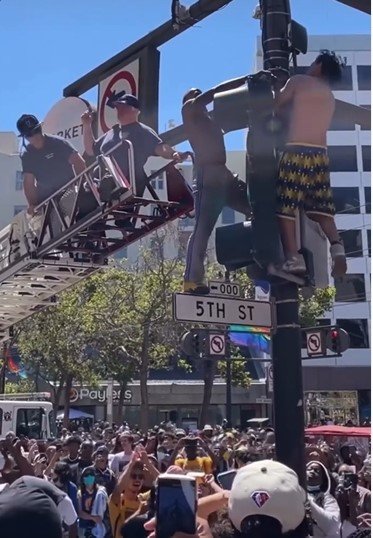 "I'll tell you what, taking 30 seconds to two minutes of just doing something like that, as opposed to embattling a large crowd that can lead to hours and hours of not having your apparatus," Baxter continued, "it's so much more worth it."
The firefighters then left on another 911 dispatch, one of roughly 90 calls for service authorities reported that day along the parade route. And like Red Sea for Moses, the crowd parted for the departing trucks, something fans had been doing all day to help first responders.
"Warrior fans were actually great for the entire parade route with multiple emergencies, getting out of the way of emergency vehicles so that we can get to a scene," Baxter told Coffee or Die.
Although the pole dancing moment became a viral hit on social media, Baxter said all of the department's emergency medical technicians and paramedics learned crisis communications in their training regiments.
Many of the department's company officers also attend Crisis Intervention Team courses offered by the Commission on Peace Officer Standards and Training.
"All of our members are able to communicate and relate respectfully with and throughout our community," Baxter said.
That training paid off during civil unrest that swept the city in 2020 and 2021. Some crowds stopped firetrucks in roadways and climbed the vehicles, refusing to get down.
The firefighters used words to defuse tense situations, without getting angry.
"When you put the uniform on, you're reflecting not yourself," Baxter said. "You're reflecting the department and the city that you serve."
Read Next: