"Let's just go — ready?"
With few words and calm determination, an impromptu team of five California police officers and sheriff's deputies began their assault of a two-story industrial building at the San Jose light rail yard last week. The officers would soon learn that an active shooter in the building had already killed eight co-workers, but as they approached, they knew only that he was inside and could be anywhere.
The Santa Clara County Sheriff's Office released body-camera footage Tuesday from one of the officers, giving a front-row view of members of two different departments working smoothly as a team to enter a building and stop a workplace shooter.
Within four minutes, the officers find the shooter dead of a self-inflicted gunshot, heard seconds before on the video as officers approached.
In the video, the officer with the camera gives several orders common in urban assault training, directing officers to hold doors closed as the team passes to prevent an ambush and reminding other officers to hide behind the "engine block" of a nearby car, which offers the most protection from bullets.
The team quickly surrounds an exterior staircase and move together up it, exchanging places in their order so that officers with rifles take the lead ahead of those with handguns. When a worker exits a door, the officers yell at the man for compliance but — rather than overwhelm the man — enlist him in the search, getting him to open a locked door.
Once inside an office, they work quickly, switching on lights on their rifles. As they approach a set of doors, a series of shots ring out.
When they enter a hallway, the shooter is slumped over in a chair, dead from a self-inflicted wound.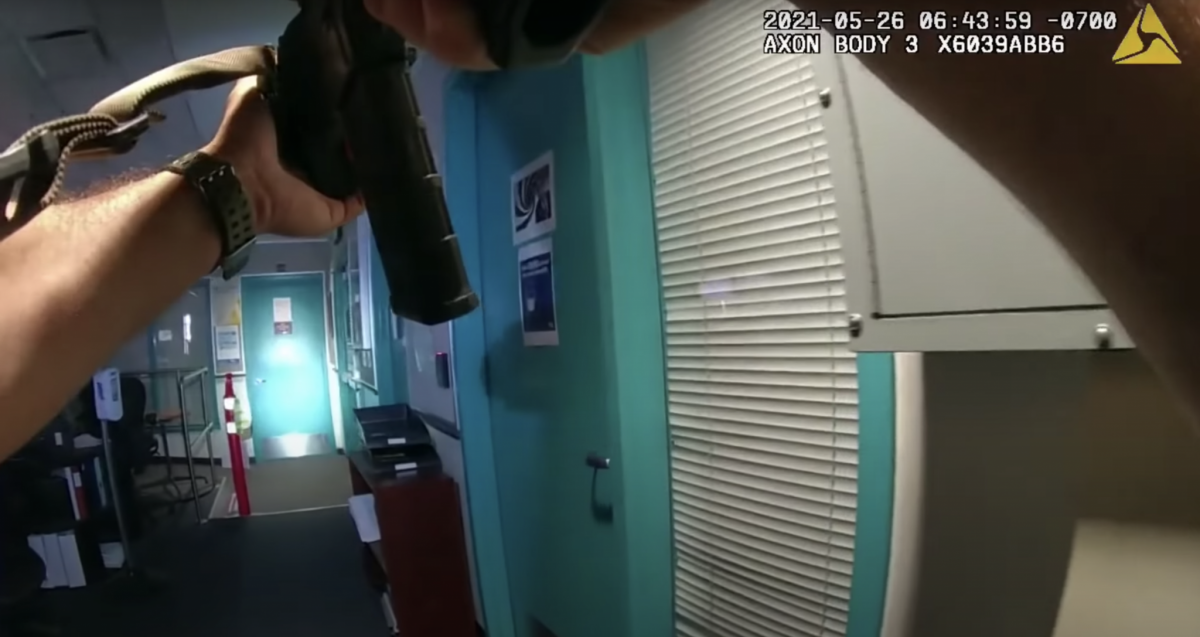 The San Jose incident offers a vivid illustration of a new, confrontational philosophy among law enforcement when facing an active shooter. Typically, mass shooters hold nearly every advantage over responders, from firepower to familiarity with the terrain and structures. Shooters also often plan specifically to die fighting police responders. As a result, police facing an armed suspect in a barricaded building have long favored containment, negotiation and, if necessary, a well-planned, heavily armed attack by specifically trained assaulters.
But because active shooters often continue to hunt for and kill victims until stopped by police, modern police doctrine advises instead that police favor speed and direct confrontation of shooters.
Which is exactly what the San Jose officers do in the video.
The group formulate no real plan, nor do they appear to communicate extensively with higher leadership. They move quickly as a team after one officer says, "Let's just go."
Read Next: