Multiple felony suspect Christopher Michael Straub, 38, was shot dead after ambushing deputies late Thursday morning and attempting to get into his firearm-filled vehicle.
In a press conference Friday, Sheriff Ian Parkinson of the San Luis Obispo Sheriff's Department announced the incident and said that 34-year-old Sheriff's Deputy Richard "Ted" Lehnhoff had sustained a gunshot wound to his leg.
"This is the third shooting that we have had in the past four months in this county, which is very unusual for San Luis Obispo County," Parkinson said during the initial Thursday press conference. Parkinson added that he had seen only one other shooting several years ago before these latest incidents.
Lehnhoff was in his patrol car Thursday morning when he identified a wanted felon's vehicle that was broken down on the side of the road in the area of Theatre Drive and Templeton Cemetery Road in Templeton, California. He continued up the street and identified Straub walking down the street. Lehnhoff turned on his flashing lights and attempted to speak with the suspect. Straub took off on foot, leading Lehnhoff and a second unidentified deputy into the cemetery.

Straub hid in thick foliage in the cemetery and ambushed Lehnhoff and his partner as they approached, firing several rounds from his pistol. Straub shot Lehnhoff through the right leg and took off again, rounding back through a neighboring vineyard to his vehicle.
Other deputies who had arrived in the area where the first gunshots were fired intercepted Straub as he attempted to enter the passenger side of his vehicle. Another gun battle ensued, with Straub fatally shot by the responding deputies.
Lehnhoff was airlifted from the scene to a local hospital where he underwent surgery. Upon his discharge from the hospital on Sunday, what looked like a hundred law enforcement vehicles and officers escorted Lehnhoff's vehicle all the way home. Supporters of law enforcement populated the overpasses on the highway as the escort passed through the area.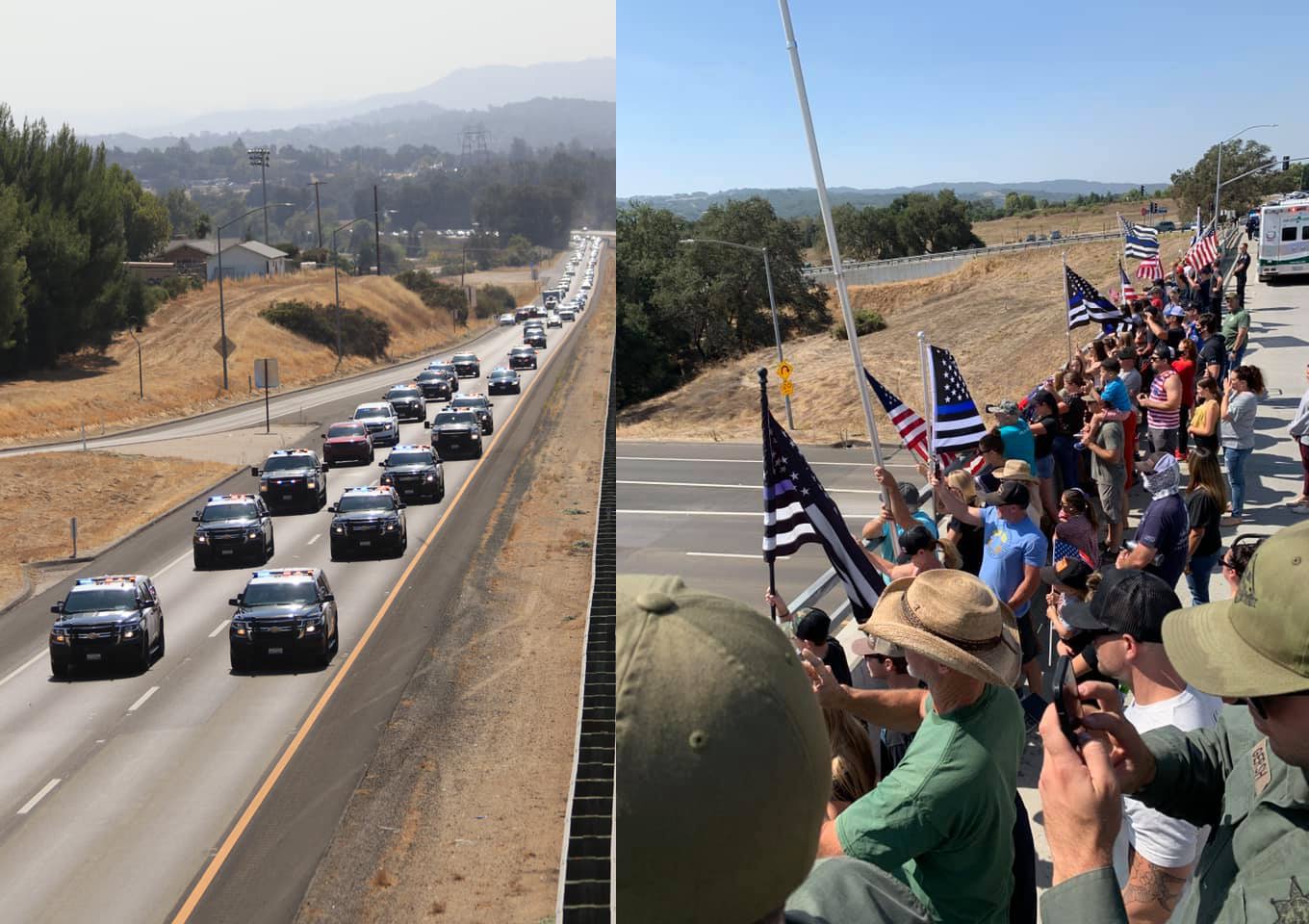 According to a San Luis Obispo Sheriff's Department press release, Straub was a known member of a white supremacist gang. Straub was under investigation by the Sheriff's Gang Task Force prior to the shooting and had a felony warrant issued for his arrest. He had been booked into jail 28 times and served two sentences in state prison.
The department conducted a search of Straub's vehicle and his apartment. Sheriff Parkinson said that deputies found several firearms in Straub's vehicle, three of which were loaded with chambered rounds. According to the press release, the firearms included "four assault rifles, one bolt action hunting rifle, one shotgun, two handguns" recovered from the vehicle, plus the handgun Straub was carrying.
Deputies who searched the apartment located several more firearms and discovered that Straub was illegally manufacturing parts for firearms.
The Sheriff's Office Major Crimes Unit is proceeding with an investigation into the shooting in conjunction with the California Highway Patrol's Multidisciplinary Accident Investigation Team.