Enraged and unpredictable, President Richard Nixon drunkenly milled about the Oval Office, ranting at anyone within earshot. The Watergate impeachment proceedings had infuriated and humiliated Nixon a month earlier. During his final days in office, Nixon's declining mental constitution spurred some of his closest advisers to question his sanity.
Outrider Post, a political publication against nuclear weapons and climate change, outlined the dire situation at the White House. "Apparently," Laicie Heeley wrote in 2019, "the situation was so bad that when Nixon fell victim to growing bouts of insomnia and fits of drunken rage, some Washington insiders started taking bets on when he might crack."
Many, including then-Secretary of Defense James Schlesinger and then-Secretary of State Henry Kissinger, thought the president might launch a preemptive military strike against one of America's adversaries. Schlesinger and Kissinger made sure Nixon wouldn't be able to launch a nuclear strike by ensuring that military commanders checked with one of them before executing any nuclear strike Nixon ordered during his waning hours of power.
"[Nixon] never noticed it, but the nuclear 'football' didn't travel with him as he boarded the helicopter, and later, Air Force One for his flight back to California," historian and journalist Garrett Graff wrote in a 2017 Politico article, describing the circumstances surrounding Nixon's final departure from the White House. "Yet, on that August day, it had been quietly removed from Nixon's hands — remaining behind at the White House with the incoming commander-in-chief, Gerald Ford."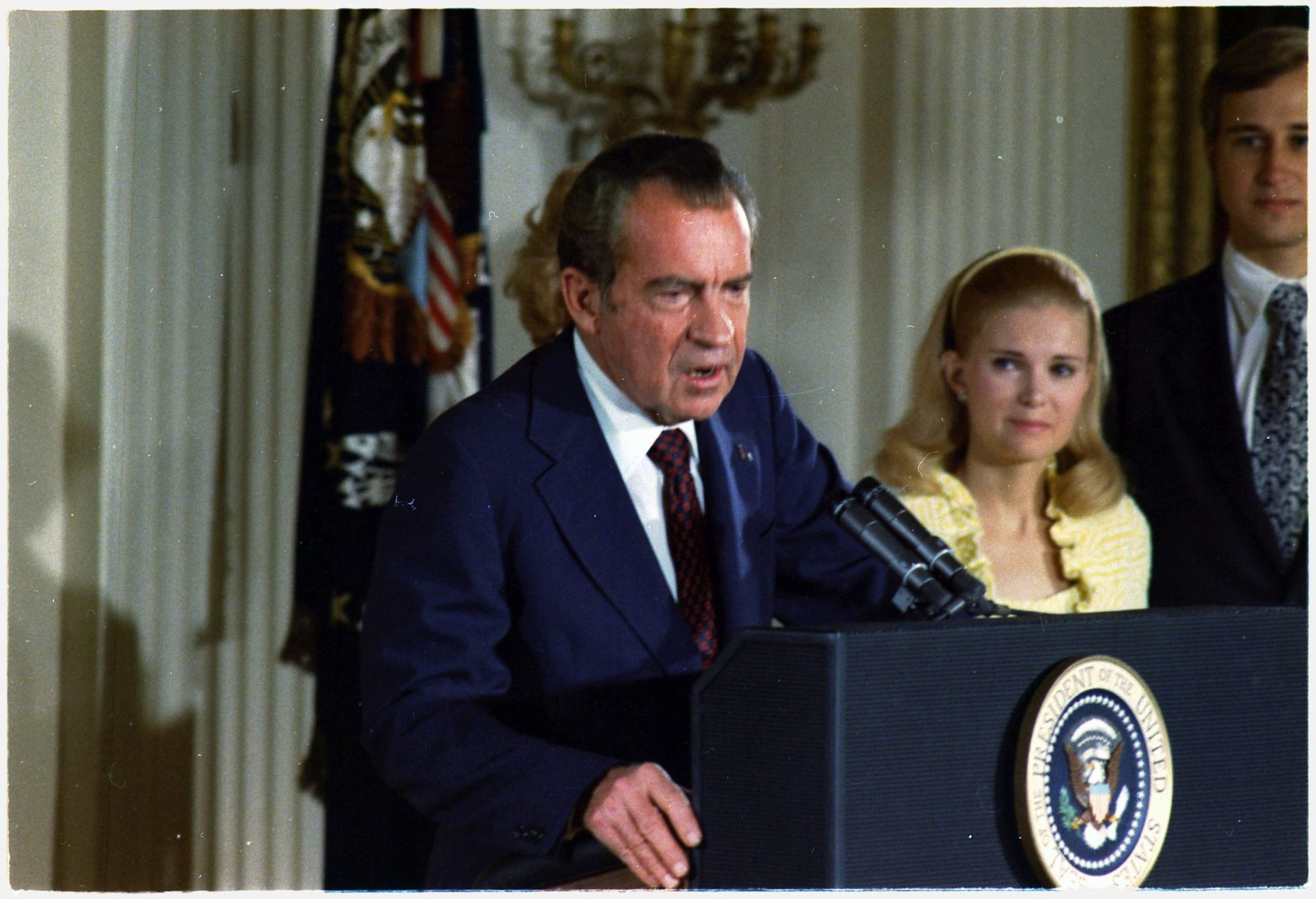 In the interval between Nixon's departure from Washington and Ford's assumption of office, nuclear command and control authority briefly rested with Schlesinger and Kissinger.
"Schlesinger feared that the president, who seemed depressed and was drinking heavily, might order Armageddon. And on that August morning, the military and White House aides had left the nuclear codes with the incoming president," Graff writes in his 2017 book, Raven Rock: The Story of the U.S. Government's Secret Plan To Save Itself — While the Rest of Us Die.
The Presidential Emergency Satchel — the so-called nuclear football — is a briefcase that always accompanies the president and contains the documents and codes needed to immediately authorize a nuclear strike. In the event of a missile attack against the US homeland, the president may only have some 15 minutes to order a retaliatory attack — an action that does not require congressional approval.
Every president since John F. Kennedy has been accompanied at all times by a military aide carrying that briefcase. Once launched, America's nuclear-armed intercontinental ballistic missiles cannot be called off.
Fast-forward nearly 50 years after Nixon's ignominious White House departure, and according to a recent book, Joint Chiefs of Staff Chairman Gen. Mark Milley allegedly undermined Donald Trump's authority to launch a nuclear strike during the outgoing president's final days in office.
Authors Bob Woodward and Robert Costa write in their book, Peril: "'Pulling a Schlesinger' was what [Milley] needed to do to contain Trump and maintain the tightest possible control on the lines of military communication and command authority."
Nixon gave his iconic "V" salute as he boarded Marine One on his last day in office. After taking office, President Gerald Ford pardoned Nixon on Sept. 8, 1974.
Read Next: