Sweat was pouring from LD Ryan's head as he checked and rechecked the gauges. It was 1952 and the Korean War was in full swing, but that was happening outside the metal skin of this U.S. Navy boat. Inside, Ryan's head was spinning as he made his way through the forward engine room. There was no shirt on his back nor dog tags around his neck — it was far too hot.
At least I'm not in a submarine, he thought. Those fellas have to strip all the way down to their skivvies so they don't overheat. His thoughts were interrupted by the familiar lurch in his stomach — seasickness was a way of life down there, deep in the bowels of the ship, away from the sky and the horizon, subjected to the endless rocking with no solid ground below. Ryan puked into the bilge, the lowest part of the ship that had long been filled with a potent mixture of oil, seawater, and vomit. It would be a while until they could pump it all out. He wiped his mouth and continued working.
One of many "snipes" in the Navy at the time, Ryan was responsible for several engineering duties on the ship. Their primary task was to monitor the ship's engines: "You go down in the engine room, take readings on the engine temperature, readings on the oil pressure, readings on everything," Ryan said. Everyone had their respective jobs during the Korean War, everyone did their part, and this was his.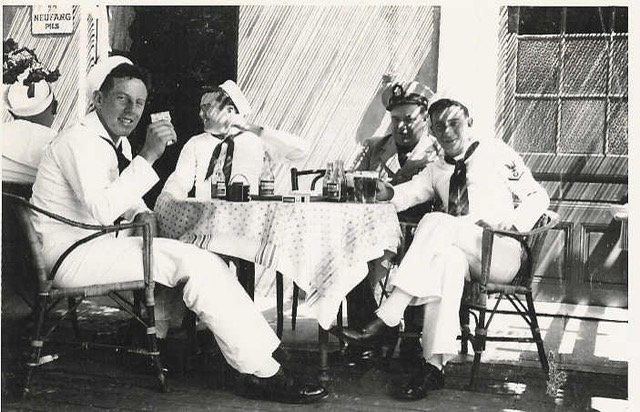 LD Ryan is my grandfather, and the stories he tells are not what you typically hear coming out of major wars. His aren't tales of infantrymen rushing hills or men selflessly leaping onto grenades. Wars were fought by men and women on all fronts, from the paratroopers gliding behind enemy lines to all of the Rosie the Riveters back home. Working in the industrial grime and sweat in the belly of a minesweeper for the Navy is one such position, and it's a story my grandfather tells often.
"I was sea sick a lot. We were constantly pukin' and no medals. You don't get any medals for puking," he said with a laugh.
LD Ryan is both crass and intelligent, rough but with a gentle soul. His memories of the Navy are recounted through sarcastic remarks about the most miserable times or humorous moments, like the many times he narrowly escaped reprimand.
The USS Tercel wasn't a particularly large ship — it was a minesweeper used to detect and dispose of mines in the water. The job was far from safe, particularly when they were the first ship conducting sweeps in the area. Despite the variety of detection methods available, there was always an element of danger, and an engineer like Ryan was subject to the fate of those above. If they missed something, it could be fatal to everyone onboard. His job was to keep the engines running as smoothly as possible.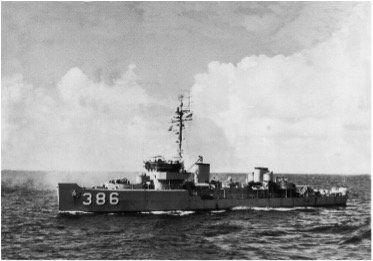 Ryan lived in the guts of the ship like a goblin in his cave, toiling relentlessly alongside a few others. The constant rocking and swaying leading to sea sickness is a recurring theme in his stories, but there were other factors that added to the continuous misery. Ryan said that the noise level was at a continuous 110 decibels, which gave him permanent hearing loss for high-frequency sounds. The temperature was high enough that dog tags would burn their skin, which is why they took them off.
"It was so hot and noisy, other sailors would come down there and then run back out," he said. "[We worked] four hours on, eight hours off. Over and over."
Despite the painful repetition, the job was often unpredictable. One time their engine was overheating to dangerous levels. Upon investigation, they found that one of their reserves of cooling water was full of jellyfish. Minutes later he was carrying buckets of jellyfish to the surface and throwing them overboard. Another time, they felt the ship swerve wildly, tossing them about inside. They had narrowly maneuvered away from colliding with another ship.
Ryan wasn't the most disciplined soldier, and "as I got bigger and meaner I didn't obey anyone." Though his words were dripping with sarcasm, it reflected his state of mind as he went about his duties. He felt that those placed in charge over him didn't always have his best interests in mind, and many of them didn't understand the job as he did, which became particularly problematic when it came to the officers.
Still, Ryan put the entirety of his efforts into his work, all the time. "They wanted to keep me because I was so stupid that I worked hard — but I got out anyway. I got a meritorious award for devotion to duty — the crew audibly moaned when I got it," he said, laughing again. "My job was basically just hard work. We weren't perfect or anything, but we worked hard."
After his stint from 1952 to 1955, Ryan got out as a Petty officer second class and sought a career in engineering; he credits the Navy with his desire for a higher education. He had a long family history of military service — his father served as a medic in World War II, and his great-grandfather had fought in the Civil War — but not of education beyond high school.
"But when I was in the Navy," Ryan said, "I ran into all these college-educated officers. They were a bunch of dumb jerks. I figured if they could do it, I could do it, too."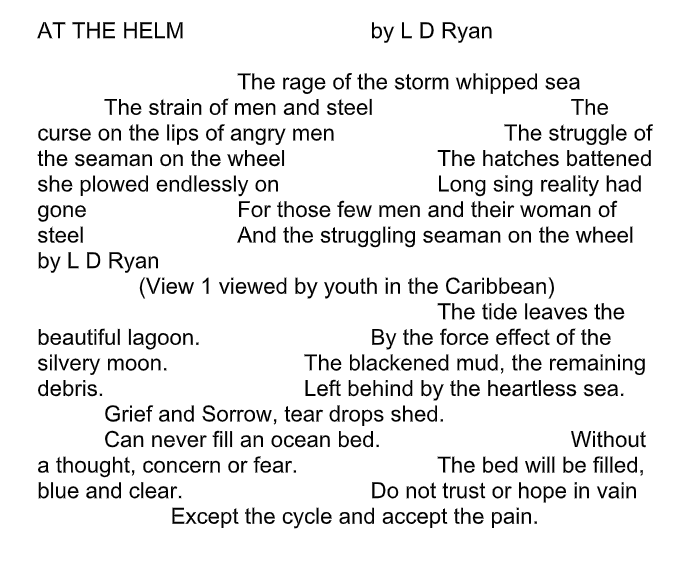 Every step of his educational pursuit, someone was there to tell him that he wouldn't be smart enough to continue onward. He didn't have the stereotypical academic personality, nor did he have the sensibilities of the "rich and educated." He was a young, rough Navy man who was hell-bent on bettering himself in any way he could.
"I was interviewed at one college; the guy there told me straight — he said I would never make it. I told him that 'I seen the light,' and that I could do it. He corrected me: 'SAW the light. You SAW the light,' with a disappointed look," Ryan recalled. "He thought I was dumb. Anyway, I made the honor roll that next semester."
Year after year, Ryan found that his work ethic was paying off and that he thrived in academia. After his bachelor's degree, he went on to secure his master's and eventually his doctorate in engineering. His career in engineering would stretch from teaching as a university professor to investigating product liability mishaps for courtrooms around the nation.
And that career began in the oil, vomit, and sweat on the bottom of a small minesweeper during the Korean War. Sometimes he struggles with not having fought in combat, as so many did during that time. But feeling that he didn't do enough during his time in the Navy is what often drove him to success and service in his community and his career — or, as he puts it, to be "a good soldier in life."