This article was originally published Jan. 12, 2021, on Sandboxx News. Follow Sandboxx News on Instagram.
This is Callie, the only search and rescue dog in the entire US military.
Callie and her handler, Master Sgt. Rudy Parsons, are assigned to the 123rd Special Tactics Squadron, Kentucky Air National Guard.
Callie was "born" out of experience.
In 2010, a catastrophic earthquake rocked Port-au-Prince, the capital of Haiti. The impoverished country's infrastructure doubled under the strain of the magnitude 7 earthquake, which caused apocalyptic devastation.
The US military responded in force to the aid of the tried Haitians. In that humanitarian effort, the Air Force Special Operations Command (AFSOC) played a big part because of their unique capabilities. More specifically, it was AFSOC's Combat Controllers (CCT), who specialize in airfield surveys and air traffic control, among other tasks, and Pararescuemen (PJ), who are the Department of Defense's sole specially trained and equipped search-and-rescue (SAR) unit, that contributed the most.
Master Sgt. Parsons was one of the Pararescuemen that deployed to the Caribbean nation.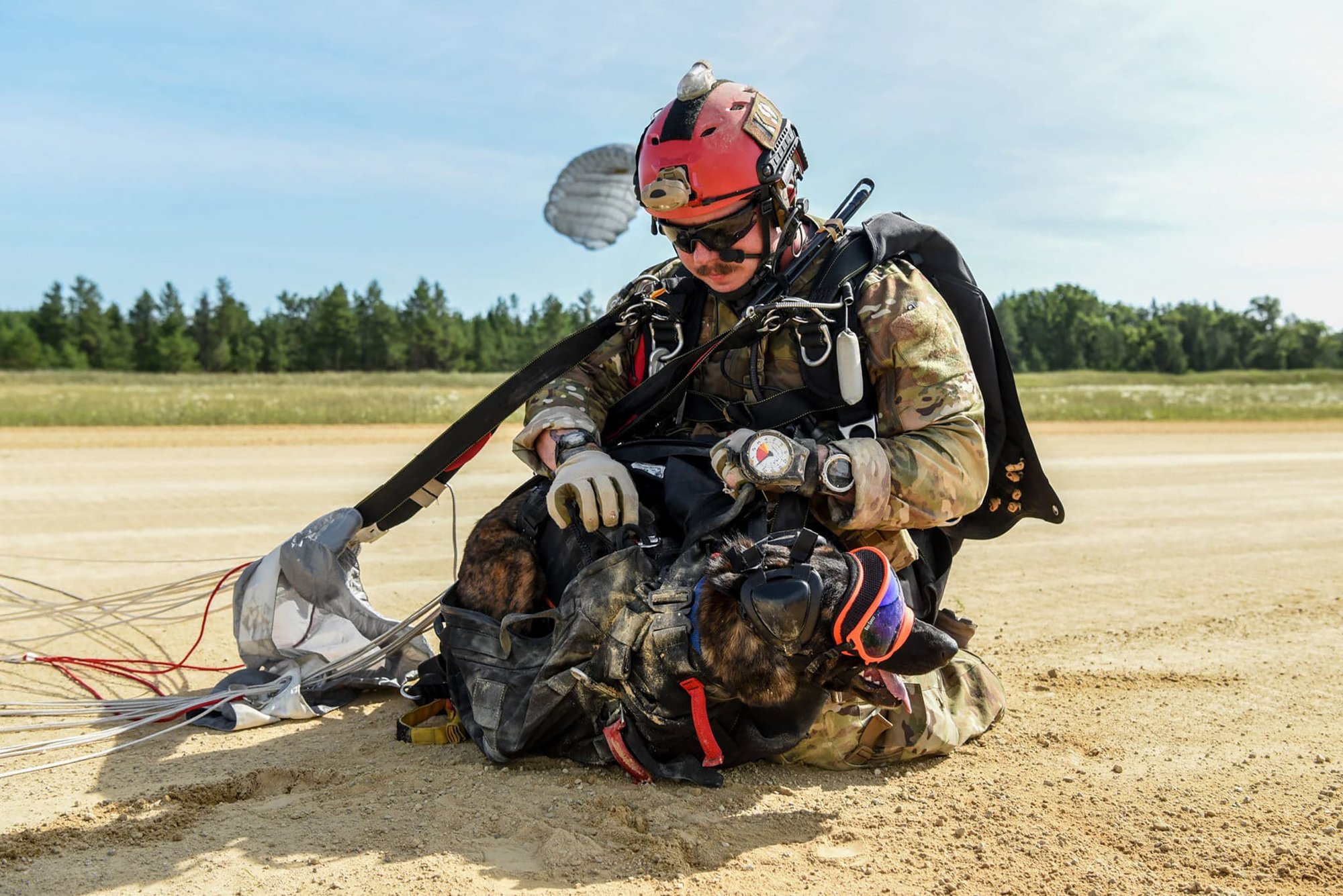 "Local sources were telling people that there was a schoolhouse that had collapsed with about 40 children inside," Parsons had said in a 2019 interview. "A team of special tactics Airmen went over and started looking through the rubble, just carrying these rocks off, looking for these missing kids. A few days into the search, (the Federal Emergency Management Agency) was finally able to land. They brought a dog to the pile and were able to clear it in about 20 minutes. There was nobody in that pile.
"It had been a couple [of] days of wasted labor that could've been used to help save other lives. It was at that time that we kind of realized the importance and the capability that dogs can bring to search and rescue. Every environment presents different difficulties, but it's all restricted by our human limitations. Our current practice is: Hoping that we see or hear somebody."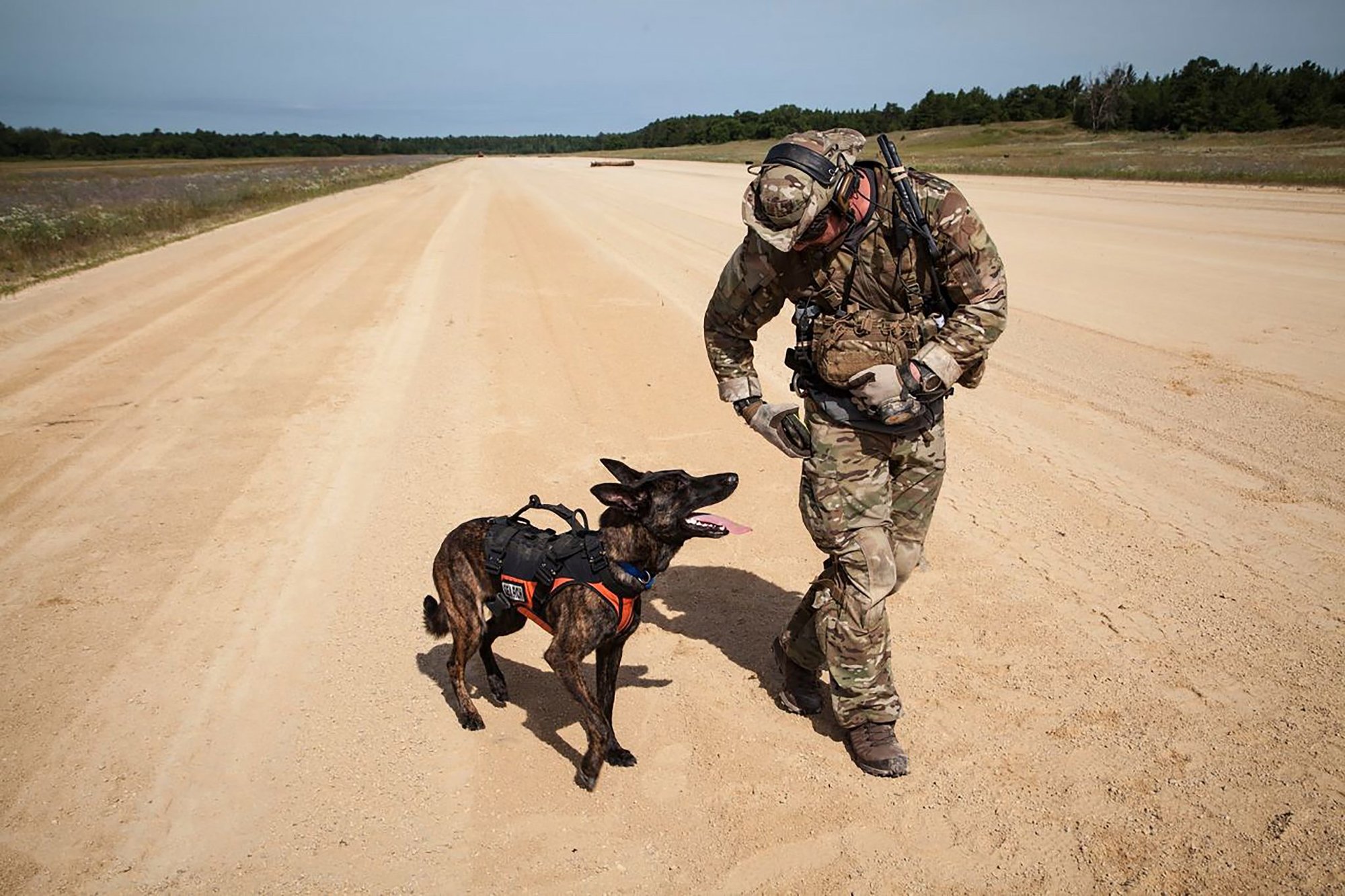 When he returned to the US, Parsons advocated and pushed for a search-and-rescue K-9 capability. In 2018, almost a decade after Haiti, his determination bore fruits and the Search and Rescue K-9 Program was created. The program aims to increase the effectiveness of Pararescue teams during natural disasters by pairing PJs with specially trained dogs.
The first, and only, canine to have been accepted in the program is Callie, a Dutch shepherd. What differentiates her from other military working dogs (MWD) and special operations military working dogs (SOMWD) is her ability to located people, injured or not, in adverse conditions. Whether it's in a forest, collapsed building, or the wilderness, Callie can use her nose, senses, and body to go where humans cannot go easily. And in emergencies, time is of the essence.
To be operational, Callie, and any future SAR dogs, has had to qualify in a number of insertion methods that Pararescuemen use, such as fast-roping, mountain climbing and rappelling, and parachuting (both static-line and military freefall).