The protestors who took over the Seattle Police Department's East Precinct and established a no-cop zone in the surrounding area have a clandestine armed security force patrolling the area, but news reports that the force is using "stop and frisk" tactics at points of entry and extorting businesses are false.
Coffee or Die spoke Saturday to several members of the force that provides security inside the Capitol Hill Occupied Protest area, or CHOP — formerly known as the Capitol Hill Autonomous Zone, or CHAZ. They described themselves as "safety awareness guards."
"Of course we have people carrying concealed weapons here. This is Washington state," said a young white man who identified himself as Francis. "We're a shall-issue state, which means if you apply for a license to carry concealed, the state has to give it to you as long as you don't have a felony and can pass a background check."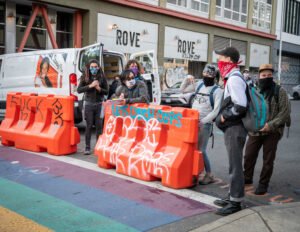 The guards would not disclose what percentage of their members carry weapons or how they are trained.
"The group that we're a part of, which I'm not going to name, has a lot of military veterans and former law enforcement who have gone more left since leaving the service," said one member who called himself JJ and said he was originally from Idaho.
"In Idaho, everyone has a gun," he said, endearingly. The state does not require adults who could pass a background check to apply for permits to carry concealed.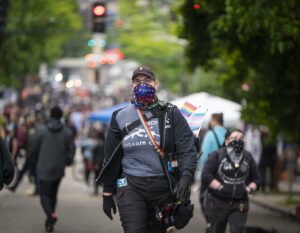 JJ, who wore a backpack, radio with earpiece, and a bulletproof vest under a Seattle Sounders jersey, said the group has no prerequisites for service in its ranks.
"We don't require any special certifications or training for anyone here, except for our paramedics, EMTs, and medical personnel," he said. "They're all experienced, qualified professionals."
When Coffee or Die asked if JJ and Francis were veterans, both laughed at the question.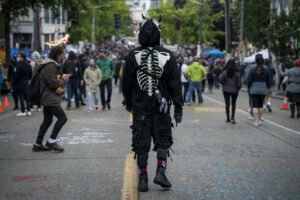 "Closest thing for me would be Eagle Scout," said Francis, who identified himself as a native Washingtonian and looked to be in his mid-to-late 20s.
Coffee or Die spent several hours inside the CHOP Friday and Saturday and observed the guards providing perimeter security, surveillance, and roving patrols. Guard members appeared to be those carrying radios and backpacks or manning points of entry.
"We're not being any more exclusionary than a bouncer at a club," said JJ as he manned a barricaded vehicle entry point at the intersection of Pike Street and 11th Avenue.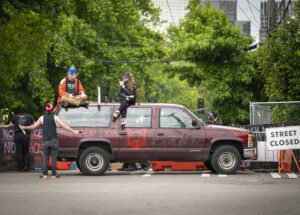 On Wednesday, 31-year-old Nikolas Fernandez sped through the same entry point with his vehicle and barreled toward protestors before Dan Gregory, a 27-year-old black man who was eating a hot dog nearby, rushed the driver and reached through his open window, grabbed the steering wheel, and yelled for the driver to stop.
Fernandez sped up, shaking Gregory momentarily before he caught back up and punched Fernandez in the face, prompting Fernandez to grab a 9mm pistol from the passenger seat and shoot Gregory in the upper right arm. Fernandez then abandoned his vehicle and fled, quickly turning himself in to police and claiming he acted in self-defense after Gregory tried to carjack him when his car stalled. Police charged Fernandez with one count of first-degree assault.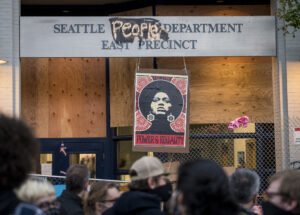 Recalling the incident on Saturday, JJ, who is a thin, middle-aged white man, said that if he had been there on Wednesday and thought it necessary to protect the lives of others, he would not have hesitated to shoot Fernandez.
Around midnight Friday, a man brandishing a roughly 2-inch utility knife and wearing a yellow "Liberty or Death" towel like a cape was corralled out of the CHOP by a handful of protestors. The man was acting erratically at the time, but JJ said the man spent several hours in the CHOP earlier that day and caused no problems.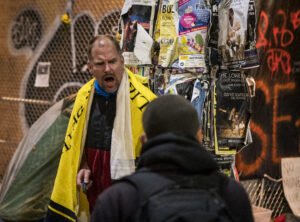 "He and a guy who was wearing a Trump 2020 shirt were hanging out for several hours during the day," JJ said. "We just kept an eye on them, and they didn't cause any trouble."
The guards look out for anyone who seems to not belong, which can safely be described as anyone who looks overly conservative.
"Got a suspicious-looking truck to our front," Francis said to JJ as he spoke with Coffee or Die. "Just want you to be aware."
"I see it," JJ responded. "Thanks."
It was not clear if the CHOP's safety awareness guards receive any formal training on a use-of-force continuum, but they appear to remain deferential to state laws governing the appropriate use of force. And in the event one of them uses deadly force inside the CHOP, Seattle Police would have to investigate.
JJ and Francis acknowledged that there are also many people inside the CHOP who are ideologically opposed to gun ownership and the use of deadly force, even in extreme circumstances.
"While we respect their views, they have to understand we have a job to do," JJ said. "We try to have conversations with them and discuss why guns are necessary."
Francis added, "I think you might be surprised how many people on the left are actually pro-gun. The way the media portrays us isn't really accurate."
---
Editor's note: An earlier version of this article included an incorrect photo caption. The T-shirt seen in the photo reads, "Arm trans people. Disarm cops."