On Feb. 28, 2015, Staff Sgt. Sebastiana Lopez stepped out of her apartment on an early Saturday morning in Charleston, South Carolina. The humidity was low, making a good day for a motorcycle ride. As she went back into her apartment to swap her car keys for motorcycle keys, she didn't know it was the first step toward a life-changing moment.
Lopez's four older siblings served in the US military in different branches. She looked up to them, eventually joining the US Air Force. She served for seven years as a crew chief on C-17s. Lopez's parents immigrated to the US illegally, and she felt that she owed her country for the new opportunities afforded to her. Joining the military was her way of saying thank you.
As Lopez was coming around a corner of the road on her motorcycle, an armadillo was in the wrong place at the wrong time. Her motorcycle and the armadillo collided causing her to crash into the curb, ejecting her from the bike and directly into a tree. She remembers bear hugging a tree and her leg kicking her in the face, breaking the motorcycle helmet visor. She fell to the ground and a plume of dust erupted. She never lost consciousness.
Lopez was dazed but immediately started thinking about how to survive. She tried to do blood sweeps, but her arms wouldn't move. She saw that her leg was positioned at an unnatural angle and thought, "Well, that sucks. I probably need to put a tourniquet or something on that." No matter how she looked at it, she wasn't able to self-administer aid due to the extent of her injuries.
Her lung was punctured by a broken rib, she had several broken bones, an amputated (above the knee) right leg, lacerated liver, ruptured spleen, and many other internal and external injuries. Lopez was losing blood fast, and every breath felt like a million stab wounds, but she maintained a goal.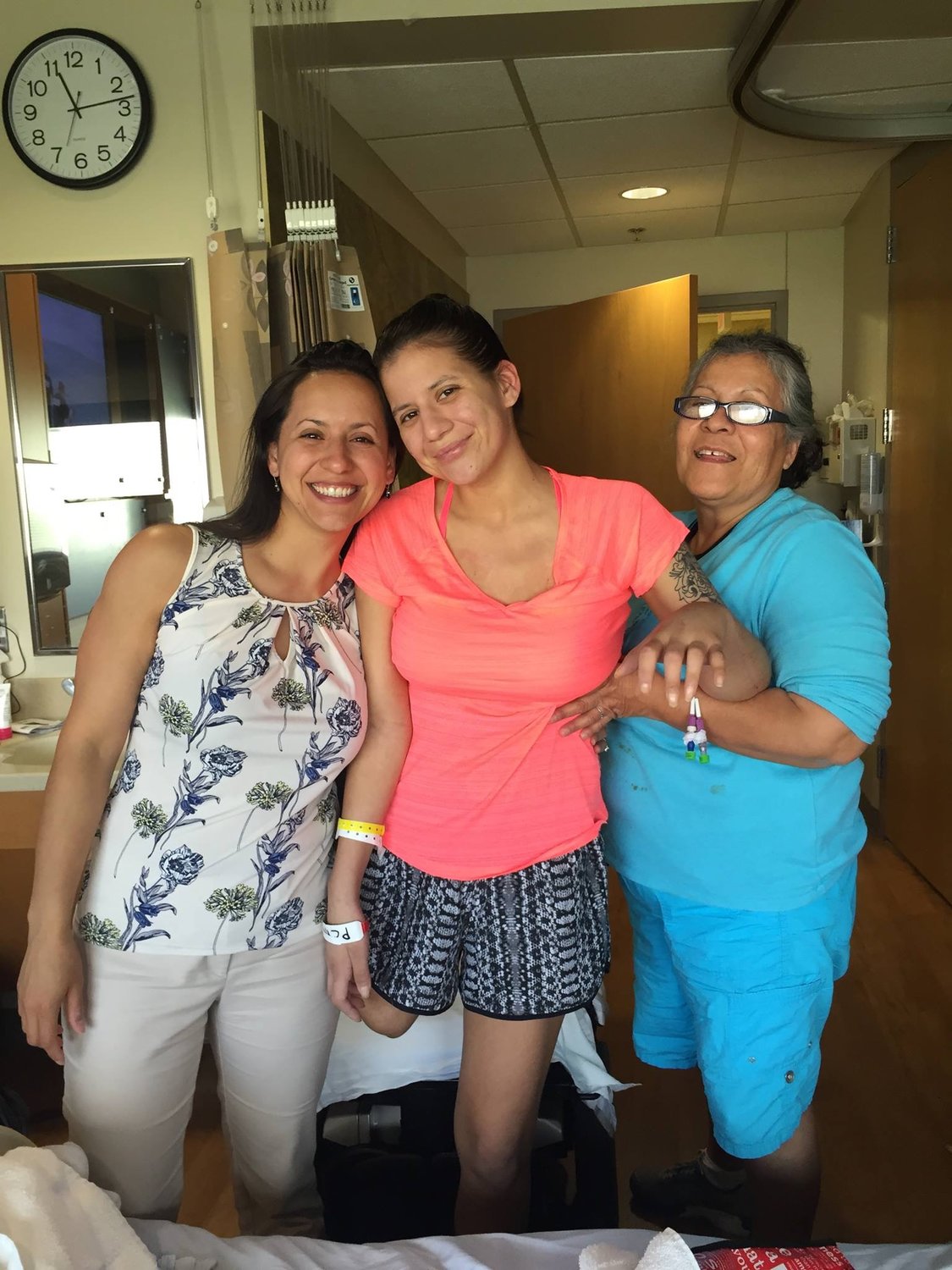 "So I kind of looked up at the sky, and I'm like, there's nothing I can do about this except for — keep breathing," Lopez said.
She focused on each breath, counting in her head while she held her breath to minimize the pain. Then panic crept into her mind: It was a Saturday morning, people were up partying the night before, and it's unlikely anyone will be awake to find her. Lopez stayed calm but couldn't help thinking that this might be the end.
"I was pretty happy with the life I had already lived — even though it was very short, 24 years old at the time," Lopez said. She accomplished what she had always wanted to do, giving back to her country by joining the Air Force. As she settled into being okay with the fact that she was dying, a car drove past.
She said that the first thought that popped into her head was, "That's a stupid-looking car." Then she realized that the person driving that car might be her ticket out of there. Luckily, her motorcycle had come to a stop up the road. The bystander saw it and immediately threw his vehicle into reverse. He found Lopez lying next to the tree, and the fear on his face was evident. He panicked, and the first thing he asked her was, "Do you want me to call an ambulance?"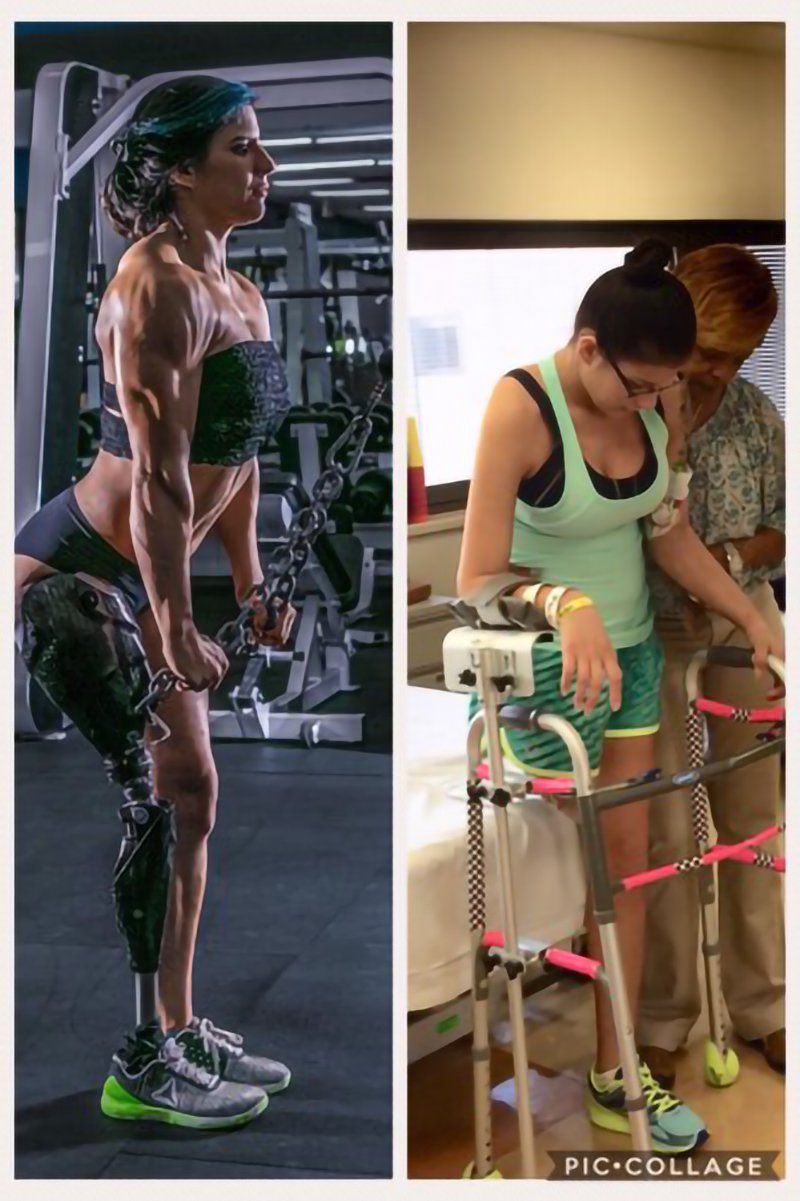 The ambulance arrived, and even though Lopez couldn't see him, she recognized the voice of one of the responders. He was an Air Force reserve pilot she had flown with during an operation in Malaysia when they were designated as a backup C-17 for the president while he toured that area of the world. Hearing a familiar voice, especially someone she knew from the military, immediately put her mind at ease. I might make it through this, she thought.
Despite the massive amount of blood loss, Lopez can recall up until the point when the hospital staff wheeled her into the OR. Her heart stopped not long after her arrival at the hospital, but they managed to get her back. She woke up a month later surrounded by her family, and she felt like she might have been in purgatory. A priest was close by and had been waiting to give Lopez her last rites in coordination with her Catholic beliefs.
"They knew telling me the news that, hey, you don't have a leg anymore, was going to just tear me apart," Lopez said. "To be quite honest, it didn't. At least initially because I was just happy to wake up. It didn't really hit me until a few months later that life was going to get pretty shitty and pretty hard, especially when I lost my hand function in both hands."
Shortly after waking up from the coma, Lopez sustained a stroke and lost her speech. Her family added a degree of frustration when they unknowingly talked slowly and loudly to her, thinking she had lost the ability to process information as well. This was one more blow, but it didn't shake Lopez — it was just another speed bump.
"I was like, Motherfuckers, I understand what y'all are saying — I just can't verbalize my answer or write it even," she said, adding that she felt trapped, much like when she was lying on the ground after her crash.
Lopez loves sports, and the driving force to compete again kept her internal fire blazing. As she completed her speech therapy and regained the ability to speak, she started to feel better about herself. Her first steps with her prosthetic leg brought even more confidence.
Even while Lopez completed speech therapy and physical rehabilitation, another battle loomed under the surface. One of the first movements she had to do was rolling from side to side, and whenever she did, the incision from her abdominal surgery would start bleeding. The hospital staff was growing concerned and asked her if she wanted to stop.
"I was like, 'Hell no, I need to start moving!'" she said.
She recovered to an extent while staying at the Medical University of South Carolina hospital. She described it as similar to a scene out of Kill Bill when Uma Thurman's character wills herself out of paralysis by saying, "Wiggle your big toe."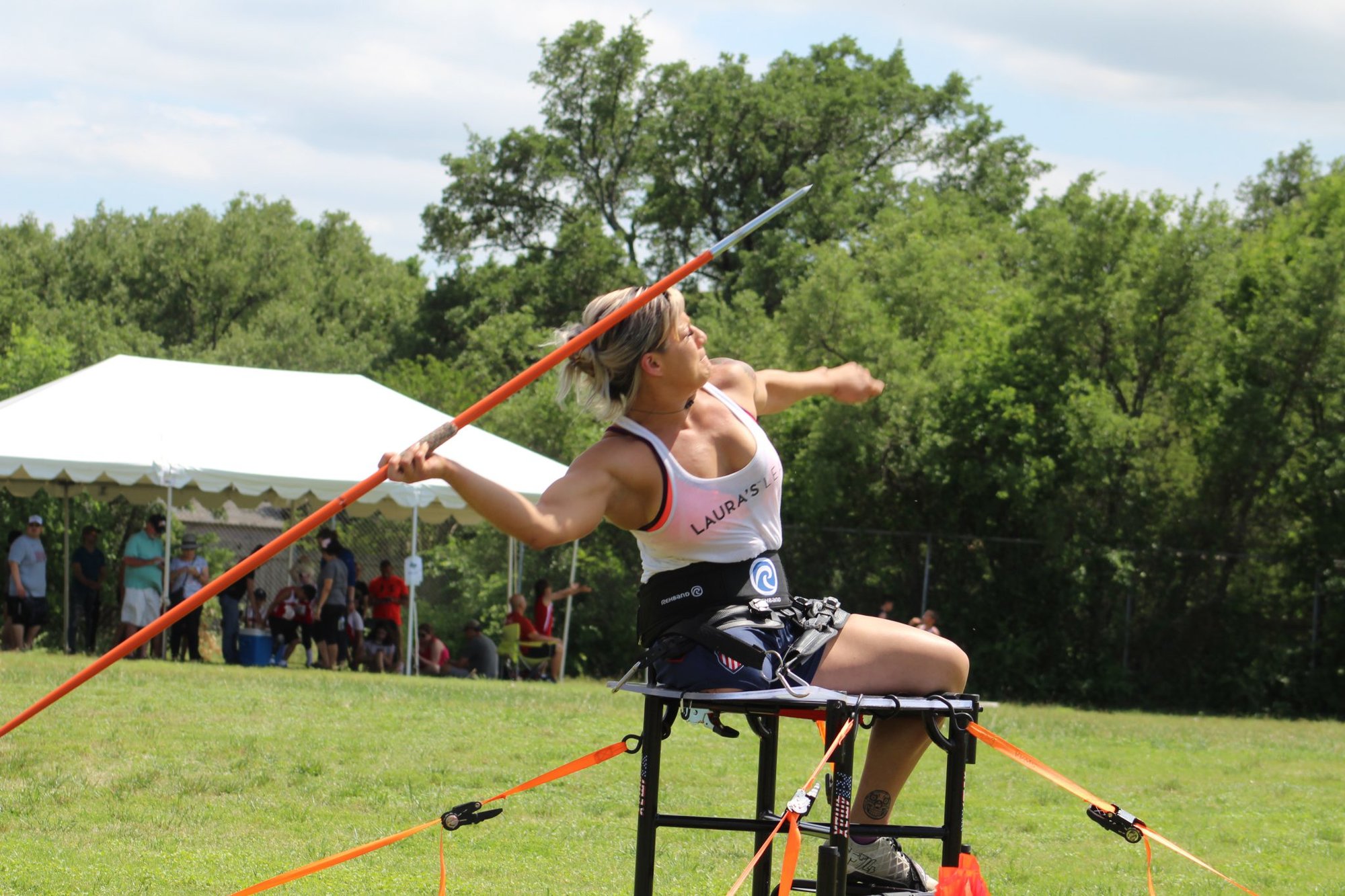 Lopez aggressively pursued her exercises while running a consistent temperature of 104 degrees Fahrenheit. From rolling side to side to putting on her socks by herself, she was making progress. But then she started losing energy again and didn't feel well. Her recovery was coming along, but she lost function in her right arm. She was scheduled to be transferred to the Walter Reed National Military Medical Center for a higher level of physical rehabilitation.
Her new doctors ran tests and found out that Lopez was septic, which is a widespread, serious infection within the body that can have lethal consequences. She was transferred directly into the ICU.
Once recovered, Walter Reed brought on even harder rehabilitation training — and the results were even better. Lopez worked hard and rep after rep moved closer to her goal of competing again.
She spent hours every day sending signals to her hands and any other part of her body that wouldn't readily move with her internal instructions. She eventually regained some command over the movement of her fingers.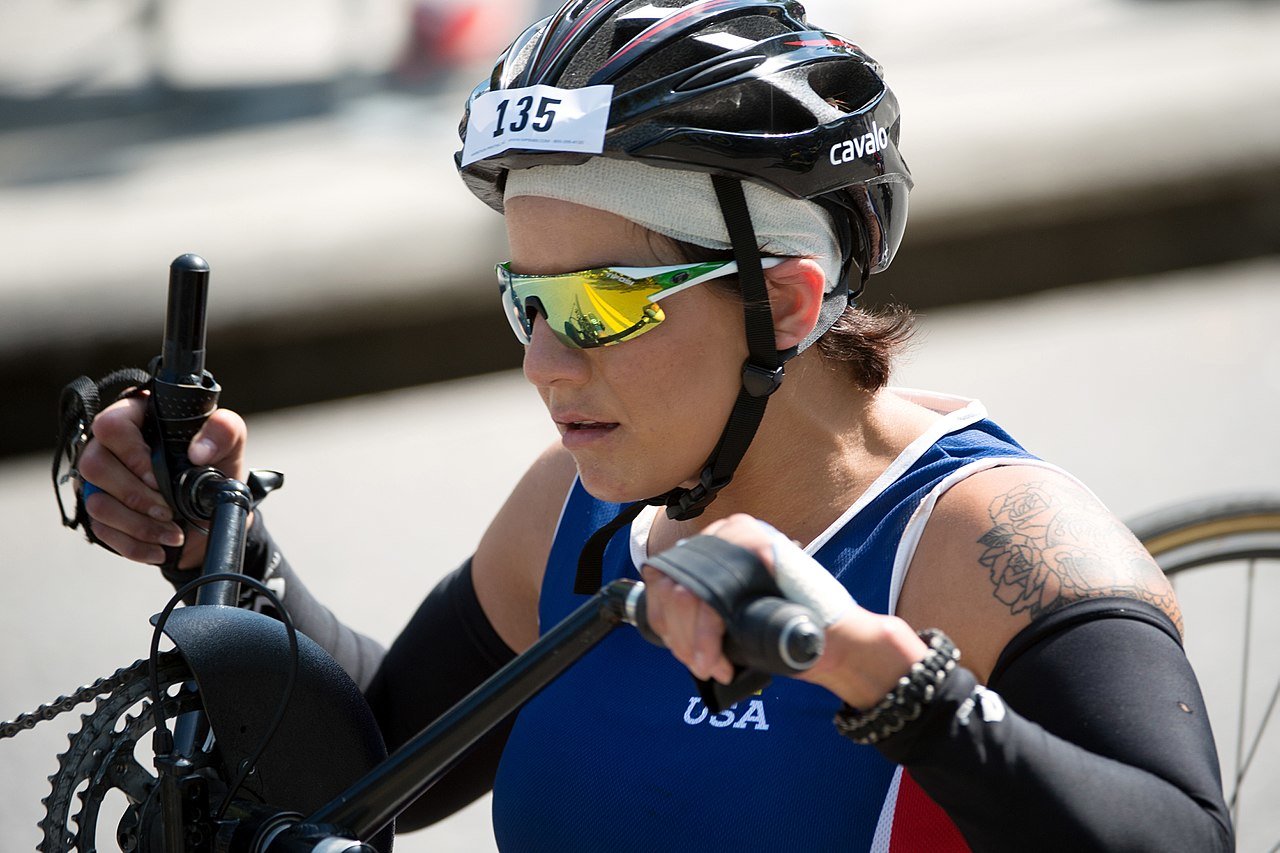 After her incident, the Air Force enrolled Lopez in what's called the Casualty Care Program and the Recovery Care Program. She was assigned a Recovery Care Coordinator (RCC). Lopez transferred to outpatient physical rehab, and one day while she was working on different exercises, her RCC walked up to her. She asked Lopez what she thought about doing an adaptive sports camp.
"No, I'm not ready. I'm still rehabbing my hand — I want to be able to wipe my butt first before I go compete or learn a sport," Lopez responded. Her RCC told her a white lie: "You're still in the US Air Force, you kind of have to."
Lopez later found out that wasn't the case, but she felt that the RCC knew she needed a little push. The RCC signed up Lopez, unbeknownst to her, for a beginner's adaptive sports camp through the Air Force Wounded Warrior program.
What her RCC said was a beginners camp was actually the tryouts for the Air Force's Wounded Warrior Games team. Lopez found out once she arrived at the "camp," but with her no-quit spirit, she persevered and made it onto the team.
Within a year of her accident, Lopez competed in the Wounded Warrior Games and earned five gold medals for two-hand cycling races, shot put, discus, and sitting volleyball.
"The funny thing about the 2016 Warrior Games, I broke my arm the first day we got there," she said, laughing. "So I competed the entire week with a broken arm."
From that first Warrior Games to her most recent competition performance in the 2019 Team USA Parapan American Games, Lopez has achieved her goal of competing again — and then some. In addition to the medals from the 2016 Warrior Games, she went on to medal over 19 times in different events over the course of the next few years, and she even established a world record in discus.
Lopez has defied the physical disabilities that the armadillo caused that fateful Saturday morning in February 2015.
"I might still pursue [Team USA] in the future, between school and everything else — I'm kind of looking into starting a family soon, and I want to focus on that," Lopez said. "I'm not saying that's the end of the world for me. I probably will try to pursue it, but maybe 2024 for me."