John Warner, who served in World War II and the Korean War before going on to represent Virginia in the US Senate for three decades, died of heart failure Tuesday. He was 94.
Warner's wife and daughter were at his side when he passed at his home in Alexandria, Virginia, Tuesday evening, Military Times reported.
Warner was born Feb. 18, 1927, in Washington, DC. He enlisted in the Navy during World War II and served as a Marine pilot during the Korean War. He earned a law degree and became a clerk in the US Court of Appeals for the DC Circuit after the war, eventually becoming an assistant US attorney in the late 1950s, CNN reported.
He served as secretary of the Navy from 1972 to 1974. Two years later, he met his future wife, Elizabeth Taylor, when the British ambassador asked Warner to escort the Hollywood star to an embassy party honoring Queen Elizabeth.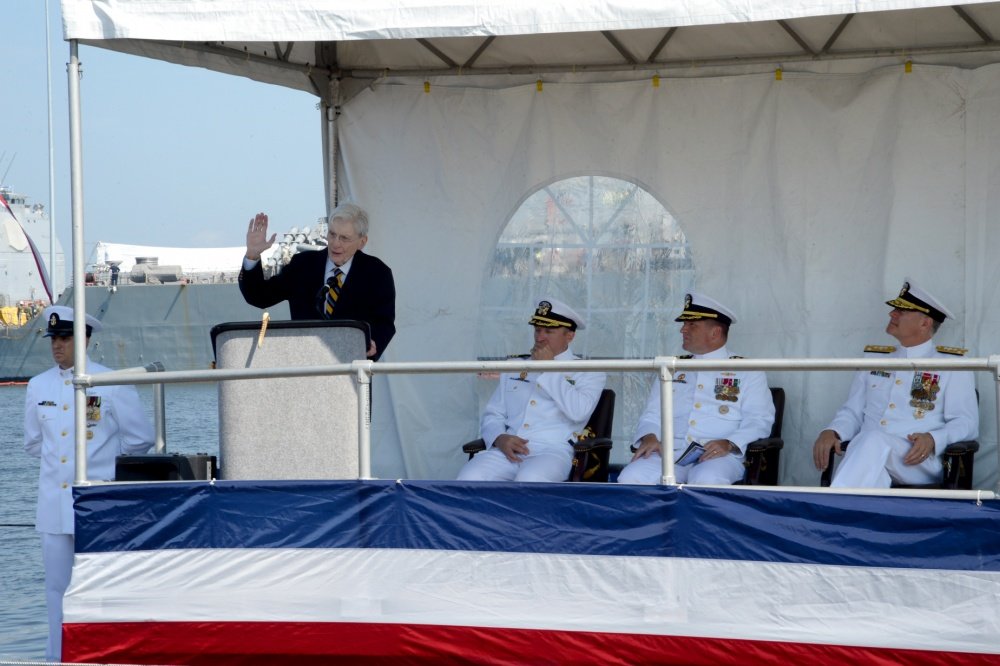 Soon after their wedding, Taylor helped Warner campaign for an open US Senate seat in Virginia. His marriage expired after several years, but his career as a senator lasted five terms until he retired in 2008. Warner, a Republican, garnered support from moderates on both sides of the aisle and was so popular with Virginia voters that Democrats didn't bother challenging him in 2002 for his reelection, CBS News reported.
"I had the privilege of serving alongside John in the Senate for three decades," President Joe Biden said in a statement Wednesday. "The John Warner I knew was guided by two things: his conscience and our Constitution. And, when acting in accordance with both, he neither wavered in his convictions nor was concerned with the consequences."
Warner's military service made him one of the most highly regarded voices on national security issues. He chaired the Senate Armed Services Committee during the beginning of the Iraq War. Warner originally supported the invasion, but he changed course after a 2006 trip to Baghdad and later called on the Bush administration to start bringing troops home.
Warner is survived by his wife, Jeanne Warner, and his three children.
Read Next: 'Long Overdue' – Biden Presents Medal of Honor to Legendary Ranger Col. Ralph Puckett