Federal authorities have indicted the fugitive who wounded a senior inspector US Marshal and his K9 working dog during a June 2 shootout in Chicago.
On Friday, June 17, federal prosecutors charged 19-year-old Tarrion C. Johnson with shooting the agent with a firearm. He remains in custody without bail on Illinois state charges that include five counts of attempted murder, two counts of attempted armed robbery, and two separate counts of animal cruelty.
If convicted on the federal charges, Johnson could spend the rest of his life behind bars. The mandatory minimum sentence for discharging a firearm during a crime is 10 years in a federal penitentiary.
No attorney is listed for Johnson in either the Chicago arrest records or federal court documents. No initial appearance in federal court has been slated.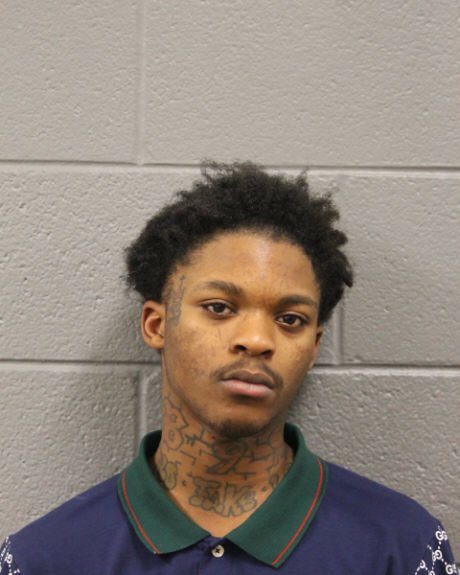 The Chicago man's adult rap sheet includes a 2020 collar for soliciting unlawful business and an early 2021 charge for possession of a controlled substance.
Johnson's latest charges stem from an early afternoon June 2 raid on his West Belmont Avenue apartment by members of the Great Lakes Regional Fugitive Task Force. They wanted to serve an arrest warrant for an incident 14 months ago that allegedly involved Johnson trying to rob two Chicago residents, Kenneth Scott and Nicole Smith, after they gave him a ride.
The team outside Johnson's flat in the Belmont Cragin neighborhood included federal agents, such as the unnamed senior inspector US Marshal, plus local law enforcement officers who were temporarily deputized as federal agents, like the Chicago Police officer known in court documents only as "Victim 2."
FBI agents say the senior inspector, his dog, and other members of the task force formed a perimeter around the building. Another team hustled to a locked rear alley door that led into a porched courtyard just outside Johnson's bedroom. Yelling "Police!" they breached the door and rushed inside, stopping at a second door that opened into Johnson's apartment, prosecutors say.
Cameras mounted on their body armor captured the team repeatedly bellowing that they had a warrant and for Johnson to come out, but he never responded, according to the FBI.
The Chicago cop known as "Victim 2" breached the second door and saw Johnson run to fetch a firearm, the FBI affidavit states. The officer shouted "Gun!" and Johnson fired at him with a 9mm semiautomatic pistol before sprinting to his bedroom, according to the indictment.
Johnson blasted three rounds through his bedroom window at the senior inspector and his dog standing in the alleyway, striking both of them, before rushing into the living room, where he leveled his firearm at the Chicago cop and fired another round that embedded in his ballistic shield, the court record reveals.
Prosecutors say the officer returned fire, forcing Johnson to bolt for an east side door and then burst outside, where he was nabbed by waiting task force personnel.
After the shootout ended, the team found that one round had burrowed into the senior inspector's ballistic vest, another had hit his finger, and the third had torn through the dog's shoulder. The bullet splintered, its fragments peppering the K9's lungs.
The dog was discharged from an Illinois veterinary hospital three days later.
Read Next: Firefighters Rush to Rescue Dog Trapped in Convertible Filling with Canal Water