Genesee County Sheriff Chris Swanson, who serves residents in and around Flint, Michigan, became a viral sensation when he walked into a sea of protestors May 30, put down his helmet and baton, and said, "You tell us what you need." When the protestors started chanting, "Walk with us!" Swanson energetically replied, "Let's walk!"
Swanson's actions that day earned a lot of credibility and trust for him and his department, but he said it was just the beginning of a much-needed dialogue between the police and the communities they serve. Coffee or Die sat down with Swanson on June 10 via Zoom to talk about the viral video, leadership, and the current national civil crisis. This interview has been edited for length and clarity.
COD: Why did you do what you did in that video? What prompted it?
CS: I'm a student of leadership, and I make it a point to read and study and take action every single day at the micro level. As a veteran police officer in an urban environment for 27 years, I'd like to say it was planned, but it wasn't. By taking off the helmet and laying down the batons, I saw a little break in the line with a fist bump. It was just instinctively the right thing to do. And it turned out to be the best decision I've ever made in my police career. As leaders, we're called upon to take action, and oftentimes, when it comes from the subconscious, it comes from the heart. That's why leadership is an everyday process.
COD: What's your leadership philosophy? How do you get things done as a leader?
CS: I am very attuned to people in positions of leadership that have failed to be a leader. And we see that across the country and around the world in different contexts. I'm a very observant leader, and I believe in servant leadership. I'm not going to ask anyone to do anything that I won't do myself. I'm going to be in the ditch with you. That night in the video, I could have stayed with the incident command, but that's not where I thrive. I thrive on the front line. So my philosophy of leadership is observe successful and failed leadership, be a student of leadership, and lead by example.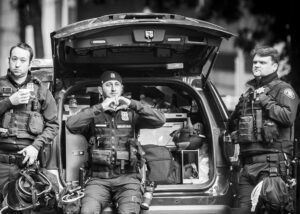 COD: Tell me about your policing philosophy. What do you think works and what doesn't?
CS: Being the sheriff, you're the people's guardian. I am involved with our entire county because I have to recognize there's different issues and concerns in the different communities I serve, which is the urban community, or 10 miles away into a farming community, or 10 miles away from there in a more affluent community. So my philosophy of policing needs to relate to all of those populations because they all have different concerns. You have to be authentic. You have to be intentional. It's preaching in people's churches. It's talking to their kids. It's taking care of people whose kids get tossed in jail. It's about being out there all those times.
We don't answer 911 calls, make traffic stops, and catch drunk drivers 24/7. A lot of what we do is proactive service and going out there and building those bridges. So when the wheels of life do fall off, they can look at you as, "Hey, you were there in the sunshine, and now you're here in the storm. I have faith in you," which is exactly what happened on May 30. When I walked into that crowd, they saw that my heart was right. And when I asked what I needed to do and I responded with action, they had faith in that. A good police leader has to be able to adapt to different situations and needs.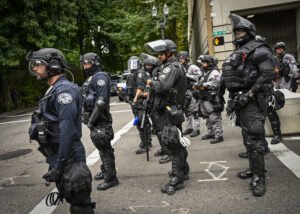 COD: How do you address the need for your law enforcement agency to reflect the community it serves?
CS: I've been an entrepreneur my whole life. Police work is business, and you have to create brand loyalty with your community so they are proud of the agency that's policing them. If you live in a black community and you have all white officers, why is that? Because you have failed to attract African American candidates to be a part of your organization. Well, that's a leadership problem. That's a culture problem. And that's what I'm talking about when it comes to police work. We learn the most when it comes to these storms. George Floyd changed American policing forever. We have to do business different.
COD: How do you balance that need for institutional fidelity and trust among the brotherhood of police and first responders but also accountability within the ranks?
CS: I love being a part of the thin blue line — the line between order and chaos. I'm very honored. I'm a good cop, and I love my career. There's nothing wrong with having codes that instill trust and camaraderie because we deal with so much. You need people that can relate and understand. But that doesn't cover wrong. You can't cover wrong by saying the code covers all. Those days are long gone. Wrong is wrong. If you make a mistake in your agency, you try to train it out. You have to discipline it out. And if those don't work, you've got to cut it out. And you're seeing that more and more. The code is good, and there's discretion. But the code doesn't cover crime.
So for all my police brothers and sisters, especially those that are right in the thick of it, stay the course. Don't give up on your communities. Don't give up on the profession.
COD: What do you think of this idea of withholding federal funding from agencies that don't clean house, so to speak? And what about the idea of increasing transparency when it comes to complaints against officers or bad paper?
CS: There is nothing that should protect bad police leadership or an agency that has lost faith and trust with the public. That model can't work. If you get somebody that has a history of aggressive behavior, assaultive behavior and it's not enough to fire, or you have somebody that makes racial slurs, put that information out there in a national registry. So if you let that person go, they can't cop shop and go to another police agency and start over, because you can't change that rotten heart. You can't change that background. They're going to do it again to a different community member.
Police work is the most criticized, the most critiqued field on the planet. There's nobody else that has more eyes looking at you than law enforcement. So when you're a cop, you take all the brick siding off your house, and you put up big glass panels because everybody's watching. We don't like to let people in sometimes, but if this is going to help the trust between the community, have at it. We're public officials.
COD: What are your thoughts on institutional racism and unconscious bias? Are these issues that can be addressed through training?
CS: Unconscious bias and prejudice to me are two different things. Unconscious bias means I'm uninformed. I've learned more about Black Lives Matter in the last week and a half than I have my whole life. I'd never met the president of Flint Black Lives Matter, but now we talk almost every day. His name's DeWaun Robinson.
We say all the time, "To be unclear is to be unkind." That creates a bias just because you don't know. And when you go out there and say, "Teach me about your culture; teach me about your way of life; teach me about your faith," now I don't have a bias because I understand it.
That's different from prejudice. Prejudice means I don't like you because of your faith. That has no business in police work. We're there to protect the Constitution, both the national and the state level. We're there to be unbiased, unprejudiced, and to enforce laws and serve people — and that's all people.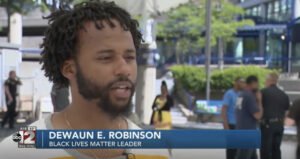 COD: Tell me more about the relationship with your local Black Lives Matter leader. How did that come about, and how's that going?
CS: Well, that came about because there's this huge event that happened in the middle of the business district in Flint. And prior to all of this, the relationship between police and Black Lives Matter has been seen as adversarial. So it goes back to leadership. I could keep that divide going and just say, "Hey, you know, we got this night over with. Let's go back to the regular basis," but that's not how I operate. If we're going to have that night of success in Flint, Michigan, of all places — known for crime, known for poverty, known for poisoned water, known for a pandemic that just killed a bunch of people — then we need to bring something good out of it. So those conversations started that night. They had to. The burden falls on us.
I told our local Black Lives Matter leaders, "Listen, you're dealing with a guy who has no off button. I'm going to make this relationship work. I'm going to make a communication line that's going to be constant. I want you to trust me by my actions." So the guys I met May 30, we've been sitting down and talking. They're all normal folks. Police are normal folks. We're human beings. But what we do and what we stand for — if they don't match, if they don't break down communication and talk — there's going to be a natural divide.
So it's been just over a week, but they see that our heart is in the right spot — at least this command. They're seeing that our actions are coming through as, "Okay, this guy means what he says, and he's actually taking steps in the right direction." And it's never going to end. It's going to be a continual process. If you want change, you better be part of that change and make it happen.
COD: What are your thoughts on the push to defund the police or reallocate funds away from police departments and more toward other community services that support communities of color?
Well, if you have failed leadership and a failed trust in your police agency, then move those funds to either a police authority or sheriff's office or even a state patrol or something. Come in and restore that police model. But you can't defund law enforcement, just like you can't defund the military. There has to be a line of defense between order and chaos.
But when it comes to defunding and allocation change, we have to be all things to all people. Do we feel the burden of mental health on the street? Absolutely. Addictions? Absolutely. Overdoses from opiates? 100 percent.
We're expected to be all things: accountants, pastors, teachers, parents and law enforcers. There's so much burden on a law enforcement officer. So do I think other people could come in and try to take some of that burden? Yes. But it all comes down to this: When someone calls 911, the cops are coming. Every situation is different, but you can't possibly take away all the funding to put the best person in that spot.
Oftentimes we put a damper on what's happening, and then we bring in resources. I agree with that. But do I think social workers and counselors are going to ride in police cars 24/7/365? I don't know how that's possible. But if a police agency doesn't have that ability to tap into that resource, then I think that's a void. But you can't defund law enforcement. You just need to get a model that works for the community because we're still going to have domestics. We're still going to have homicides, robberies, active shooters, crashes. We're still going to need investigations. It's our job as law enforcers to restore trust back in our communities around the nation.
Invest but also fund police agencies that are worthy of the public's trust — that have top-notch police executive leadership. But to just say that this city and this community has no police, I can't grasp that in my mind. There's a balance.
COD: What are your thoughts on the militarization of police? The federal government has sort of opened this flow of tactical gear and vehicles. Are police agencies across the country over-militarized?
You're talking to a guy who does not have military vehicles, does not have HMMWVs and six-by-sixes that have been recommissioned from the military because I believe that it sends a psychological message of being militant. And that triggers another psychological response for the people who see that. Of course they look cool, but what message are we sending?
Are there times we need helmets and shields? Yeah. But what you're seeing across the country is a line in the sand of a very militant police force, which many times it's because of the situation. My message is, how did we get there in the first place?
Just like on that day, I saw the crowd coming by the hundreds, and I was thinking, "How did this happen? How do we get to the point where we now move to that military response?" Well, maybe we could have done something before it got that bad, and sending in that psychological message is not always the best answer. There are times that we need to gear up and be tactical to protect us and the people, but for the majority of our job, we use our head and our heart and common sense.
COD: What do you say to the American people at this difficult, divided time we're living in?
First of all, I'm going to address my American police brothers and sisters: Don't give up on the profession you are called to do. I believe in my heart that we're going to see the greatest police leaders rise to the top. You're going to see police change. You're going to see cultural change within police agencies. You're going to see police evolve into something that, over time, the community is going to accept. So for all my police brothers and sisters, especially those that are right in the thick of it, stay the course. Don't give up on your communities. Don't give up on the profession.
To our American citizens, don't give up on your police. There are things that we can do to make it better, but I know that the police are part of a great profession, a great culture. We are not the most perfect individuals. Police see a whole lot of bad things in their career. We are stretched in many ways. So as much as I asked the police not to give up on the community, I'm begging the community not to give up on their police.
I believe we're going to have the best policing model in the future that we've ever had. We are a great nation because we have these moments throughout our history that make us better. This is our moment. People will see not just a flag of the United States as the beacon of light around the nation. Our hurting culture can be healed by taking one step at a time. I believe in my heart we are in the best days.